Neil Young's O gauge railroad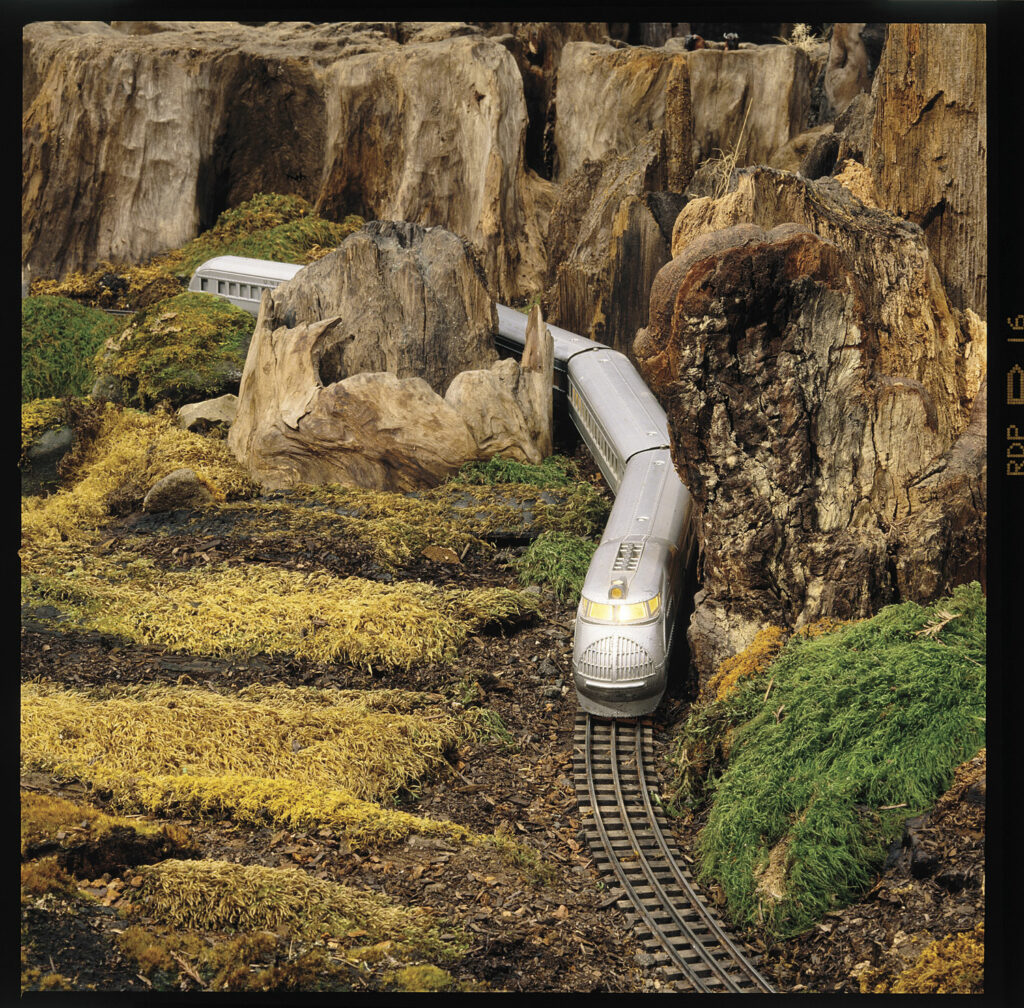 To begin, Neil created his layout, which covered approximately 1,000 square feet on his ranch in northern California, to run through an assortment of natural landscapes outside his home. That's right – the unforgettable three-rail display was built not inside an immense train room but instead filled in space among the gardens and landscaping outdoors. Few O gauge modelers ever attempt such a venture, much less one on the scale of Neil's.
Second, Neil, operated trains from every era of Lionel production amid amazing natural scenery (ferns, boulders, and trees). You see, Neil had spent many years assembling an outstanding collection of prewar and postwar locomotives and freight and passenger cars from Lionel's cataloged line. Best of all, he did not hesitate to run the vintage streamliners and more modern F3 diesels and EP-5 electrics. Those classic pieces weren't destined to spend the rest of their lives sitting on shelves or occupying glass showcases.
Third, Neil used the layout to experiment with innovative methods of controlling his trains. The electronics guru who would soon join Lionel, his favorite toy train maker, as a part owner was intent on figuring out how his physically challenged son might regulate the speed and direction of the trains.
State-of-the-art electronics appealed to Neil as the answer to his son's dilemma, and work proceeded on what was described as a paddle that, once touched, applied power to the track or, if touched again, cut off the power. The controller was wireless, so Ben Young could sequence the trains from any spot around the layout. Thus were Neil and his son developing and testing what eventually became TrainMaster Command Control.
Regarding the track plan, as Jim Bunte pointed out in the original article in CTT, "when all the switches are set, it's really one long loop." To be specific, a train needed about 10 minutes to traverse the entire network of track. Pretty sweet!
Sad to say, Neil Young's enormous and appealing three-rail display no longer exists except in photographs and the memories of individuals fortunate enough to have seen it and run trains on it. But among O gaugers with long memories, it will always rank among the greatest and most influential of toy train layouts ever built and presented in CTT.