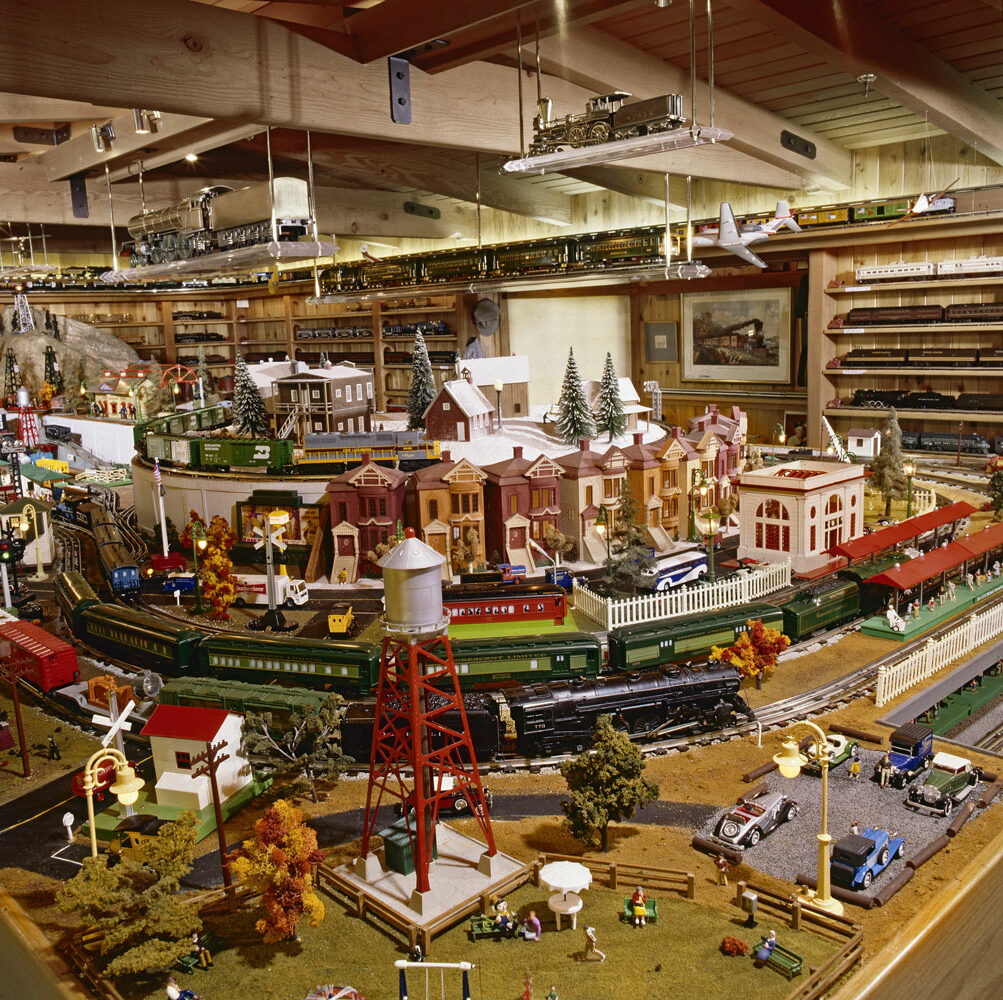 Frank Sinatra's O gauge railroad included many collectible pieces as well as everyday items. They were all colorful and fun to the legendary singer and his family.
As noted in the November 2015 Classic Toy Trains, members of the Sinatra family believe he was introduced to the hobby by visiting the home of big-band leader Tommy Dorsey in Bernardsville, N.J. Sinatra performed and recorded with the Tommy Dorsey Orchestra between 1940 and 1942.
As his family grew with the birth of daughter Nancy, in 1940, and son, Frank Jr., in 1944, Frank Sinatra would arrange three-rail track beneath their Christmas tree. The family loved to see a Lionel train run for weeks during the holidays.
So many mysteries
No one can confirm what sets and accessories Sinatra acquired and ran for his family after World War II, especially after they moved in the mid 1940s from New Jersey to southern California.
Over the decades, Sinatra kept accumulating Lionel trains and accessories. He visited the Lionel showroom in midtown Manhattan, becoming friendly with Joshua Lionel Cowen and members of the sales and service teams there. Sinatra also dropped by major retailers in New York City. Madison Hardware Co. and Model Railroad Equipment Corp. were some of his favorite places to purchase model railroad supplies.
Frank Sinatra's O gauge railroad
Sometime in the mid-1950s, Sinatra purchased a residence on a country club golf course in Rancho Mirage, Calif. Over the next four decades, it became a large estate, eventually comprising a dozen structures.
Sinatra's granddaughter, Amanda Erlinger, said he brought some of his trains to the desert, but typically displayed them only during Christmas. Still, the idea of building a permanent home for them gained momentum.
The first step involved developing the appropriate site. Friends and members of the Sinatra family were not the only ones familiar with the singer's passion for toy trains. Fans in virtually every country contributed to his collection, too.
A full-size replica of a small depot in Ramsey, N.J. was built on the property to house Sinatra's burgeoning collection and a layout.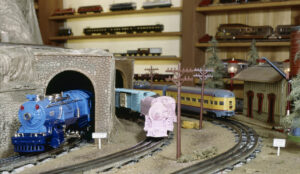 Time for a layout
Sinatra reached out to Paul Kirby, who ran the Train Stop in San Dimas, Calif., and had built a number of toy and scale model layouts for celebrities.
Kirby recognized his client's deep-rooted dedication to Lionel. For inspiration he looked to the famous 12 by 24-foot project built by Diorama Studios for the Lionel showroom in the late 1940s.
The display neatly balanced elements of whimsy and realism – exactly what Kirby believed Sinatra wanted. Sinatra and Kirby met informally every week or so. The two of them pored over the diagrams Kirby had drawn and studied the photographs he snapped.
Kirby wanted to be certain his client was satisfied with the proposed four independent main lines on the primary level as well as the dog-bone loop on the elevated level. One key line was going to descend beneath the tabletop until it reached a station platform erected between the portals of adjacent tunnels. Yes, the scene moderately resembled one on the old Lionel layout.
One of the other ovals ended up being nearly hidden by landscaping. Almost all its visible track ran along an exposed section that eventually dipped below the flat surface of the platform.
Pressed for time and determined to bestow a traditional look on the three-rail empire, Kirby and his helpers opted for simple scenery, with ballast on the main lines and different colored lichen and trees throughout.
Sinatra also loved animated accessories. He owned many, and Kirby set out to find real estate for them where they would stand out.
The builder personalized the layout with billboards about Sinatra, plus structures creating a city scene hearkening back to Hoboken, N.J., during the 1920s and 1930s.