According to a document saved by Maury H. Romer, who supervised production of the postwar S gauge line, the A.C. Gilbert Co. intended to make a no. 24068 Mr. Peanut boxcar in 1962. It received a five-digit catalog number on Sept. 7, 1961. For unknown reasons, the project was abandoned after two prototypes were created.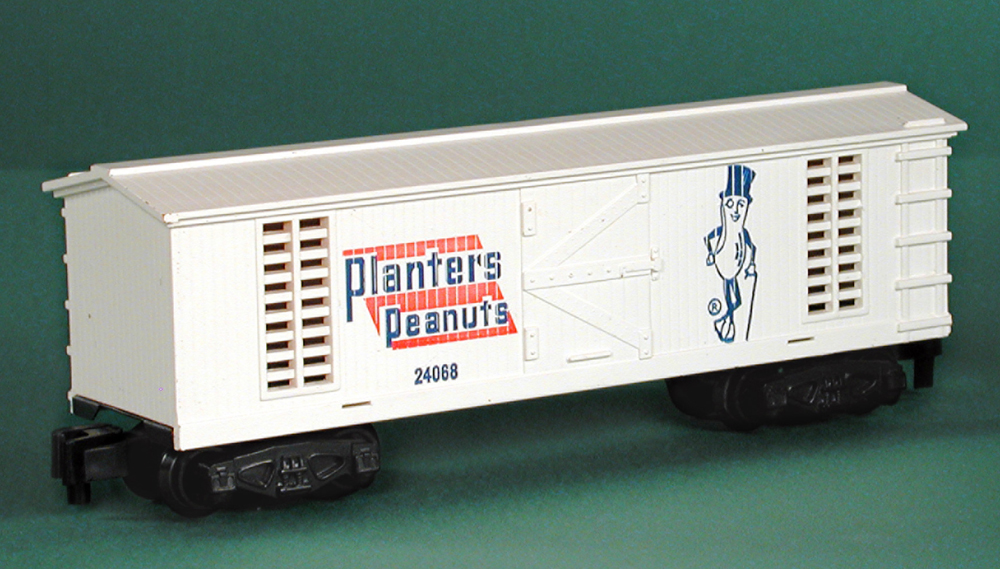 The factory mock-up shown here has what collectors call a "Civil War-style" body. Gilbert introduced this body shell in 1960 with the no. 240(55) Gold Belt Line boxcar in the no. 20655 Frontiersman Freight set. Designers based it on ventilated cars used from the 1860s to the 1920s to transport produce that needed a flow of air to stay fresh.
Gilbert added two other boxcars to the American Flyer line that had this Civil-War-style body with open slats on each side. The nos. 24052 United Fruit Growers Express car (cataloged in 1961) and 24057 Mounds car (cataloged in 1962) were decorated for food items: bananas and candy, respectively.
The development of these two cars may have been partially underwritten by the producers. Gilbert likely hoped the Planters Nut Co., which sold the Mr. Peanut brand, would do the same.
So we have this American Flyer Mr. Peanut boxcar prototype car, whose body was painted white over white plastic. Gilbert mounted it on a Type IV frame with Pikemaster trucks and couplers. Non-moving doors (one closed and the other open) were molded into the body.
According to the first volume of Greenberg's Guide to American Flyer S Gauge (1997 edition), the other authenticated model has an unpainted white plastic body on a Type III frame. We don't believe the two cars are different; additional information gathered in recent years changes the Greenberg description of this second car.
Why Gilbert developed these two boxcars hasn't been determined. Maybe Planters authorized them for a promotional campaign that never took place. Or Gilbert may have been planning a series of billboard-style boxcars that would have included the no. 24057 Mounds Civil War style-boxcar and the no. 24058 Post standard boxcar.