Graffiti on O gauge trains typically has a polarizing effect: One either loves or hates it. But there's no denying the painting on model subways, rolling stock, and even diesel locomotives can make contemporary equipment come to life.
Items produced and marketed by Lionel, along with some developed by Atlas O and MTH Electric Trains, provide O gauge operators with colorful ways to replicate what can be seen in rail yards, subway stations, and at grade crossings across the United States and Canada.
Let's take a broad look at what these manufacturers have been making available to adventurous operators for the past 25 years. We'll also offer insights into how artistically inclined modelers can take matters into their own hands.
A message from Operation Lifesaver about the dangers of tagging railcars.
Graffiti on O gauge trains
Articles and books on the history of graffiti on subways and freight cars abound. The artform has been around almost as long as railroading. Hobos first marked cars in chalk with their own personal designs.
Then in the 1960s and early 1970s, New York City and then Philadelphia gangs started to "tag" trains to express their personal and collective identity. Their artistic talents, showcased on immense moving canvasses, won them respect from their peers.
Graffiti, which one writer has argued includes "boasts, hastily scribbled epigrams, social commentary, threats, jokes, names, notations of date and location, and formal displays of lettering proficiency," has added color, flair, and visual appeal to modern subways and various kinds of freight train equipment. In particular, boxcars, refrigerator cars, and covered hoppers become more interesting once they have graffiti spray-painted on them.
Over the past half-century, graffiti has changed the look on many thousands of freight cars and subways in North America. Movies have shown how spray-painting trains transforms them into what one observer calls, "a rolling museum of outsider art," and other have criticized as terrorism.
An exhibition of graffiti on train cars in a museum.
Cool models
Engineering and sales personnel at Lionel and other O gauge train makers naturally were paying attention to what was happening on domestic railroads. They recognized how controversial graffiti was, but also believed that models with some "spray painted" words and pictures on them would boost sales.
First to take the plunge was Lionel. In 1999, it released a pair of two-bay hoppers, similar to the American Car & Foundry models cataloged the previous year. The Nos. 17013 New York Central and 17014 Golden West each featured some graffiti about Lionel. Not the most realistic choice possible at that time, but a start nonetheless.
Various models with far more realistic graffiti made their way into the cataloged lineup in the latter 2010s. Of special significance were the 86-foot-long Hi-Cube boxcars Lionel introduced in 2018. Those O gauge models, lettered for CSX (No. 1926013), Detroit, Toledo & Ironton (No. 1926024), and Union Pacific (No. 1926053), also had some big and colorful examples of art splashed on them and were popular with modelers.
Groundbreaking
The first Lionel locomotive to arrive in stores with loads of graffiti on its hood was the No. 2133290 Union Pacific Genset diesel switcher. It looked smashing, even though the company knew it wasn't everyone's cup of tea.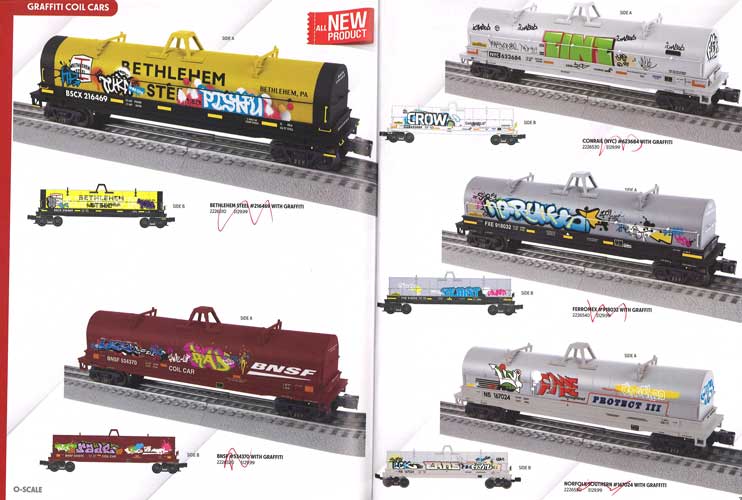 Another Lionel item that earned praise was a train set released in 2022, Featuring graffiti on every component, the No. 2223110 Graffiti LionChief Bluetooth 5.0 Diesel Freight Set rocked the lineup. The catalog boldly declared, "Give your layout another touch of realism with this Graffiti set that adds a fun pop of color and life to any layout."
Leading the eye-catching outfit was a General Electric C40-8W decorated for Mid National Rail Lines and covered with realistic taggings. It pulled a Uni-Body tank car, high-cube boxcar, and Maxi-Stack car.
Anyone still in need of a graffiti fix after buying that eye-catching train had an incredible five coil-steel cars to consider. Bethlehem Steel, BNSF, Conrail, Ferromex, and Norfolk Southern were brilliantly represented along with colorful added artwork.
Other manufacturers
Where Lionel led, Atlas O and MTH Electric Trains soon followed.
Over the years, Atlas has offered freight cars and structures marked with different kinds of graffiti. The switch tower captured an increasingly common sight in major cities in the Northeast, Midwest, and Pacific Coast, just as the industrial water tower Lionel updated with graffiti did. Even an abandoned factory front with graffiti was available.
MTH, which took the lead in manufacturing postwar and contemporary subway cars and sets, produced them with graffiti. Those trains were perfect for any O gauge enthusiast with a layout in a metropolitan area during the past 40 years.
Decals, too
Not every O gauge modeler purchases ready-to-run sets and models already covered with graffiti. The most skilled use an airbrush to paint on their own tags, maybe even finding ways to personalize the imaginative shapes.
Other modelers buy commercial decals that can be applied to the sides of rolling stock. A variety of manufacturers offer them including Micro Mark and custom makers on eBay.