Large scale boxcars and graffiti in an art exhibit: The Museum of Contemporary Art in Los Angeles (
MOCA
) opened its Art in the Streets show on April 17, 2011. It is the first major US museum exhibition on the history of graffiti and street art, tracing its development from the 1970s to the global movement it has become today.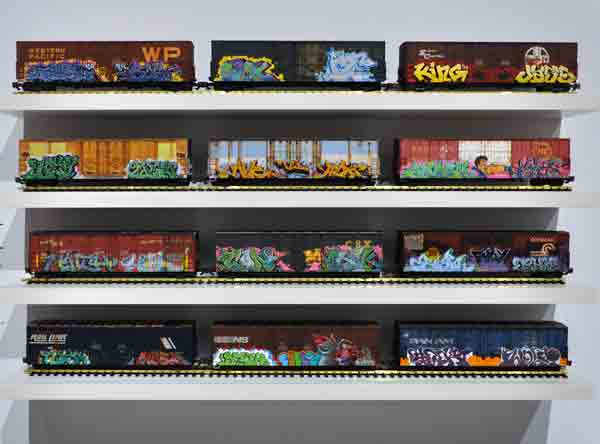 The show was organized by MOCA Director Jeffrey Deitch, with associate curators Roger Gastman and Aaron Rose.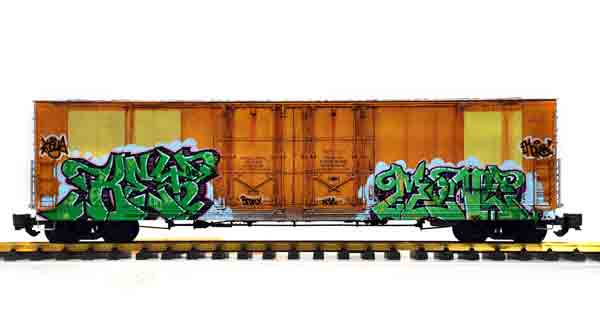 Gastman, who is an old graffiti friend of mine and originally from Washington DC, is the author of Freight Train Graffiti, The History of American Graffiti, and was a consulting producer on the Banksy film, Exit Through The Gift Shop.
Large scale boxcars and graffiti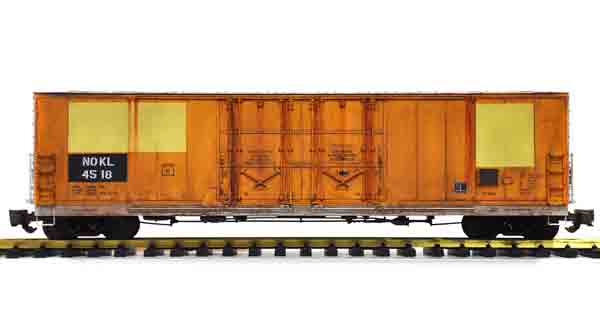 Roger Gastman: Art in the Streets is made up of the best of the best, those who have transcended the streets and brought the energy of their works indoors—artists who are in museums and in serious collections and show with "real" galleries.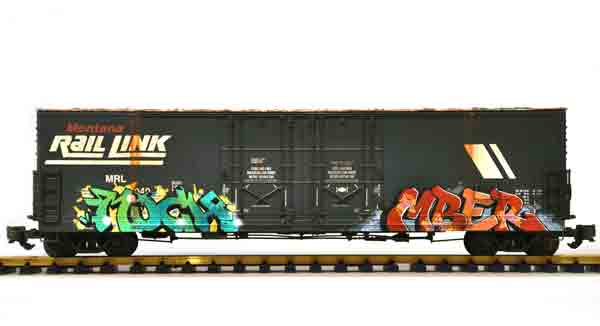 Since graffiti is no longer a subculture, but is its own full-blown culture, we wanted to represent as many of graffiti's subcultures as we could. Freight trains are one of the most important subcultures of graffiti, and it was important to make sure the history of monikers as well as the writers who use aerosol received their dues.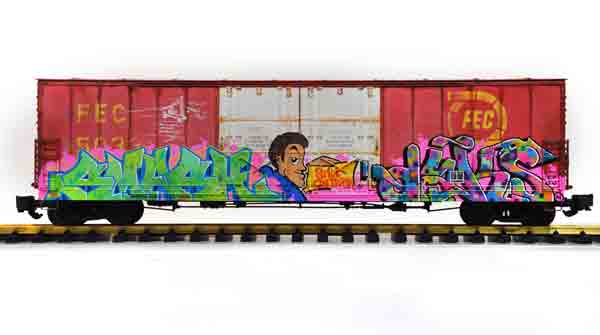 Tim Conlon: Around September of 2010, I received a call from Roger, who had an interesting proposition. He asked me to curate the freight-train graffiti display as part of the timeline for the show, due in part to my years of painting trains in the early '90s, as well as my extensive knowledge and network of freight-train graffiti writers.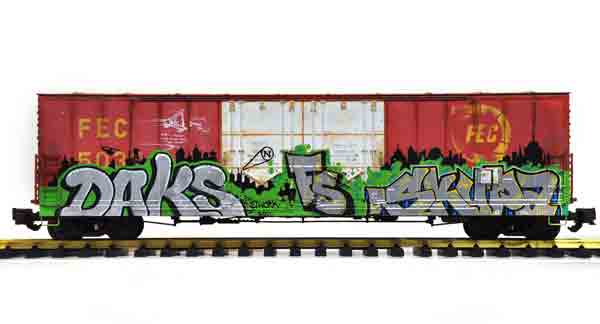 Roger had seen the graffiti pieces on model boxcars that I had painted for smaller gallery shows and he thought it would be great to select a group of graffiti artists to paint a few large-scale cars for the museum. I was excited about the opportunity, but I knew I would have a lot of work ahead of me.
I immediately tallied in my head over 50 graffiti writers that I thought should be included in the show, but I was going to be restricted to just twelve model freight cars. In order to begin narrowing down the list of potential artists, it was decided the writers should be pioneers from the early 90s, when graffiti was just starting to take off on rolling stock. The other decision was to try to cover different regions of the United States in order to have a decent representation of freight trains being painted during that era. A few of the cities covered included Boston, New York, Philadelphia, Baltimore, Atlanta, Jacksonville, Miami, Minneapolis, Milwaukee, Los Angeles, San Francisco, Oakland, Portland, and Seattle. After much polling and debate, a total of 24 artists were chosen, or two per car.
The cars that were selected were Aristo-Craft #ART50000 series, 1:29-scale, 53′ Evans boxcars. The primary reasons for choosing these cars were because of their length, flat sides, and several base paint schemes that would work well as a canvas for the graffiti artists to paint. After tracking down the cars from several shops across the US, the next step was to ship them off to the weatherers from The Weathering Shop.
Jeremy St. Peter: The Weathering Shop is a collection of nine guys who are into weathering models. We primarily work on HO-scale freight cars, locomotives, vehicles, and dioramas, though we do have a fellow who works in 0-scale, and our members share a wide variety of eras in their modeling. We model every era except steam, with the predominance of our interests being the modern era. Nothing gets us going more than some sweet rust pits, streaks, and killer tags.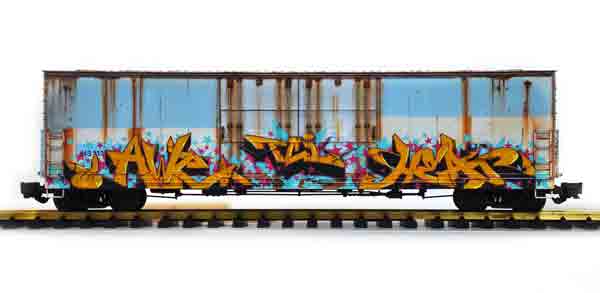 We were approached for this project by Tim because he had seen a model that one of our members, Gary Christensen, had posted on a fairly well-known weathering forum. The project was a model of a freight car that Tim and his crew had tagged back in the day. Anyway, Tim thought it would be cool to have some of the large-scale cars that were going to be tagged for the Art in the Streets show to be weathered as well.
Trust me, this was no easy task! Most of us, as I mentioned, work primarily in HO scale. Working in large scale is like going to McDonalds and getting a super-sized double quarter pounder meal, then stopping down the street on the way home and buying a couple large pizzas for dessert, when you're used to ordering a plain hamburger and a cup of water.
Everything is multiplied in size. This is definitely something that was a challenge in our weathering of these cars; 20/0 lining brushes gave way to 12″ brushes for rust streaks; 12″ brushes gave way to 2″ brushes for fades and grime washes; air brushes gave way to rattle cans for painting the cars. Workbenches were traded in for dinner tables and washing machines as places with enough space to weather these beasts on. Most of the time when we weather, we seal our work with a flat finish called Dullcote. This stuff comes in a handy-dandy three-ounce spray can. A can often lasts for a couple months of work for HO-Scale. In large-scale, we were using one can per car!
As far as what we use to weather these, or any cars, the list is varied. I personally work in artist's oil paint but most of the fellows use products such as water-soluble oil paint, gouache (which is a watercolor-type of paint that is impregnated with an adhesive), acrylic paint, pastel chalk, and weathering powders.
Sandy McDonald: I guess the thing that struck me the most is the size of large-scale rolling stock and the huge amount of paint and Dullcote I had to use. The roof gave me some trouble because of the massive size of it all.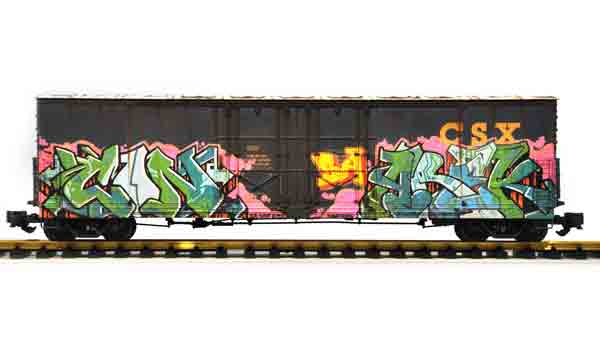 I started by using white artist oil to oxidize the galvanized roof. When the thin coat of oil was dry, I sealed that layer in with Dullcote. I then started the rust by stippling on raw sienna in the pattern I wanted. After that, I used Indian red just inside the outer line of raw sienna. Then, inside the outer line of red, I used raw umber and then stippled in a dark-brown powder.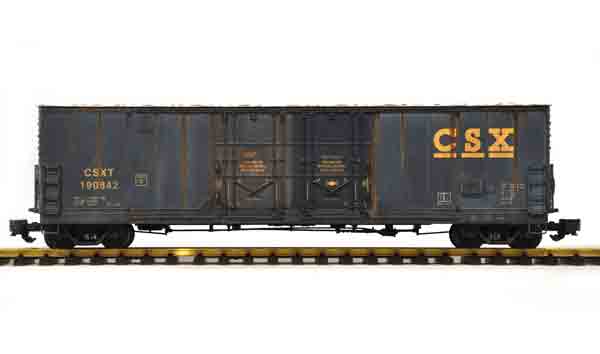 The next day I went out to start the sides and, to my dismay, I found that the oil dried too fast and cracked. So I had to strip it all off and start over. It was a serious challenge to weather such a large rail car when HO scale is all I have ever worked on. In the end, I was happy with the results, but would probably not rush in to do another large-scale project.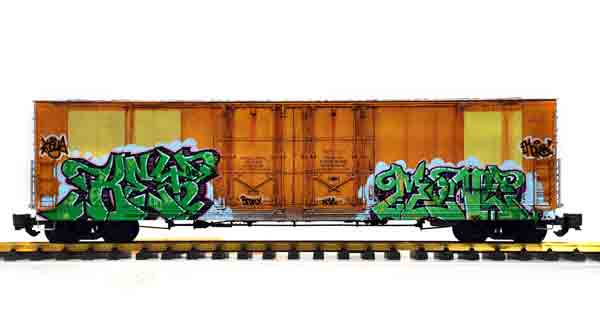 Rodney Walker: I enjoyed the challenge. Weathering a larger-scale boxcar proved to be very rewarding and most of the techniques transferred from HO scale right onto large scale.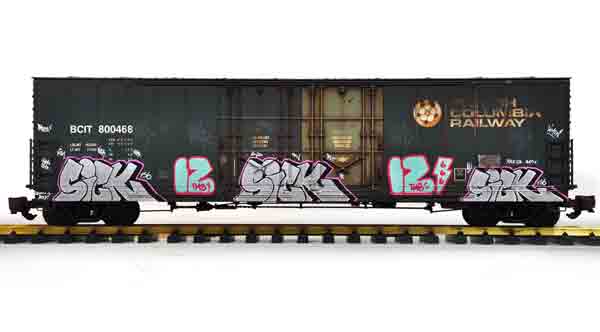 Perry Lambert: When I first received the car, I was overwhelmed at the actual size of it, as I have only modeled in HO scale. However, I felt this would give me an opportunity to try some different approaches to weathering.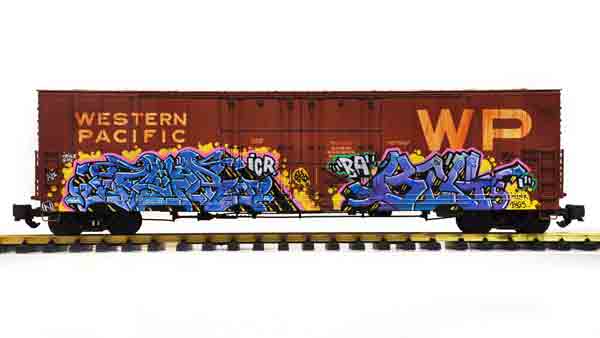 As with any project, I started with the trucks and underframe. I gave the trucks a treatment of custom-mixed browns, airbrushed at about 60 psi to create a little texture to simulate the grime kicked up by the wheels. Once I was happy with the color, I proceeded to use oil washes to blend everything together.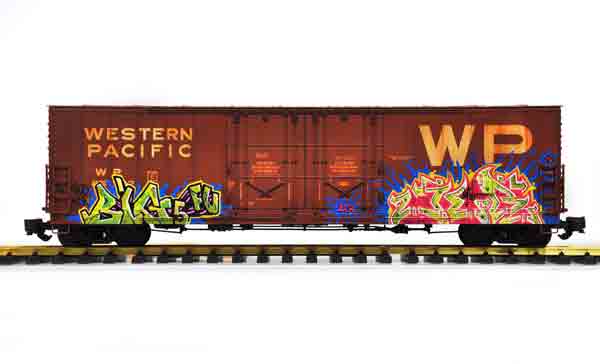 In looking through some prototype photos, I could see the brown sides of the car were still brown but had different hues of brown. I changed the color gradually by dry-brushing various brown-colored oil paints onto the sides of the car. This also gave the lettering a brown, dirty look. Once I was satisfied with the color of the sides, I used a black oil pin wash to highlight the seams and details. For the roof, I used a salt mask to cover the existing roof, then I sprayed brown over the salt. Once the salt was dry, I cleaned it off and gave the roof a rust-colored wash to simulate rust running down to the sides of the car. After everything was dry, I gave the car a Dullcote finish to seal the weathering.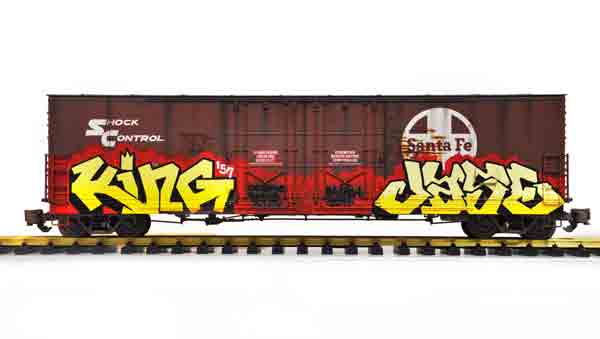 Gary Christensen: There was a quote from the movie Apocalypse Now that has etched itself into my mind. Martin Sheen describes his views of a covert mission he was sent on during the Vietnam conflict. He says, ". . .and when this mission was over, I'd never want another one." Well Mr. Sheen's words are as near as I can describe this large scale, model-freight-car project that a few members of the TWS, The Rustbucket Forum, and I undertook early last spring.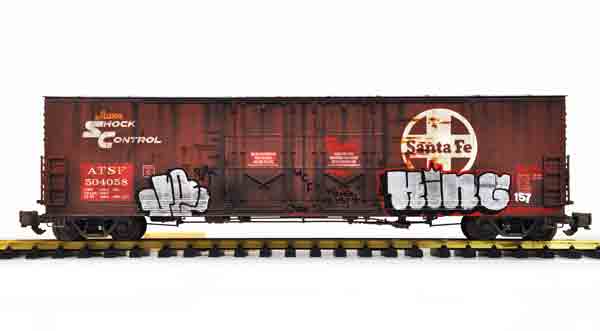 This car was so enormous and so far from the scale that I'm used to in weathering, that it became more of a chore than a pleasant experience. I cannot say I've ever even beheld the size of one of these behemoths before until I opened the box in which the car was shipped to me by my friend Tim Conlon.
After viewing the huge size of the canvas that sat before me and my work bench, I had to figure out a game plan for weathering the beast before it could be shipped off to the infamous graffiti writers Jase and King 157 (the true focal point in this project for MOCA.)
I don't wish to turn this small insert into a elongated recital, so I'll cut to the chase as far as what I did to weather this car. I started with a thorough misting of the entire car with Dullcote. Then I masked off the important data, heralds and any information details that were previously applied to the model. After this, I sprayed the car with a Rust-o-leum red primer. When the primer dried, I gave the entire car a wash (charcoal-gray acrylic, 40/60 paint-to-water ratio) and brushed the gray, watery wash over the entire car, allowing it to settle into every relief or raised area and into all the nooks and crannies. It also toned down the loud primer to make the car appear filthier.
Once this was complete, I moved forward by adding dry-brushed black pastel powder streaks from the top near the roof downward to replicate run-off from the car's roof. Then I broke out some finer brushes and added painted-on scratches, dings, and scrapes, where the doors slide to the left and right of the car. Once the acrylic scratches dried, I used an orange-oxide oil paint to run streaks from those and create halos around the damaged areas. On to the ends, I just used the same process as the sides, minus the scratches and damage.
The undercarriage was a prepped shooting of a Rust-o-leum camouflage flat enamel to simulate dirt buildup under the car. The roof was done in a similar fashion as the scratched-and-dinged damage on the car sides. Acrylic pitting was concentrated to the center of the roof, with oil-paint haloing, to replicate rust bleeding out from the deep rust pitting in the center.
After the entire car was complete, I misted it to seal all the work with Dullcote. Trucks and wheels were done in the same fashion as the undercarriage. To be quite honest, I was relieved to finish this car and get it shipped off to King 157 in California and resume the kind of work I am used to in 1:87 scale. It was definitely a challenge and "when this mission was over, I'd never want another one!"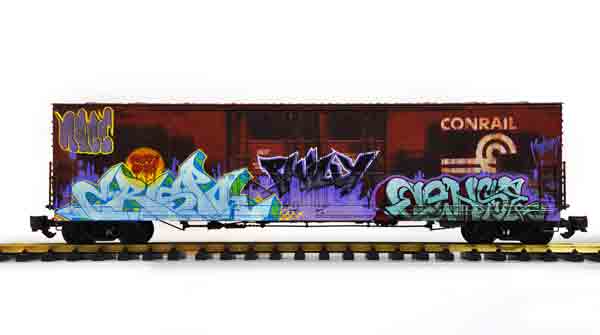 MrKluke: For my first non-HO-scale project, I received a large-scale Evans boxcar with the classic Conrail paint and "can opener" logo. The only CR Evans boxcars I could find online were second-hand patch jobs and none of them had brown paint. For that reason, I just borrowed some of the weathering ideas from another Conrail hi-cube boxcar that I found on a railroad website.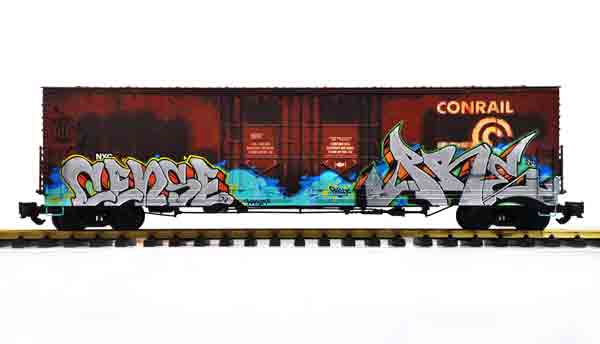 Weathering in large scale was a huge difference (literally!) from what I was used to. Because I immediately removed the trucks for further detailing, I had to build a custom platform to hold the car while I weathered the body. First, I used several paint washes to change the brown color to a more reddish one. The main rust patches are simply concentrated weathering powder, rubbed on with my fingers. I cleaned the powder off the graphics because that's how it was on the prototype I was using as an inspiration. I applied subtle streaking with oil paints. I also added door scrapes and patched over "CR" with "NYC," indicating CSX ownership. Between weathering layers, I added liberal amounts of Testors Dullcote from the rattle can.
This large-scale project used much more powder, paint, and Dullcote than I'm used to using in a single project. Overall, it was fun. However, I was surprised that a bigger scale didn't offer more fine details. The details were chunkier than I expected."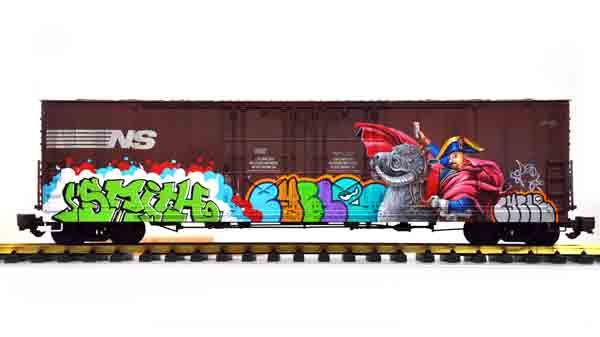 Jeremy St. Peter: As you can see, each of us felt the challenge, when working on cars so large, of doing what most of us have been doing for years. If any of you large-scalers out there do this kind of weathering on a daily basis, my hat is off to you!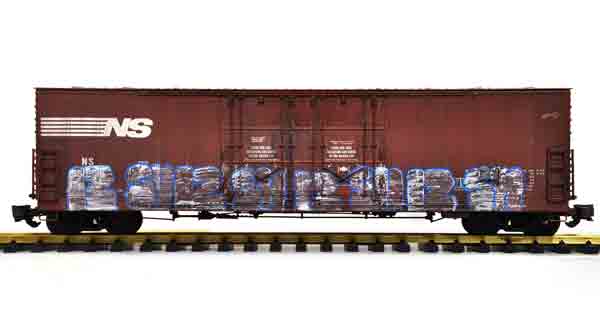 I would personally like to thank Tim for inviting us to share in this project. He and the fellows who tagged these cars are artists I hold in highest esteem, and to be invited to share the stage really makes all of us weatherers feel good about what we do.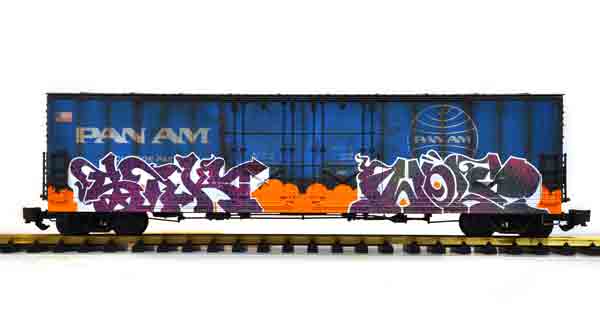 Tim Conlon: Art in the Streets closed on August 8, 2011. It was originally scheduled to head to the Brooklyn Museum in 2012 following its run in LA, but the museum had to back out due to financial issues. Jeffrey Deitch, the director of MOCA, has said there is interest in the exhibition from art institutions around the US and abroad, so expect to see the show pop-up again if you missed it the first time around.
Interested in graffiti?