Many hobbyists strive to model freight cars accurately. Selecting the right doors, installing the correct hatch covers, and using the proper ladders and stirrup steps are just some of the things freight car enthusiasts focus on. Those re-creating earlier eras may even add chalk marks to the car sides. How to graffiti a freight car is an area those modeling today's railroads have to wrestle with.
Graffiti is a controversial topic. As a freight car fan, I struggle finding clean cars to photograph to help illustrate stories for the Trains.com website and Kalmbach Media's portfolio of railroad magazines. At the end of the day, what is put on full-size freight cars is vandalism. However, if you've stood trackside recently, you know that graffiti is just as much a part of freight cars these days as the herald, reporting marks, and road number. In this article, we'll take a look at four ways to graffiti a freight car.
Decals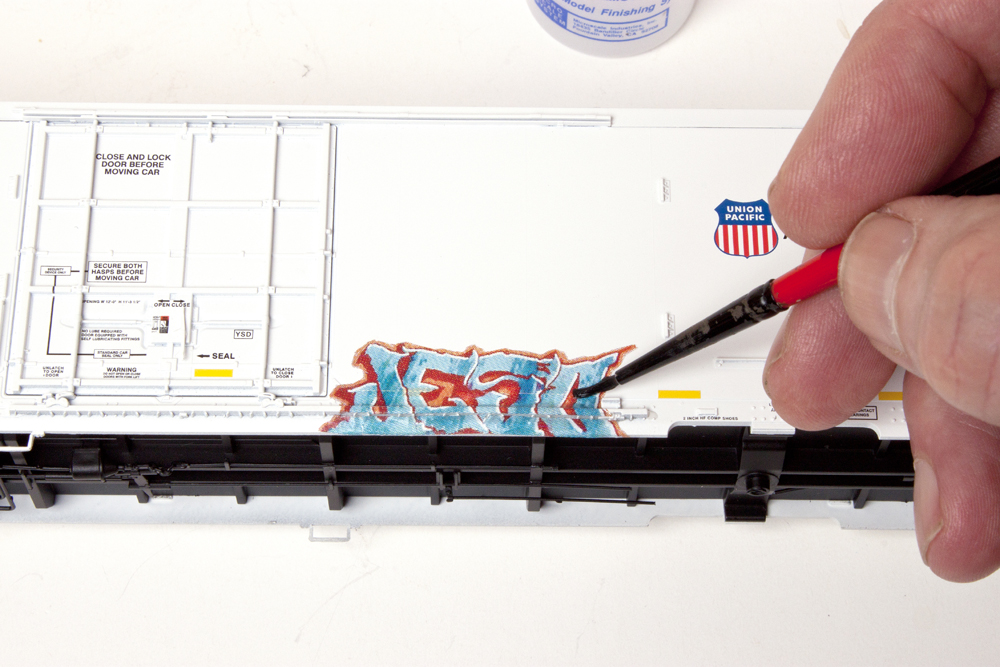 Waterslide decals have long been used for decorating locomotives, freight cars, passenger cars, and cabooses, among other items. With graffiti becoming commonplace on freight cars, several firms have added decal sets to their product lineup.
Model Railroader contributing editor Pelle Søeborg illustrated how he used Blair Line graffiti decals on a BLMA HO scale mechanical refrigerator car. You can read about the project in the November 2012 issue.
Among the companies that produce graffiti decals are Blair Line, Circus City Decals, CMR Products, and Microscale. The graffiti decals are applied using the same techniques as regular freight car decals.
Gel pens
Though decals are handy for graffiti, you're limited to what manufacturers offer. One option for adding custom graffiti to freight cars is gel pens, as Seth Puffer explained in his article "Model modern graffiti" in the July 2000 issue.
Before adding the graffiti, Seth sprayed the Soo Line covered hopper with a flat finish. He used Pentel gel pens for his project. Other companies that offer gel pens include Bic, Paper Mate, Pilot, Sharpie, and Uni-Ball.
Seth reported that the pens require a light touch. He also noted that the pens clog periodically, so it's a good idea to keep paper nearby to unclog the tip. Though gel pen ink dries permanently, Seth noted it can be overcoated.
Paint markers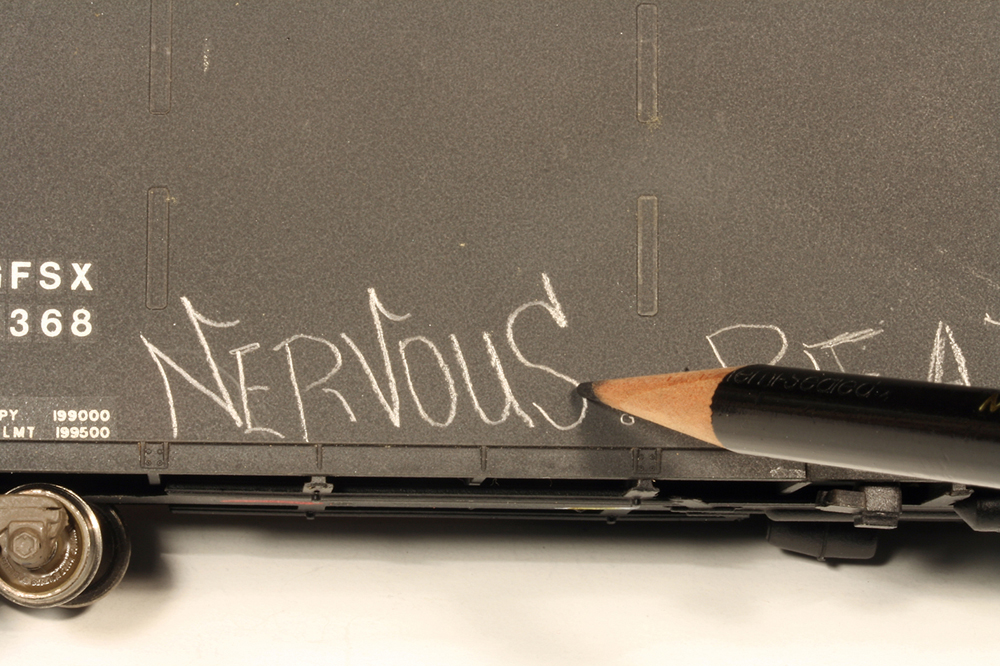 Paint markers are another option for adding custom graffiti to freight cars. M.R. Snell wrote about his two-step process in "Do-it-yourself graffiti" in the April 2012 issue.
Using prototype photos as a guide, M.R. first used a pencil to write the letters on the carbody. If he didn't like how the letters looked, he erased them and started over before he committed paint to the model.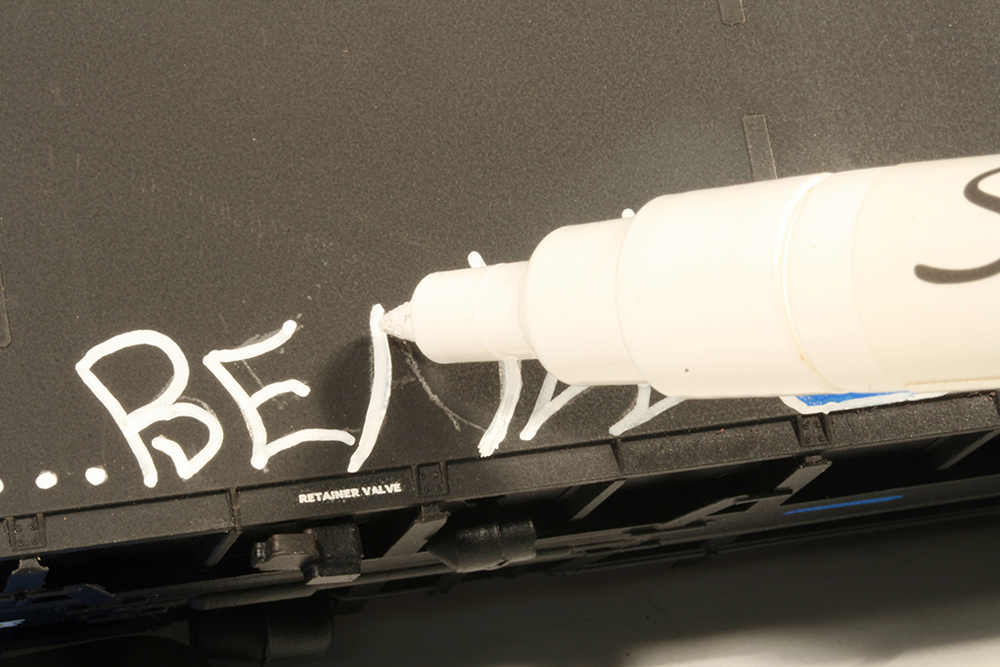 With the pencil lettering completed, M.R. then traced over it with a paint marker. For the car shown here, he used an extra-fine-tip marker. The Sharpie markers are offered with different tip sizes, such as wide and extra fine. The wide markers work well for simulating balloon lettering, which M.R. also covered in his April 2012 story.
Airbrush

Gel pens and paint markers are handy for smooth-side cars. But how do you graffiti freight cars with uneven surfaces? That's where an airbrush comes in handy. M.R. Snell also covered this technique in his aforementioned April 2012 article.
M.R. wanted to replicate large block-style graffiti that he saw on a full-size auto rack. He first masked his HO scale car and applied white paint for the base color. Once the paint had dried, he masked the outline of the letters with blue painter's tape. To reduce the chances of paint bleeding under the masking tape, use a burnishing tool, craft stick, or toothpick to secure the tape to the model.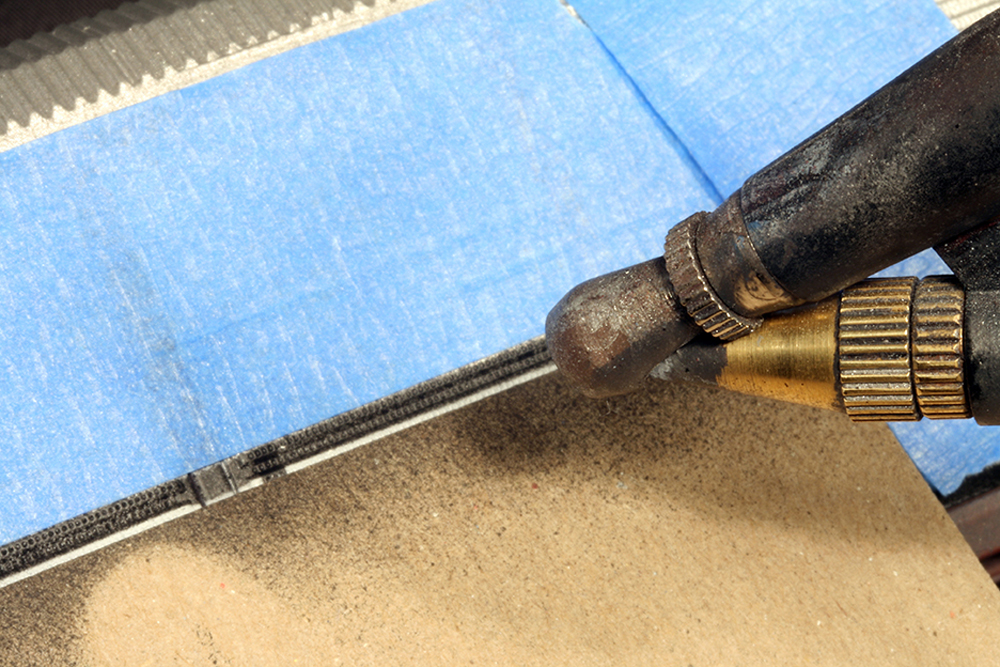 Even with careful masking, some touch-up work may be necessary, especially on the various surfaces of an auto rack. M.R. was able to make the color separation lines sharper using masking tape and a cardboard mask.
If you're looking for ideas on how to graffiti a freight car, give these techniques a try. These methods can be used individually, or they can be paired up for even more realistic results.