The New York City High Line a sight to behold on Manhattan's West Side. It was born of a vast improvement program in the 1930s, which took West Side freight trains off city streets. The trains were then powered by electric traction north of 30th Street and behind diesel power south of 30th Street.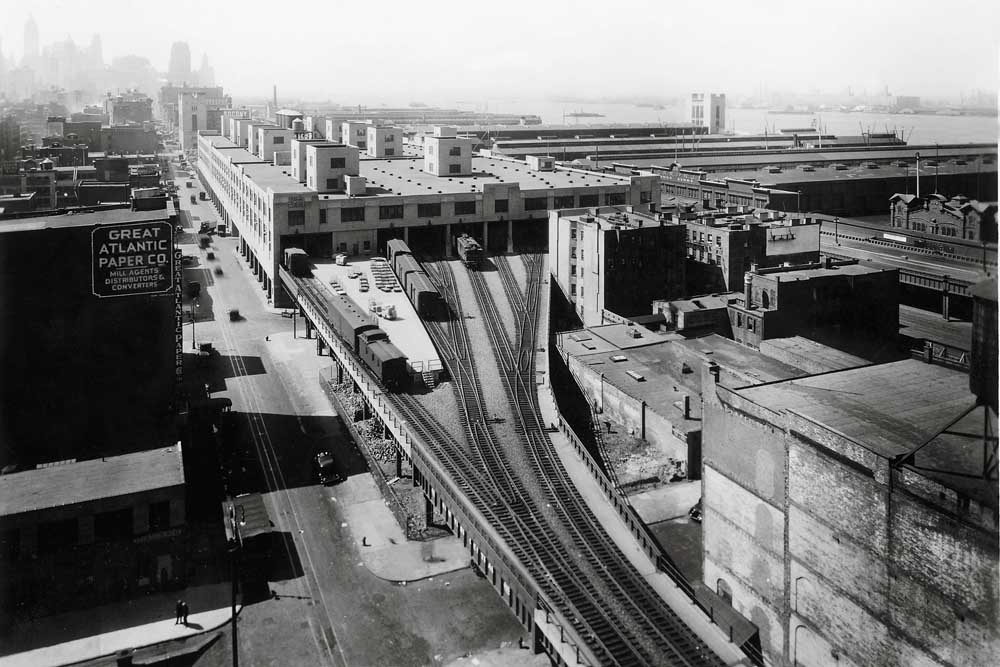 Below 60th Street, where the NYC had a large freight yard next to the river, West Side tracks previously ran in city streets and each train was preceded at 6 mph by a cowboy on horseback who waved a red flag to warn motorists. From 60th Street to 30th Street the tracks were in a cut and from 30th Street to St. John's Park freight terminal they were elevated, passing right through several industrial and warehouse buildings and thus furnishing ideal enclosed siding facilities.
At 30th Street, on the site of the onetime Hudson River Railroad passenger station, was the Morgan Post Office, where the NYC loaded mail cars. Mail cars were consolidated with those from the West Side Railway Express Building at 32nd Street before running as a train up the West Side Line to Harmon, where they were joined to the portion of the train from Grand Central.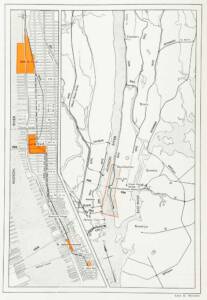 The freight yards at both 33rd Street and 60th Street are so planned that the space can later be built up through lease of air rights, much as was done in the Grand Central district. For some 2½ miles above 79th Street, Riverside Park has been extended over the tracks on a framework of steel, adding 32 acres to New York's park area.
A Trains story in June 1963 notes that entirety of the West Side Line handled 119,415 inbound freight cars in 1961, "most of which went to provision Manhattan stores and food-service establishments." The story also notes that the NYC's Spuyten Duyvil bridge, at the start of the West Side Line, "is one of the few steam-driven drawbridges in the country."
The High Line passed from New York Central to Penn Central in 1968 and Conrail took ownership and operation in 1976. CSX Transportation, which assumed ownership of the disused High Line in 1999, donated the structure to the City of New York in 2005.
In the 21st century, visitors can retrace railroad history on the 1.45-mile New York City High Line park, born of the disused infrastructure that brought the trains out of the streets.