If there's one thing to be said about the Union Pacific Armour yellow paint scheme, it's that it hasn't changed much since it was first introduced in 1934.
Or so one would think.
The presence of Armour Yellow has been pretty much constant, but everything else has been in a state of subtle and not so subtle change from its first application in the 1930s to today.
That illusion of a never-changing visual recognition has done well for the Nebraska-based company. Railroaders and civilians alike always know what railroad they are looking at when they spy one of UP's trains in Montana, Texas, Washington or California, Arkansas, Illinois, and everywhere in between.
Other Class I railroads continually changes their color schemes to differentiate freight from passenger trains, but by and large, Union Pacific has never strayed far from its roots.
Originally brown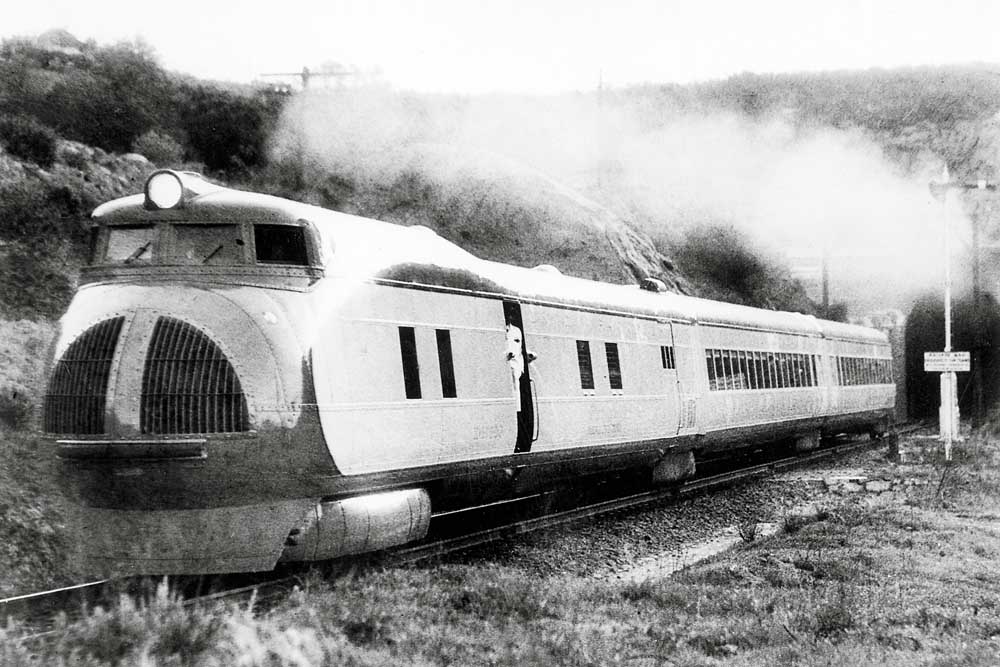 According to Don Strack's comprehensive Union Pacific website, www.utahrails.net, the railroad's use of its now-signature color was on its M-10000 streamliner, a passenger train that truly resembled a 1930s sci-fi creation. Delivered in February 1934, other early streamliners followed, all using the same combination of Armour Yellow and Leaf Brown colors.
When the City of Los Angeles and City of San Francisco train sets arrived, complete with new EMD E2 locomotive sets in 1937, they too were in yellow and brown. By 1940 Harbor Mist gray was substituted for brown, creating the basic yellow and gray combination that remained a Union Pacific constant until the 1980s.
According to Strack's website, Armour Yellow — which is thought to have its roots with Armour & Co. reefers — was now becoming the railroad's standard dress for both passenger and freight diesel locomotives.
After World War II train watchers began seeing yellow everywhere, adorning its EMD E units, Alco PAs, and their freight versions, the F3 and FA, as did Fairbanks-Morse when they delivered new Erie-built passenger diesels. The railroad stayed with a black attire for its diesel switcher fleet, but Armour Yellow for road units was here to stay.
It was FM Erie-builts that introduced anti-glare green on the top of the nose of cab units and it quickly spread to other models.
Freight locomotives and switchers
Invariably the vibrant yellow paint scheme filtered down to hood units and switchers replacing the austere all-black attire so familiar on several railroads in the early diesel days. An order of 1,000 hp EMD NW2s were the first in 1948, followed by new deliveries of Alco and FM road switchers.
In 1955 the paint scheme was modified again, this time with aluminum paint replacing gray on the trucks.
In 2000, UP began getting the first deliveries of its 1,000-unit order for 4,000 hp EMD SD70Ms. That turned out to be a precursor of wilder things to come: Wings!
Wings on UP locomotives were not a new concept. They had been applied in one form or another, mostly custom jobs dictated by the form and shape of locomotives. But this was the first time a standard concept was to be uniformly plastered on every wide nose of every road locomotive the railroad owned. Ultimately the idea filtered down to normal width models with a smaller version.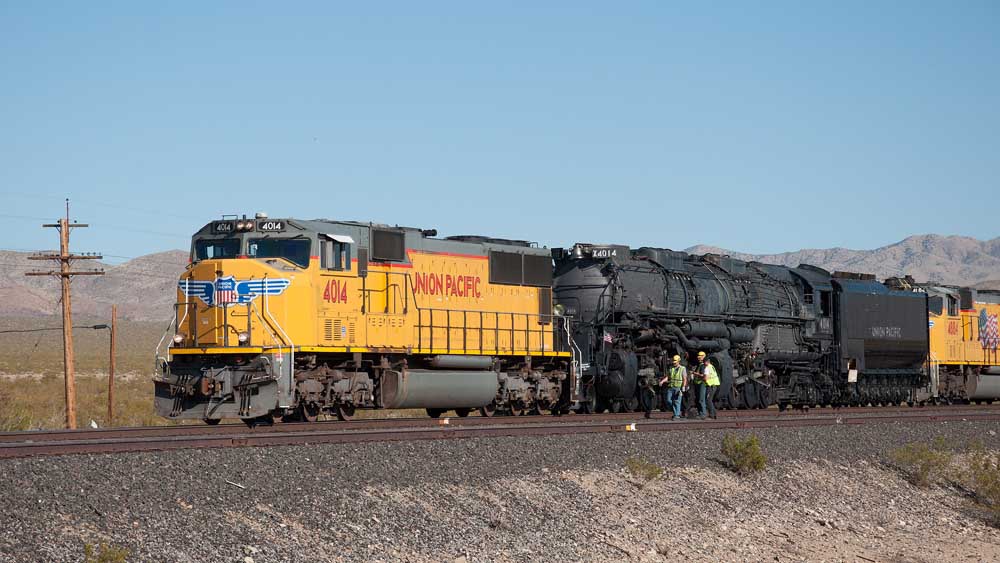 Flying the U.S. flag
The railroad's next major change in its locomotive paint scheme came in November 2001 with the introduction of the American flag waving proudly from the flanks of recently delivered EMD SD70Ms. Along with the new addition, a new slogan, "Building America" began appearing.
Grand in thought and design, the new flag units became a target of criticism as the units gathered dirt and road grime through regular service. The sight of a clean waving American flag was a delight to everyone but seeing a grimy road-weary unit with a grimy American flag was by many considered to be an eyesore.
At the direction of the Omaha headquarters following a suggestion by the Jenks Locomotive Shop in North Little Rock, Ark., starting in July, the forever Armour Yellow paint scheme morphed again. The large American flag on the flanks was replaced with a smaller flag on the cab side and the wings that had caused so much excitement when first introduced were finally replaced with a large UP emblem.
"The flag is now in a better position to keep clean and be protected from heat," said Shane Keller, senior vice president, Engineering and Mechanical. "Although we work diligently to maintain the flag on each locomotive, its previous location made it a challenge."
As locomotives need new paint, they will receive this treatment as part of Union Pacific's locomotive overhaul and modernization program.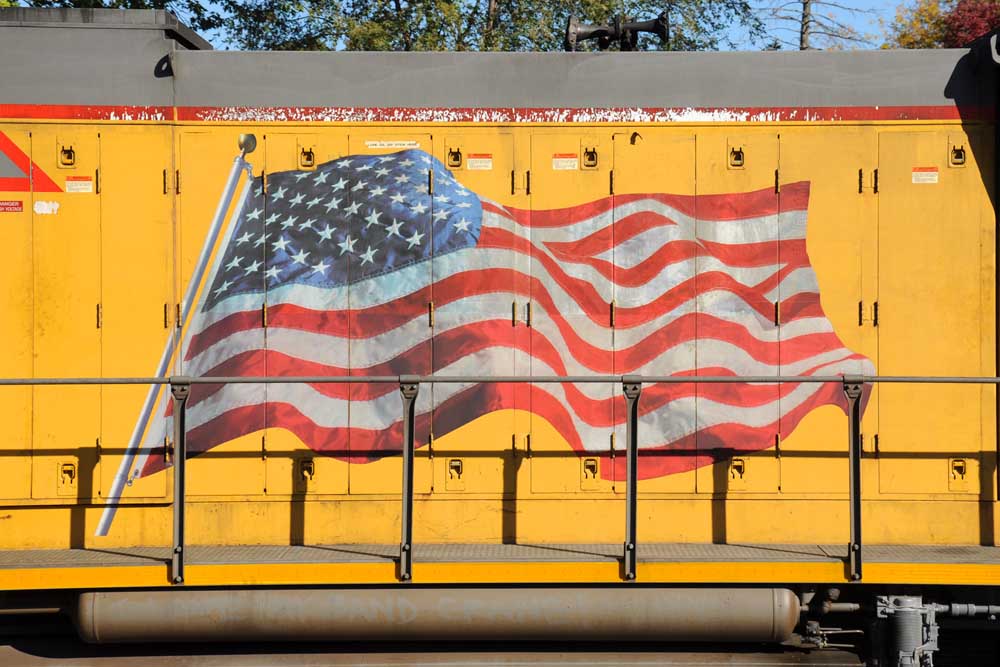 "The flag and shield are visible reminders we are one of the oldest and largest transportation companies in the nation," Keller said. "The flag honors our history and our mission of Building America; the shield symbolizes strength."
For an in-depth explanation of Union Pacific's paint scheme, visit Don Strack's comprehensive compilation on every twist, turn, and alternation of a distinctively American institution, check out www.utahrails.net.