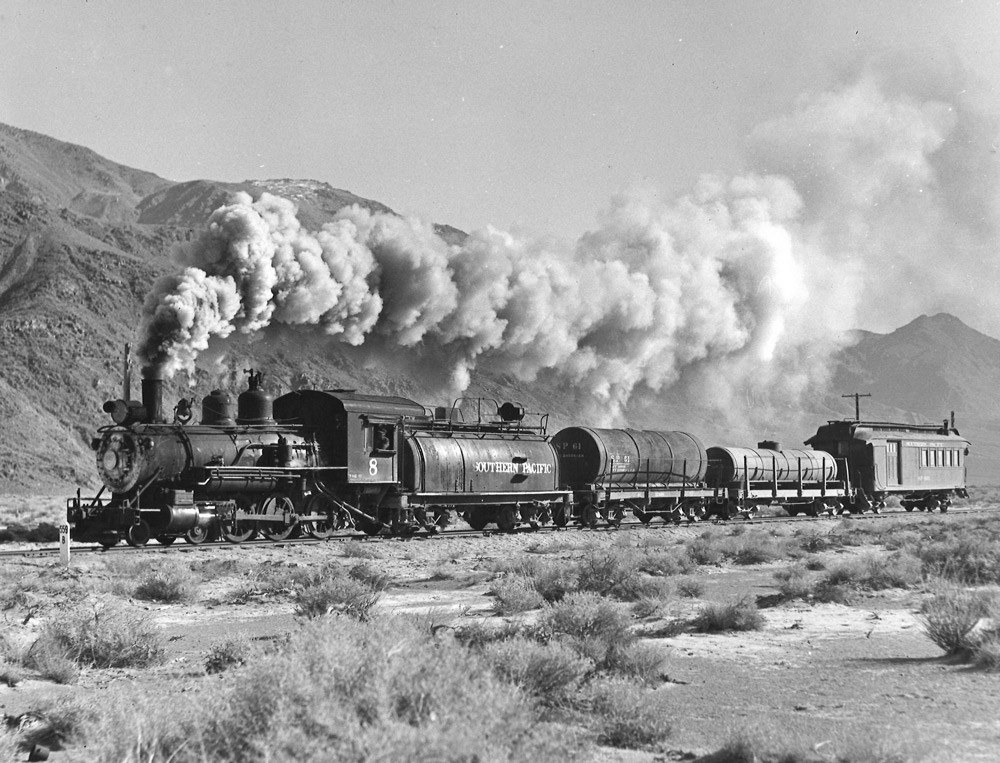 Southern Pacific 4-6-0 No. 8

Ten-Wheeler No. 8 heads north from Owenyo with two empty tank cars to be refilled with water at Kearsarge in 1950. SP's 71-mile former Carson & Colorado "Slim Princess" 3-foot-gauge line in California's lonely Owens Valley was dieselized in 1954 and abandoned in 1960. As on SP's other western lines, the engines were fueled by oil.

Jack Gibson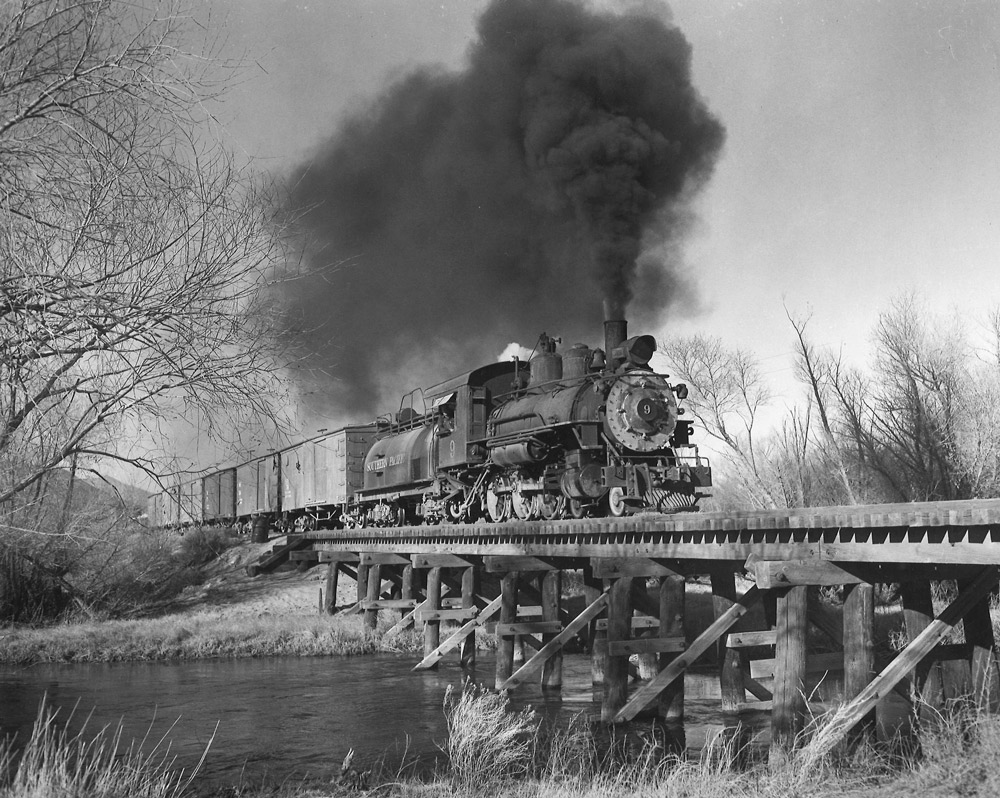 Southern Pacific 4-6-0 No. 9

The timbers of a trestle over the deep Owens River absorb the weight of SP Ten-Wheeler No. 9 sometime in the early 1950s. The freight train is headed for the connection with SP's standard-gauge Lone Pine line at Owenyo.

Wendell Mortimer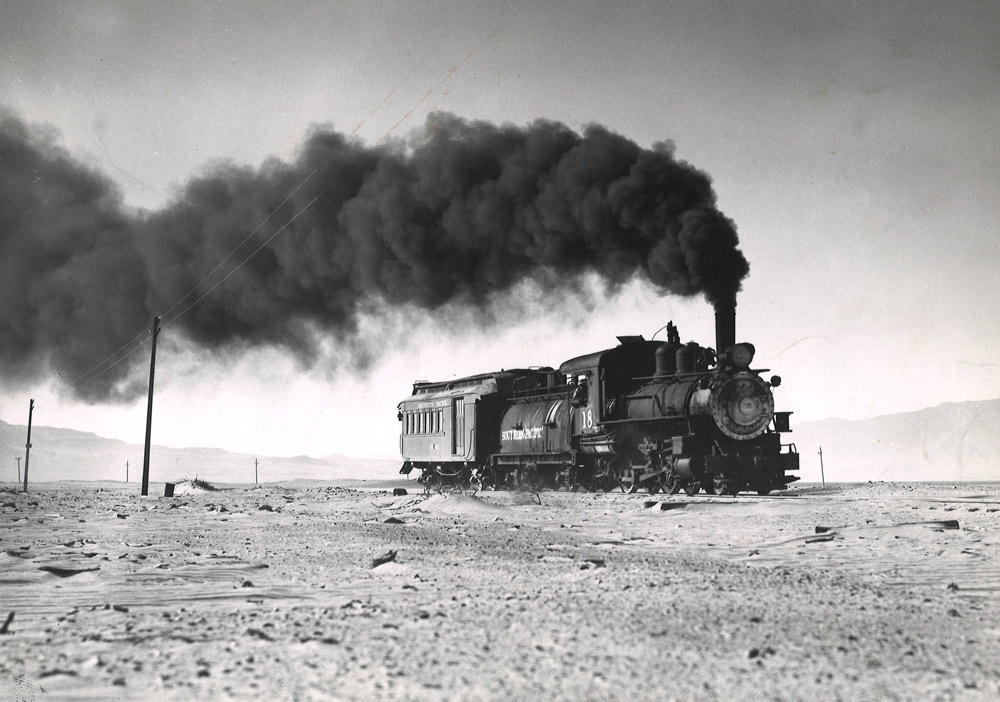 Southern Pacific 4-6-0 No. 18

Ten-Wheeler 18 lays down an impressive cloud of oil smoke as it runs "caboose light" from Keeler north (timetable west) to Owenyo. By this time (1950), the line was using an old combine as a caboose. The 4-6-0 was returned to operation on a short stretch of track at Independence, near Kearsarge, in 2016; since then it has twice visited the Durango & Silverton, where it helped crews learn about oil-firing.

Walt Thrall Jr.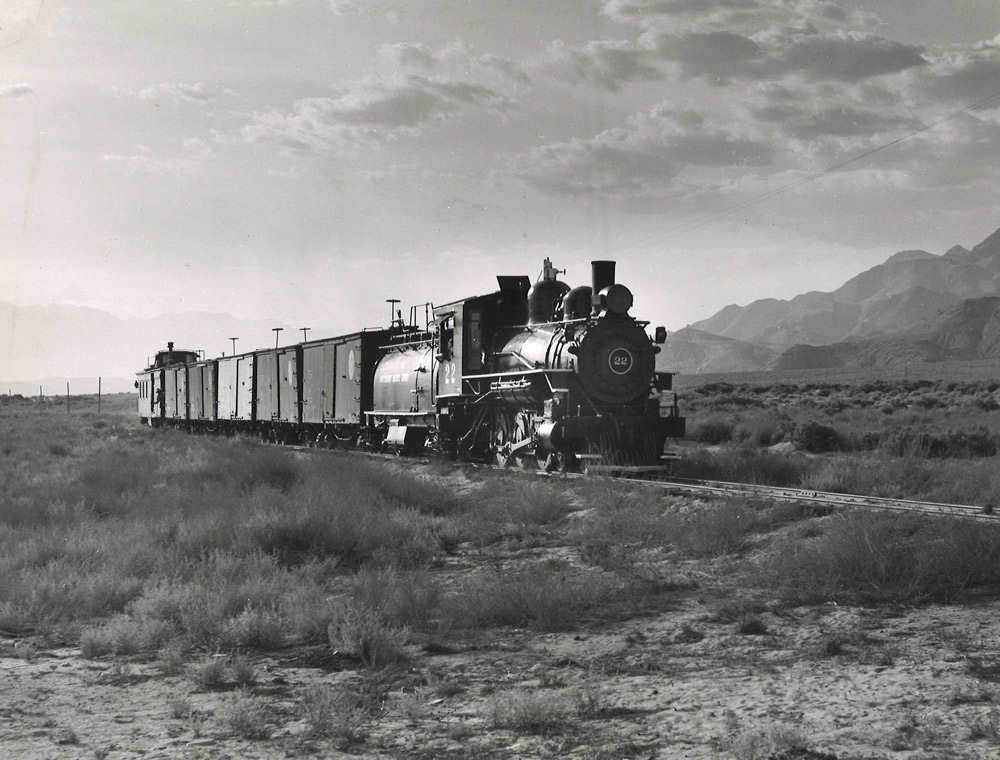 Southern Pacific 4-6-0 No. 22

In May 1940, clear-stacked 4-6-0 No. 22 heads five boxcars near Keeler. Unlike sisters 8, 9, and 18, which survive today, No. 22 was scrapped.

F. J. Peterson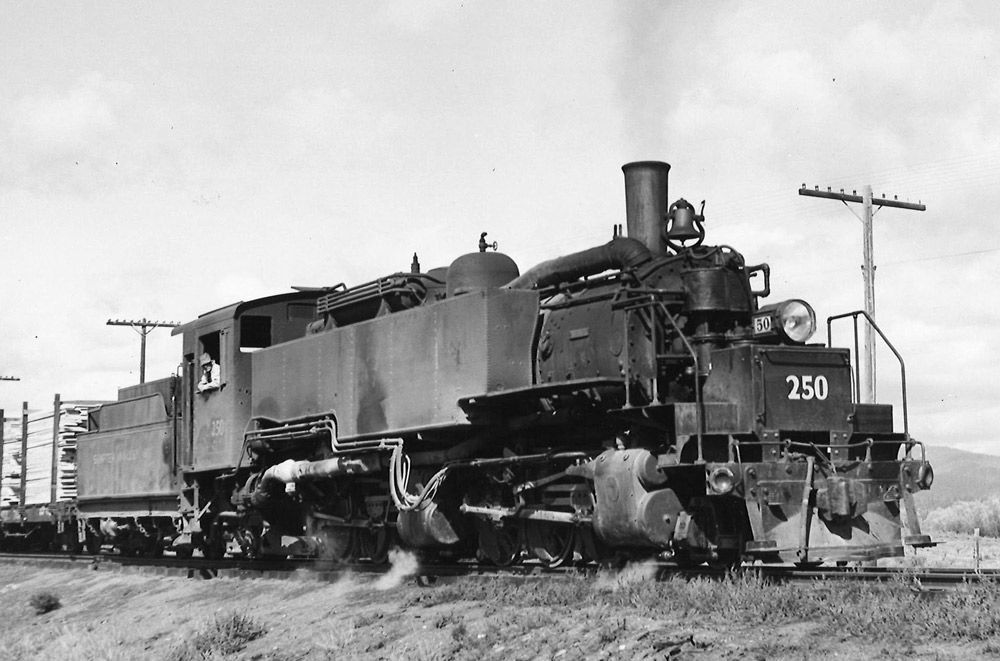 Sumpter Valley 2-6-6-2 250
Running southwest from a connection with the Union Pacific at Baker in northeast Oregon, the 3-foot-gauge Sumpter Valley Railway carried timber and livestock. Until the 1930s most of its engines used wood for fuel. SVR's most notable locomotives were two 2-6-6-2s — America's only narrow-gauge articulateds — acquired from Utah's Uintah Railway, which quit in 1939. SVR 250 still carries its Uintah number, 50, in its headlight numberboards and has yet to have its side tanks removed in this September 29, 1939, view at Whitney, Ore.

H. R. Griffiths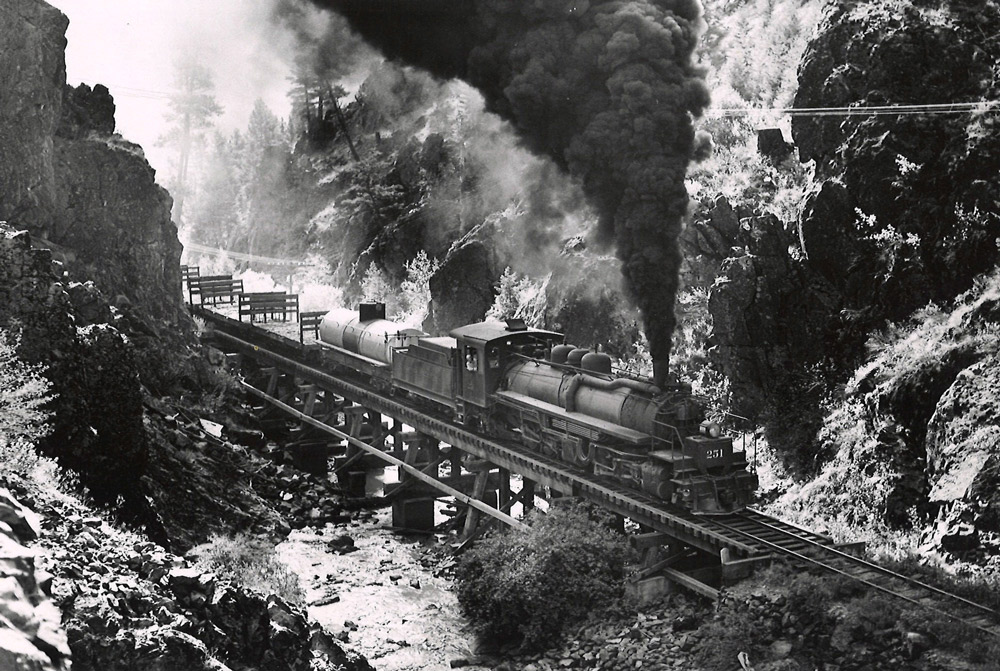 Sumpter Valley 2-6-6-2 251
The Sumpter Valley's other ex-Uintah engine, No. 251, hammers through Boulder Gorge with a 39-car train out of Baker on August 19, 1946. The line closed later that year, but part of it has been reopened as a heritage attraction.

H. R. Griffiths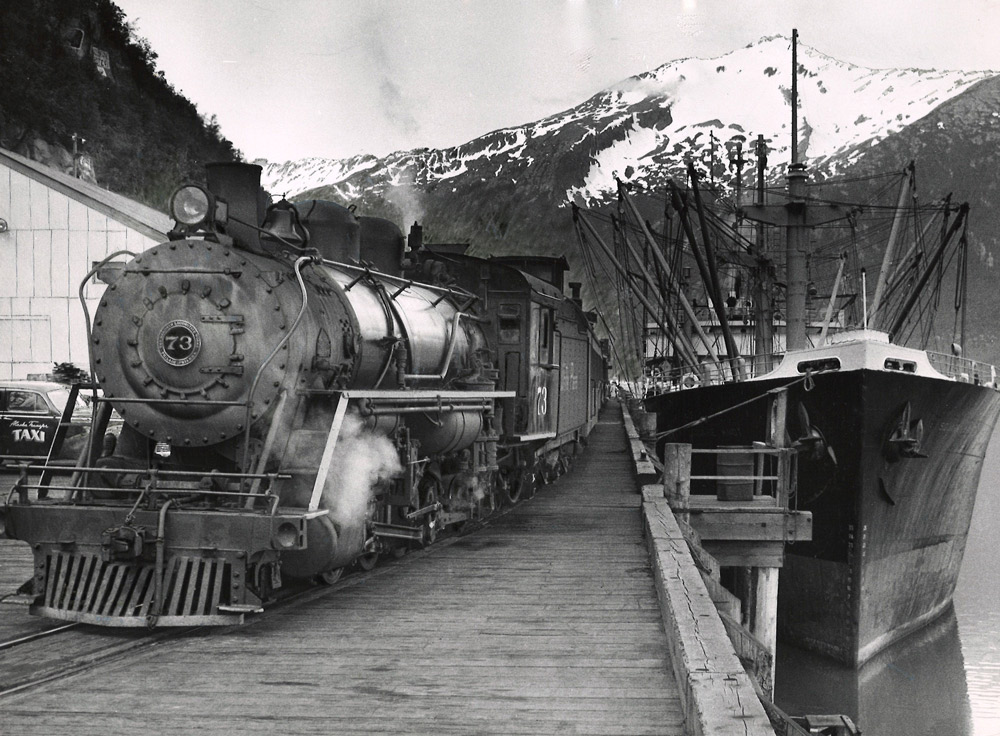 White Pass & Yukon 2-8-2 No. 73

The White Pass & Yukon Route, extending 110 3-foot-gauge miles north from the port of Skagway, Alaska, into Canada, opened in 1900 during the Yukon Gold Rush. Five decades later, engine 73, one of two 2-8-2s built for the road in 1947, is ready to depart the pier at Skagway with a trainload of tourists. The locomotive, the last built for the WP&Y, sees occasional service today on the line, which is almost entirely devoted to carrying tourists.

F.L. Jaques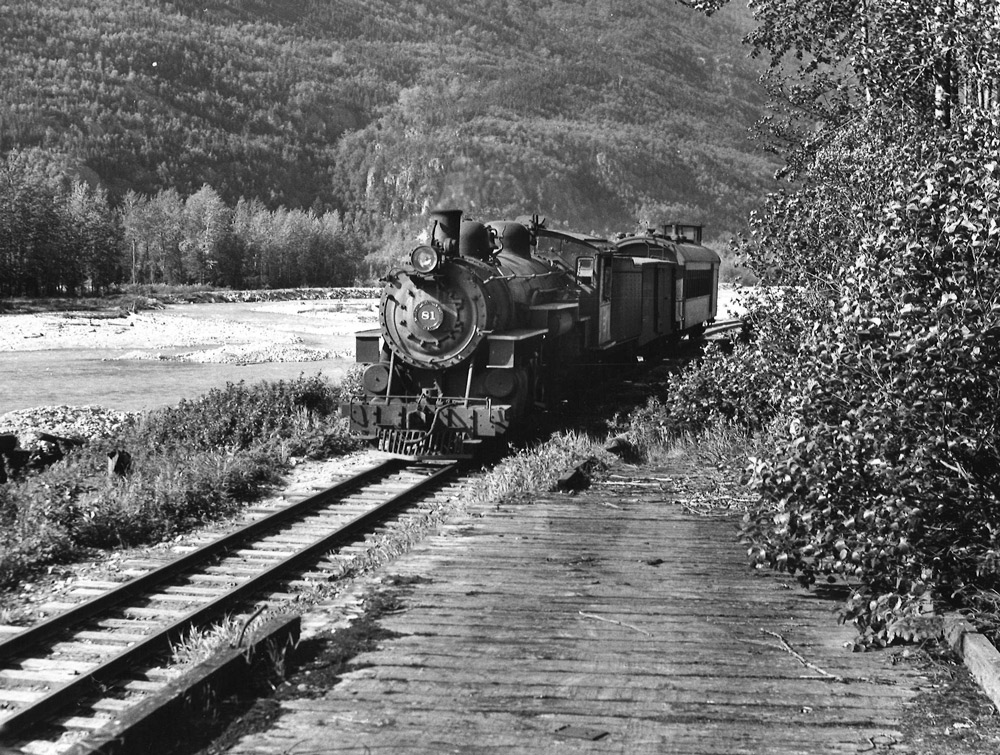 White Pass & Yukon 2-8-2 No. 81

WP&Y Mikado No. 81 heads two cars, including a combine fitted with a cupola for use as a caboose, along the Skagway River circa 1950. The 2-8-2 is one of two ex-Sumpter Valley Mikes that came to the road in 1940 as the threat of war increased traffic on the WP&Y. Both returned to Oregon in the 1970s, and No. 81 was restored for service on a rebuilt portion of the SVR, where it runs with its old number, 19.

F.L. Jaques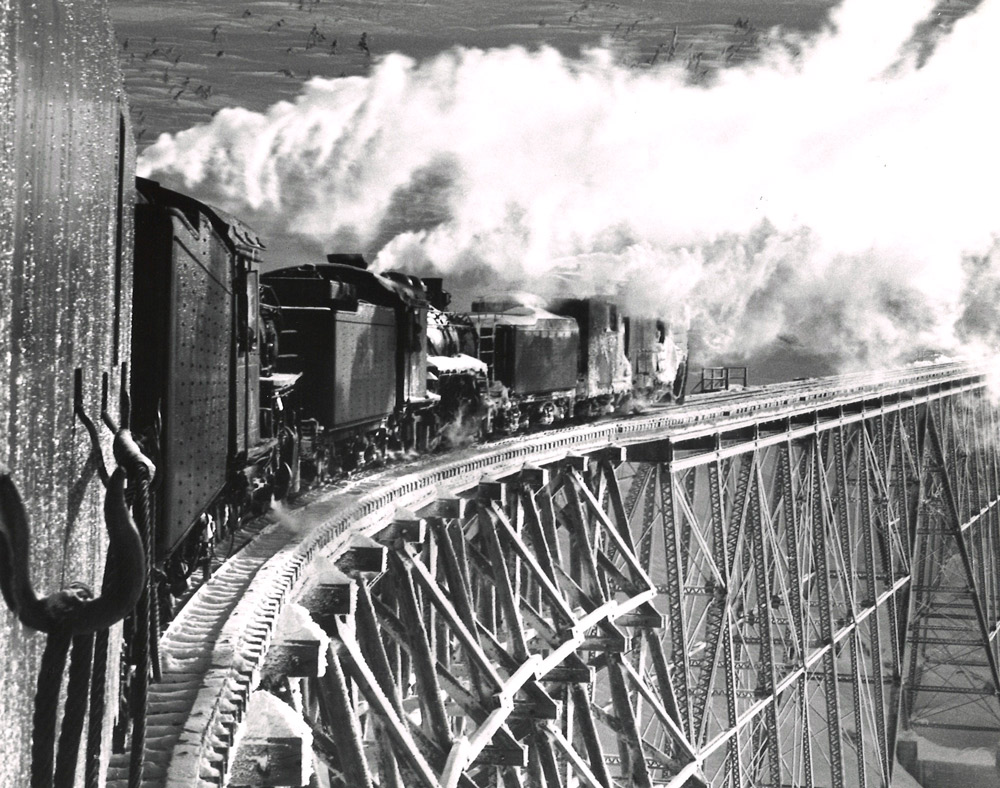 White Pass & Yukon plow train on the Steel Bridge
Two steam locomotives push a rotary snowplow out onto the Steel Bridge, a.k.a. the Switchback Arch, in about 1950. Although the line was later relocated, the spectacular structure still stands, its timber approach trestles slowly deteriorating.

Carl E. Mulvihill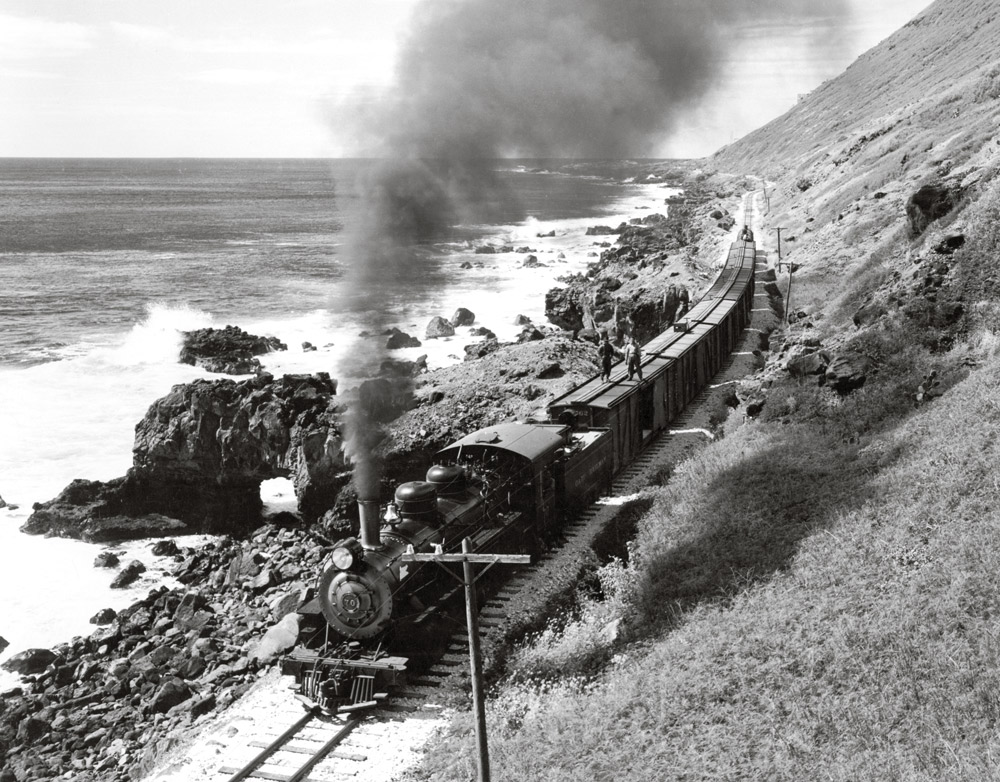 Oahu Railway 2-8-2 No. 70

The Oahu Railway & Land Co.'s 90-mile 3-foot-gauge system consisted principally of a main line from Honolulu that ran west to Pearl Harbor then generally along the coast about halfway around the island to Kahuku. Its traffic increased tremendously in the months before and after December 7, 1941. In this view from the mid-'40s, 2-8-2 No. 70 is near Kaena Point with a freight from Kahuku.

Kent W. Cochrane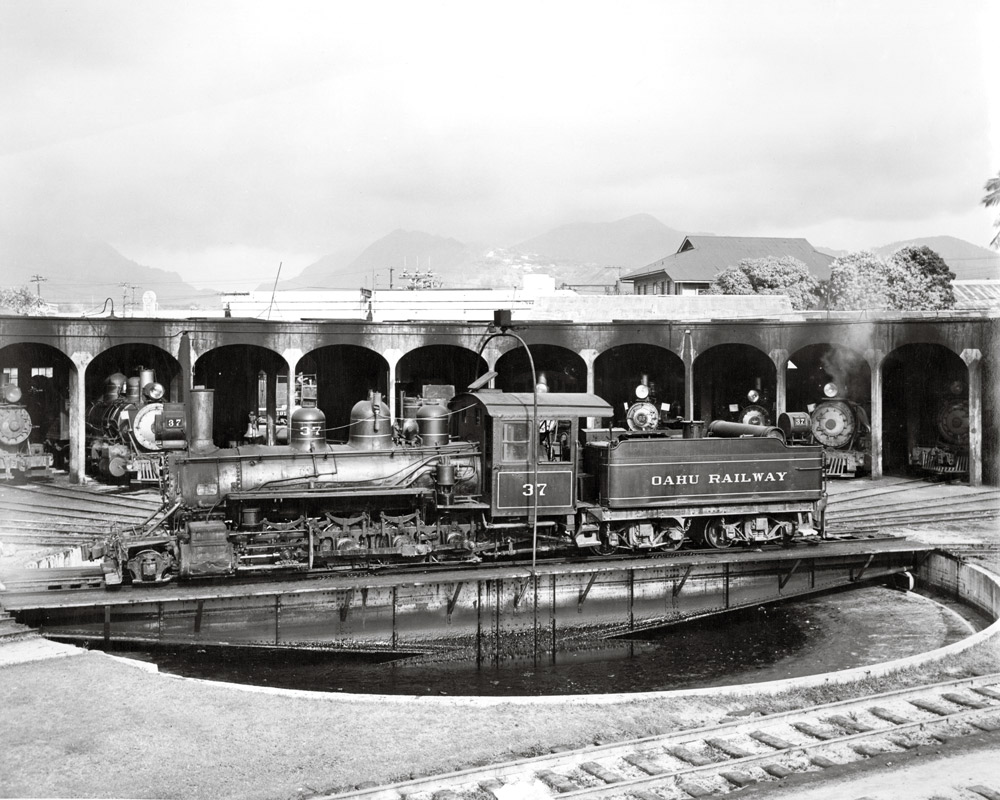 Oahu Railway 2-8-0 No. 37

In the mid-1940s, OR&L 2-8-0 No. 37 rides the turntable at the 15-stall Honolulu roundhouse. Although the Oahu Railway was largely abandoned in 1947, the sturdy concrete structure still stands.

Kent W. Cochrane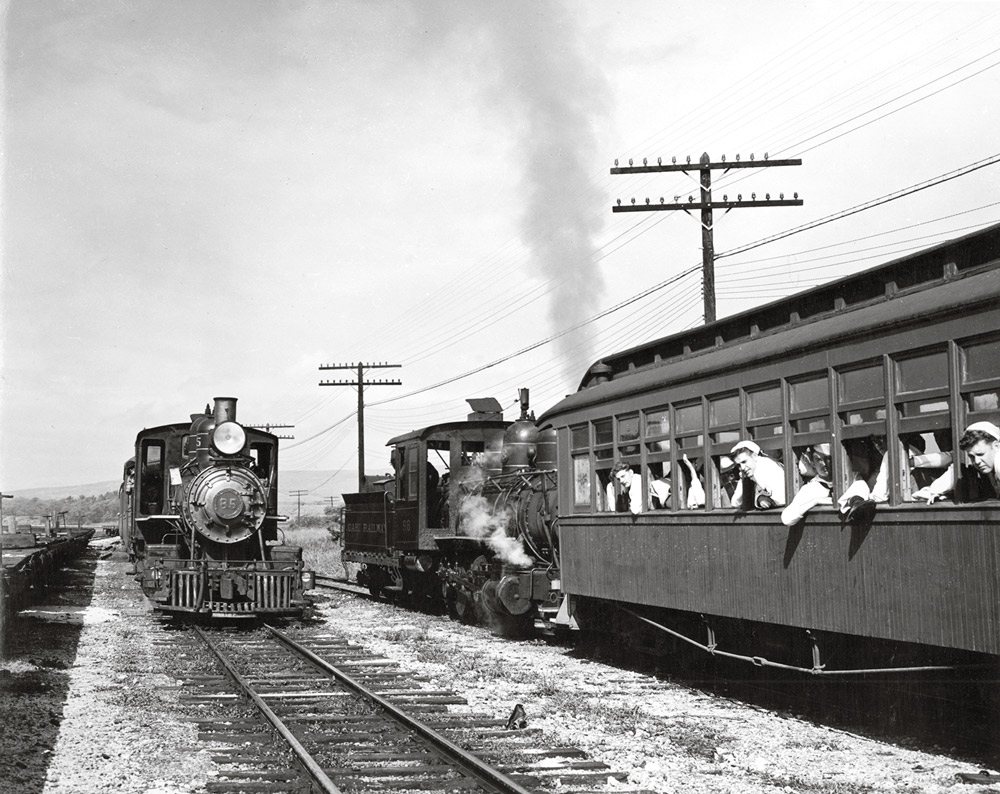 Oahu Railway Nos. 85 and 98
Ten-Wheeler No. 85 on a train from Barbers Point meets 2-8-0 No. 98 taking sailors to the Nanakuli rest camp about 15 miles west of Pearl Harbor in the mid-1940s.

Kent W. Cochrane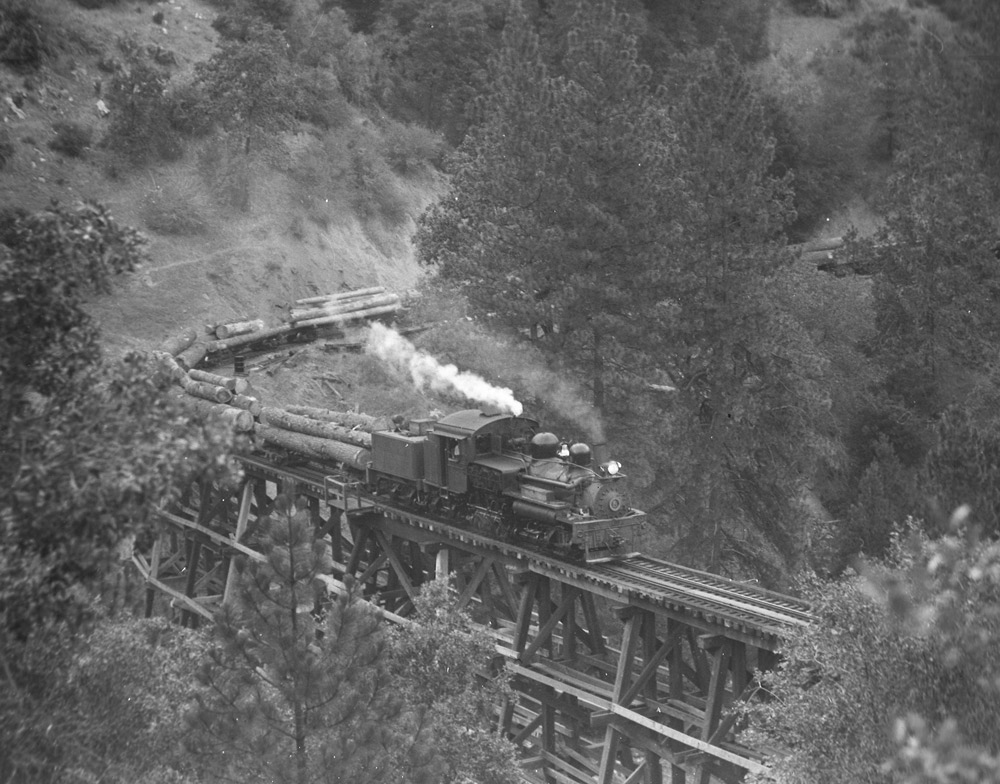 West Side Lumber Shay No. 8

West Side Lumber Co. Shay No. 8 brings a train of logs across the Tuolumne River around 5 a.m. one morning in July 1956. West Side's oil-burning geared engines prowled the woods east of Tuolumne, Calif., until 1960, when new owners shut down the 3-foot-gauge network.

Bob Keller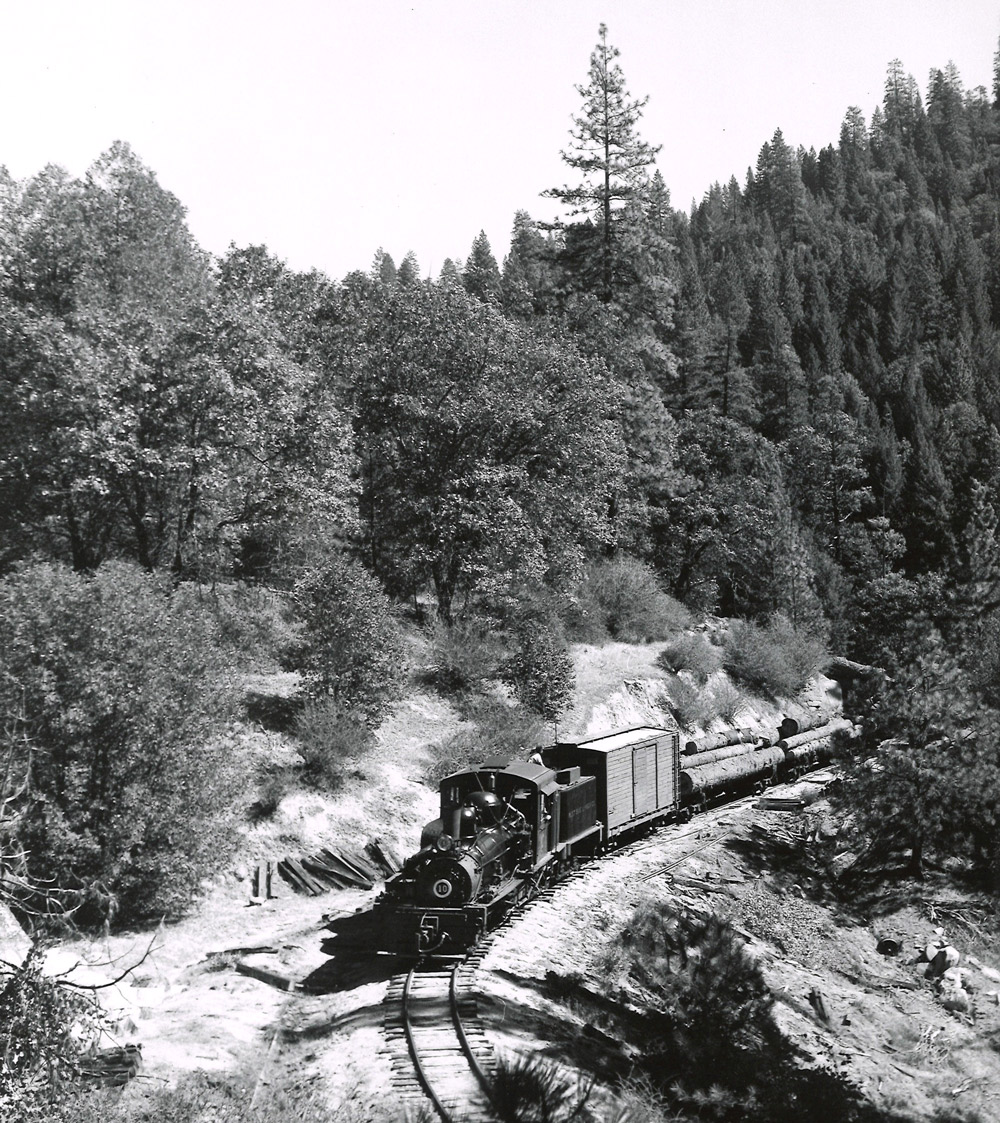 West Side Lumber Shay No. 10

Freshly shopped WSL Shay No. 10 brings a log train downgrade toward Tuolumne on October 8, 1959.

Robert Field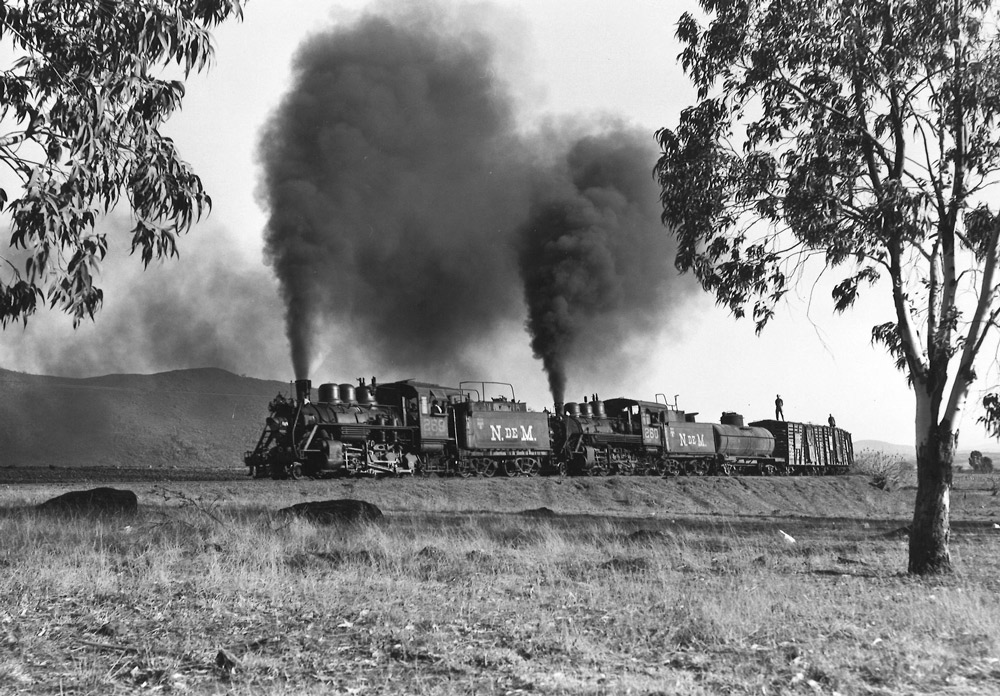 National of Mexico 2-8-0s 269 and 260

Mexico's network of 3-foot-gauge lines peaked at about 1,500 miles, 100-percent steam-powered until the mid-1960s. The nation's abundance of petroleum meant that the locomotives were oil-fired. In March 1961, NdeM 2-8-0s 269 and 260 climb Ozumba Hill on the Puebla–Mexico City line with a freight train.

Howard S. Patrick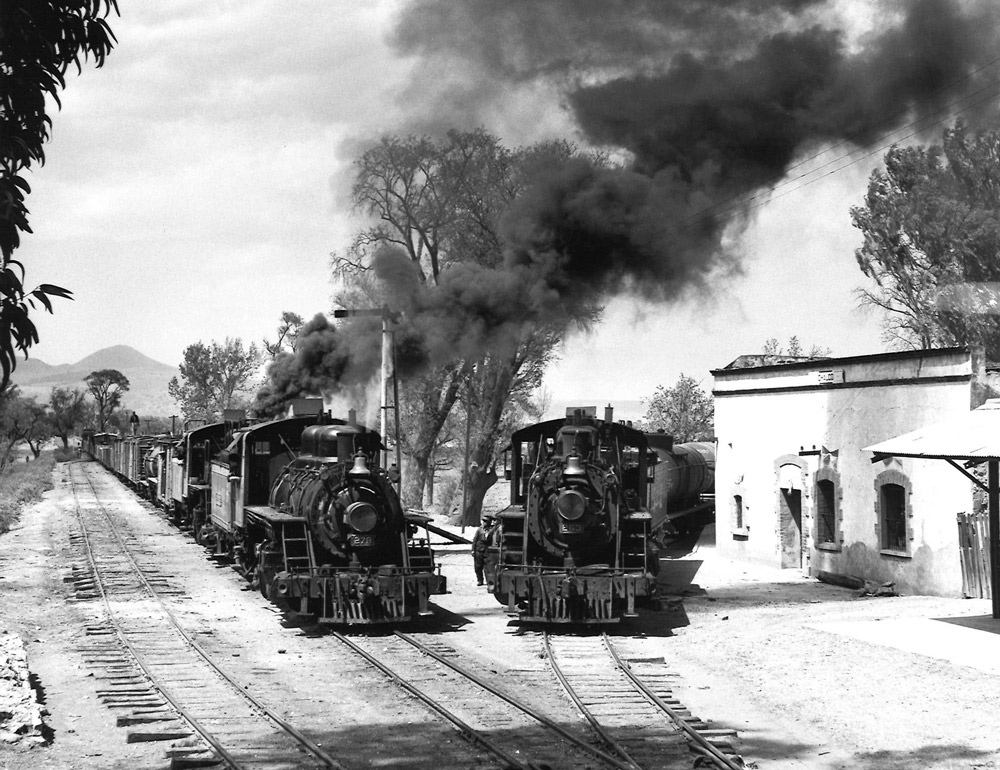 National of Mexico 2-8-0s 278 and 263

At Chalco, Mexico, NdeM 2-8-0 263 waits in the clear with its train as sister 278 and another 2-8-0 pass with a southbound freight from Mexico City to Cuautla in March 1961.

John Pickett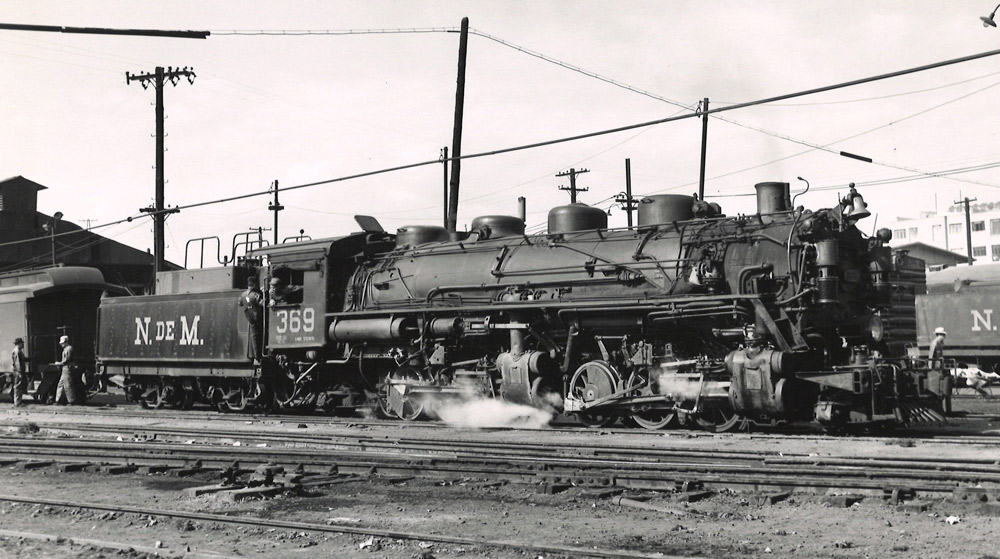 National of Mexico 2-6-6-2 369

The ultimate in North American narrow-gauge steam power was a group of 10 simple-expansion 2-6-6-2s built by Alco for NdeM during 1929–37. In March 1948, No. 369 backs onto a passenger train at Mexico City's Buenavista Station.

L.T. Haug, Everett L. DeGolyer collection

Oil-fired narrow gauge steam locomotives are relatively rare. But they are making a come-back in the world of preservation. Recently the Durango & Silverton tourist railroad, prompted by a disastrous wildfire allegedly caused by one of its trains, began converting some of its steam locomotives from coal to oil fuel. Like the rest of the former Denver & Rio Grande Western narrow-gauge network — and, indeed, the majority of the North American rail system — the D&S's line has historically been worked by coal-fired power. But some 20th-century slim-gauge operations used oil to power their steam locomotives.
Here's a look at six of those oil-fired narrow gauge rail lines.