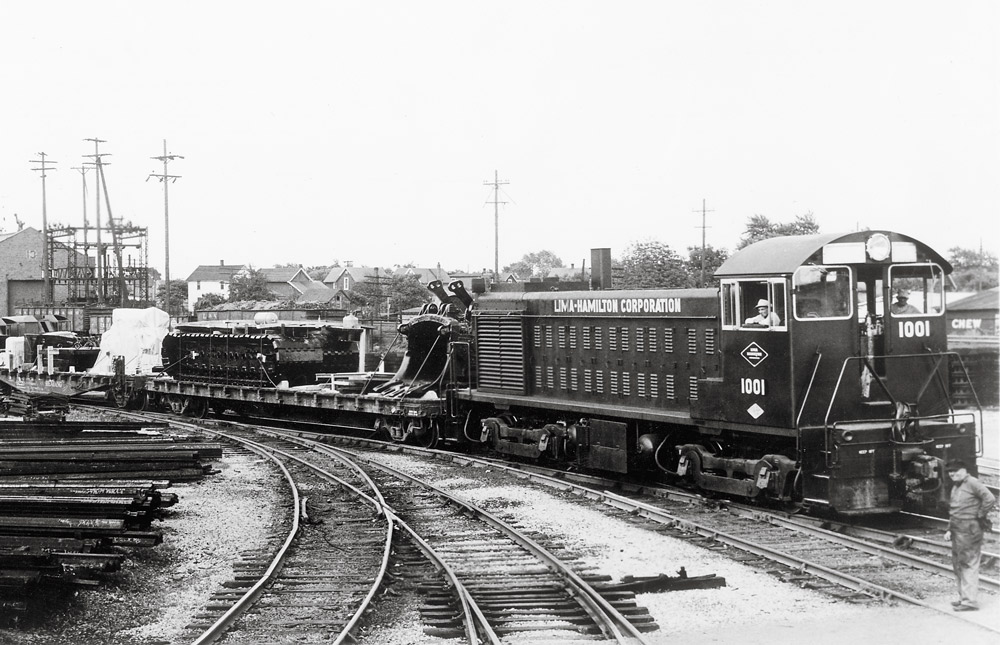 Lima-Hamilton locomotives history
Lima-Hamilton locomotives were built out of Lima, the youngest and smallest of the Big Three steam builders. The Ohio manufacturer was synonymous with steam at its best, and it upheld the steam standard to the bitter end. Even as legions of diesels were rolling off the erecting floors of competitors, Lima Locomotive Works was espousing the advantages of modern steam power from its hometown of Lima, Ohio.
Lima's devotion to steam cost it dearly. While competitors' books bulged with diesel orders, Lima went hungry as steam orders dwindled. Being careful not to concede defeat or publicly compromise its steam loyalty, Lima merged with the General Machinery Corp., of Hamilton, Ohio, to form the Lima-Hamilton Corp. on October 1, 1947. Having spurned a postwar proposal to produce diesel locomotives for Fairbanks-Morse, Lima was neither shopping for a diesel-building partner nor looking to head to the altar. Rather, the L-H marriage was instigated by General Machinery, which was in search of a market for its Hamilton diesels as well as a gas turbine already under development.
Although Lima had built a few diminutive gas-mechanical locomotives in the 1920s and '30s, the company had virtually no experience with diesels. Meanwhile, General Machinery's 4-cycle Hamilton diesel had been introduced in 1936 and seen use in marine, industrial, and stationary applications. Hamilton diesels also had been employed in experimental locomotives built by Davenport and Plymouth, and to repower distillate and gas-electric motor cars.
As steam production at Lima plummeted, engineers at the Hamilton, Ohio, plant, worked to design an engine based on the proven Hamilton 68SA. In 1948, diamond-shaped Lima builder's plates, appended with the words "Lima-Hamilton Corporation," were affixed to just 36 steam locomotives. In 1949, Lima had just two orders on the books, both for 2-8-4 Berkshires (10 for Louisville & Nashville, 22 for Nickel Plate Road).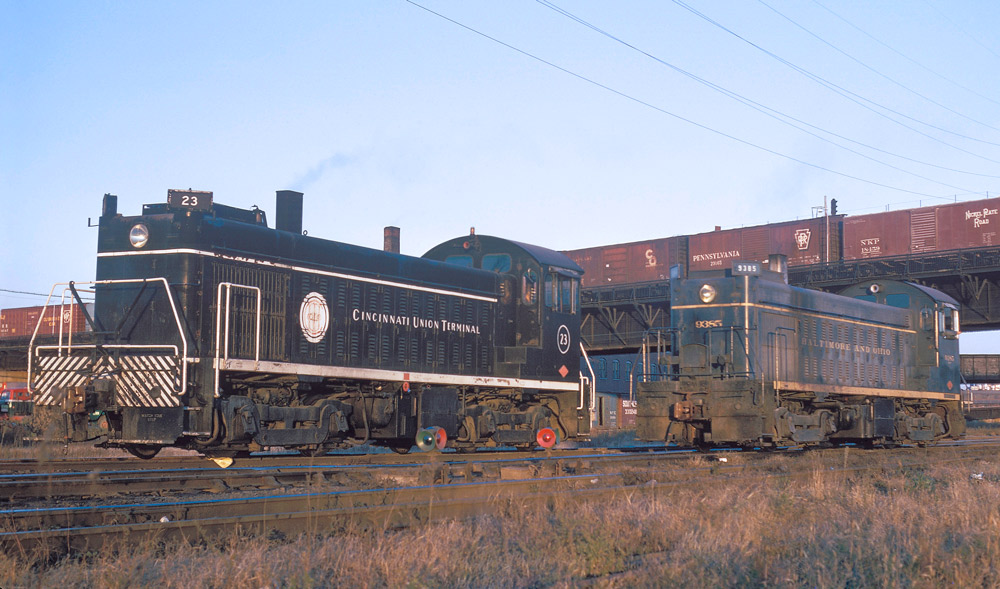 Beginning of Lima-Hamilton
The Berks weren't the only locomotives taking shape at Lima, however. In spring 1949, a single diesel switcher with an 8-cylinder Hamilton T89SA engine and Westinghouse electrical gear was nearing completion. Finished on May 12, 1949, Lima's first diesel, 1,000 h.p. demonstrator No. 1000, wore solid black paint with simple "Lima-Hamilton" lettering on its hood.
Ironically, just one day later, Nickel Plate 2-8-4 779 was fired up for final inspection. Overshadowed by the formal unveiling of Lima's first diesel, the 2-8-4 left the plant with little notice. It would be Lima's last steam locomotive.
Lima 1000, the first of five 1,000 h.p. switcher demos, ventured into a diesel-hungry world. The newest model on the market was attracting interest, and orders. Armco Steel 708, the first diesel Lima sold, was delivered June 27, 1949. Two days later, Lima shipped its first common-carrier diesel as NKP 305 followed demo 1000 out the gates.
By April 1950, Lima had built 38 1,000 h.p. switchers including 4 for NKP, 6 for New York Central, and 10 each for Erie and B&O. Toledo, Peoria & Western bought a single new switcher, plus demos 1000 and 1004, while Armco took demo 1001 and a second new unit.
In fall 1949, Lima added a 750 h.p. switcher to its lineup. Housed in the same carbody as its 1,000 h.p. big brother, it was powered by a 6-cylinder engine and, like all Lima diesels, outfitted with Westinghouse electrical equipment. Only six were built, all for Cincinnati Union Terminal, between November 1949 and June 1951.
[Trains.com Unlimited Members can watch a cab ride video in ex-Cincinnati Union Terminal No. 25 at the Whitewater Valley Railroad museum.]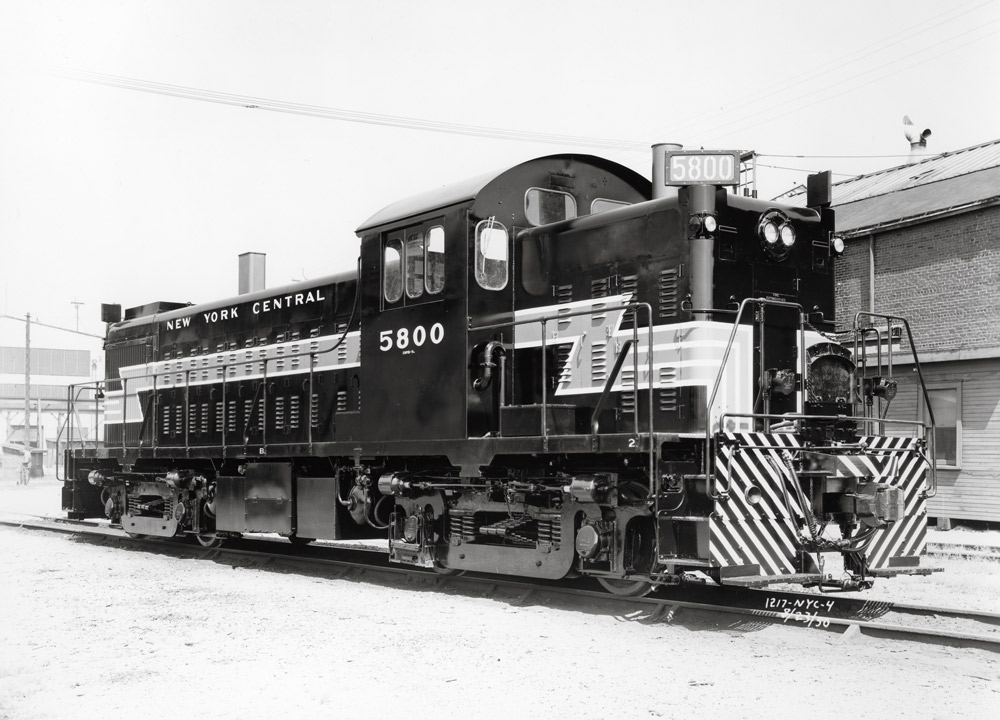 Lima-Hamilton locomotives: models
Less than a year after building its first diesel, Lima expanded its catalog with a new line of 10 models in April 1950. Lima never assigned formal model designations to its diesels, referring to them simply by horsepower rating and configuration. Based on the 6- and 8-cylinder Hamilton engines, the new line ranged from 800 and 1,200 h.p. switchers to a 1,200 h.p. road-switcher and double-engine, center-cab transfer locomotives available in 1,600 and 2,400 h.p., C-C or A1A-A1A, versions.
Although only 4 of the 10 models were ever built, Lima gained momentum through 1950 and early '51. Switcher sales were reasonably brisk, with repeat orders from B&O, Erie, Nickel Plate, NYC (under the auspices of subsidiary Chicago River & Indiana) and Armco Steel. Lima broke new ground with orders from Rock Island, the Terminal Railroad Association of St. Louis, New Haven, and Wabash, which augmented the purchase of 10 new 1,200 h.p. switchers by acquiring demos 1002 and 1003.
Road-switcher sales were limited to 16 steam-generator-equipped 1,200 h.p. versions for NYC, and Pennsy purchased the only 22 Lima center-cab transfer locomotives. Rated at 2,500 h.p., they rode on two three-motor trucks.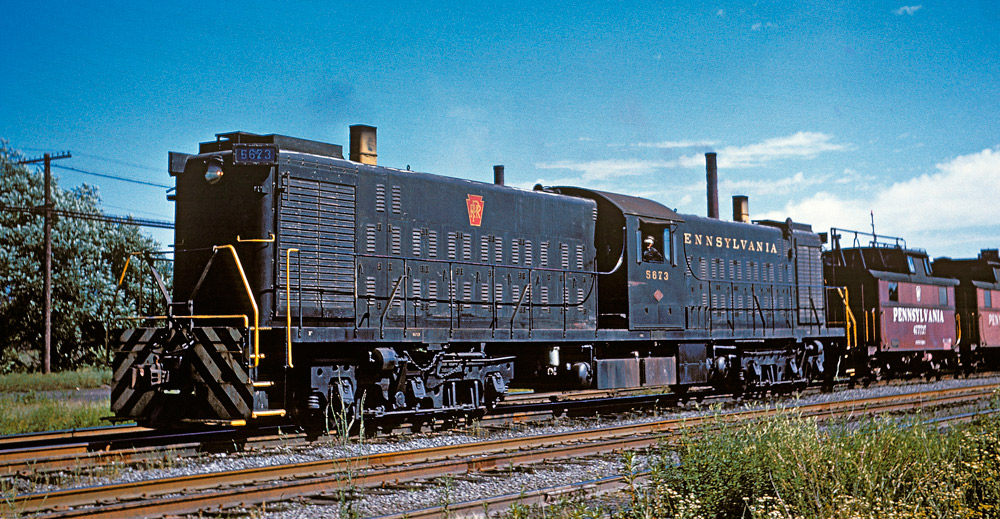 Merger with Baldwin
While gruff-sounding Hamilton diesels talked it up on the Lima test track, company officials were engaged in quiet conversation with their counterparts at Baldwin. Shock waves rolled through the Lima works as news of a merger of Lima-Hamilton and Baldwin Locomotive Works was formally announced. On November 30, 1950, they became the Baldwin-Lima-Hamilton Corp.
Baldwin wanted Lima not for its locomotive business, but for its non-rail product lines. With competition in the locomotive market heating up and demand cooling, Baldwin was looking to diversify, and Lima's crane and shovel division and other industrial concerns were just the ticket. On the eve of construction of the Interstate highway system, BLH planned to drop Lima's locomotive line and expand its shovel and crane production.
On September 11, 1951, Lima employees lined up for a formal portrait with Pennsylvania Railroad transfer diesel 5683, the final locomotive built at the Lima works. Not three years after the completion of its first diesel locomotive, Lima's 174th would be its last. The last of the Big Three steam builders to enter the diesel market was the first to leave.