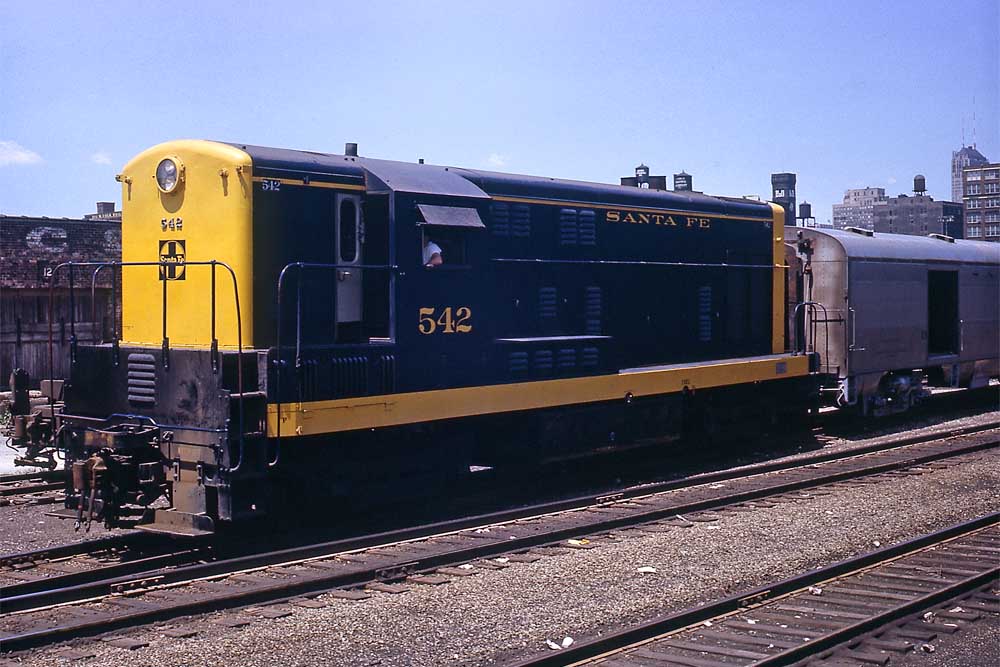 The Fairbanks-Morse H12-44TS locomotive was a familiar-looking unit with different internals.
FM was a fierce competitor in the early days of dieselization, perhaps remembered most for its H24-66 Train Master, a six-axle 2,400 hp road-switcher that impressed almost every railroad it demonstrated on.
Among its lesser-known successes were three specialized units produced at the request of the Santa Fe to replace steam locomotives at Dearborn Station in Chicago. Looking to all the world like the light road-switchers offered by the builder, the unit was dubbed H12-44TS. Designers took the successful H12-44 switcher, put it on an elongated frame, added a short hood to house a steam generator and added the TS designation for Terminal Switcher. In the end, it looked a lot like the more familiar H15/16-44 road switchers also turned out by the builder's Beloit, Wis., plant, but with a lower horsepower output. The trio was powered with FM's standard six-cylinder, opposed-piston, two-stroke diesel engine. They were geared for a top speed of 60 mph.
Delivered in 1956 and numbered 541-543, they were immediately set up and put to work at Dearborn Station in the road's then current zebra stripe scheme. The three units, eventually painted in the road's latter blue and yellow colors, worked routinely until 1972, after Amtrak had assumed intercity passenger train operation but the railroads still provided crews and support services under contract. At that time, the first unit was retired with the other two following a couple of years later. Nos. 541 and 542 went to the scrapper, but the last, 543, was saved, along with other locomotives, for preservation. Stored in the railroad's Albuquerque, N.M., roundhouse, it was donated to the California State Railroad Museum in Sacramento in the mid-1980s.
But why Fairbanks-Morse? Why not an EMD Geep or an Alco RS-series? Both of which Santa Fe owned at the time. The answer was that the railroad, like many other large railroads then and now, wanted to keep specific builders, if not models, in certain geographic areas. By doing so it made it easier to not only stock parts but have mechanics familiar with their idiosyncrasies keep them running.
Were they a success? Absolutely. Once tamed by knowledgeable railroaders, the three units performed well over their career, only to be sidelined by age and when their passenger car terminal job was no longer necessary.