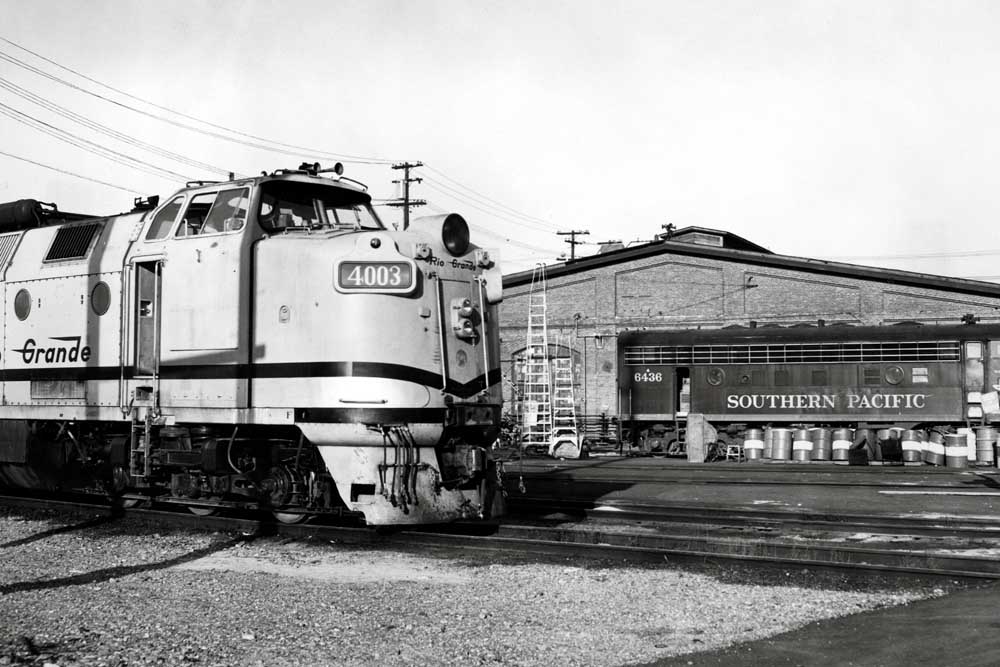 North American railroads never found a broad use for freight service diesel locomotives with a hydraulic drive, making them another case of the "diesels that didn't."
Germany was the early leader in developing and building diesel locomotives that utilized direct-drive transmissions. Those early models in the 1930s incorporated torque converters and gears in lieu of electric motors geared to the axles, as was the norm in U.S. railroading. There was limited interest in such units in the U.S., although Plymouth and Whitcomb built small industrial direct-drive units from the late 1930s through the mid-1950s. Budd RDC cars represented the most successful and widespread application of hydraulic drives in the country.
In the late 1950s, both Denver & Rio Grande Western and Southern Pacific were interested in finding motive power that developed more power than the 2,400 h.p. models on the market, EMD's SD24s and Alco's RSD15s. Both roads approached Germany's Krauss-Maffei to design such a locomotive that utilized a hydraulic drive, and, as a result, each took delivery of three prototypes in 1961. Designated as ML-4000s, the units had full-width carbodies and high-mounted turret type cabs. Each locomotive had two 2,000 h.p., 16-cylinder, 1,585 rpm Maybach MD 870 engines coupled to Voith transmissions with drive lines geared directly to the axles. The three-axle trucks were of German design and unlike any made in the U.S.
Among the perceived advantages of hydraulic drive locomotives were full tractive effort when starting; no wheelslip under load with no subsequent overheating of the type experienced with traction motors; simplified controls; and easier maintenance. The Rio Grande initially believed that its three ML-4000s in multiple-unit operation could do the work of eight conventional 1,750 h.p. units.
D&RGW modified the units to improve the intake of fresh air through the road's many tunnels, and it replaced the compressed-air multiple-unit controls with the electrically activated type that enabled them to operate with EMD models.
As it turned out, the Krauss-Maffei units required a high level of maintenance and were simply not rugged enough to meet the demands of heavy service over Rio Grande's mountainous territory. Since they were orphans on the roster, and the D&RGW found that they performed no better than the newly arriving GP30s, in February 1964 the road sold all three to the Southern Pacific, which gave the diesel-hydraulic concept a longer, harder look.
Krauss-Maffei ML-4000 (cowl)
Southern Pacific based the six prototype Krauss-Maffei cowl body units out of Roseville, Calif., where they were first utilized over Donner Pass and later down the San Joaquin Valley and over Tehachapi Pass. Not meeting expectations, all six were scrapped in September 1967. Even before their tenure was over, SP was still interested in diesel hydraulic locomotives with design improvements to meet the railroad's requirements.
Krauss-Maffei ML-4000 (hood)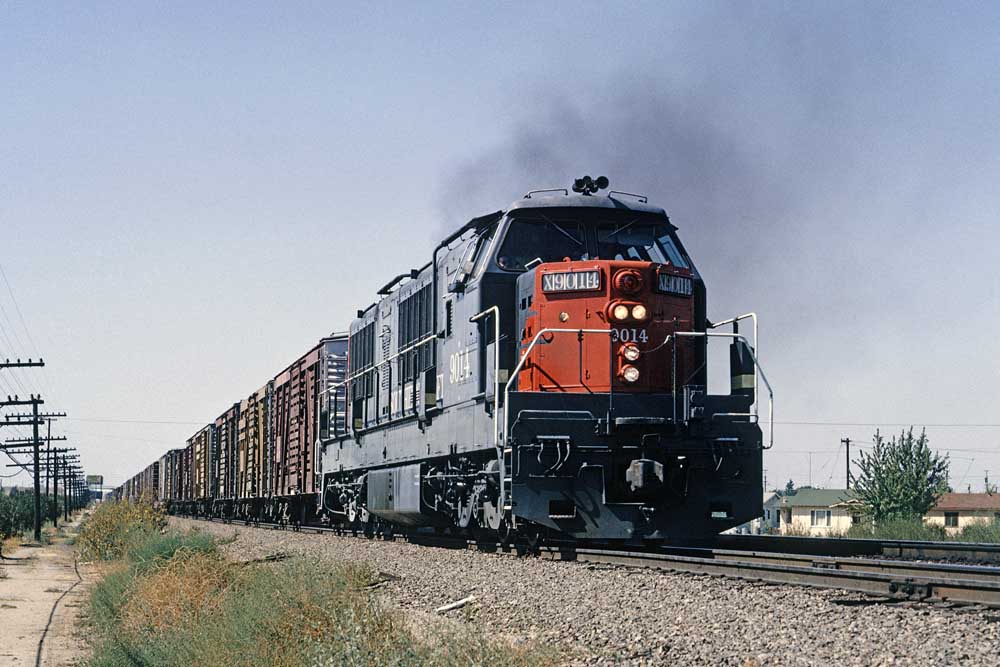 Southern Pacific next wanted a diesel-hydraulic more closely aligned with current U.S. locomotive design practices. In particular, it desired a road-switcher type body with conventional trucks, multiple-unit capability, and a medium-speed prime mover of U.S. design. Another requirement was that the locomotive not require special servicing facilities.
To that end, Krauss-Maffei delivered 15 units in 1963, but they still came equipped with two high-speed 2,000 h.p. Maybach V-16 engines, contrary to SP's design preference. As before, the engines were coupled to Voith direct-drive hydraulic transmissions. The trucks were of standard General Steel Casting design, a type that also appeared on six-axle Alco diesel models. The cab sported side windows that slanted toward the roof and trapezoidal-shaped windshields, unique to U.S. railroading. Taller exhaust vents were also incorporated to minimize air intake issues.
Like their predecessors, the road-switcher hydraulics were assigned to Roseville, Calif., and utilized over similar territories, although four of the type were tested on iron-ore trains over Beaumont Hill in southern California in 1964. Over time, maintenance issues mounted, drive shafts were subject to failure, and the high-speed Maybach engines proved troublesome.
As a result, all were retired in November 1968. The former No. 9010 was converted to a camera car to film SP's right of way for use in a locomotive simulator for training purposes. It is undergoing restoration by the Pacific Locomotive Association at the Niles Canyon Railway.
Alco DH643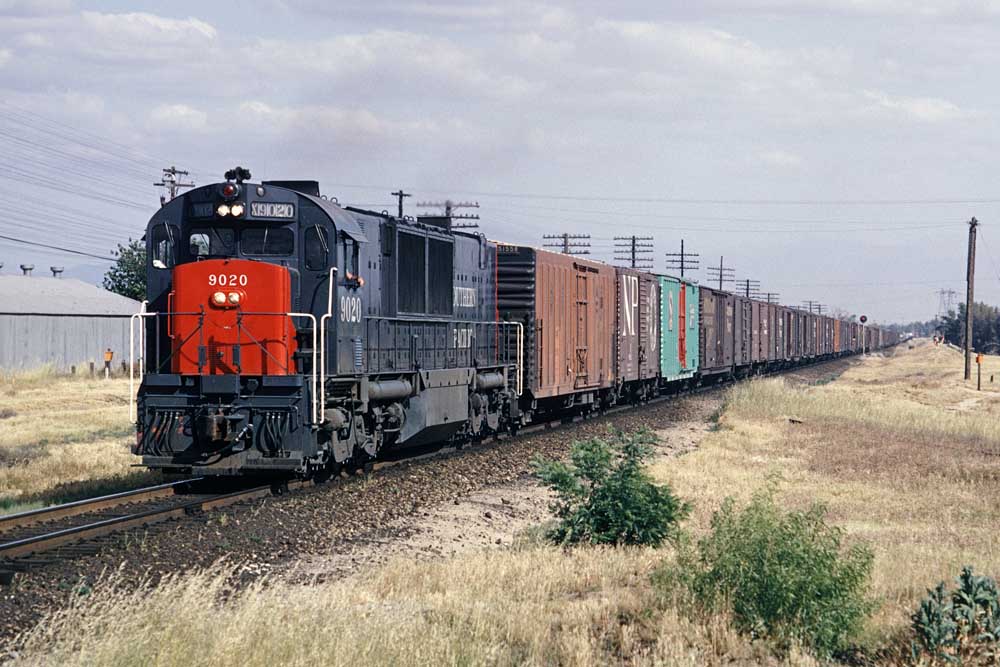 With an eye on SP's desired specifications for a road-switcher that employed a hydraulic transmission, Alco designed and built three DH643 units in 1964. Each had two 2,150 h.p. 12-­­cylinder 251C engines coupled to German Voith hydraulic transmissions under a license agreement. The prime movers, of the type used in SP's Alco RS32s, faced opposite each other with the radiators in the middle of the carbody and the transmissions below. The drive shafts from the transmissions to the trucks were of a heavier design than those employed in the Krauss-Maffei locomotives. The DH643s rode on a tri-mount truck that had been standard on Alco six-motor units since 1950.
They initially performed well on the SP, and reportedly, they could haul twice the tonnage of a diesel-electric with the equivalent horsepower. Like the Krauss-Maffei units, the DH643s were based out of Roseville and primarily used on San Joaquin Valley runs. They were frequently paired with at least one F7. Maintenance issues took their toll on the Alcos. In particular, there were instances when brass flakes were noted in the truck gear boxes, necessitating costly repairs.
No additional DH643s were ordered, and no other road expressed any interest. Orphans on the SP roster, all were retired in 1972.