The best-selling first-generation Electro-Motive diesel locomotives came from the switcher, cab unit, and road switcher product lines.
The company that would dominate locomotive construction from the 1940s through the 1970s had humble beginnings, contracting the construction of motor cars at other companies' plants in the 1920s. The Electro-Motive Corp. was purchased by General Motors in 1930, followed shortly by GM's purchase of the Winton Engine Co. In 1941 GM merged both Winton and EMC, with EMC becoming the Electro-Motive Division of General Motors. The company would continue to develop locomotives of all types, including switchers, passenger and freight cab units, road switchers, and cowl-style passenger and freight locomotives.
Electro-Motive diesel locomotive switchers had a fairly common look from the 1930s into the 1960s, with similar cab and hood designs. All EMD switchers through the SW1200 shared the same frame length. Early switchers were built with short exhaust stacks, but these were often lengthened by railroads, and have a different appearance with straight or tapered sides. Spotting features include the number and placement of exhaust stacks and louvers and the size and location of radiator openings.
Electro-Motive's FT was the first heavy-duty road freight diesel, proving that diesels could do the job better and more efficiently than steam. From the FT of 1939 through the last F9s of the late 1950s, EMD F units maintained a consistent appearance. Most significant changes were internal, with some external variation in details such as rooftop fan housings, louvers, and portholes. All F units used various non-turbocharged versions of EMD's 16-cylinder 567 engine. Traction motors, generators, and other mechanical and electrical equipment were improved and upgraded through F unit production.
Although a latecomer to the hood unit market, Electro-Motive diesel locomotives came to dominate the road switcher market with the GP7. Four-axle road switchers ride on versions of the distinctive GP truck, which is popularly known as the "Blomberg." Many early Geeps were built with steam generators, which were located in the high nose. Other buyer options included a variety of headlight and horn options as well as fuel tank sizes.
NW2: 1,141 units and best-selling switcher of Electro-Motive diesel locomotives
The 1,000-hp NW2 was best-selling switcher among first-generation Electro-Motive diesel locomotives. It used the 12-cylinder 567 engine, and it didn't have the screened side openings like the earlier Winton-engine locomotives. The switch to tall exhaust stacks occurred during NW2 production, but many early NW2s had their original short stacks extended. As with the SW1, the hood roof on early NW2s had a double taper where it met the cab; later engines had a single taper. Late NW2s had six louvered doors on the cab end of each side, which were eventually modified with a letterboard gap between top and bottom louver sets. The TR and TR2 are cow/calf versions of the NW2, and the TR3 is a three-unit (cow/calf/calf) set.
Major buyers: AT&SF, ACL, B&O, B&M, CN, C&EI, CGW, CB&Q, CRI&P, DT&I, EJ&E, Erie, GTW, GN, IC, IHB, KCS, LV, MILW, MON, NYC, NKP, NYO&W, PRR, PM, SOU, SP, SLSF, TRRA, T&P, UP
SW1200: 1,024 units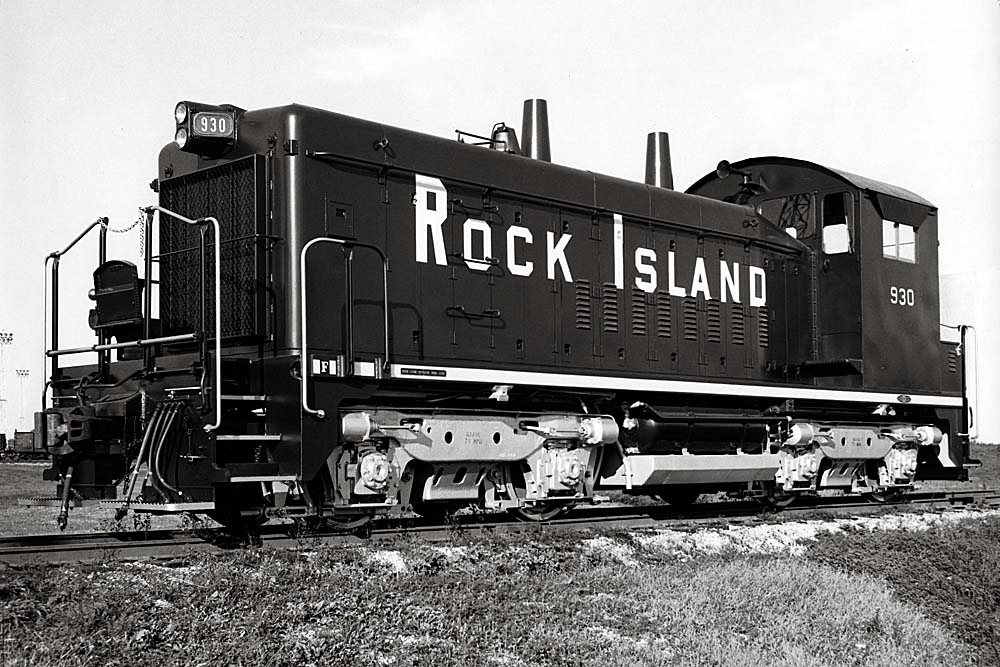 The SW1200 was almost identical to the earlier 1,200-hp SW9, but had an upgraded 567C engine. About the only way to differentiate an SW1200 is by the five louvers in its battery box (behind the cab). The SW9 has six louvers, but so do SW1200s built until March 1955. Some SW1200s rode on Flexicoil trucks. These locomotives had notches cut in the frame at the corner steps to clear the trucks.
Major buyers: AT&SF, B&O, BRC, CN, CP, C&IM, C&NW, CB&Q, CRI&P, DL&W, D&RGW, EJ&E, FEC, GTW, GN, IT, KCT, L&N, MILW, MN&S, MP, MKT, NYNH&H, NP, PRR, RDG, RF&P, SSW, Soo, SP, TRRA, WAB
F3A: 1,111 units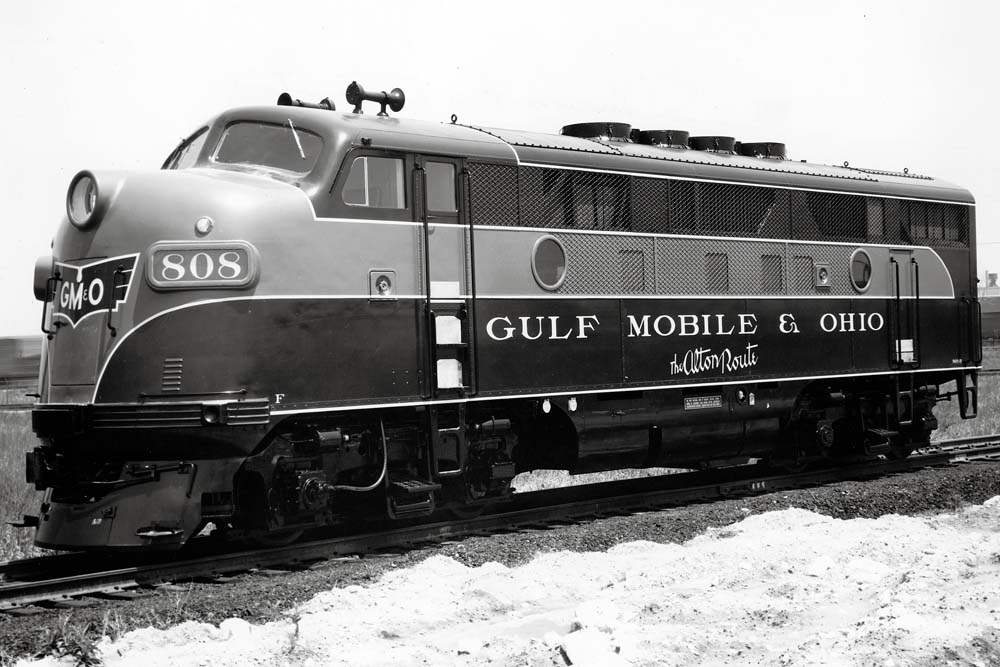 The 1,500-hp F3 went through several body variations as EMD improved the engine air intake systems and other components. These body variations have become known as "Phases." The first F3s (Phase I) were identical to F2s, with three widely spaced side portholes, screened and louvered openings across the top of each side, and four shrouded rooftop radiator fans. On Phase IIa F3As, the center porthole disappeared, replaced by four vent openings, with the area between portholes covered by screen (often called "chicken wire"). Phase IIb F3s received non-shrouded (low) radiator fans. On Phase III F3s, standard side panels replaced the screened area between portholes, with the four air intakes covered by louvers. The last (Phase IV) F3s received a stainless-steel grille covering the openings across the top of each side. They look like early F7s from the side, but have screen-covered dynamic brake openings in the roof (F7s have a roof-mounted fan).
Major buyers: AT&SF, ACL, BAR, B&M, B&O, CG, CN, CNJ, C&EI, C&NW, CB&Q, CGW, CRR, D&RGW, DL&W, Erie, FEC, GTW, GM&O, GN, Georgia, KCS, L&A, L&N, LV, M&StL, MKT, MILW, MEC, MON, MP, NYO&W, NYC, NP, PRR, RDG, SAL, SLSF, SP, SP&S, Soo, SOU, TP&W, UP, WofA, WM, WP
F7A: 2,367 units | F7B: 1,483 units: Best-selling carbody units of Electro-Motive diesel locomotives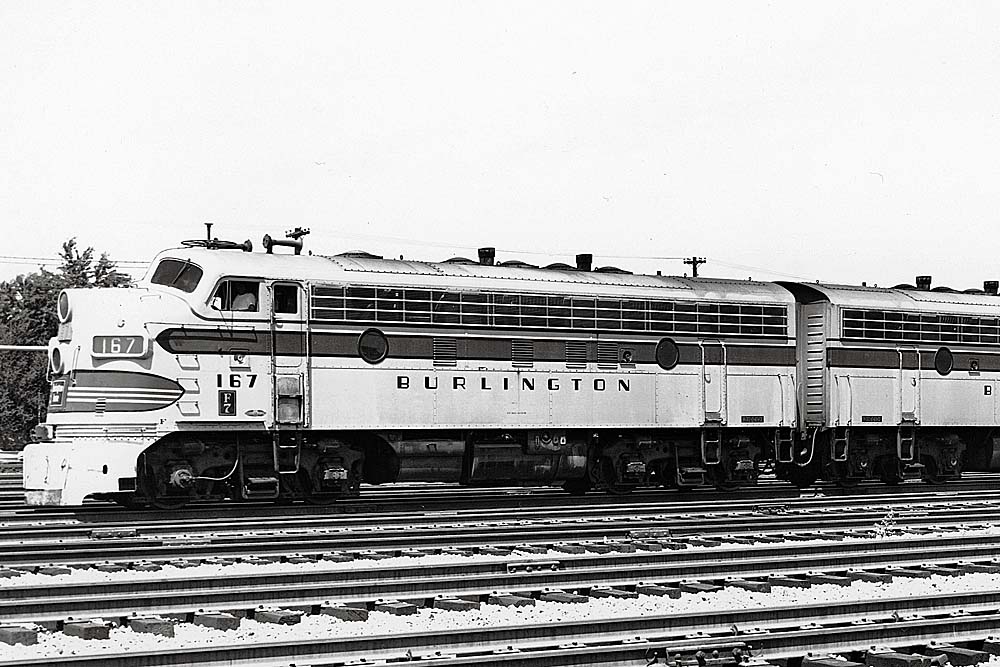 With more than 3,700 delivered in just under five years, EMD built more F7s than any other cab diesel. The F7 remained at 1,500 hp like the F3, but the new D27 traction motor was a significant improvement over its predecessor, giving the F7 a longer short-term rating. Other internal improvements increased reliability and operating efficiency. The appearance was almost the same as the Phase IV F3, with two side portholes on the A unit and a fabricated side grille with horizontal openings. The difference was the dynamic brakes, which now used a 36-inch fan identical to the radiator fans. Changes during production included a larger windshield (October 1949), rounded corners on cab doors (March 1950) and windows (June 1951), a Far-Air grille with stamped vertical slits replacing the fabricated grille (October 1951), and a larger (48-inch) dynamic brake fan (October 1952). Also, the slight rear roof overhang was eliminated in February 1952 and the final F7s had a new louver style with vertical openings.
Major buyers: Alaska, AT&SF, ACL, B&M, B&O, B&LE, CN, C&NW, C&O, CB&Q, CGW, CRI&P, CRR, D&RGW, DL&W, Erie, GM&O, GN, KCS, L&A, L&N, LV, MKT, MILW, MP, NdeM, NYC, NP, PRR, RDG, RF&P, SP, SP&S, SLSF, Soo, SOU, SSW, T&P, UP, WAB, WM, WP
GP7: 2,724 units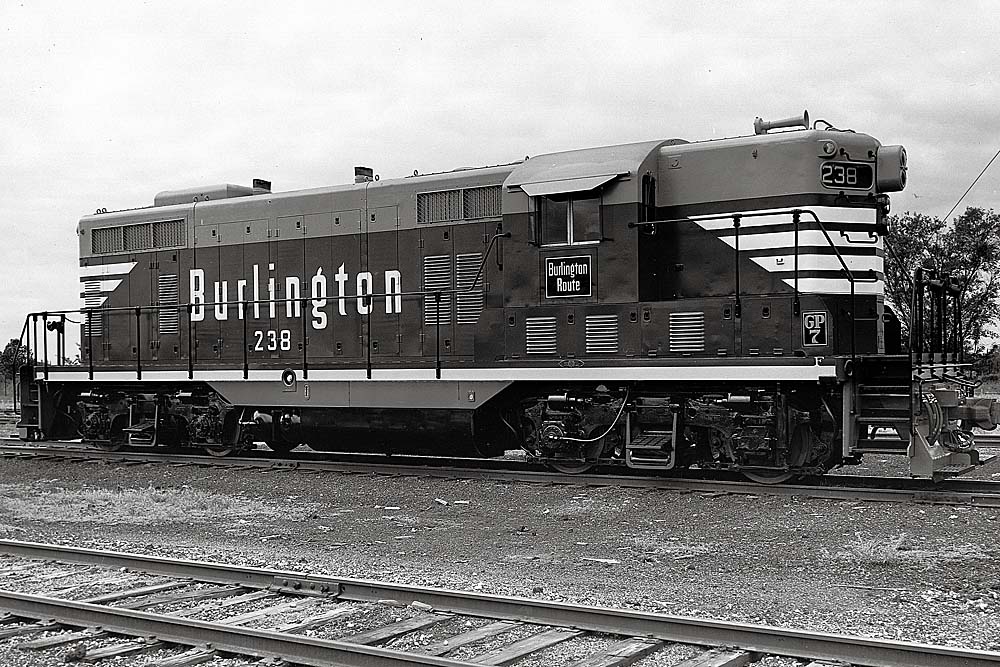 The GP7 introduced the basic road-switcher design that would be followed by Electro-Motive diesel locomotives into the early 1960s. The EMD cab has a shallower curve than an Alco, with tall hoods that have angled ends (unlike Baldwin's blunt ends). The GP7 had F7 mechanical components in a hood-unit body, with the same 567B engine and 1,500-hp rating. The GP7 can be identified from the later GP9 and GP18 by its three sets of louvers below the cab and on the adjacent battery box; the two rows of louvers under the radiator opening on each side at the end of the long hood; and by its use of T-shaped castings that joined the handrails and stanchions. Dynamic brakes were an option after late 1950, identified by a housing (often called a "blister") with a grid in the middle of the hood. A 36-inch dynamic brake fan was used through August 1952, with a 48-inch fan after that. Pilots with sloped plates were used until mid-1952; flat plates with boxes for MU hoses appeared after that. All GP7s had a full skirt that angled down from the frame over the top of the fuel tank sides. These skirts were later cut back on many locomotives. Some early GP7s lacked the box/step on the walkway behind the left side of the cab. Steam-generator-equipped engines can be spotted by a stack and vents atop the high nose.
Major buyers: AC, AT&SF, ACL, BAR, BRC, B&M, CN, CG, CNJ, C&O, CB&Q, C&EI, C&NW, CRI&P, CRR, DL&W, D&RGW, DT&I, D&TSL, Erie, FEC, GN, IC, L&N, MEC, MILW, MKT, MP, NC&StL, NYC, NKP, P&LE, PRR, QNS&L, RDG, SAL, SOU, SLSF, T&P, UP, WAB, WP
GP9: 4,092 units and best-selling of Electro-Motive diesel locomotives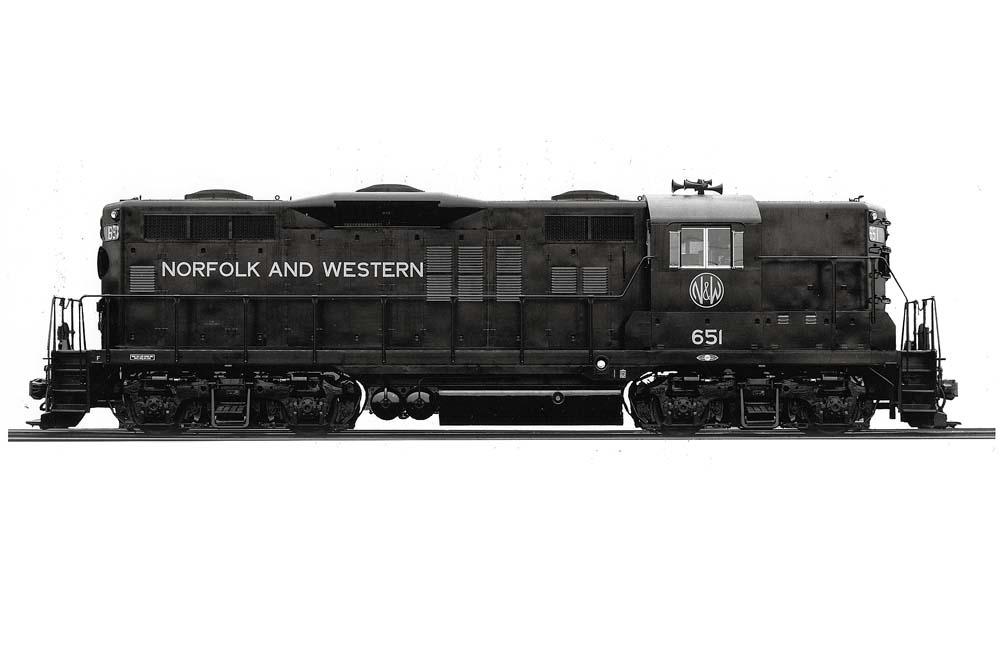 The improved 567C engine gave the GP9 a boost of 250 hp over its predecessor and making it the best-selling of first-generation Electro-Motive diesel locomotives. The spotting features between GP7s and GP9s are subtle, and many GP9 details changed during production. The first GP9s have a single louver on the battery box cover (above the walkway just ahead of the cab), compared to three on the GP7, and rows of louvers on the first two tall engine-room doors behind the cab (a third row was added during production). The stanchion style changed from castings to a stamped fitting by June 1954. Late GP9s (after October 1957) used single 48-inch fans fore and aft, replacing the pairs of 36-inch fans on earlier units. Late GP9s have the single battery-box louver replaced by two small louver sets. The side skirting above the top of the fuel tank, which was perforated on early GP9s, changed to a cut-down style during production (see the N&W GP9 above). This was often done retroactively to early GP9s and GP7s, so it's not a reliable spotting feature. Most GP9s were delivered with high noses, but the low nose became an option late in production. A GP9 was the first low-nose EMD diesel, built for Southern Pacific in 1959. Other options included dynamic brakes, steam generator (located in the nose), and fuel tanks (several sizes were available).
Major buyers: AT&SF, B&O, B&M, CN, CP, CofG, C&O, C&NW, CB&Q, CRI&P, CV, D&RGW, DT&I, FEC, GN, GTW, IC, L&N, MILW, M&StL, MP, NdeM, NYNH&H, NYC, NKP, N&W, NP, PRR, QNS&L, SAL, Soo, SOU, SP, SSW, T&P, UP, WAB, WM