The best-selling Dash-2 EMD diesel locomotives will come as no surprise to diesel locomotive fans.
By the late 1960s, the horsepower race had quieted, with 3,000-hp locomotives becoming the norm for fast freight (EMD's GP40 and SD40, GE's U30B and U30C) and 2,000 for local service (EMD's GP38). EMD had successfully introduced a new, larger engine, the 645, to power these locomotives. Entering the 1970s, EMD (then a subsidiary of General Motors) looked to upgrade its line of locomotives, but instead of introducing all-new locomotive models the company chose to revise and improve its existing locomotives.
The result was the "Dash-2" line, indicated by adding "-2" to the existing model designation. Introduced in 1972, the new locomotives looked much like their predecessors and maintained the same horsepower ratings, but featured new modular electrical and electronic assemblies, upgraded radiators and engines, new HT-C trucks for six-axle engines, and Blomberg M trucks for four-axle models. A.C. transmission became standard on EMD diesel locomotives.
The Dash-2 line was successful, and models remained in production through the mid-1980s. The SD40-2 became the most-popular second-generation diesel, with more than 4,000 built (including variations). The GP38-2 became railroading's standard low-horsepower engine, with more than 2,200 built.
GP40-2: 1,134 units
The 3,000-hp GP40-2 is identified by its three radiator fans and the standard Dash-2 spotting features. Radiator and air intake grilles evolved from a grid to a corrugated pattern as on the GP38-2, and the nose length changed from 81 inches to 88 inches in 1977. Models built in 1983 and later have the redesigned free-flow blower duct, giving them an appearance somewhat like a GP50 (but without the '50's large radiators). Canadian National and GO Transit together had 279 wide-nose "comfort cab" versions of the GP40-2, built by GMD in Canada as GP40-2L(W) with lighter frames and larger fuel tanks and GP40-2W with standard frames and tanks. Three GP40P-2s for Southern Pacific have steam generators at the rear. These have flared radiators.
Major buyers: Alaska, B&M, B&O, C&O, CR, D&RGW, DT&I, FEC, KCS, L&N, RDG, RF&P, SCL, SP, SSW, SLSF, WM, WP
GP38-2: 2,208 units (Best-selling four-axle, Dash-2 EMD diesel locomotives)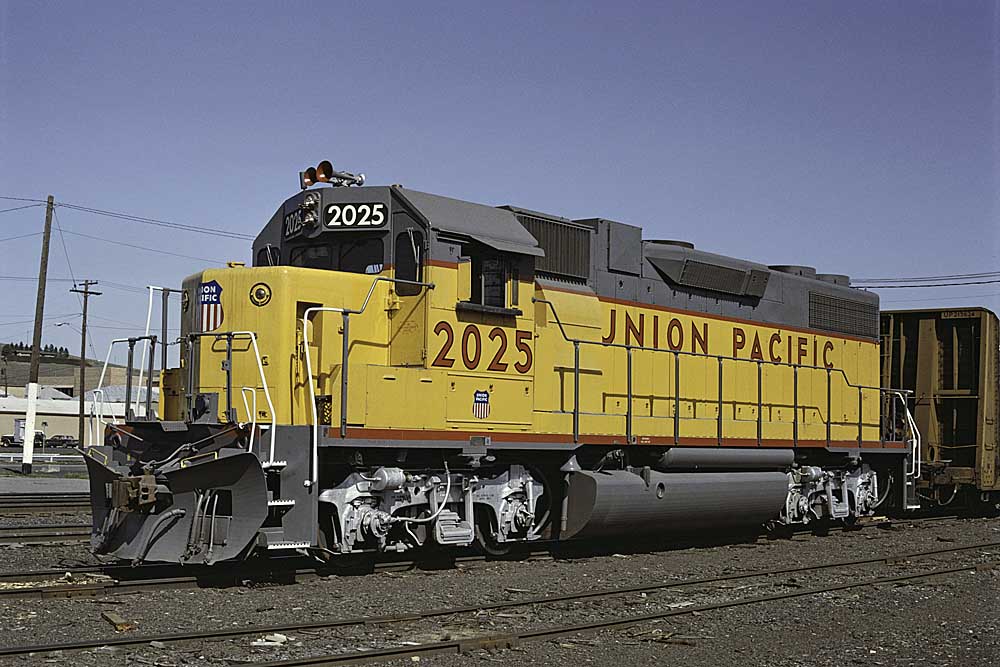 The 2,000-hp GP38-2 proved to be EMD's most popular second-generation four-axle road locomotive, with more than 2,200 sold. The GP38-2 has the common Dash-2 spotting features found across all models: A water-sight glass on the right side of the hood, slight overhang at the rear of the cab roof, and bolted-on battery-box cover (instead of hinged). Early side radiator intakes had single screen-grid-covered panels, but these were changed to a split design on mid-production models, then corrugated grilles in mid-1976. Paper air filters were an option, marked by a raised box on the hood between the central air intake and dynamic brake blisters. After 1975 this box had beveled side corners. The cab design changed in 1977, including a change in nose length from 81 inches to 88 inches, with a new fan style (Q-fans) in 1979. GP38-2s built after 1982 (mainly for Canadian Pacific) have the new free-flow blower duct (used on later GPs) on the right side. Other variations include 20 steam-generator-equipped locomotives for National of Mexico and high-nose versions for Norfolk & Western and Southern Railway. Canadian National obtained 51 wide-nose GP38-2Ws, dubbed "comfort cabs," Nos. 4760-4810, in 1973 and 1974 (also see the GP40-2 listing on page 80).
Major buyers: AC, BRC, B&M, BN, CN, CP, C&NW, CRI&P, CSS&SB, CRR, CR, DT&I, EJ&E, FEC, GTW, GM&O, ICG, IT, KCS, LV, LIRR, L&N, MILW, MKT, MP, ON, PC, P&LE, P&W, SCL, Soo, SOU, SP, SLSF, TM, TP&W, UP, Vermont
SD40-2: 3,962 units (Best-selling of Dash-2 EMD diesel locomotives)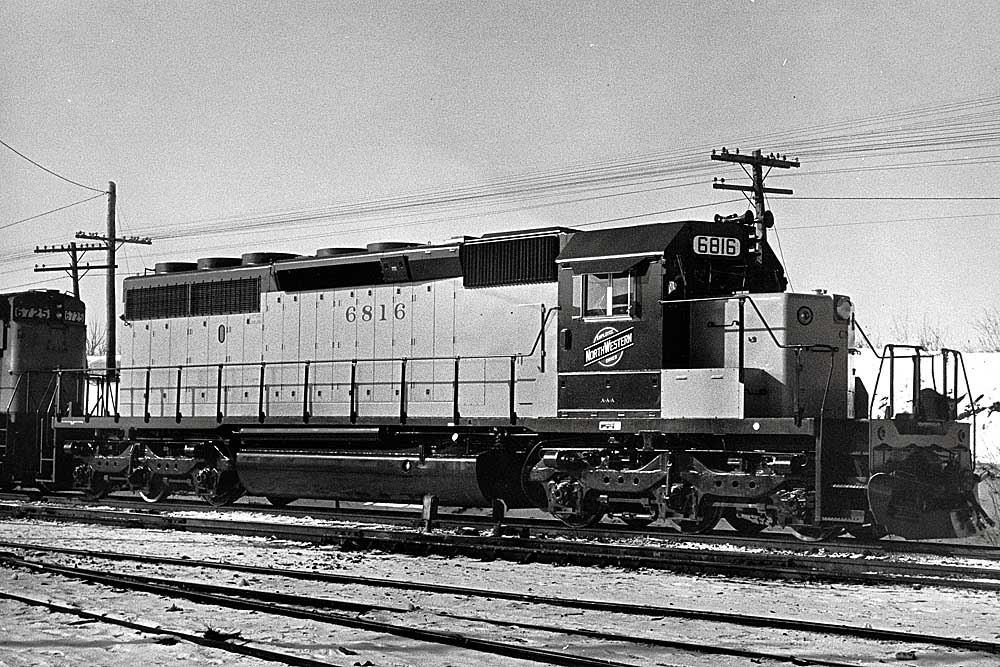 The 3,000-hp SD40-2 became the most popular EMD diesel locomotives of the second-generation era, with more than 4,000 sold (including variations) as railroads continued converting to six-axle diesels for fast-freight as well as heavy-haul service. The SD40-2 has a unique appearance: Its frame is about three feet longer than the earlier SD40 (it shares the same frame as the SD45-2 and SD38-2) to accommodate the new HT-C trucks used on each. This gives the SD40-2 larger, distinctive open areas ("porches") at each end. It maintains the 40-series' three radiator fans and single turbo stack, as opposed to the SD38-2's twin fans and stacks. Variations during production included a large anticlimber on many locomotives and a switch from grid-covered to corrugated radiator openings in 1976. Additional spotting features matched other Dash-2 bodies, including the water sight glass, cab roof overhang, and bolted battery box covers. Other variations included long (116-inch) nose versions (to house radio equipment), nicknamed "snoots," on some Union Pacific, Kansas City Southern, and Southern Pacific units, wide-nose comfort-cab locomotives for Canadian National (SD40-2W), and high-nose versions for Norfolk & Western and Southern. The N&W also received some low-nose engines. Conrail's SD40-2s were delivered with Flexicoil trucks instead of the new Dash-2 standard HT-C trucks. The final six SD40-2s built (for Soo Line) received the free-flow blower duct.
Major buyers: AC, AT&SF, B&O, BC Rail, BN, CP, C&NW, CRI&P, CRR, CR, ICG, KC, KCS, L&N, MILW, MKT, MP, N&W, ON, O&W, QNS&L, SCL, SLSF, Soo, SOU, UP