Southern Railway locomotives: It's time to celebrate the sleek lines and power of Southern Railway locomotives.

Southern GP7 2195 shows off its original green body color as it works in the joint SOU-N&W yard at Bristol on August 8, 1956. Steve Patterson photo


Southern Ps-4 No. 6691 accelerates mail-and-express train 19 south after a stop at Alexandria, Virginia's station to change crews. In the background of this December 22, 1951, study of steam at speed is the landmark George Washington Masonic National Memorial. William E. Hopkins photo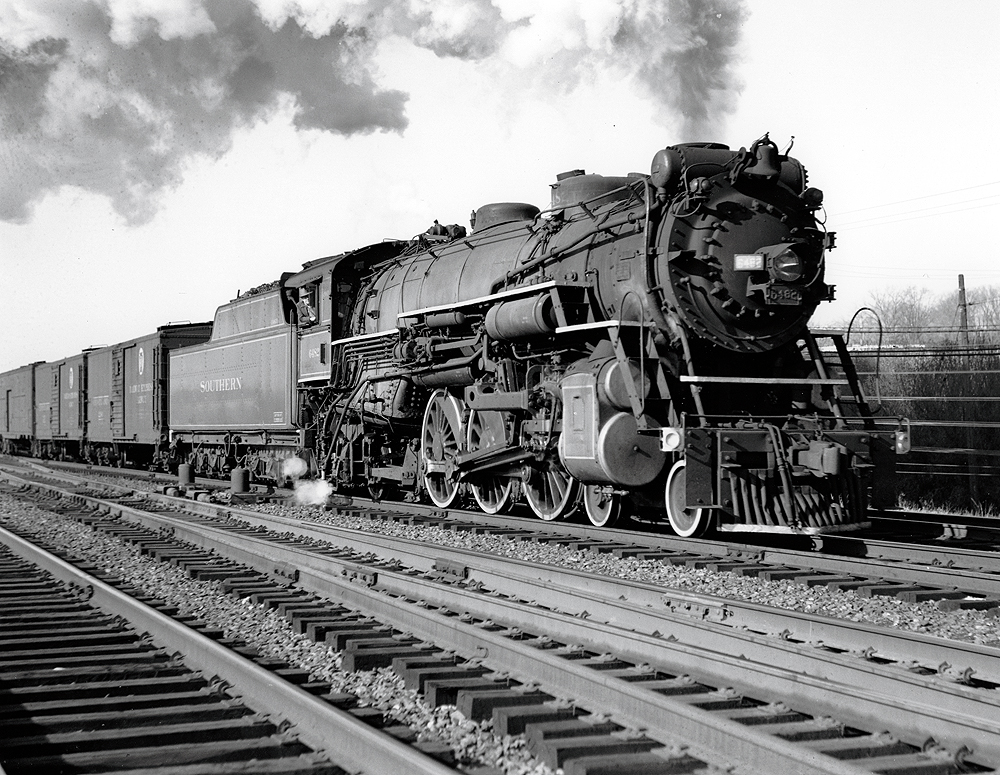 In a photo at Alexandria, Virginia, Southern 4-6-2 No. 6482 (numbered and sub-lettered for Southern subsidiary CNO&TP) heads into Alexandria with a mail-and-express train from the south on December 22, 1951. The well-attired man running the Ps-4 is likely a road foreman or some other official. William E. Hopkins photo


Southern received 59 class As-11 USRA-design 0-8-0s during 1918–1926. Lima-built No. 1846 was from the final group, and was also the last Southern steam switcher at Alexandria, arriving in 1948. Local shop crews salvaged the "SR" smokebox emblem from a wrecked E7 diesel. William E. Hopkins photo


A Southern FP7 and F3B are in charge of a 14-car, mostly heavyweight, northbound Birmingham Special on June 19, 1951. Passing through AF interlocking, No. 18 is moments away from its Alexandria station stop. William E. Hopkins photo


The Asheville Special awaits departure time at the old Biltmore station in Asheville. The track at left is the line to Spartanburg, S.C., via Saluda. Frank Clodfelter photo


Freight units and the Asheville Special rest beside the Washington–Atlanta main at the Salisbury depot on September 1, 1974. Curt Tillotson Jr. photo

Please enjoy this photo gallery selected from files in Kalmbach Media's David P. Morgan Library.
Each month since October 2019, Classic Trains editors have selected one Fallen Flag to honor. A Fallen Flag is a railroad whose name and heritage have succumbed to bankruptcy, merger, or abandonment, but whose memory lives on and well among railfans and historians today.