Amtrak F40PH locomotives are considered the standard passenger motive power for the 1980s and early 1990s. The four-axle, 3,000-hp units are mechanically identical to the much more common GP40-2 freight locomotive, which also use the 16-645E prime mover. In fact, the F40PH was EMD's first production passenger locomotive to use this prime mover. (Other F40PH purchasers included GO Transit, Massachusetts Bay Transportation Authority, and Metra bringing the model's total to 325 units.)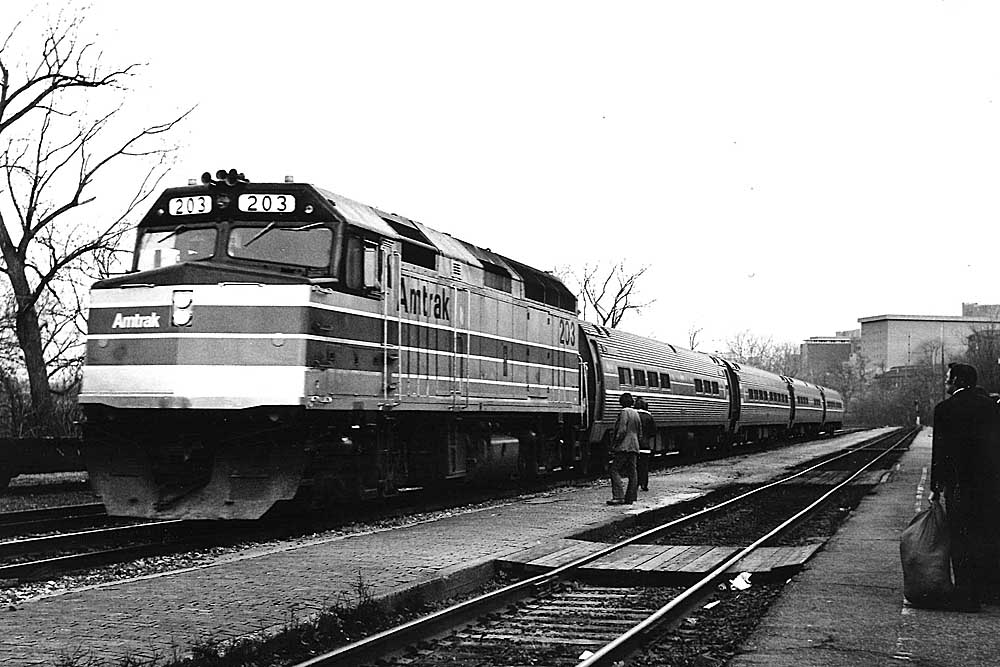 Amtrak had 216 such locomotives on its roster, the first being delivered in March 1976 and the last in January 1988. They carried Nos. 200-409. Subsequently, there were six more Amtrak F40PH locomotives acquired secondhand from Canada's GO Transit in April 1990, Nos. 410-415. These were built without dynamic brakes but were retrofitted by Amtrak.
The first 30 Amtrak F40PH locomotives were equipped with 1,500-gallon fuel tanks located further back while later units shifted them forward between the trucks and increased capacity to 1,800 gallons. Of the 210 units acquired new by Amtrak, 132 are designated as F40PHR to indicate they include components originally installed on Amtrak's six-axle SDP40F units, but they are externally identical in appearance.
One distinct difference from their predecessors was the use of head-end power, or HEP, generated by the locomotives' prime movers instead of the steam boilers employed on the SDP40Fs. This gave the new locomotives a distinctive sound at station stops as the prime mover was still needed to generate power for the train — even when it was standing still. Other passenger locomotives would employ an auxiliary power unit to generate HEP, enabling the prime move to idle when not in motion. However, when operated in multiple, only one F40PH will supply HEP, freeing the other unit(s) to deliver their full 3,000 hp for conveyance. As they were intended for short-distance trains, the first 30 Amtrak F40PH locomotives were equipped with 500 kW capacity alternators while subsequent units were built with 800 kW alternators to supply the larger power needs of long-distance trains.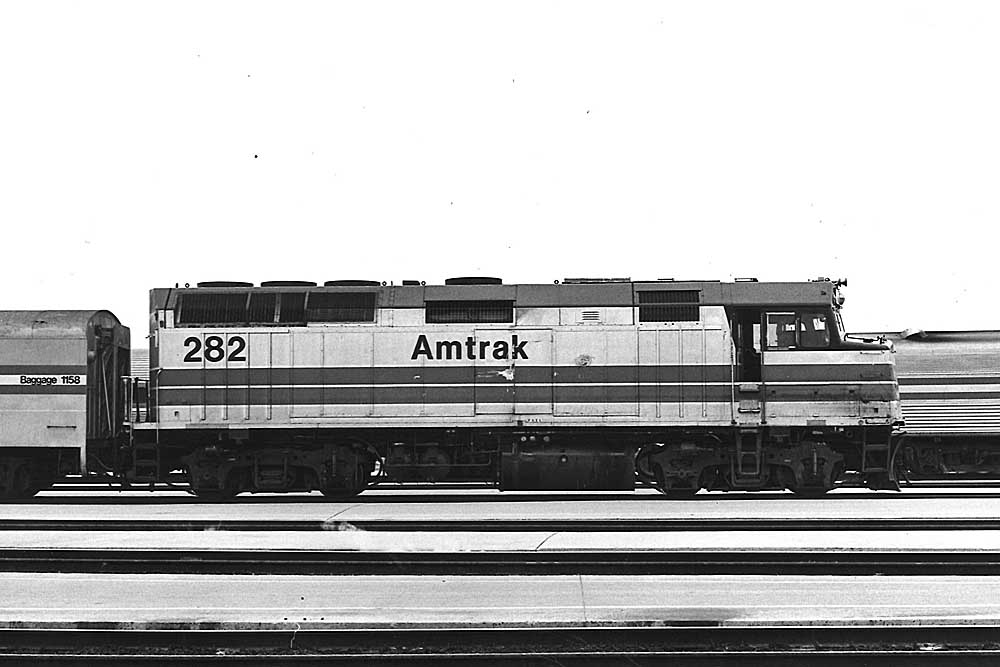 Amtrak chose to replace its F40PH locomotives with the General Electric P40DC "Genesis" and P42DC locomotives in the 1990s. Thus, the the F40s ran their last revenue miles in the early 2000s. During the transition period, Amtrak leased some F40PHs to the freight carriers as supplemental power.
Amtrak F40PH locomotives live on, in a way, as 22 were converted to Non-Powered Control Units, in the late 1990s. These units had their prime movers removed and the space converted for baggage storage. The control cabs were retained for use short-distance trains operating with push-pull consists.