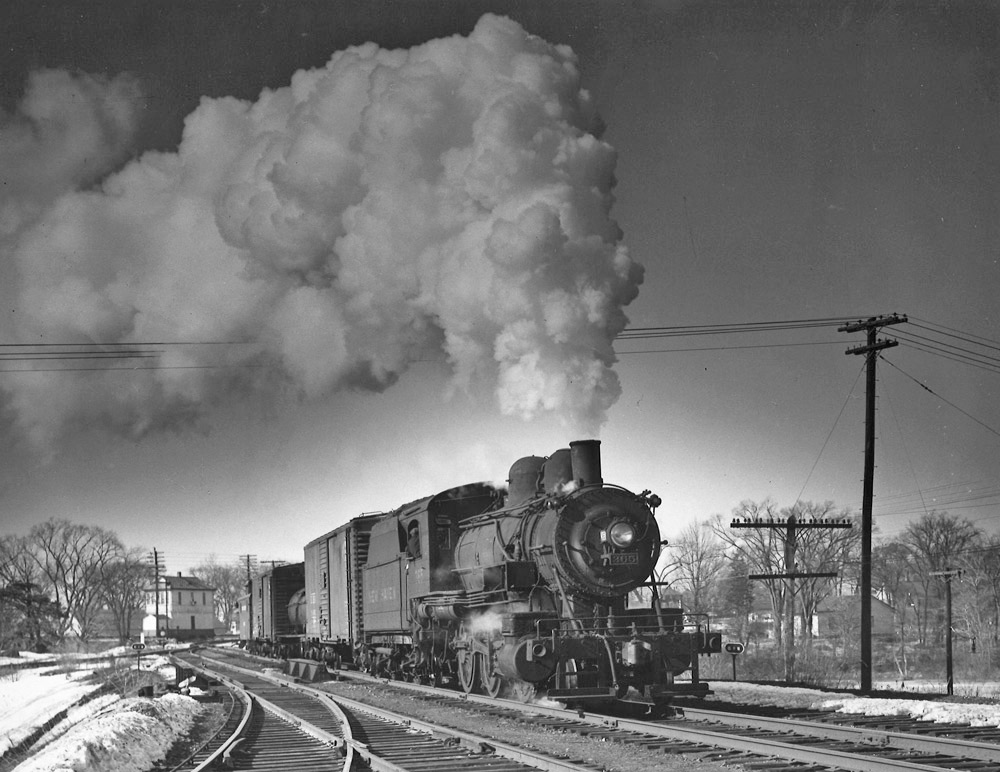 Local freight leaving Canton Junction

Elderly Mogul 365 raises a majestic plume of exhaust departing Canton Junction, Mass., a point on the New Haven's Boston–New York Shore Line, with a local freight for Stoughton in the 1940s.

Kent W. Cochrane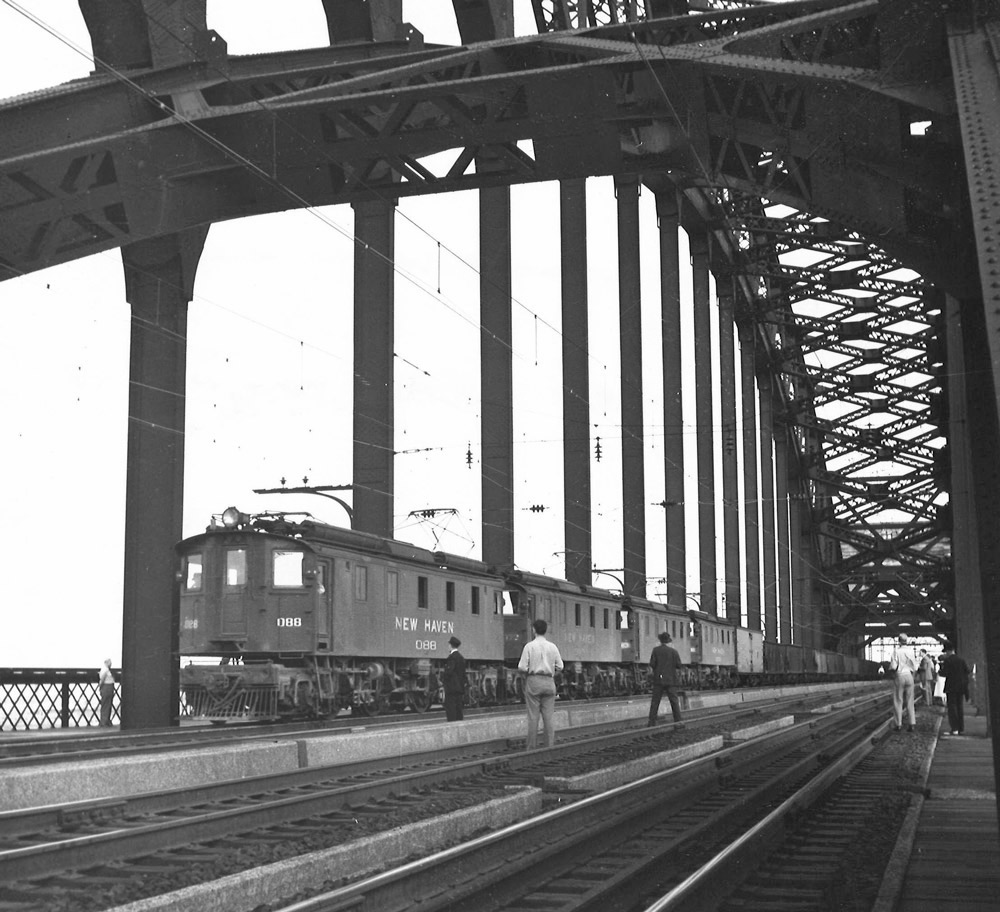 Freight train on Hell Gate Bridge

In a scene from June 5, 1948, that would be unthinkable today, railfans from an excursion train that had halted and unloaded on New York's Hell Gate Bridge watch four New Haven EF-1 box-cab electrics lug a freight over the massive span. The eastbound freight originated at Bay Ridge Yard on Long Island.

Alfred F. Tyrrill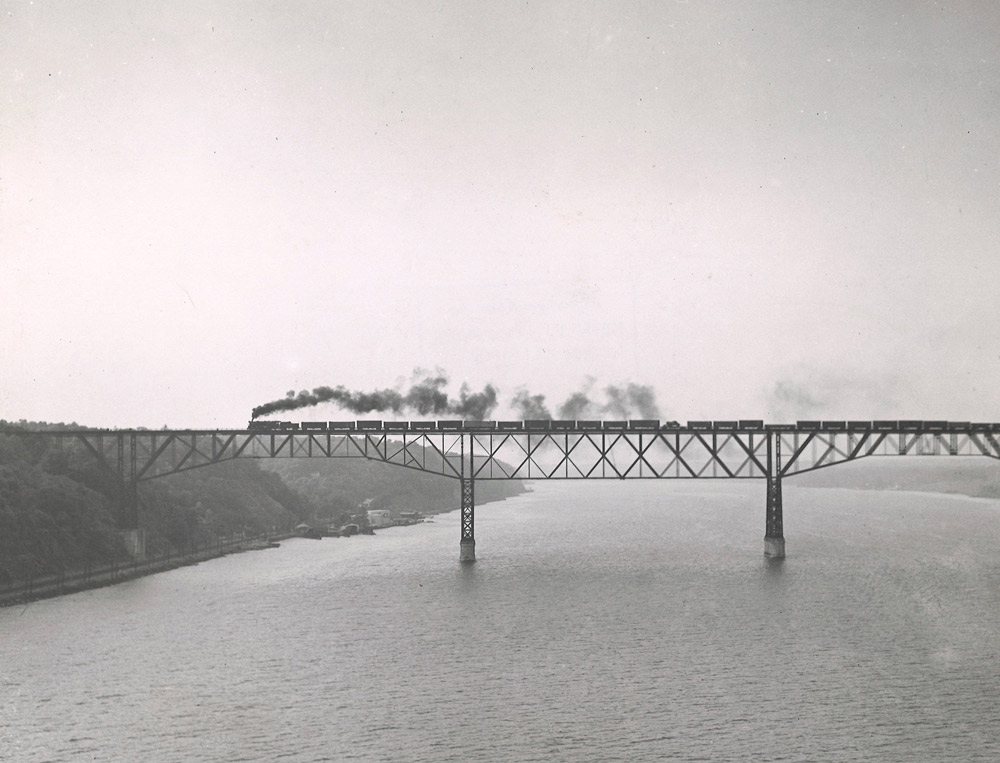 Freight train on Poughkeepsie Bridge

What appears to be a New Haven 2-10-2 soars above the Hudson River with a westbound freight train on the Poughkeepsie (N.Y.) Bridge in the 1940s. The train is bound for Maybrook Yard, from where its cars will be forwarded west on other railroads.

Kent W. Cochrane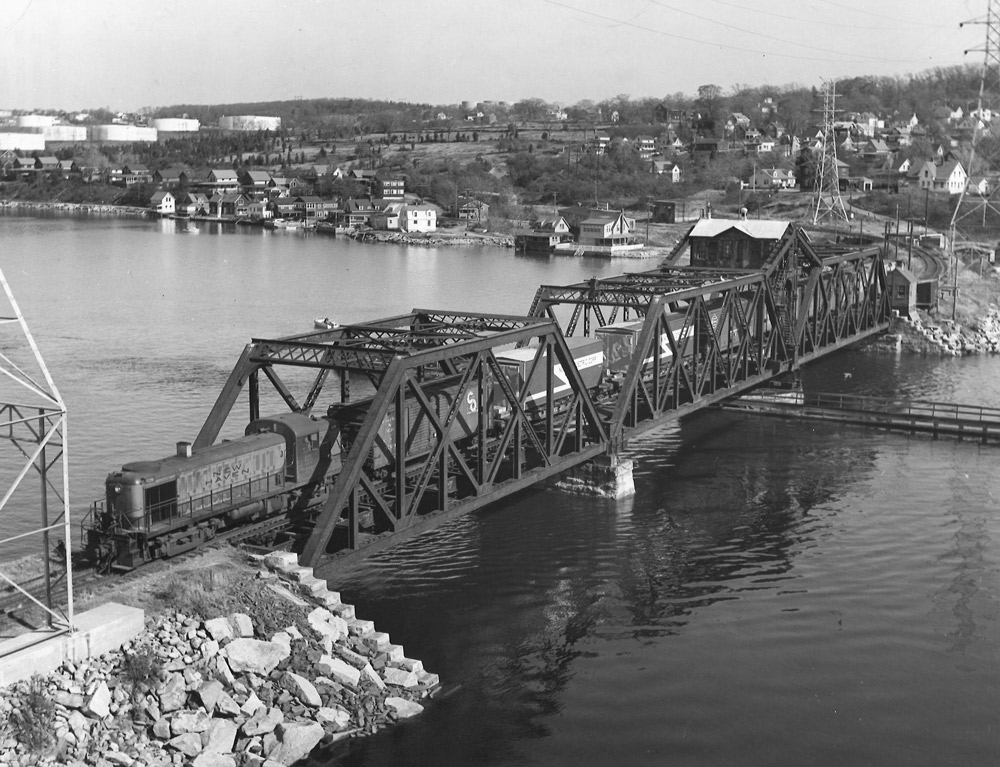 Local freight to Newport, R.I.

Alco RS3 539 crosses the Sakonnet River on to Aquidneck Island with the New Haven's local freight to Newport, R.I., on October 26, 1960. The second and third cars are flatcars carrying EMD MP-36 power units for the Newport Electric Co.

Brice R. Meyer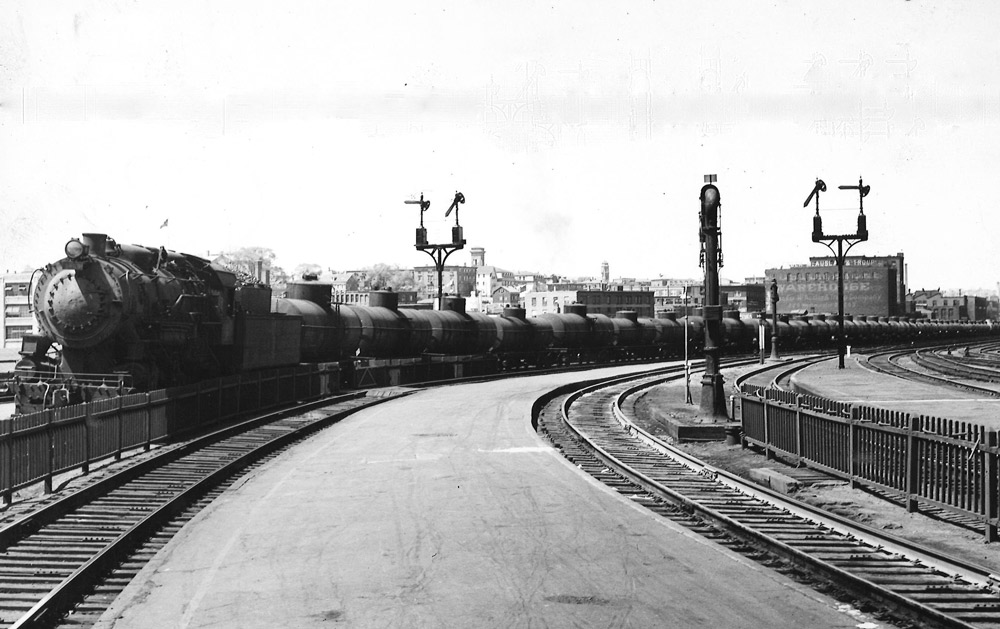 World War II oil train

A burly 0-8-0 switcher moves through the New Haven's station at Providence, R.I., with tank cars carrying petroleum products in 1942. Early in World War II, when German submarines menaced coastal shipping, oil and gasoline took to the rails until pipeline capacity had been expanded.

New Haven Railroad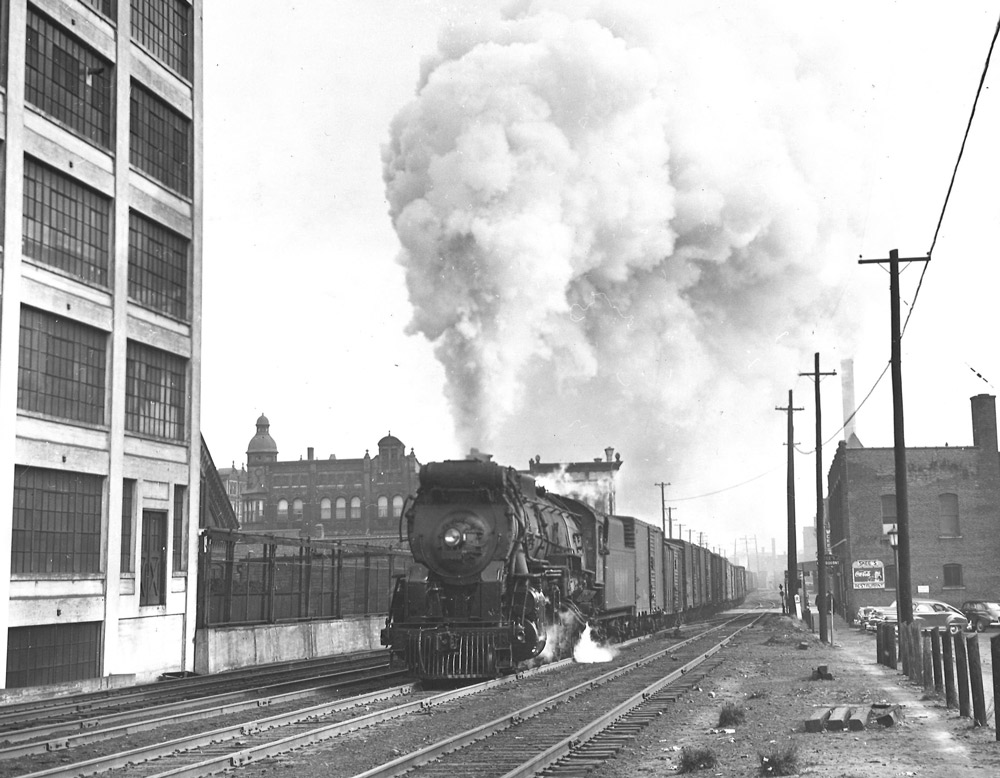 Westbound at New Britain

In what appears to be a pre-World War II scene, a New Haven 2-10-2 hammers through New Britain, Conn., with a freight from Hartford to Maybrook, N.Y.

Kent W. Cochrane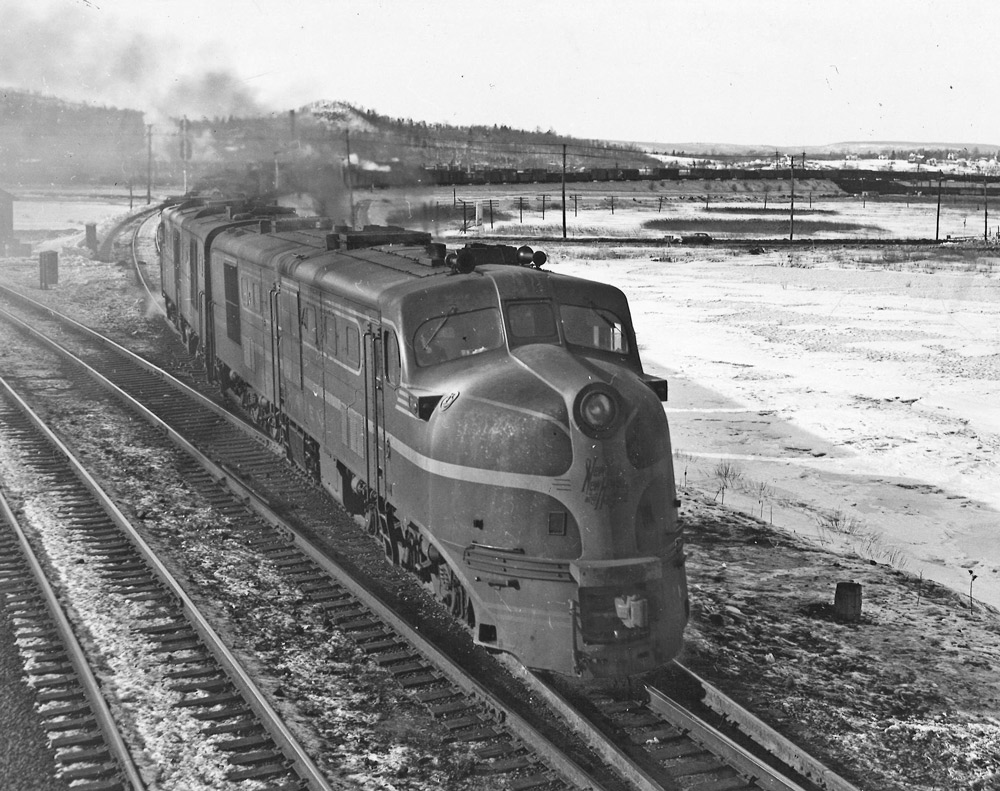 Dual-service diesels

Many railroads used certain steam locomotives, primarily 4-8-2s and 4-8-4s, in both freight and passenger service, but diesels tended not to cross over until the New Haven began using its 60 Alco DL109 passenger units on freight trains in the 1940s. In this view two of the 2,000 h.p. diesels head Boston-bound freight OB-8 out of Cedar Hill Yard and onto the Shore Line. Acquired during 1942–45, New Haven's was by far the largest DL109 fleet.

E. R. Meaker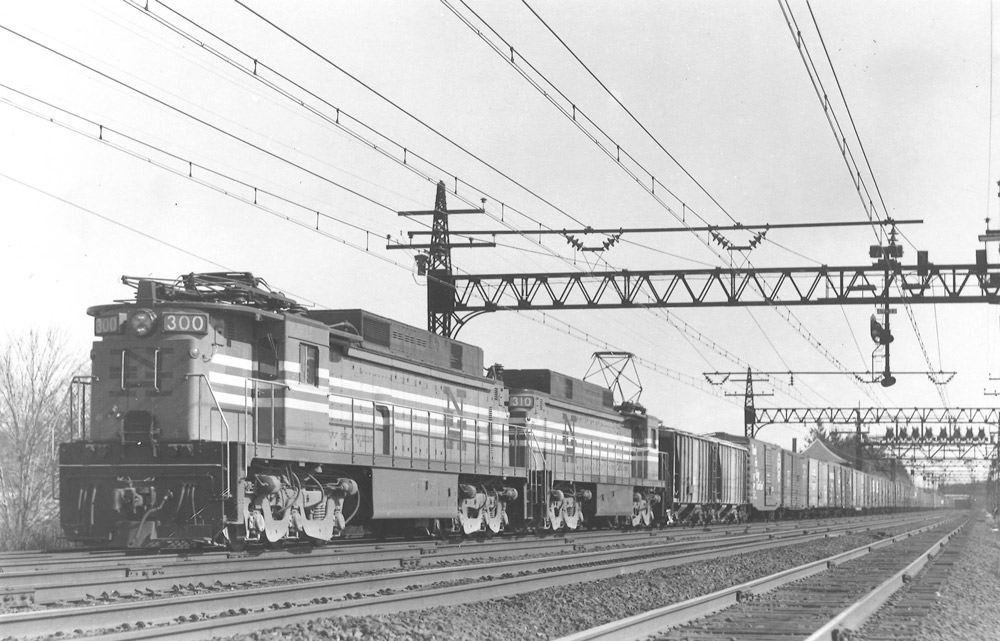 Second chance for electric freight

New Haven tried de-electrifying its freight operations in the late 1950s, only to reverse course and acquire the 12 ignitron-rectifier electrics GE built for the Virginian in 1955–57. NH painted the motors, idled when Norfolk & Western shut down the ex-Virginian catenary, a striking vermillion with white stripes and classified them EF-4. Here Nos. 300 and 310 head a westbound freight near Greens Farms, Conn., in February 1964.

John P. Ahrens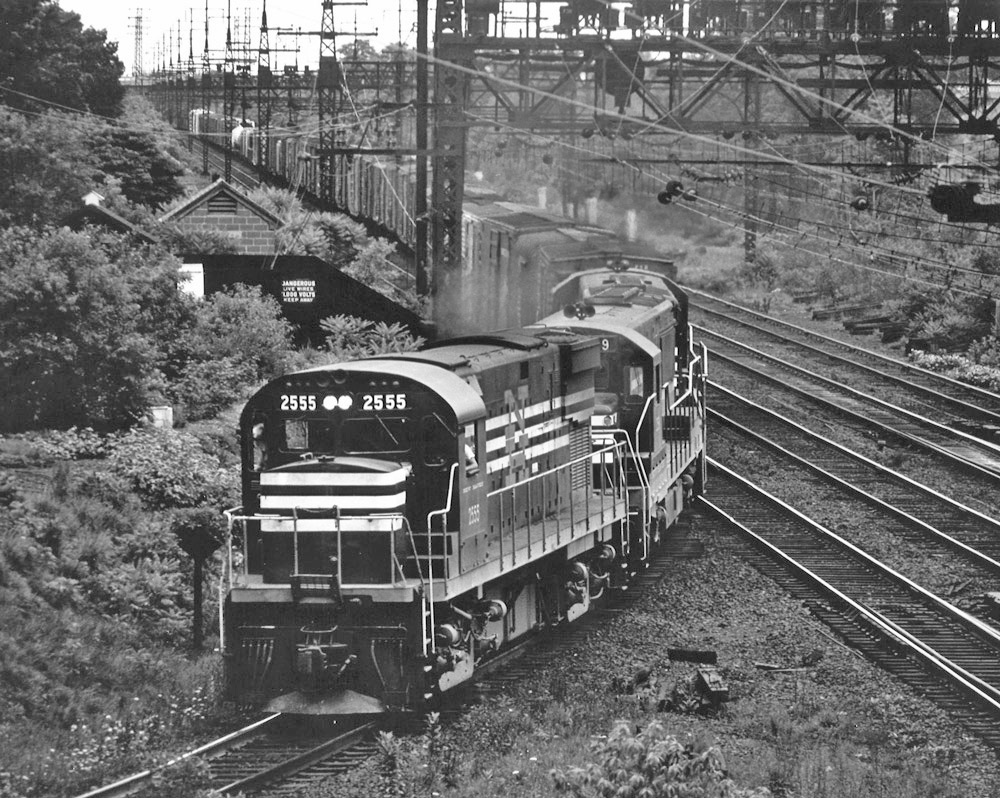 Maybrook freight exiting the Shore Line

Alco C425 2555 and two GE U25Bs lead a Maybrook-bound freight off the Shore Line at Devon (Naugatuck Junction), Conn., in August 1966.

Paull B. Morse

Classic Trains editors are celebrating the history, heritage, and style of the New York, New Haven & Hartford Railroad all through September 2021. Please enjoy this photo gallery selected from the archives of Kalmbach Media's David P. Morgan Library.
Only from Trains.com!