Frisco locomotives: Classic Trains editors are celebrating the history and heritage of the St. Louis-San Francisco Railroad all throughout May 2022. Please enjoy this photo gallery of St. Louis-San Francisco locomotives selected from the archives of Kalmbach Media's David P. Morgan Library.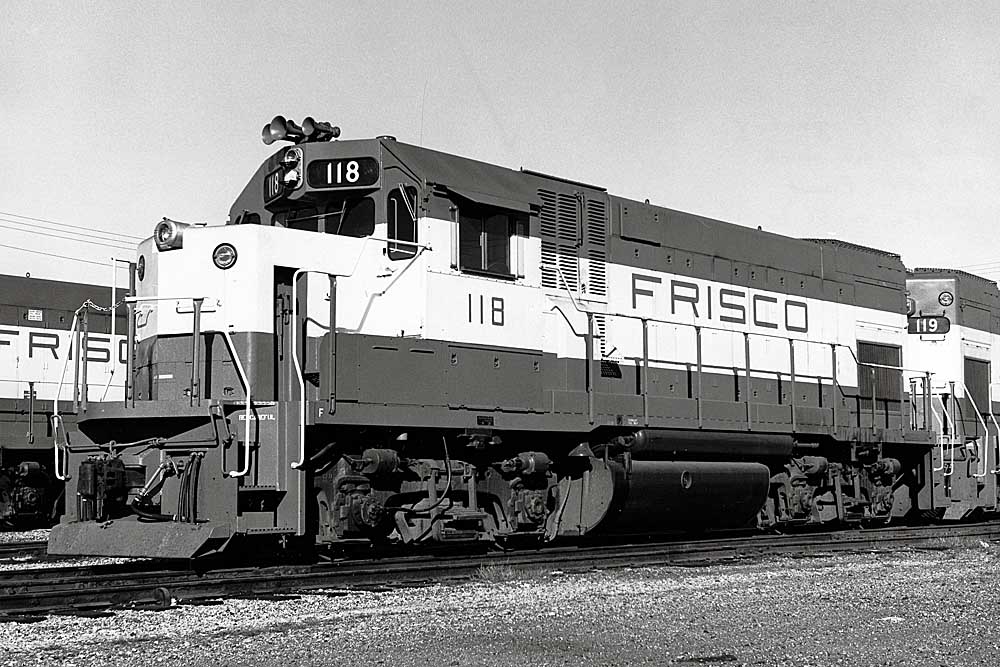 The EMD GP15-1 can be spotted by its short body and low-level radiator intake at the rear of the hood. The railroad had 25 of the 1,500-hp model, built in 1977. Louis A. Marre collection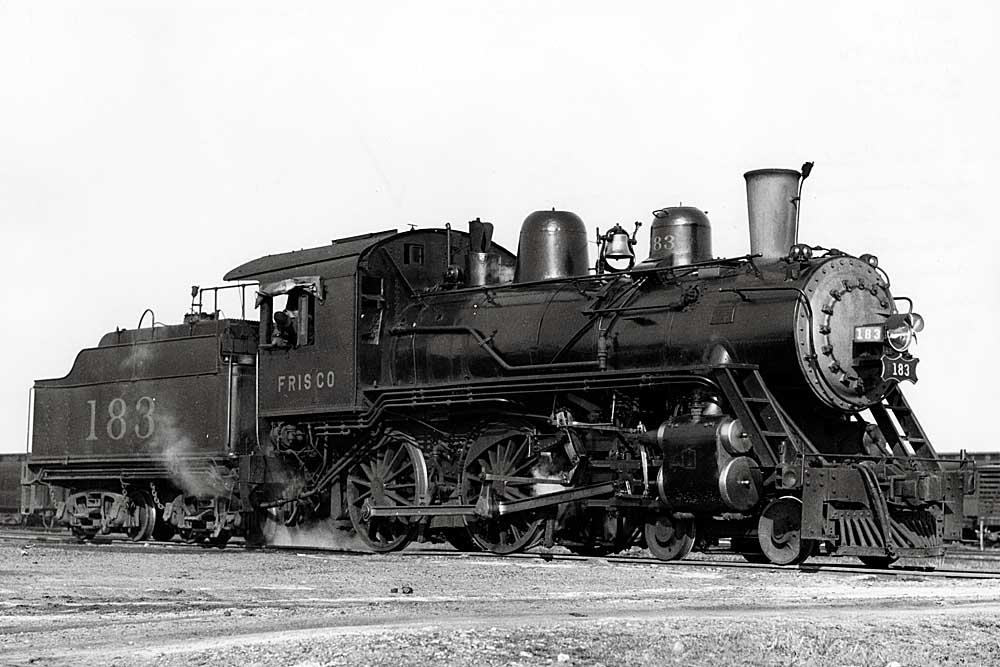 The 4-4-0s rebuilt for light passenger service were superheated and had front-end throttles—plus chromed cylinder covers and polished rods. Louis A. Marre collection


A Baldwin VO1000 switcher works the rear end of a run-through freight off the Union Pacific behind the Katy roundhouse in Kansas City, Mo., in January 1969. The railroad had 38 such units built 1941-46. J. David Ingles photo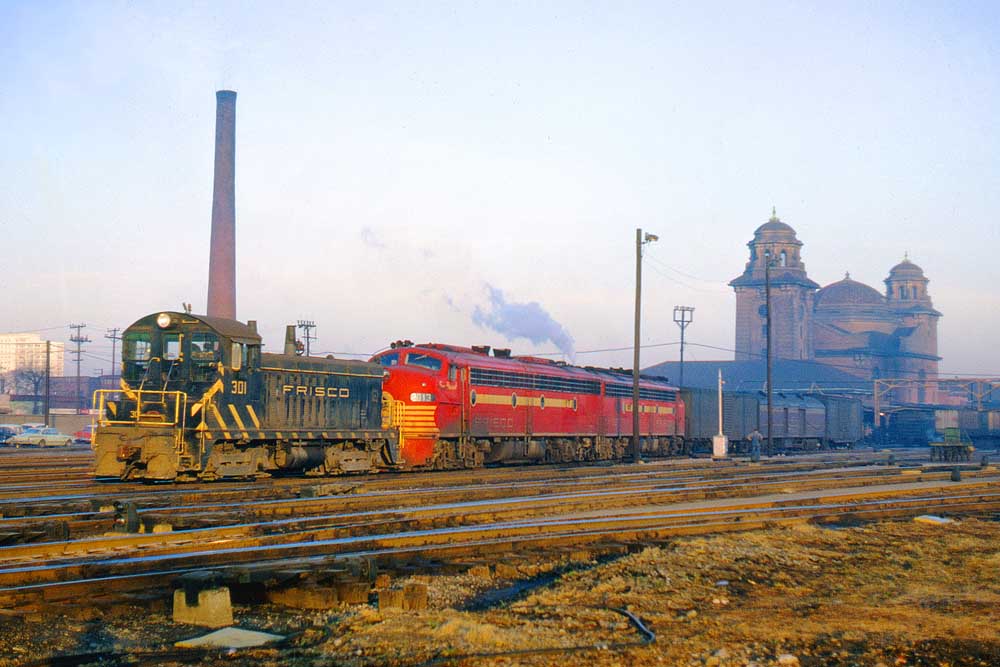 Frisco SW7 No. 301 hostles two E8s and headend cars (some to go on Seaboard No. 6) of No. 101, the Southland, which was due into Birmingham, Ala., from Kansas City at 6:15 a.m. The railroad had five SW7s and 17 E8s, all built 1950-51. J. David Ingles photo


The Frisco was GE's first customer for the U25B. The railroad had 32 examples of the model on its roster, in both high- and low-nose configurations. Louis A. Marre collection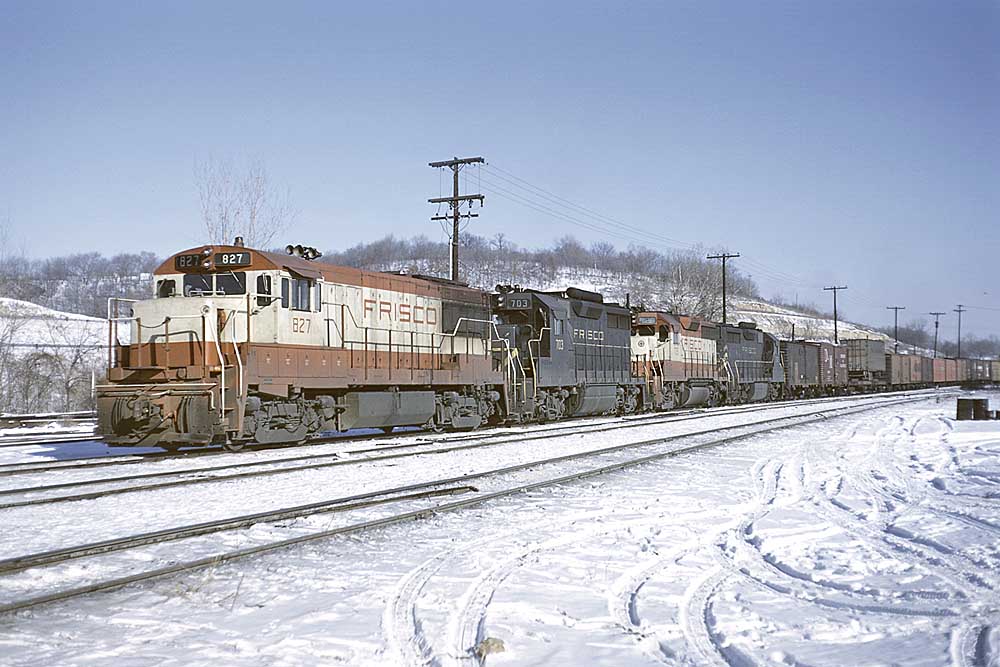 A Frisco freight with a mixed consist of a low-nose GE U25B and three GP35s is ready to depart Kansas City, Mo., for Fort Scott, Kan., in January 1969. The railroad had 33 of the GP35 model, which were built 1964-65; note the air tanks on top two. J. David Ingles photo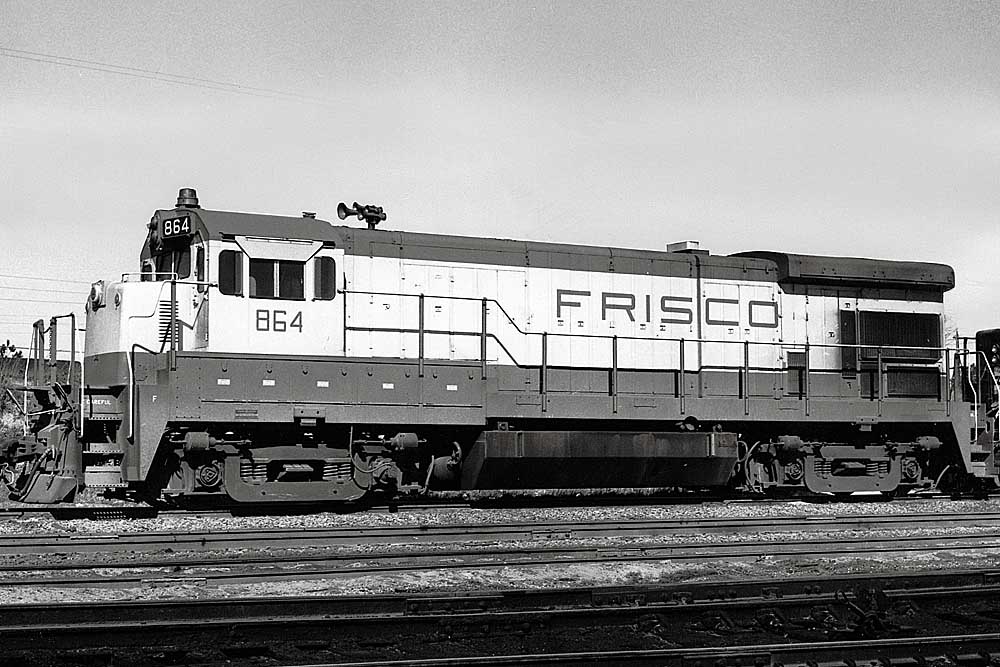 The General Electric B30-7 model has eight tall doors and the characteristic step in the hood of Dash-7 series models. On this unit, it appears between the S and C in FRISCO. The railroad had eight of the 3,000-hp model, built 1977-78. They ride on AAR Type-B trucks. Louis A. Marre collection


A Frisco freight train approaches the Pacific, Mo., depot platform with SD45 No. 913 leading. Note the distinctive L-shaped window for the engineer. The railroad had 49 examples of the SD45, built 1967-71. Paul H. Dalman photo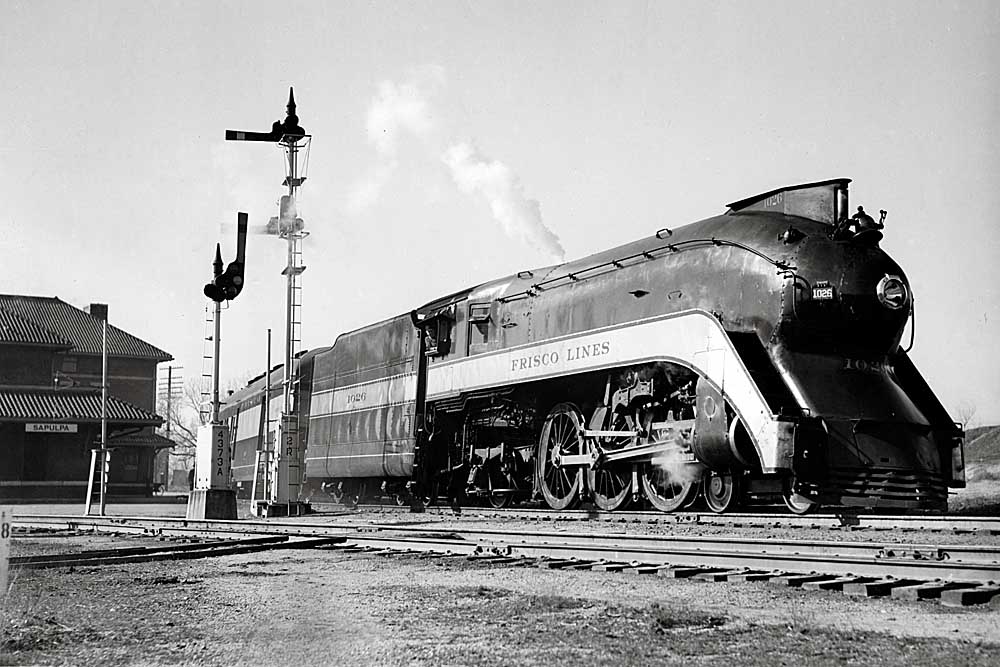 Frisco's 1910 Baldwin Pacifics were small engines. Streamlining made them look larger; there was plenty of empty space inside the shell. Streamlined or no, the bell and the whistle were out front where they could be heard. Frisco photo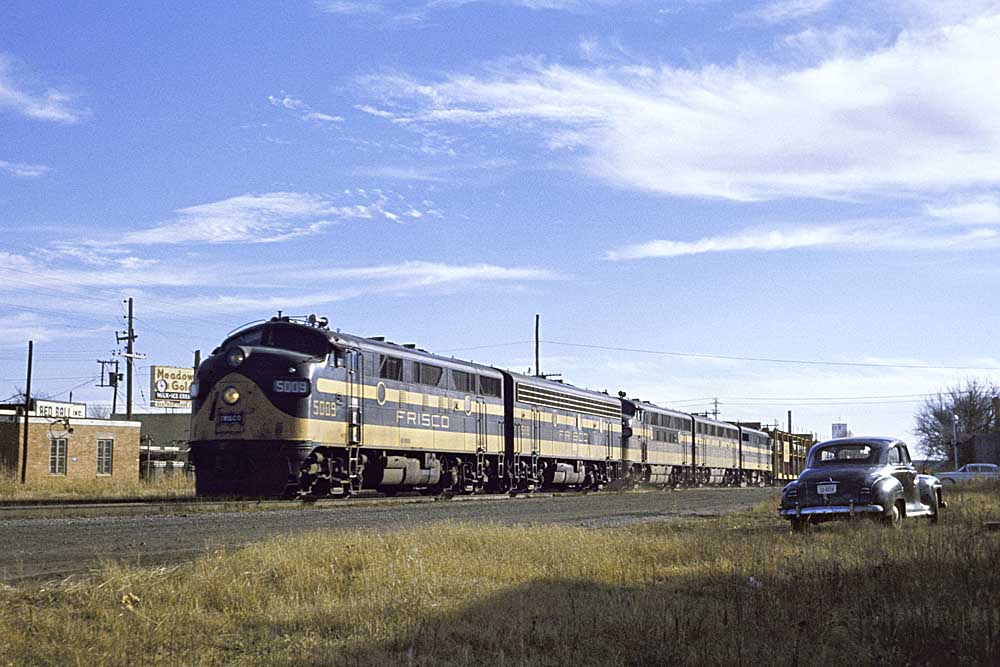 Frisco time freight No. 34, from the Dallas area, roars through Sapulpa, Okla., a couple of hours off its Official Guide schedule, behind five cab units led by F3 No. 5009. Among the units in this December 1960 view are Frisco's first F3, No. 5000, and EMD-re-engined FA No. 5204 trailing. J. David Ingles photo


Frisco No. 5014 is a Phase III style EMD F3. Solid panels cover the area between portholes, with louvers covering the air intakes. The railroad had 18 of the 1,500-hp model, built in 1948. Frisco photo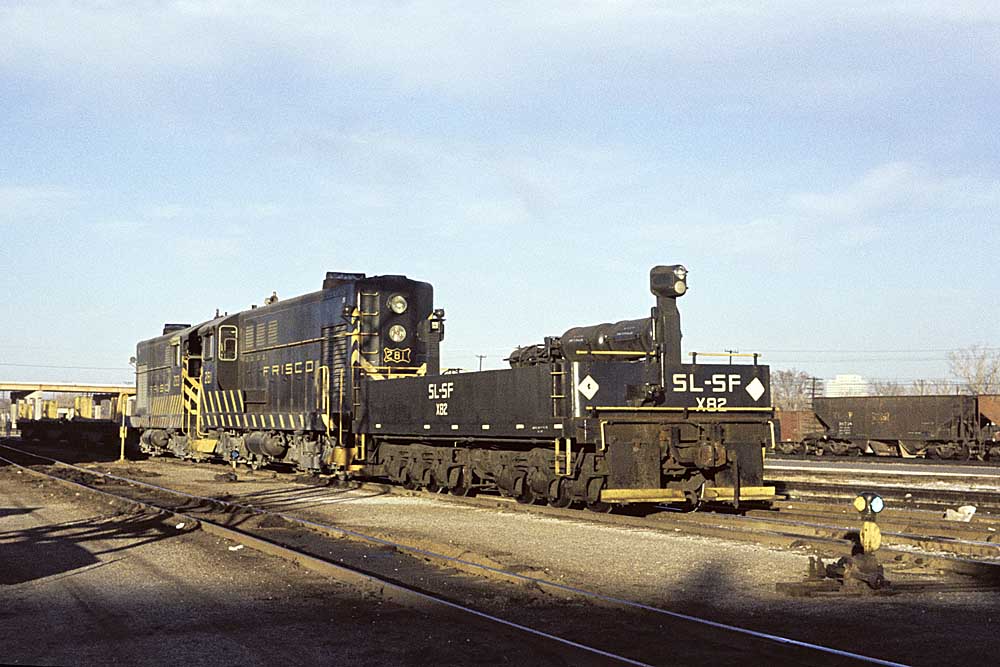 A hump set of twin 1,000 hp Fairbanks-Morse switchers and brake slug No. X82, made from a 2-8-2 or 4-8-2 tender frame, works at Sapulpa, Okla., in December 1960. J. David Ingles photo

The Frisco's steam roster included several locomotives inherited from predecessors, subsidiaries, and short lines, among them St. Louis, Memphis & Southeastern; Jonesboro, Lake City & Eastern; Gulf, Texas & Western; and Muscle Shoals, Birmingham & Pensacola.
Frisco's reputation for maintenance included cleanliness, even polished rods. Its shops seemed at times to overdo modernization of older power — for example, Scullin disk drivers on a 1900 Consolidation used as a switcher, or front-end throttles on turn-of-the-century 4-4-0s.
Frisco bought a few diesel switchers for use in St. Louis during World War II, and its first road diesels were EMD E7s for the Texas Special and the Meteor, but it believed that fast freight schedules meant high-horsepower steam locomotives (the homebuilt 4-8-2s and the Baldwin 4-8-4s, for example) and moderate-length trains. A change of management in 1947 changed motive power policy as well, and dieselization began in earnest in 1948. The last steam-powered revenue train was a local freight between Birmingham and Bessemer, Ala., in February 1952, pulled by USRA-design 2-8-2 No. 4018.
The railroad dabbled with Alco but stayed primarily with EMD except for a few orders of GE U-Boats. The Frisco stuck with four-axle freight power except for SD45s and a handful of SD40-2s. The Frisco was merged into the Burlington Northern on Nov. 21, 1980; its GP50s were delivered to BN after the merger. Thus ends the history of St. Louis-San Francisco locomotives.
Only from Trains.com!