No. 231, one of Missabe's famous 2-8-8-4s, passes two brand-new successor SD9s at Proctor Yard in May 1959. Marvin Nielsen
History of the Duluth, Missabe & Iron Range
From 1938 until it was purchased by Canadian National in 2004, the Duluth, Missabe & Iron Range Railway was "King of the Iron-Ore Haulers." Its job was lugging iron ore, and later taconite, from mines in northeastern Minnesota to Lake Superior ore docks at Duluth and Two Harbors, Minn.
It all began when high-grade ore deposits of the Vermilion Iron Range were discovered in the 1860s. The Duluth & Iron Range Rail Road was chartered in 1874 to build from Duluth to Babbitt. Philadelphians Charlemagne Tower and George C. Stone acquired the charter in 1881, and were successful in building a 68-mile line from Agate Bay (now Two Harbors) to Tower, Minn. The D&IR carried the first trainload of Minnesota iron ore on July 31, 1884.
To the west of the Vermilion was the Mesabi Range. Lewis Merritt and three of his sons discovered the Mesabi in 1890, near the present-day town of Mountain Iron, just west of Virginia, Minn. Mesabi, sometimes spelled Mesaba, Missabe, or Missabay, means "giant" in the Ojibwe language.
Tapping the Missabe Range
To move the ore, the Duluth, Missabe & Northern Railway was incorporated June 23, 1891, and construction began in 1892. DM&N took its ore trains to Stony Brook, Minn., and the Duluth & Winnipeg hauled it to its docks near Superior, Wis. DM&N moved the first trainloads of Mesabi ore on October 17, 1892.
Dissatisfied with this, and lured by financial inducements from the city of Duluth, the Merritts decided to build to Duluth and erect their own docks. Construction included a large yard at Proctor. From there to the docks the line descended 600 feet on a maximum 2.2 percent grade — Proctor Hill — which fortunately favored loads. The first trainload of Mesabi ore arrived at the docks on July 22, 1893.
With the financial panic of 1893, the Merritts fell into debt, and control of the railroad and mining properties went to John D. Rockefeller. Charlemagne Tower sold the Duluth & Iron Range to Illinois Steel in 1887, which was succeeded by Federal Steel, then U.S. Steel. By 1901, both the D&IR and DM&N were under U.S. Steel control. USS upgraded both railroads with heavy rail and double track, ordered bigger locomotives and larger cars, and built sizeable shops and roundhouses at Proctor and Two Harbors.
In 1915 DM&N leased the Spirit Lake Transfer Railway, a link between DM&N at Adolph, near Proctor, and the Interstate Transfer Railway at Oliver, Wis., across from Steelton, Minn. The Interstate Transfer ran from Oliver to Itasca, in eastern Superior, giving the DM&N connections with large railroads including Northern Pacific, Chicago & North Western's "Omaha Road," and three members of the Canadian Pacific family: Minneapolis, St. Paul & Sault Ste. Marie ("Soo Line"); Wisconsin Central; and Duluth, South Shore & Atlantic.
Putting it all together
DM&N and D&IR remained separate until January 1, 1930, when the DM&N leased the D&IR and consolidated operations. Then on July 1, 1937, the DM&N merged with the Spirit Lake Transfer to form the Duluth, Missabe & Iron Range Railway. DM&IR then acquired ownership of D&IR and Interstate Transfer, and they became part of the new corporation on March 22, 1938. Reminders of the two big predecessors remained in the DM&IR's two operating divisions, named Iron Range and Missabe, made up primarily of the predecessors' tracks.
The Great Depression drastically reduced ore traffic. In 1932, not a single all-ore train was run — the small amount of ore that had to be shipped was carried in mixed freights. World War II reversed the road's fortunes, of course, and the postwar boom resulted in an even higher demand for ore, with an all-time tonnage record being set in 1953.
Missabe had minimal passenger service. Into the 1950s, handsome Pacifics pulled heavyweight steel RPOs and coaches, two with solarium observation sections. At the end of World War II, the Missabe still provided service between Duluth and Ely (Winton), and Duluth and Hibbing, with the Hibbing train connecting with one from Iron Junction to Virginia.
In 1953 the company purchased a Budd RDC3 that was put in service on the Iron Range Division, making a daily round trip between Duluth and Winton via Two Harbors. Duluth–Hibbing passenger service was discontinued in 1953, but the Minnesota Supreme Court ordered its restoration in 1956. The RDC assumed the additional duty, making the two round trips each day for a total mileage of 400. At the end of 1957, service to Hibbing ended again; the Winton round trip last ran on July 15, 1961, ending Missabe passenger service.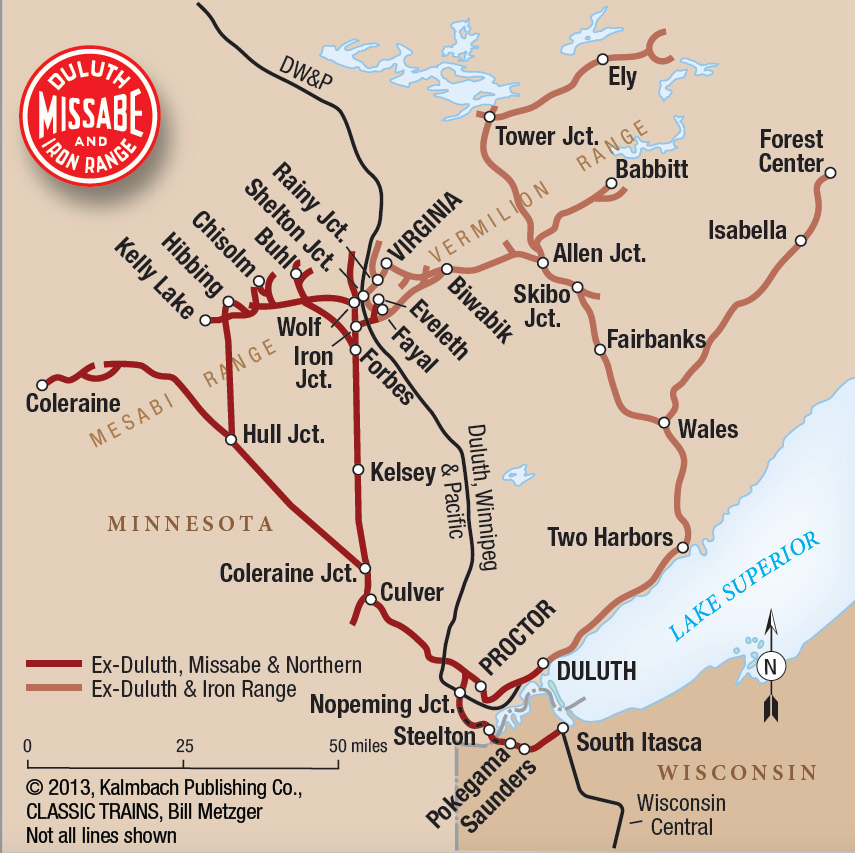 Big power for big trains
In the early 20th century, DM&N purchased 16 2-10-2s and 12 2-8-8-2s from Baldwin. After the lease of the D&IR in 1930, DM&N sent some of the Mallets to work on the sawtooth grades north of Two Harbors. As World War II loomed and the U.S. began shipments to the Allies, the Missabe was relying on 20-plus-year-old locomotives. New power was needed, and the result was Missabe's famous 2-8-8-4s.
Eight came to DM&IR from Baldwin in 1941. They were thoroughly modern, with vestibule cabs, roller bearings, and huge centipede tenders. Distinctive with gray boiler jackets, they were more powerful than Union Pacific's Big Boys. Ten more came in 1943.
As the traffic boom continued after the war, Missabe in 1949 purchased nine 0-10-2s from U.S. Steel's Union Railroad at Pittsburgh, which replaced the Mallets on Proctor Hill. In 1951, Missabe picked up 18 2-10-4s from Bessemer & Lake Erie, another USS road, which was dieselizing. Missabe's steam fleet peaked at 172 locomotives in 1951, and the road remained 100 percent steam until 1953, when 15 EMD SW9 switchers arrived.
Although it borrowed F7s from the Bessemer, DM&IR chose EMD's versatile 1,750 h.p. SD9 to dieselize its road trains. Four orders during 1956–59 brought 74 of the high-nose C-C units to the property, and a final order for 19 of the successor SD18 in 1960 shut the door on Missabe steam. In 1959, DM&IR purchased six Alco RSD15s for switching at Two Harbors, but sold the "orphans" to B&LE in 1964. A new shop at Proctor was home for the diesels, and the steam shop in Two Harbors closed; a planned diesel shop there never materialized.
The last 2-8-8-4s ran on ore trains in July 1960, although they hauled occasional excursions during 1961, and No. 229 steamed at Proctor as late as November 1961. The last steam move was an excursion with 2-10-2 No. 514 on September 29, 1962. Three of the 2-8-8-4s are preserved, at Duluth, Proctor, and Two Harbors.
Missabe relied on the SD9s and 18s until 1971, when it began buying SD38s. With frequent trading of locomotives among several U.S. Steel roads, Missabe ultimately assembled a fleet of 23 SD38-2, SD38AC, and SD38DC units. The 22 surviving SD9s and 18s were rebuilt as "SDMs" with chopped noses and new power assemblies in the 1980s and '90s.
In 1996–97, "new" power arrived: 20 rebuilt 3,000 horsepower SD40-3s, all but two of which were former Southern Pacific "tunnel motor" SD45T-2s.
Taconite: the Missabe's savior
After World War II, steel firms increased their efforts to find natural ore alternatives. They discovered that taconite, a low-grade iron-bearing rock in abundant supply, could be a suitable iron-ore replacement once an economical process was found to upgrade and pelletize the rock. They succeeded, and in the 1960s and '70s three large taconite plants were built along the Missabe: Fairlane near Forbes, Minntac at Mountain Iron, and Minorca near Virginia.
Taconite, when molded into pellets, is reduced more quickly and uniformly to molten iron, and it increases the production of blast furnaces. Taconite pellets also made transportation easier: they did not freeze like natural ore, which required expensive thawing operations during cold-weather months. Since pellets could be stockpiled at lakeside storage facilities, the Missabe began year-round operation; previously, the ore trains stopped running when the Great Lakes harbors froze over. In 1973, for the first time, Missabe Road carried more taconite than natural ore, and in the ensuing years, natural ore shipments declined to almost nothing.
The closure of natural ore mines and the decline of freight (as opposed to mineral) shipments led to abandonment of the Coleraine Branch to the west end of the Mesabi Range in 1977. The original D&IR line to Tower and Ely came up in 1982, and the next year, 25 miles of the logging branch northeast from Wales was lifted. The double track on the Iron Range Division had been reduced to single in the 1960s, and the Missabe Division was single-tracked in 1988.
U.S. Steel spun off the DM&IR and its other ore railroads and shipping companies to subsidiary Transtar in 1988, selling majority control to the Blackstone Group. In 2001, DM&IR and other holdings were moved from Transtar to Great Lakes Transportation, fully owned by Blackstone, so for the first time in a century, DM&IR was no longer associated with U.S. Steel. On October 20, 2003, Canadian National announced it would buy Great Lakes Transportation, which also owned Bessemer & Lake Erie, Pittsburgh & Conneaut Dock Co. in Ohio, and Great Lakes Fleet, Inc. The purchase was finalized on May 10, 2004, and the independent Missabe Road vanished.
CN retired all but 10 of the SD40-3s, most of the SD38s, and all the rebuilt SD9s and 18s. Major locomotive work shifted from Proctor to other shops, and train dispatchers moved to Wisconsin, then Illinois. CN invested in new ore cars for the Missabe, gradually replacing those that dated to when steam still ruled the railroad. DM&IR existed on paper until December 31, 2011, when CN merged subsidiaries DM&IR and Duluth, Winnipeg & Pacific into Wisconsin Central.