Conrail passenger trains are probably the least known of all the aspects of the big blue railroad's operations over time.

The very first FL9 built, Conrail 5000, is alive and well August 17, 1981, as it and sister 5057 lead Danbury, Connecticut to Grand Central Terminal local 1845 over the former New Haven main line at Cos Cob, Conn. Scott Hartley photograph


Zebra-stripped Conrail RDC 28 -- still lettered New Haven -- negotiates the interlocking at Devon, Connecticut, while running from Waterbury to Bridgeport under the sponsorship of Connecticut DOT in October 1976. Tom Nelligan photograph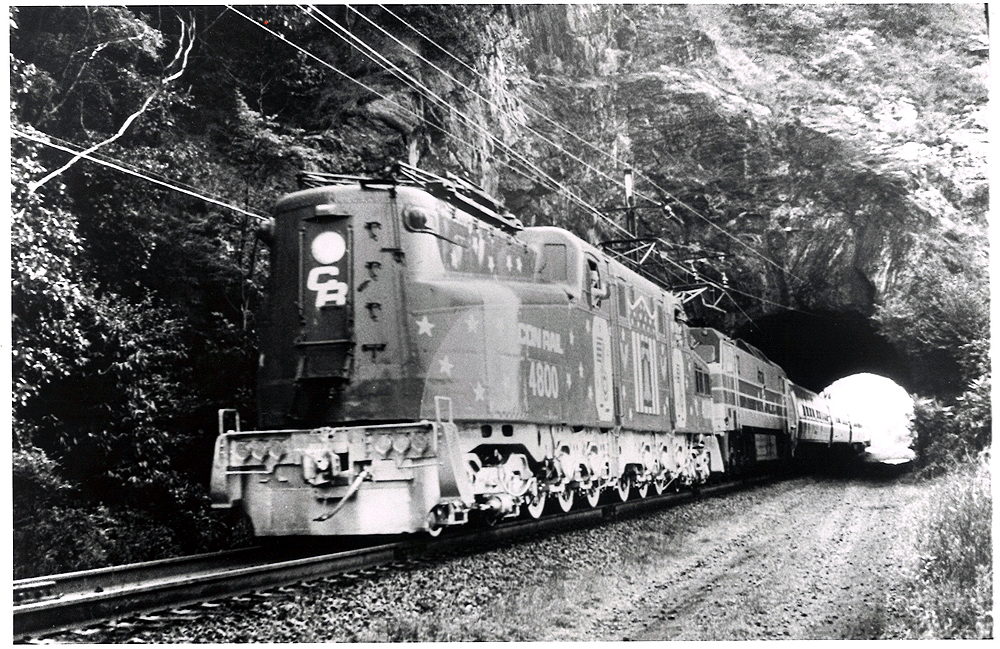 Ex-Pennsylvania Railroad GG1, now Conrail No. 4800, Bicentennial-painted locomotive hauls a passenger train through Wildcat Tunnel, Maryland, in September 1976. F.H. Abendschein photograph


Conrail train 400, a Washington-Baltimore run funded by Maryland DOT, makes its afternoon stop at Bowie, Maryland, August 4, 1981. The equipment is leased NJ Transit Arrow II cars. Scott Hartley photograph


Conrail train No. 454, the 5:05 departure from Chicago bound for Valparaiso, Indiana, rolls past 21st Street in Chicago on April 8, 1977 -- the date which had originally been set for termination of the Conrail trains. Gary Dolzall photograph


Conrail "Valpo" or Chicago to Valparaiso, Indiana, commuter train No. 454 with Geeps 7508 and 7506 (Long hood forward!) on October 6, 1978. This was also supposed to be the last Conrail commuter run, but was delayed. Joe McMillan photograph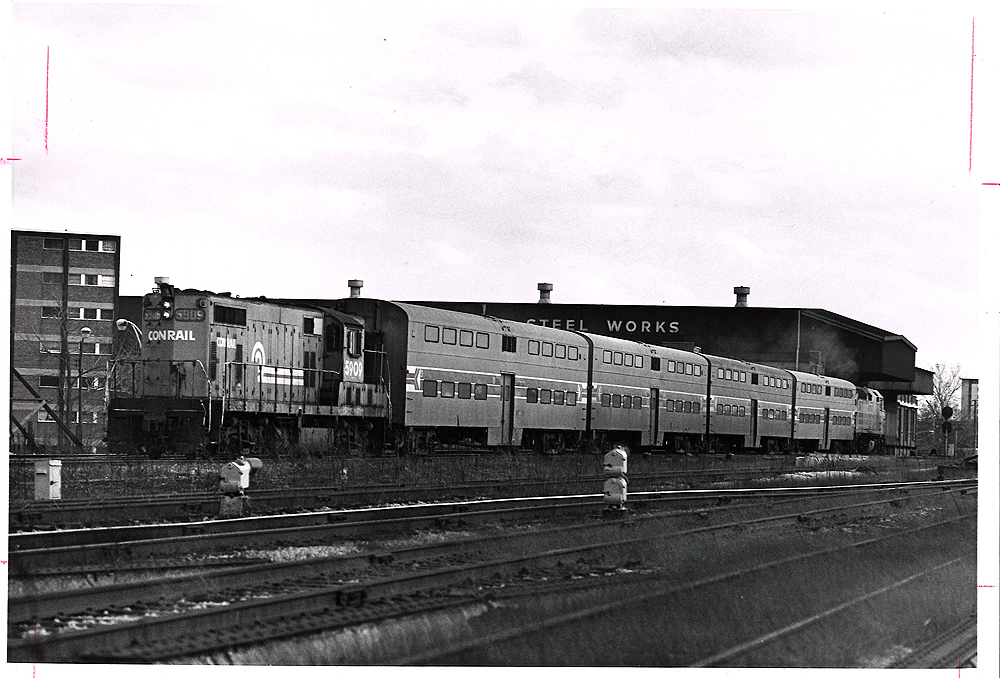 Conrail's Chicago commuter "dummy" trains, entangled in train-off efforts, still run. Since most P70 coaches there are out of service, on train has a mix of Amtrak and ex-Erie-Lackawanna cars and P70s, the other (above) ex-Chicago & North Western bilevels leased from Amtrak. Since Valparaiso, Indiana, has no turning facility, it's "pull-pull" with Amtrak F40 and CR Geep at the ends. J. David Ingles photograph


A train of classic heavyweight MUs rounds a curve at Summit, New Jersey, on Conrail's former Erie Lackawanna Hoboken-Dover electric line in June 1976. A trailer car is in the lead. Tom Nelligan photograph.


With the World Trade Center twin towers in the background, ex-New York Central, ex-Penn Central No. 4678 Class T-2a electric sits idle on the deadline in Amtrak's Sunnyside Yards in New York City on March 29, 1978. Stephen Williams photograph


The fireman aboard FL9 No. 5052 looks back for the conductor's highball as a Conrail-Metropolitan Transportation Authority commuter train takes on passengers at Mt. Kisco, New York, March 14, 1977. Scott Hartley photograph


Anticipating a strike by the local mass transit system, Conrail withdrew several ex-Reading multiple-unit cars from storage to handle extra passengers. Although the strike was averted at the last minute, this train operated as train No. 537 from West Trenton. The photo shows the train returning empty to Wayne Junction, Philadelphia. The consist, from left to right was, Conrail GP10 Nos. 7571 and 7565 and Reading multiple-unit cars numbered: 860, 863, 800, 806, 823, 819, 824, and 811. No 817 and GP10 No. 7573 are shaded by the station platform.
C. Bode photograph

On Tuesday, August 28, 1979, the power on the ex-Reading electrified lines out of Philadelphia came to an abrupt halt. The reason being that the back-up frequency converter at Wayne Junction, in Philadelphia, blew a set of coils. Here, Conrail GP30 No. 2195 (former Penn Central, former New York Central) leads six Silverliner IV cars into Lansdale, Pa., from Philadelphia. The locomotive will run around the train and head back to the city. John M. Gabriel photograph


Reading Railroad rail diesel car No. 9166, now Conrail, operates in Philadelphia on the former Reading mainline crossing Jamestown Street at Cresson Street on July 4, 1976. C. Bode photograph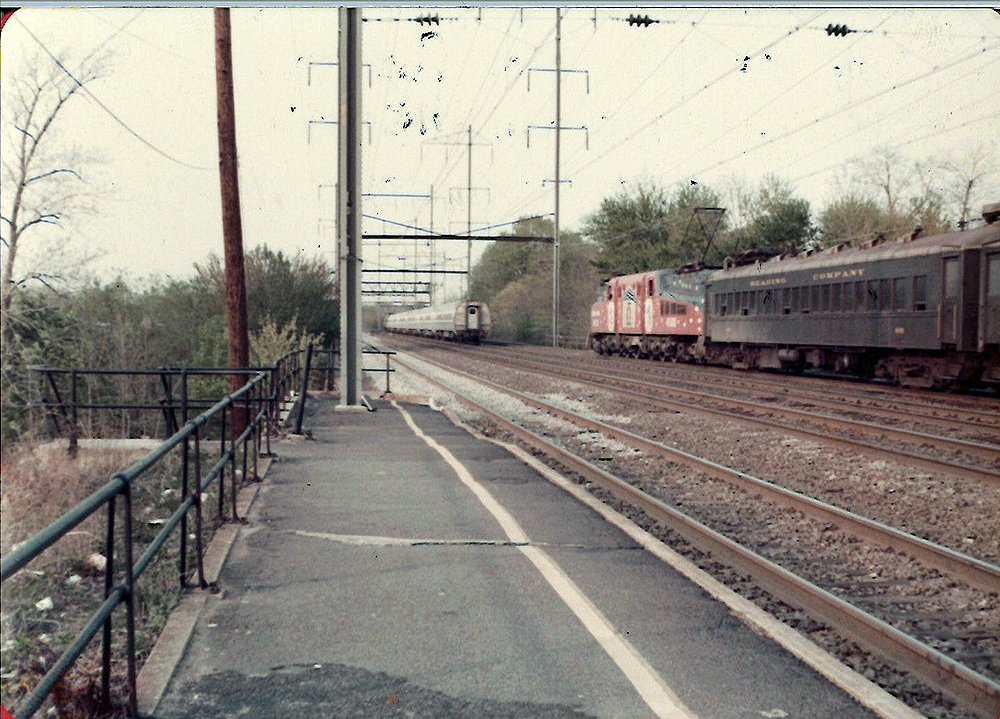 Conrail GG1 No. 4800 and a train of nine former Reading Company multiple-unit cars leaves Torresdale, Pennsylvania, on April 20, 1977 as a 30th Street Station to Trenton, New Jersery, extra train. R. Stacy photograph


Conrail inspection train is westbound on the Boston & Albany line at Chatham Center, New York, with the only E8 on the Conrail roster, former Erie Railroad No. 833, now No. 4022. The picture was taken April 14, 1983. Jim Shaughnessy photograph


Conrail inspection train on Metro-North at Mott Haven, New York, May 2, 1986. J.W. Swanberg photograph


Conrail Grand Central Terminal to Poughkeepsie, New York, train No. 897 behind FL9 Nos. 5052 and 5018 rolls to a stop at Garrison, New York, August 28, 1981. Scott Hartley photograph

"Parkway Limited" Last run of the day on March 10, 1981, to Greensburg, Pennsylvania, departing Pittsburgh's passenger depot. The E unit is a steam generator car and the coaches are from Amtrak. Keith Clouse photograph

As Conrail is the Fallen Flag Railroad of the Month for April 2022, please enjoy these Conrail passenger trains images from Kalmbach Media's David P. Morgan Library.
Conrail started operations April 1, 1976 taking over from several defunct or bankrupt railroads, including Penn Central, Erie Lackawanna, Central of New Jersey, and Reading, to name a few. Each of those railroads, to greater or lesser extent still operated largely unprofitable commuter trains around the Northeast and Midwest's largest population centers.
Each image in this photo gallery helps tell a bit of the story about the last vestiges of passenger service tied up with Class I railroads in the 1970s — primarily in commuter operations from Chicago to metropolitan New York City, Philadelphia, and even Pittsburgh. Aside from the inspection train or executive excursions, Conrail routinely moved people with the rainbow of equipment typically associated with early Amtrak until newly formed commuter railroads assumed the services on Jan. 1, 1983.
All through April, Classic Trains editors will celebrate the history and heritage of Consolidated Rail Corp., including a history article, this passenger train gallery, plus freight train and locomotive photo galleries.
Since October 2019, Classic Trains' editors have celebrated a different Fallen Flag, that is, a Class I railroad that has been felled by bankruptcy, merger, or outright take over — and whose name, logos, symbols, and colors are relegated to history.