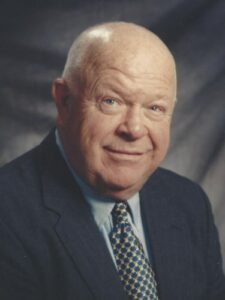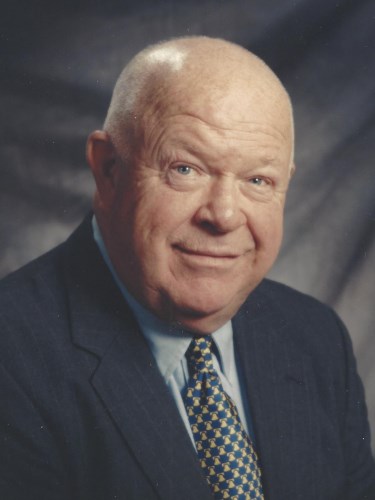 I never met David "Dave" A. Fink, but I felt his presence for a while in the late 1990s. The pugnacious president of Guilford Transportation Industries had a reputation for being difficult with journalists, but long about 1997 I decided Trains absolutely had to have a profile of his railroad, no matter what. Fink proved to be elusive, and so was the story I planned.
Fink died on October 11 at age 86, leaving a long shadow across railroading in the Northeast. As his obituary on the Trains News Wire reminds us, Fink partnered with Pittsburgh banking heir Timothy Mellon to acquire Maine Central in 1981 and Boston & Maine in 1983 and combine them under the Guilford banner. From thence they proceeded to make a profit in a region where short hauls and the loss of manufacturing — especially the decline in Maine's paper industry — made railroading an especially difficult game.
Fink was up to the challenge. His long resume included an education at the University of Pennsylvania, a stint in the Marines, and a railroad apprenticeship on the Pennsylvania and later Penn Central. As author Fred Frailey wrote in his book "Last Train to Texas," a battle-hardened Fink was more than ready for whatever the old B&M territory threw at him.
"Let's just say the man was direct, in your face, and unafraid of a fight," Fred concluded. "You punch him, expect to be flattened in the counterattack. A bit like Donald Trump, maybe, and Dave made a lot of enemies. I've always thought you had to have a certain amount of those characteristics to survive in running a big New England railroad. New England is a beautiful region but was hostile territory for railroad owners a generation ago."
"In your face." That seems to be the perfect phrase for Fink, even if you experienced him from a distance. As Trains' editor, I headed into the late 1990s with the naïve conviction that doing a Guilford story would be a piece of cake, a natural choice after a decade of profiles of other regional railroads, a series launched brilliantly by my colleague J. David Ingles when he occupied the editor's chair.
Trouble was, I couldn't find anyone to write the piece, such was Fink's reputation for either avoiding being interviewed, or suing a publication after he was. One by one, my usual contributors turned me down. It wouldn't be fair to name them, and in a way, I couldn't really blame them — no one wants the hassle of a lawsuit, not at the rates we were paying. Still, it was frustrating. The Guilford story needed to be told.
Then, by some form of serendipity I don't fully recall, I encountered journalist John Dodge, at the time the editor of PC Week magazine and also a technology columnist for the Boston Globe. John had been a Trains reader since 1960, but despite an impressive career in tech publishing, including many years at Ziff-Davis, he'd never written for us. Unfazed, apparently, by Fink's reputation, John was game for the assignment. "Let's do it!" he said.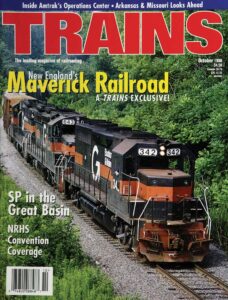 The results appeared as a cover story in the October 1998 issue, a full-scale, 10-page profile entitled "Guilford: New England's Reticent Regional." It was a fine story, full of details about everything from the company's management strategy to its various operating districts to its roster of mostly four-axle EMD and U-boat hand-me-downs. And John managed to wring plenty of good quotes out of Fink and his chief lieutenant, Executive Vice President Colin Pease. "I found Fink to be friendly, forthcoming," says Dodge. The whole experience led the writer to an upbeat conclusion.
"While Guilford is hardly a company to elicit affection," Dodge wrote, "the company is somewhat more approachable and open these days. Right or wrong, many people gave up on Guilford during the strife and cutbacks of the last decade. But it could be time to come back."
I don't recall whether we got much of a reaction from Guilford management, and I certainly never heard from Fink directly. But we never got a call from their lawyers, either. Looking back on John Dodge's even-handed, painstakingly objective article, that shouldn't have surprised me. (Addendum: Just today, John reminded me of the fine job Dave Ingles did editing his story, a compliment that won't surprise anyone who experienced J.D.I.'s always-sharp pencil.)
Meanwhile, Fink has left quite a legacy. His Guilford system not only survived but prospered, and after morphing into what we came to know as Pan Am Railways it was ripe for acquisition by CSX. Someone who carefully watched what happened is Bill Stephens, Trains columnist and longtime New England resident. Stephens says Guilford and Pan Am deserve credit.
"This hardscrabble railroad somehow found a way to survive," says Stephens, "partly through penny-pinching, partly by finding new traffic opportunities, and partly by shrewdly having its main lines upgraded at various locations to host commuter and Amtrak service — all on someone else's dime. It was enough for the regional to fetch more than $600 million through its sale to CSX."
Enough to make some believe that Dave Fink did exactly what his moment in history called for.