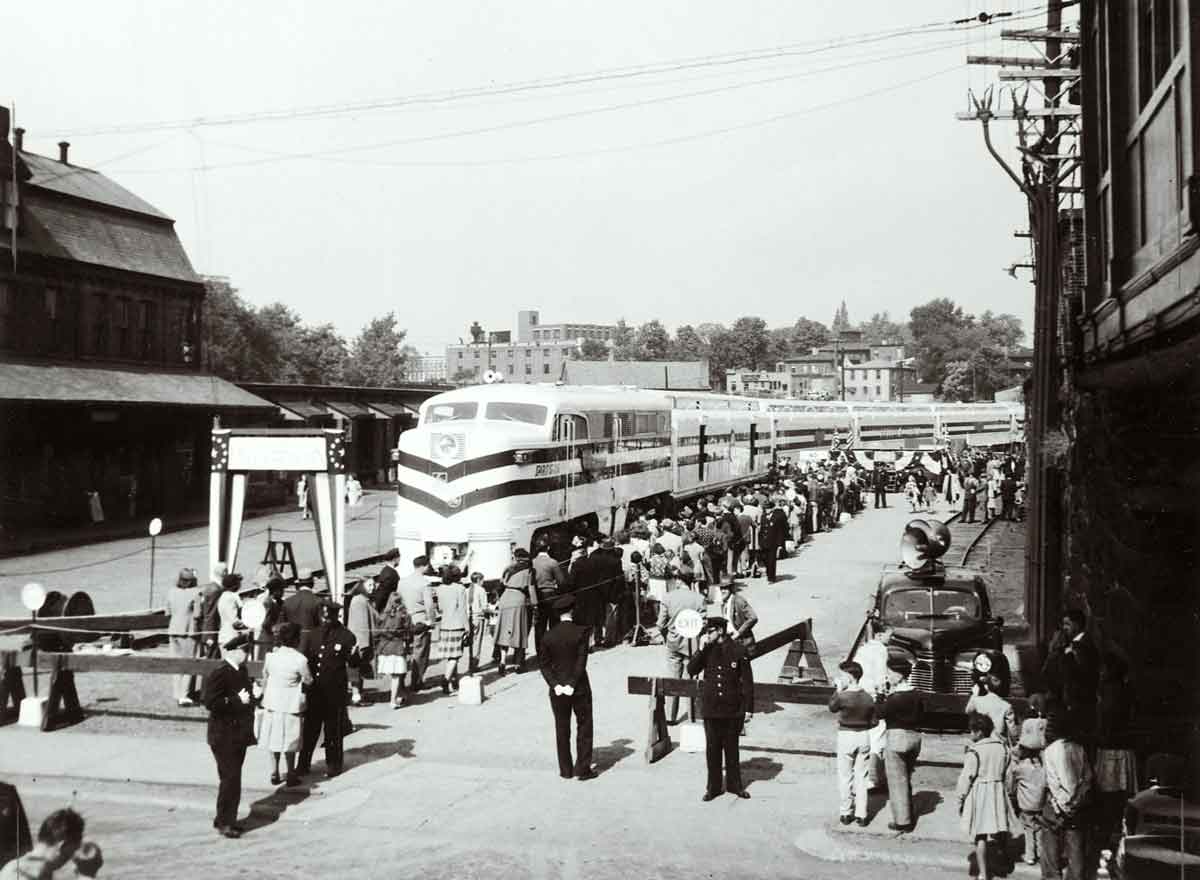 Freedom Train
People line up to go through the Freedom Train, which carried displays and founding documents of the United States around the country in 1947, at Hartford, Conn., on Oct. 4, 1947. Kent Cochrane photo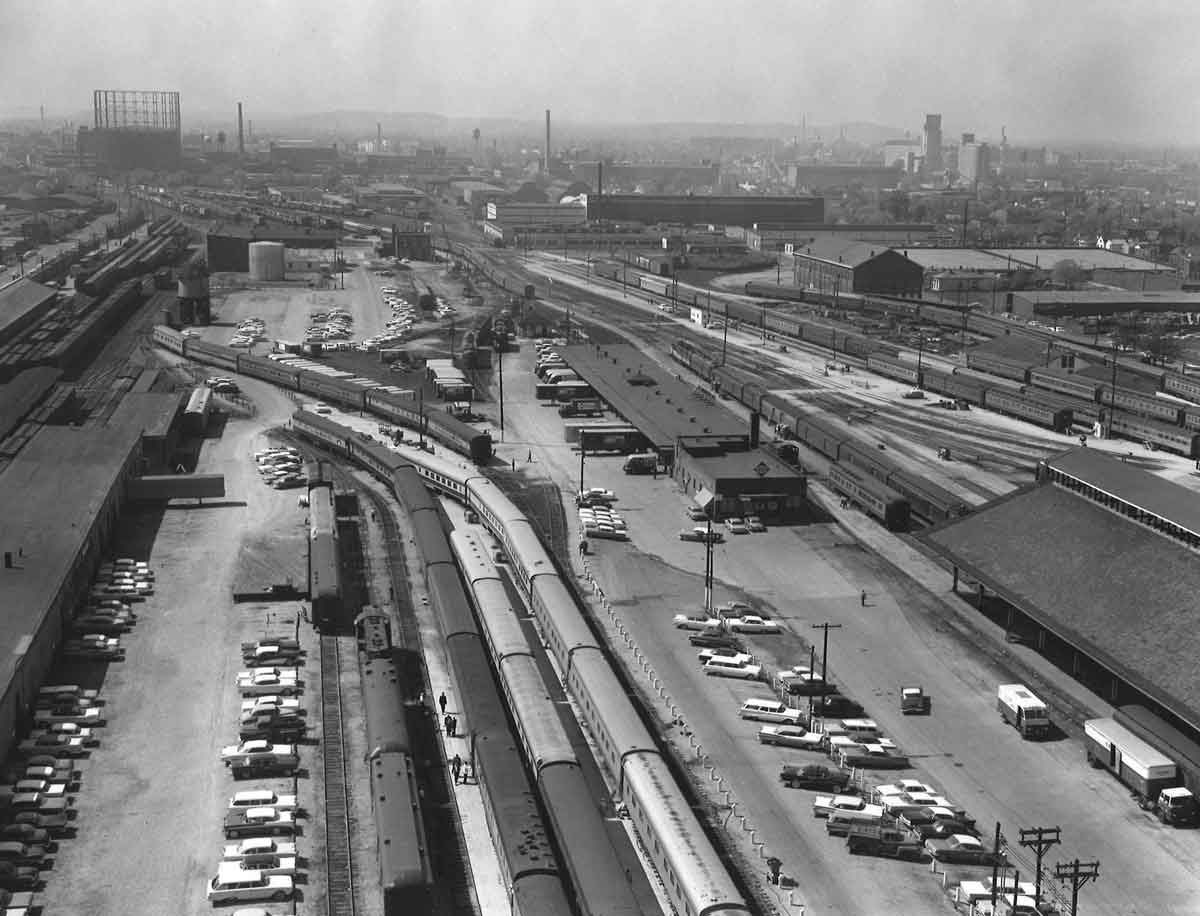 Kentucky Derby trains
Cars from special trains bringing people to Louisville for the Kentucky Derby jam the tracks at Louisville Union Station on May 1, 1963. Charles B. Castner photo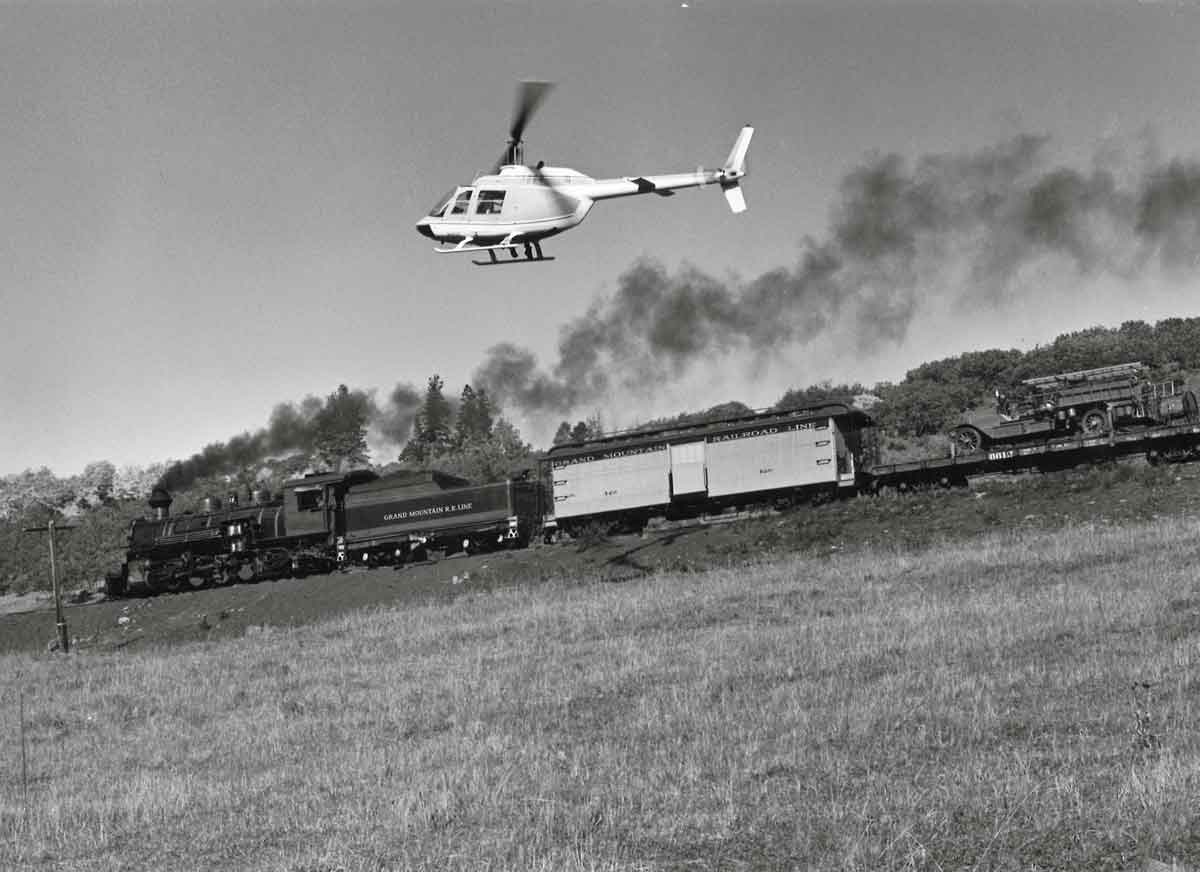 Movie train
Denver & Rio Grande Western narrow-gauge Mikado 483 performs on Cumbres Pass for helicopter-mounted cameras during the filming of the Warner Bros. Western The Good Guys and the Bad Guys in fall 1968. William H. McKenzie photo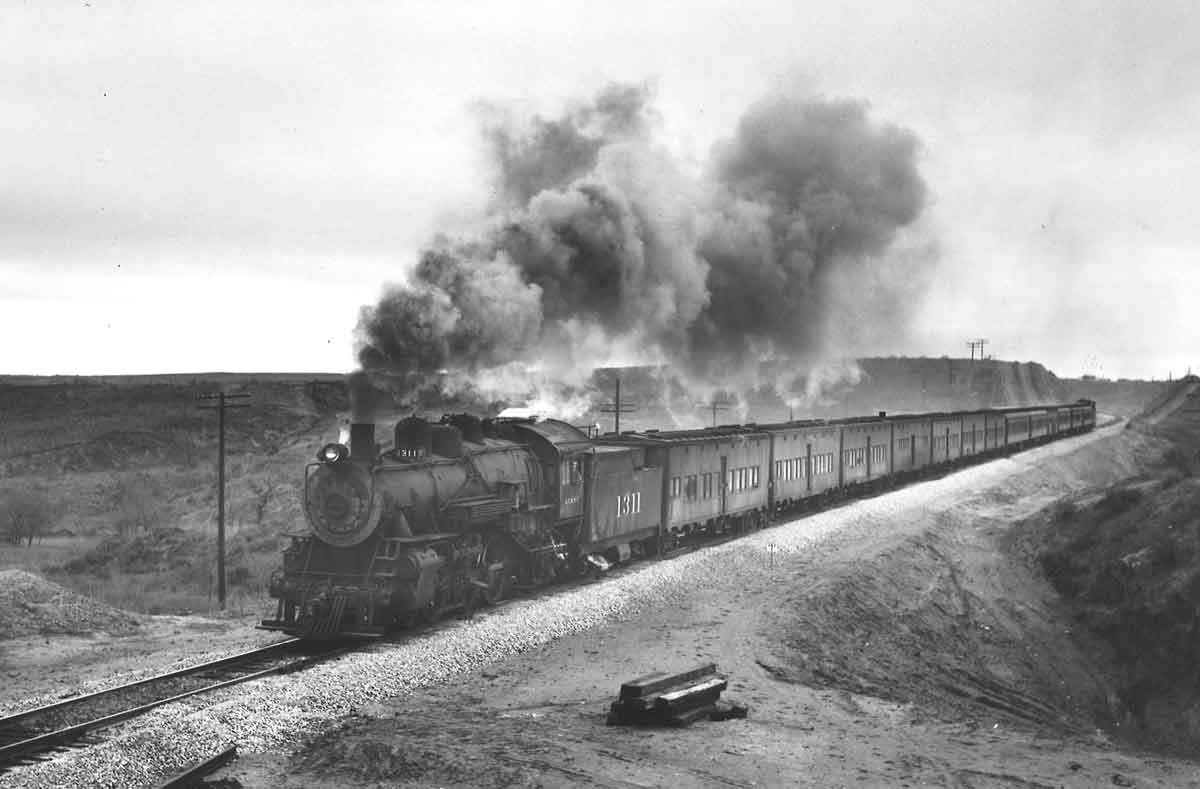 Troop train
Santa Fe 4-6-2 1311 rolls east with a 13-car troop train near Quinlan, Okla., on Mar. 16, 1946. The train consists of 5 standard sleepers, 6 troop sleepers, and 2 troop kitchen cars, plus a caboose at the rear. R. H. Kindig photo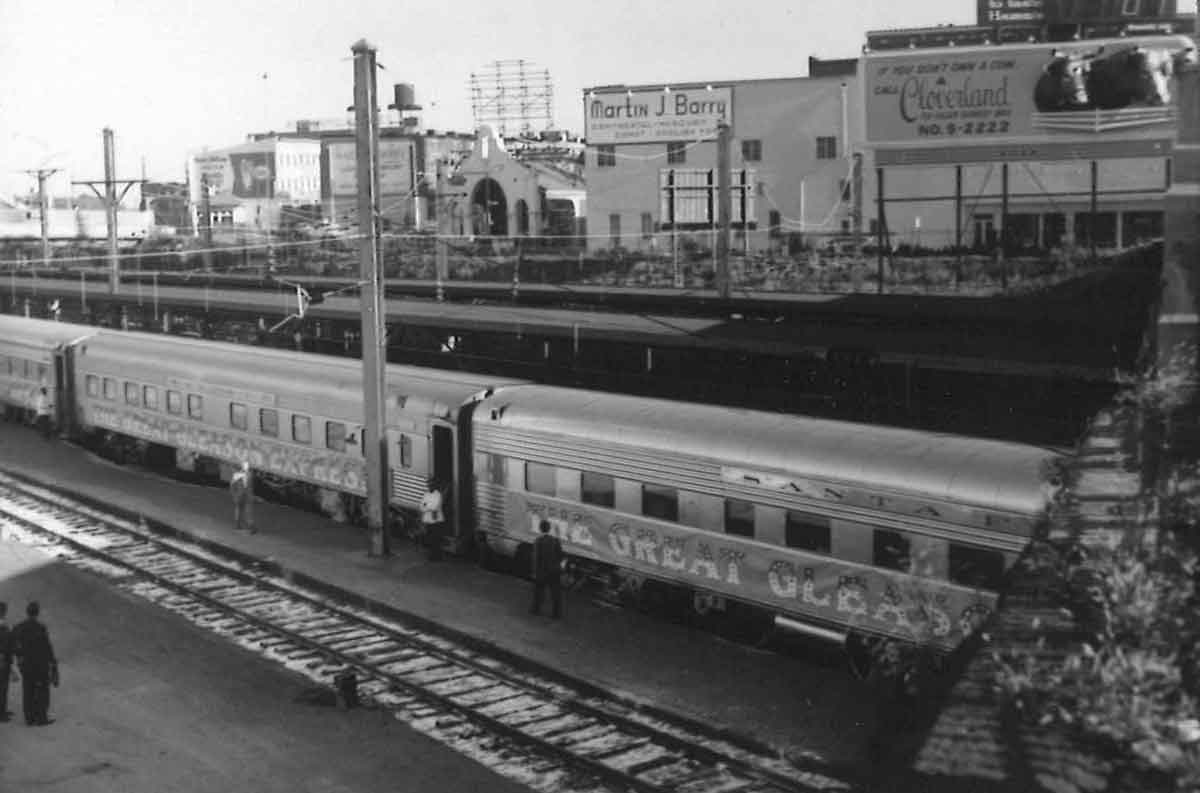 Jackie Gleason special
The Great Gleason Express, a seven-car special chartered by air-travel-averse comedian Jackie Gleason, pauses at PRR's Baltimore station on Aug. 18, 1962. The special wandered 4,300 miles on a 10-day Los Angeles–New York trip. J. Pellam photo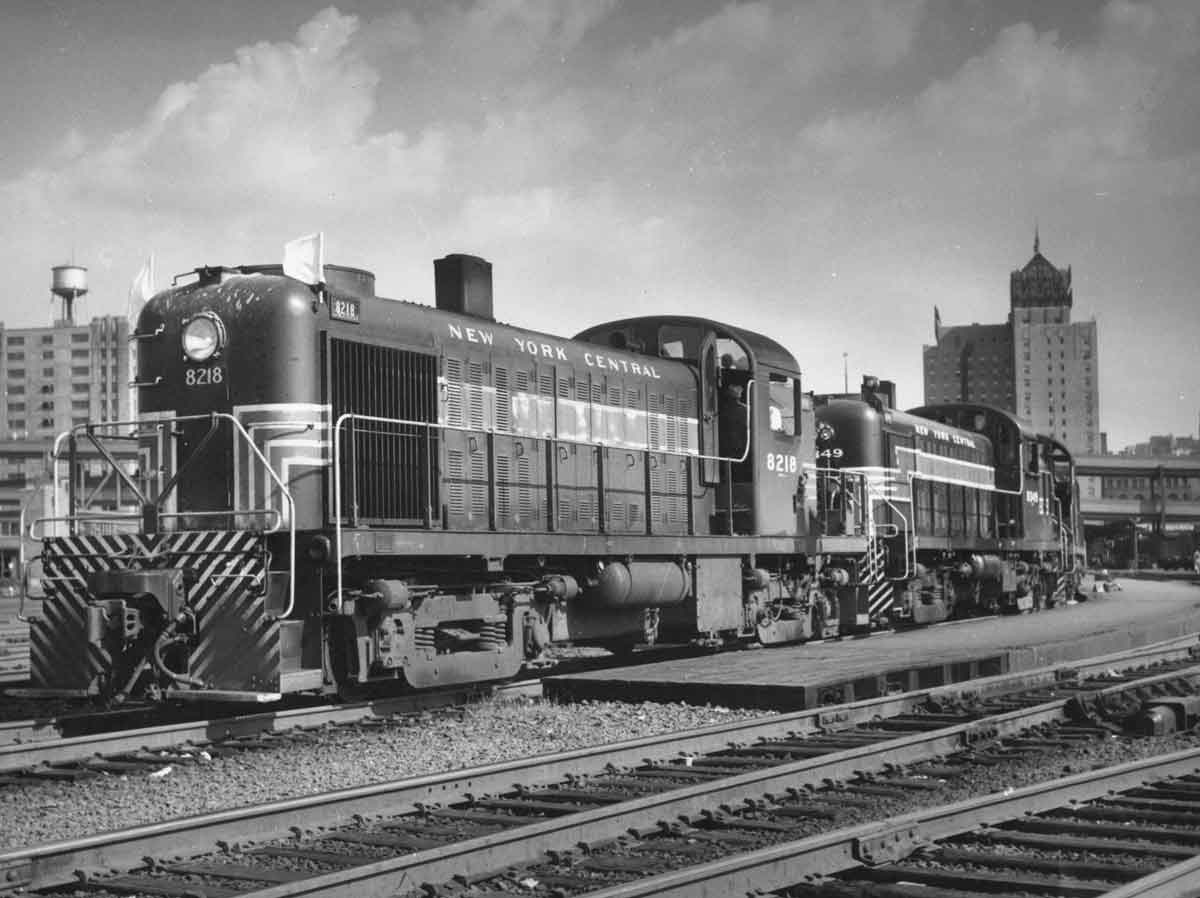 Detour
New York Central RS3s prepare to depart Boston & Maine's North Station in Boston with the combined New England Wolverine and Southwestern Limited in late August 1955. Flood damage from Hurricane Diane on the trains' regular route, NYC's Boston & Albany line out of South Station, prompted the detour on the B&M. W. G. Fancher photo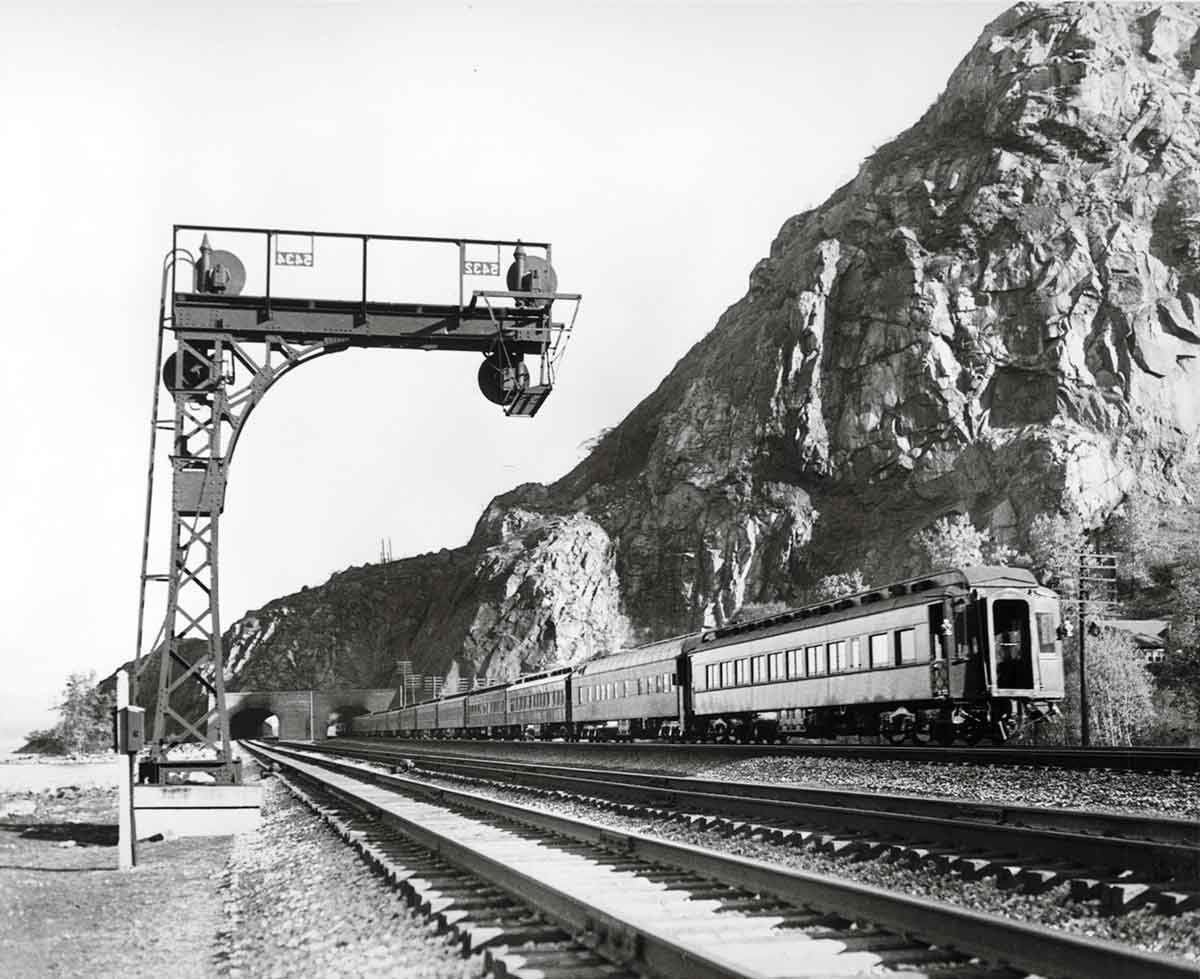 Funeral train
President Franklin D. Roosevelt's funeral train proceeds up the Hudson River at Cold Spring, N.Y., toward Hyde Park, where FDR will be buried, on April 15, 1945. The presidential car Ferdinand Magellan (second from rear) could not accommodate the casket, so it was carried on sleeper-lounge Conneaut at the end of the train. NYC photo by Ed Nowak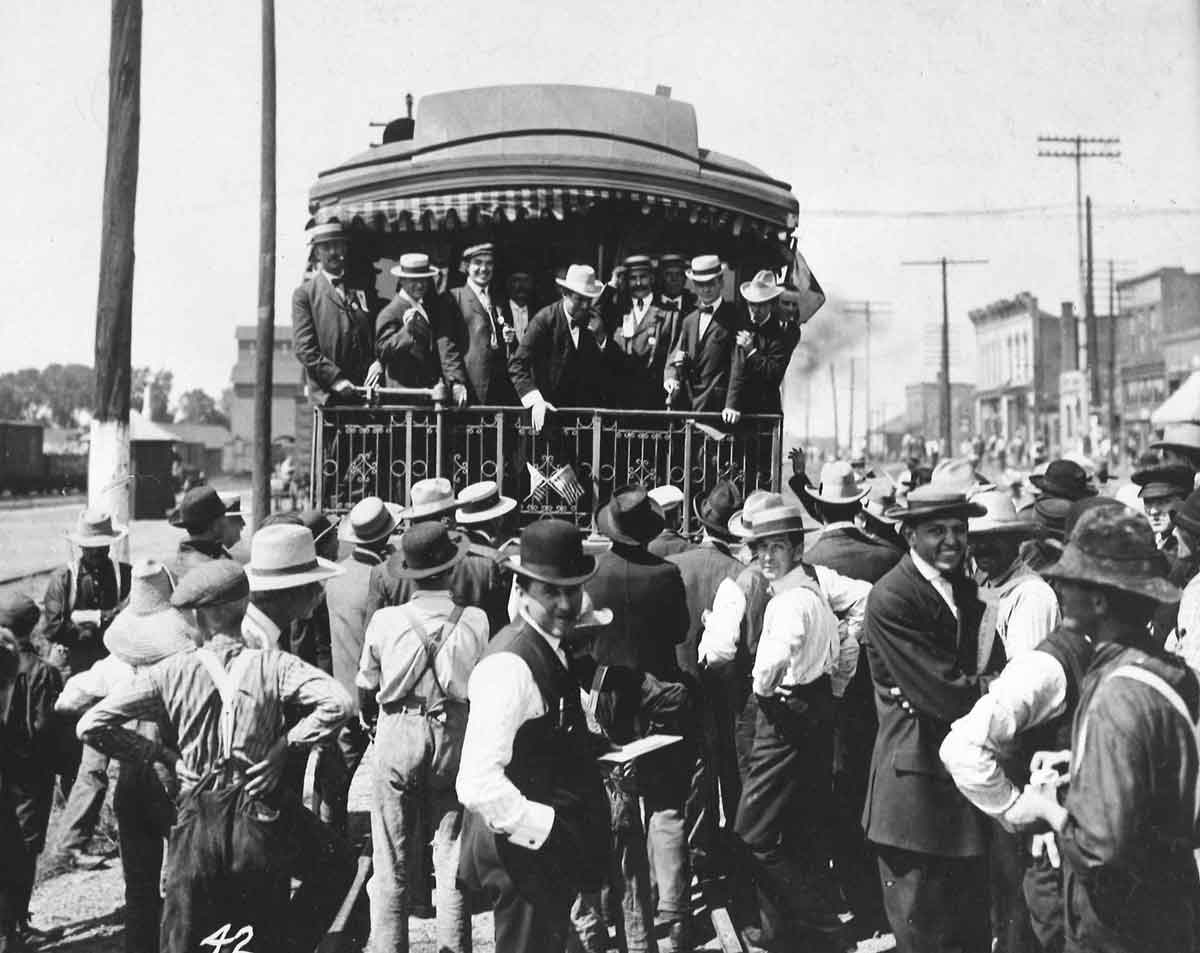 Campaign train
Three-time presidential candidate William Jennings Bryan (in light hat, center) leans from an observation-car platform during a campaign stop somewhere in Iowa in either 1896, 1900, or 1908. J. C. Seacreast coll.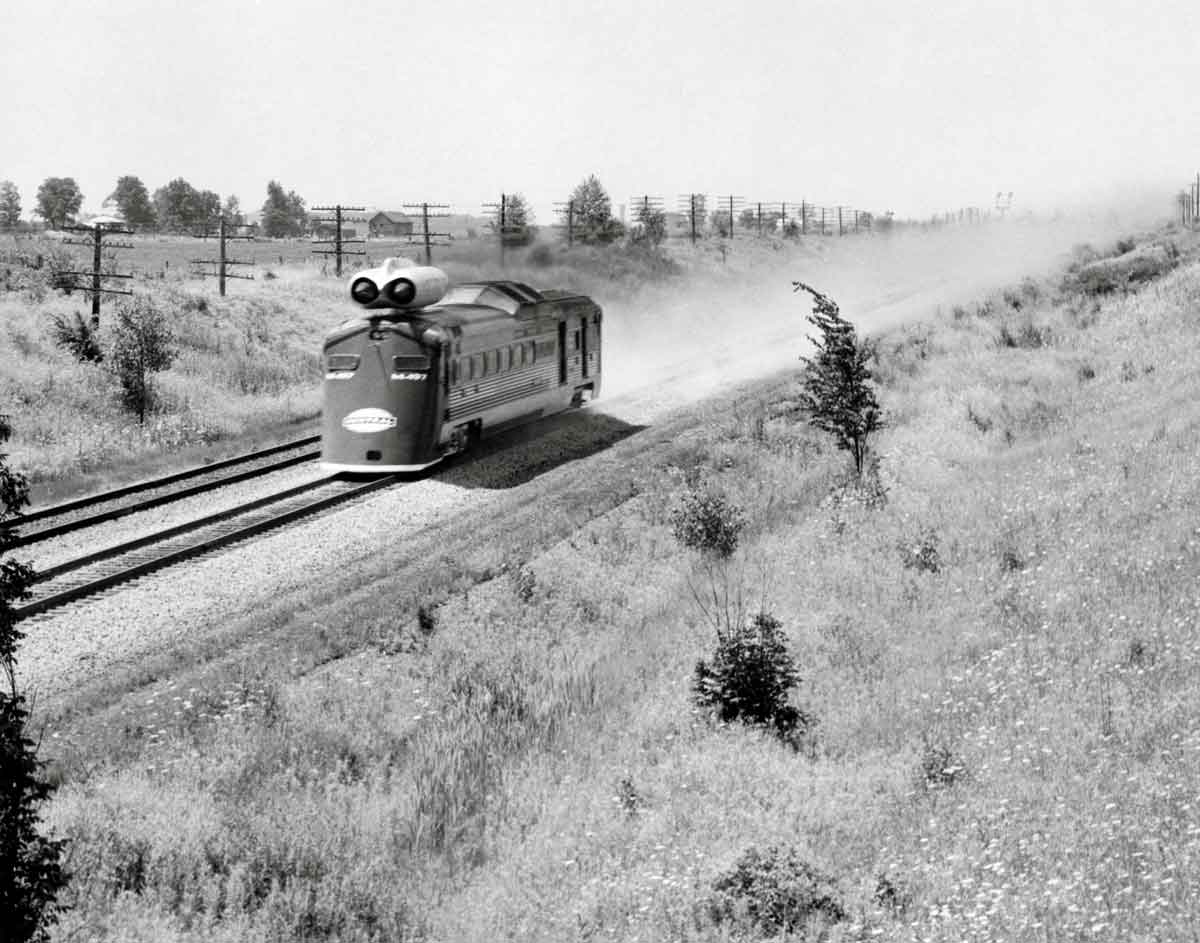 Speed test
New York Central RDC3 M-497, refitted with a pair of jet engines and a streamlined nose (and F-unit numberboards for windshields), sets a North American rail speed record when it hits 183.7 mph between Butler, Ind., and Stryker, Ohio, on July 23, 1966. Tom Brown photo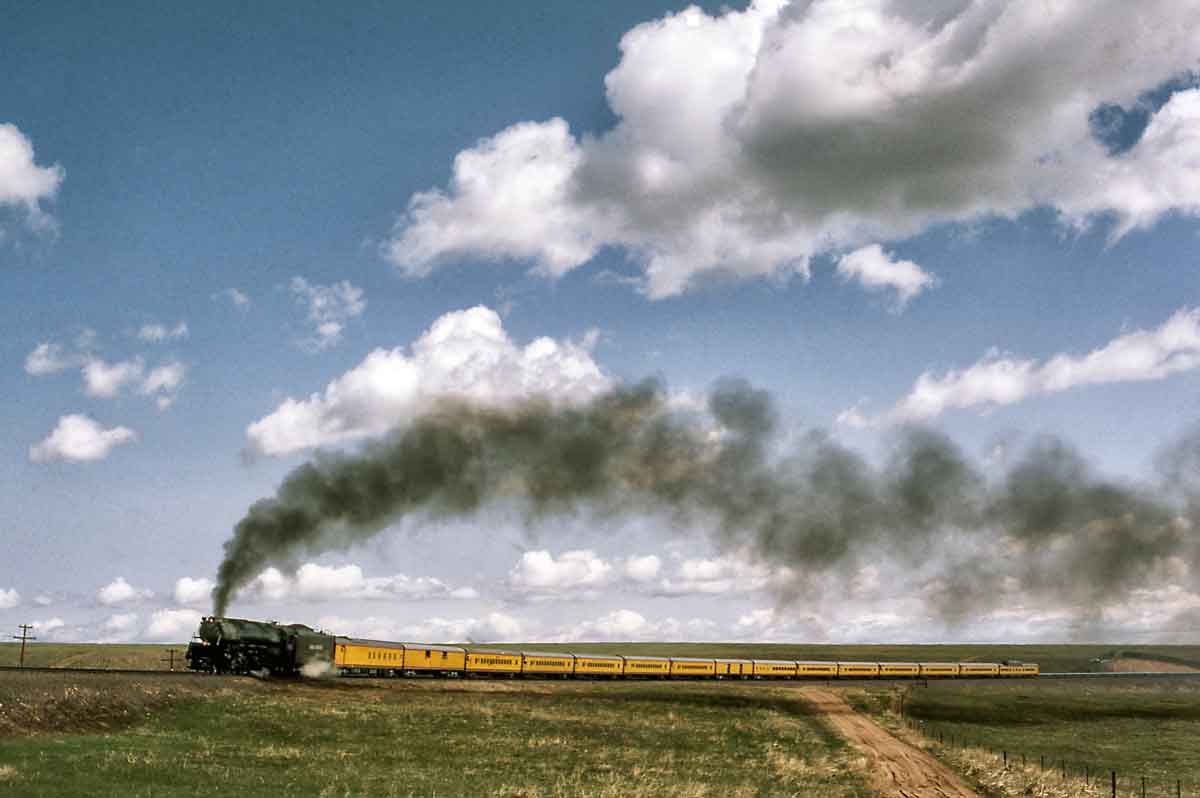 Steam excursion
Union Pacific 4-6-6-4 3985 performs a photo run-by near Lynch, Wyo., on Sherman Hill during a May 1984 Denver–Laramie excursion. Robert S. McGonigal photo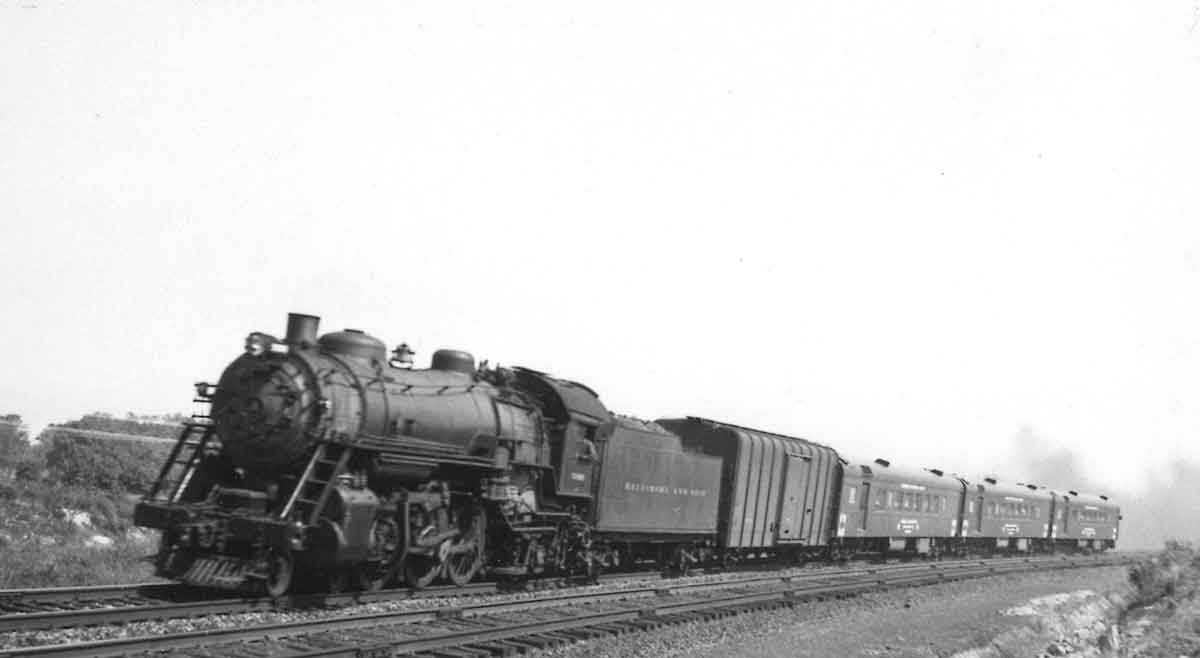 Military hospital train
Baltimore & Ohio 4-6-2 5090 rolls west near Stanton, Del., with a boxcar and three U.S. Army hospital cars on Sept. 18, 1947. Movements of damaged or condemned equipment are often called hospital trains, but this is the real thing. Norman Cooper photo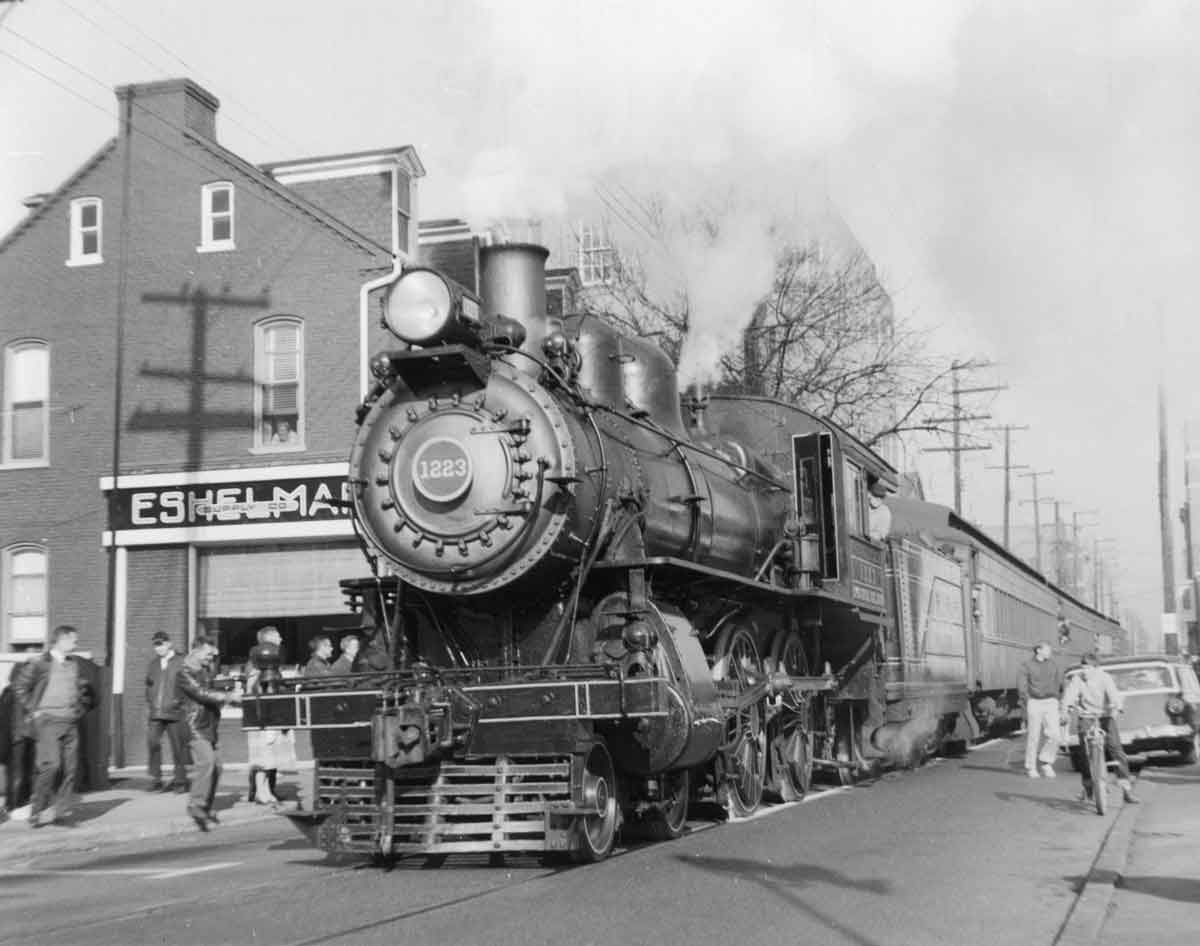 Santa Claus train
Pennsylvania Railroad 4-4-0 1223 eases down Water Street in Lancaster, Pa., with the annual Santa Claus train sponsored by the Watt & Shand department store on Nov. 19, 1966. The D16sb is on lease to the nearby Strasburg Rail Road tourist line. Brian Belanger coll.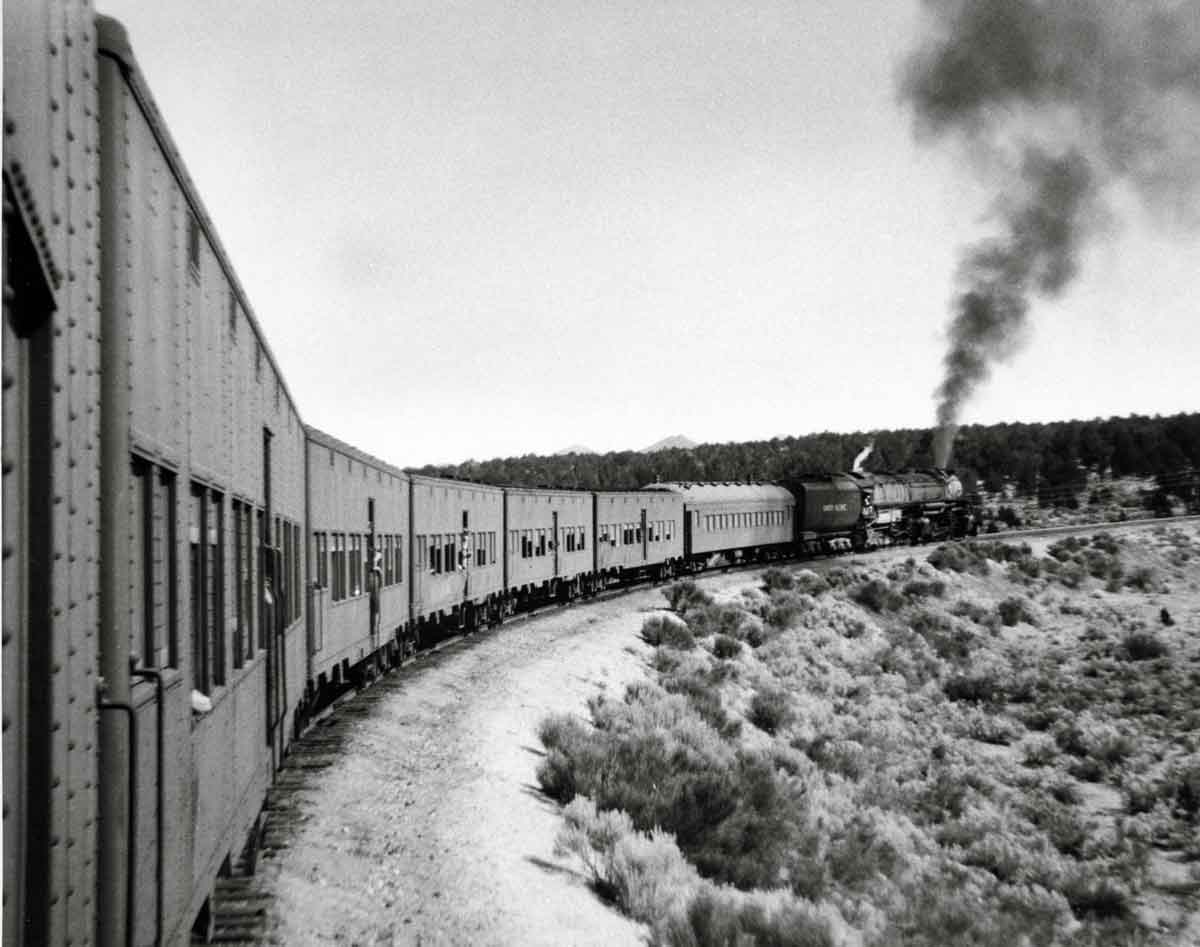 Troop train
Chicagoan George Speir was en route from San Diego to Great Lakes, Ill., for discharge from the Navy in 1946 when he leaned out the window of his troop sleeper for this shot on the Union Pacific somewhere in California. His routing was ATSF-UP-D&RGW-CB&Q-CGW-C&NW. George Speir photo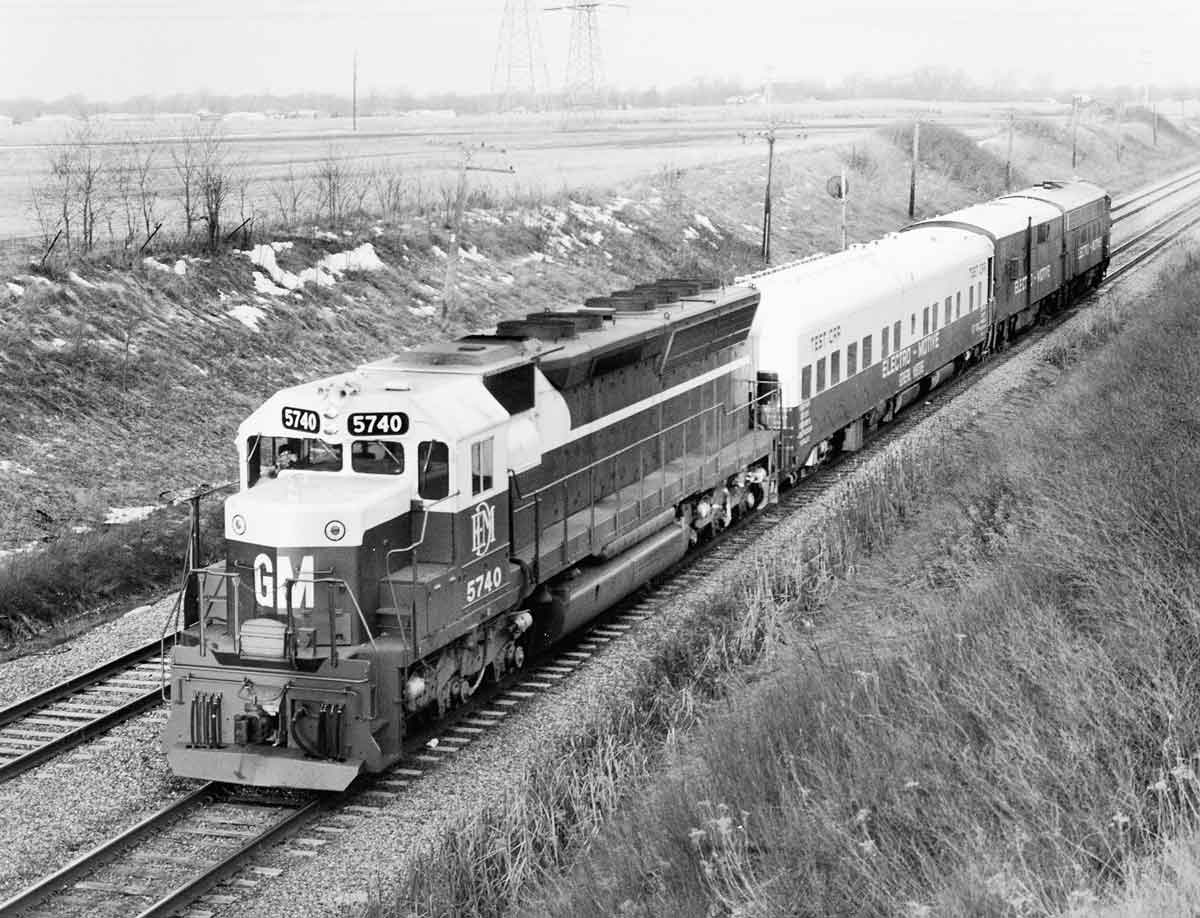 Locomotive test
SD45X 5740, retained by GM's Electro-Motive Division testing, leads EMD test car ET800 and two other test vehicles of F-unit ancestry near Joliet, Ill., on the Elgin, Joliet & Eastern in January 1973. Bruce R. Meyer photo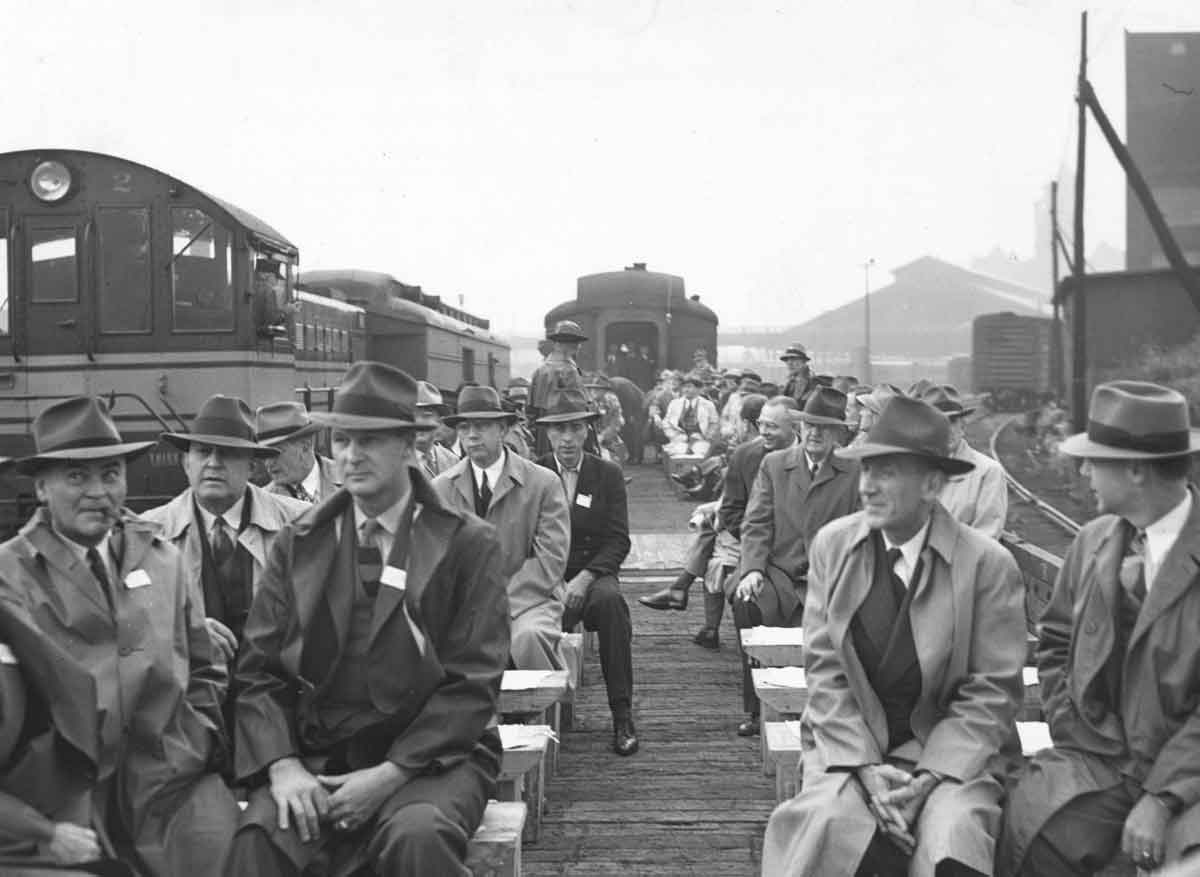 Inspection train
Invited guests depart Nashville Union Station for Vine Hill, Tenn., aboard a gondola equipped with benches to witness a demonstration of "smokeless" operation of L&N 0-8-0 2111. The special also included a coach in case it rained — which it did. Louisville & Nashville photo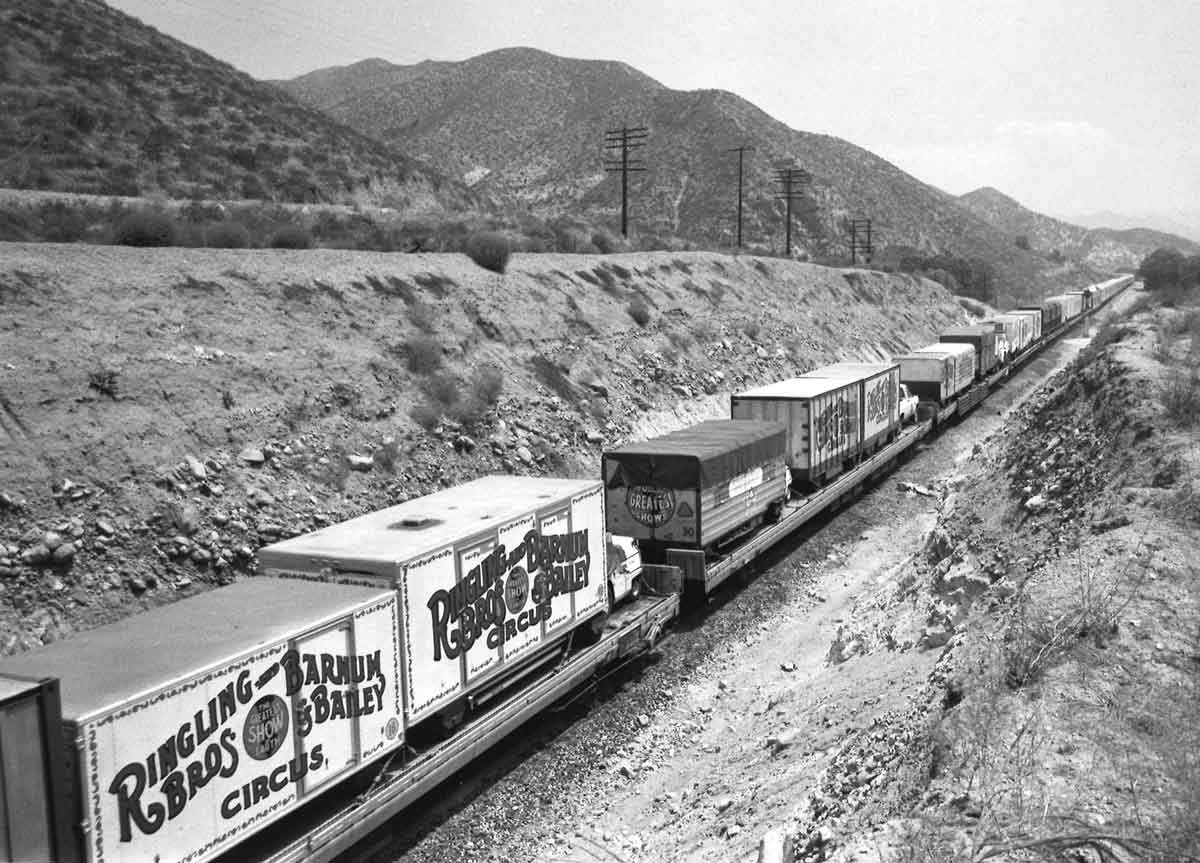 Circus train
One of the two Ringling Brothers and Barnum & Bailey circus trains is between Lang and Russ, Calif., on SP's Soledad Canyon line as it heads toward the Pacific Northwest on July 23, 1984. Bruce Veary photo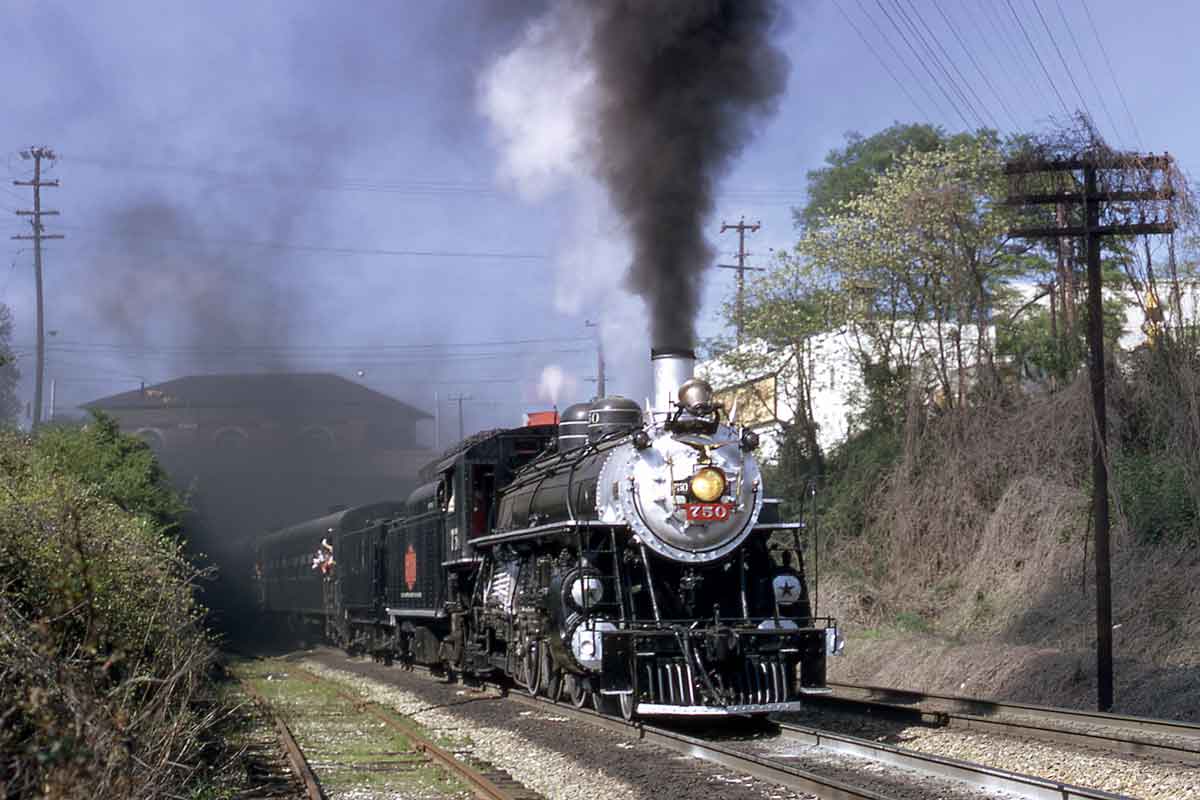 Steam excursion
Savannah & Atlanta 4-6-2 750 departs Southern Railway's Peachtree Station, Atlanta, with a fantrip on April 15, 1972. Bob Krone photo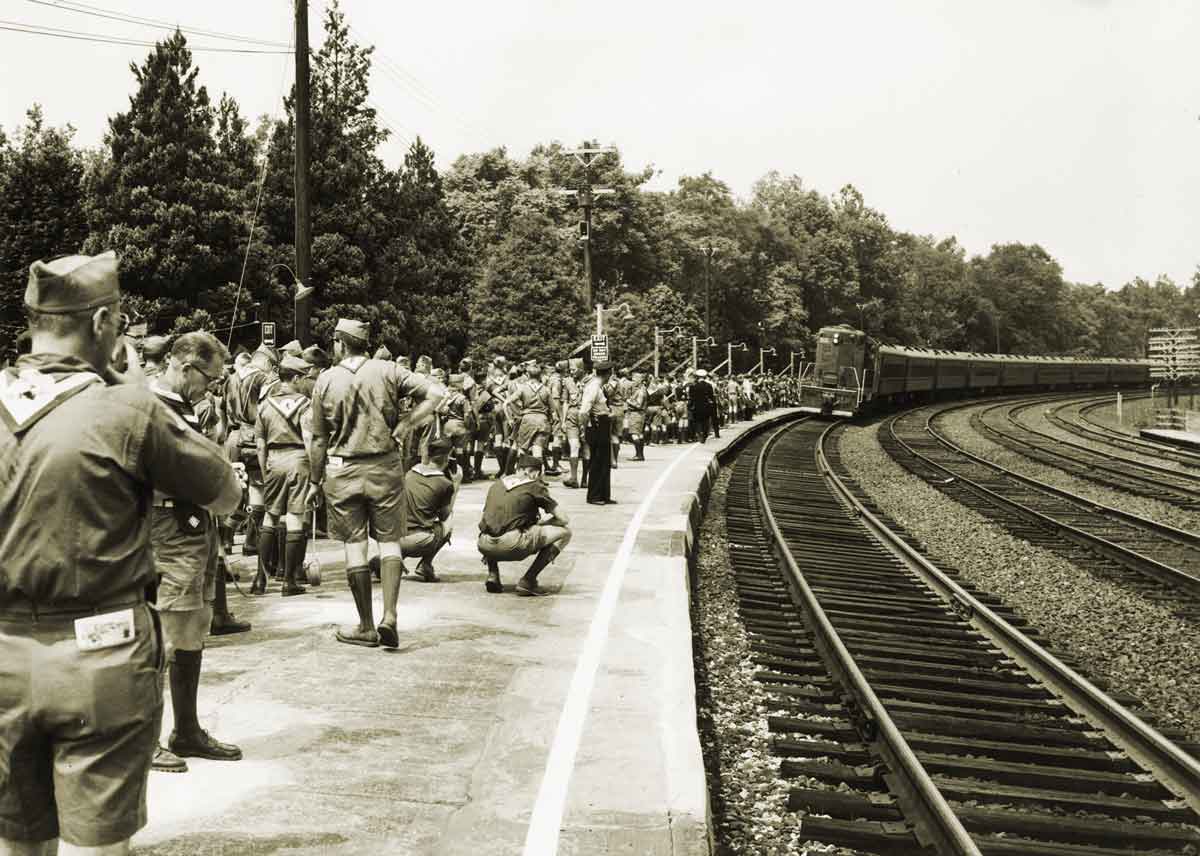 Boy Scout train
Reading GP7 606 approaches the station at Port Kennedy, Pa., just east of Valley Forge, to pick up a load of Boy Scouts bound for a day of sightseeing in Philadelphia. The scouts are attending the July 1957 Jamboree at Valley Forge. Classic Trains coll.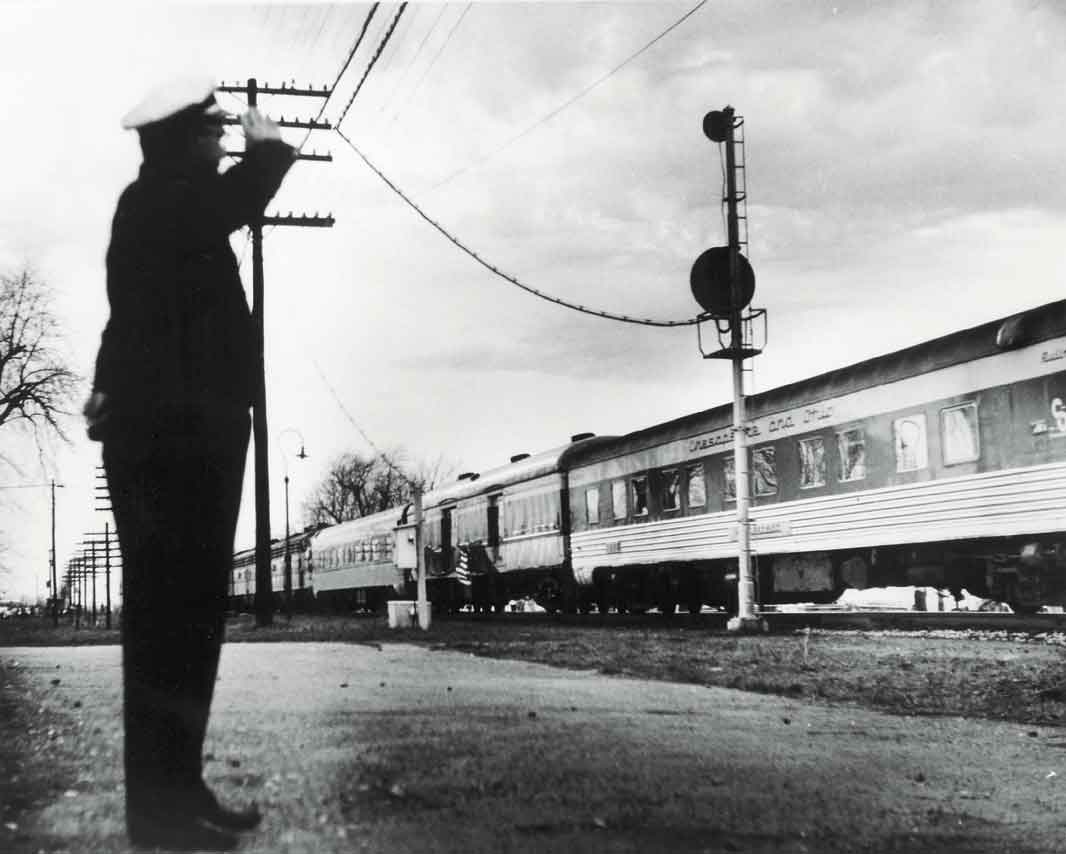 Funeral train
A police officer at tiny Odin, Ill., salutes the passage of Dwight D. Eisenhower's funeral train on April 1, 1969. The train's Washington, D.C.–Abilene, Kans., journey used C&O, B&O, N&W, and UP. J. David Ingles photo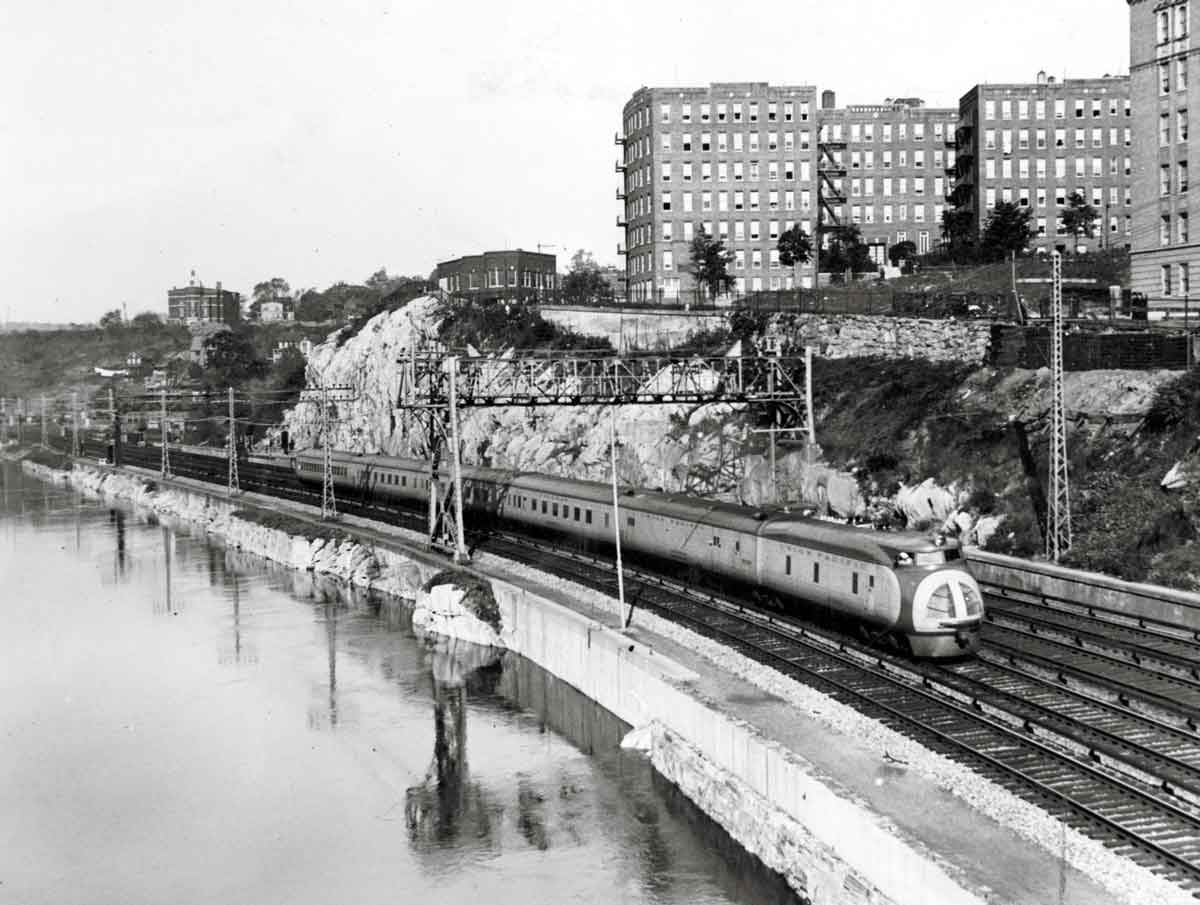 Exhibition tour and speed run
Union Pacific diesel streamliner M-10001 glides along New York Central trackage beside the Harlem River on Oct. 25, 1934. The new train is a few miles from Grand Central Terminal near the end of its record dash from Los Angeles to New York: 3,254 miles in 56 hours 55 minutes. Classic Trains coll.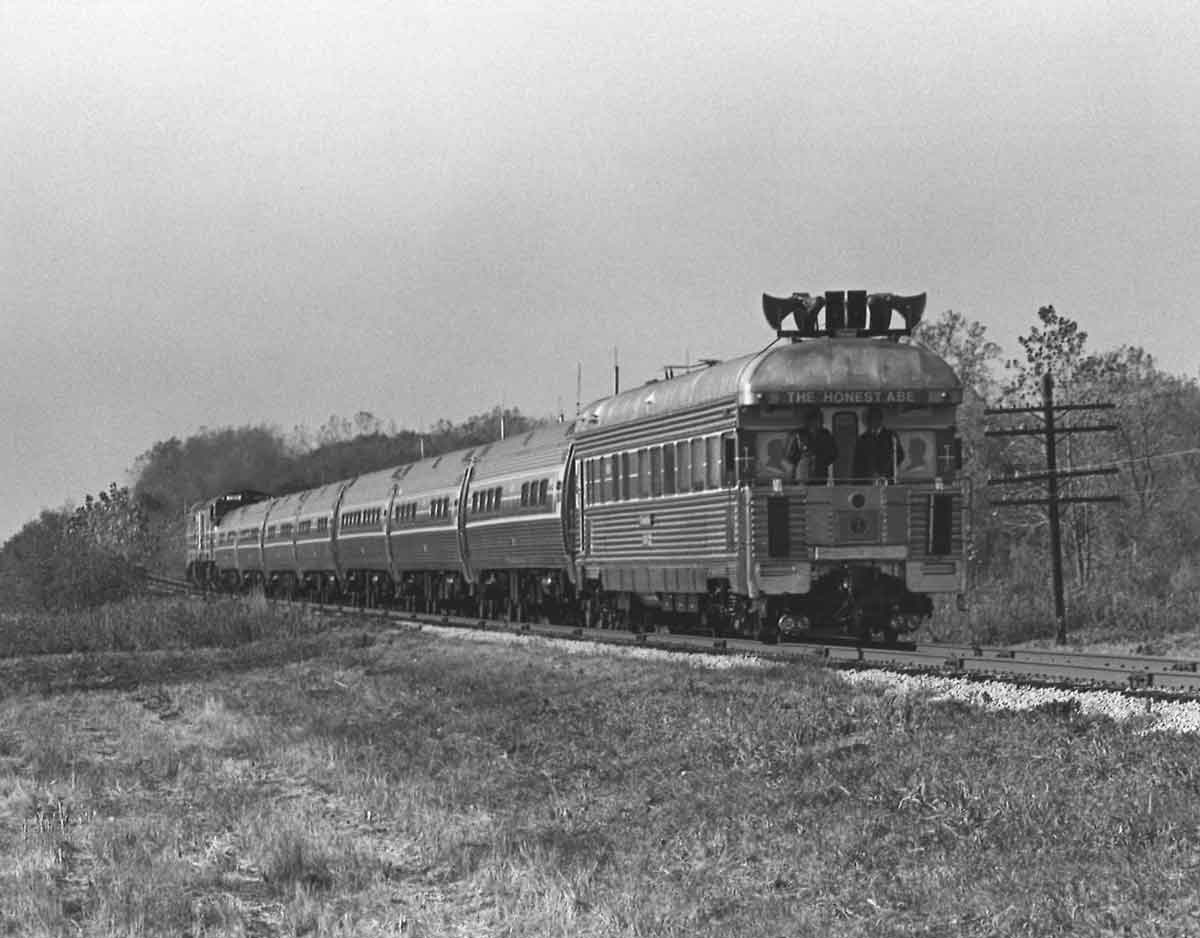 Campaign train
Amtrak business car 10000 (owned by Auto-Liner Corp., built by Wabash in the 1950s) brings up the rear of Pres. Gerald Ford's Joliet–Alton, Ill., presidential campaign train on Oct. 16, 1976. The special, which also included new P30CH diesels 722 and 720 and seven new Amfleet cars, is just out of Joliet. Harold A. Edmonson photo