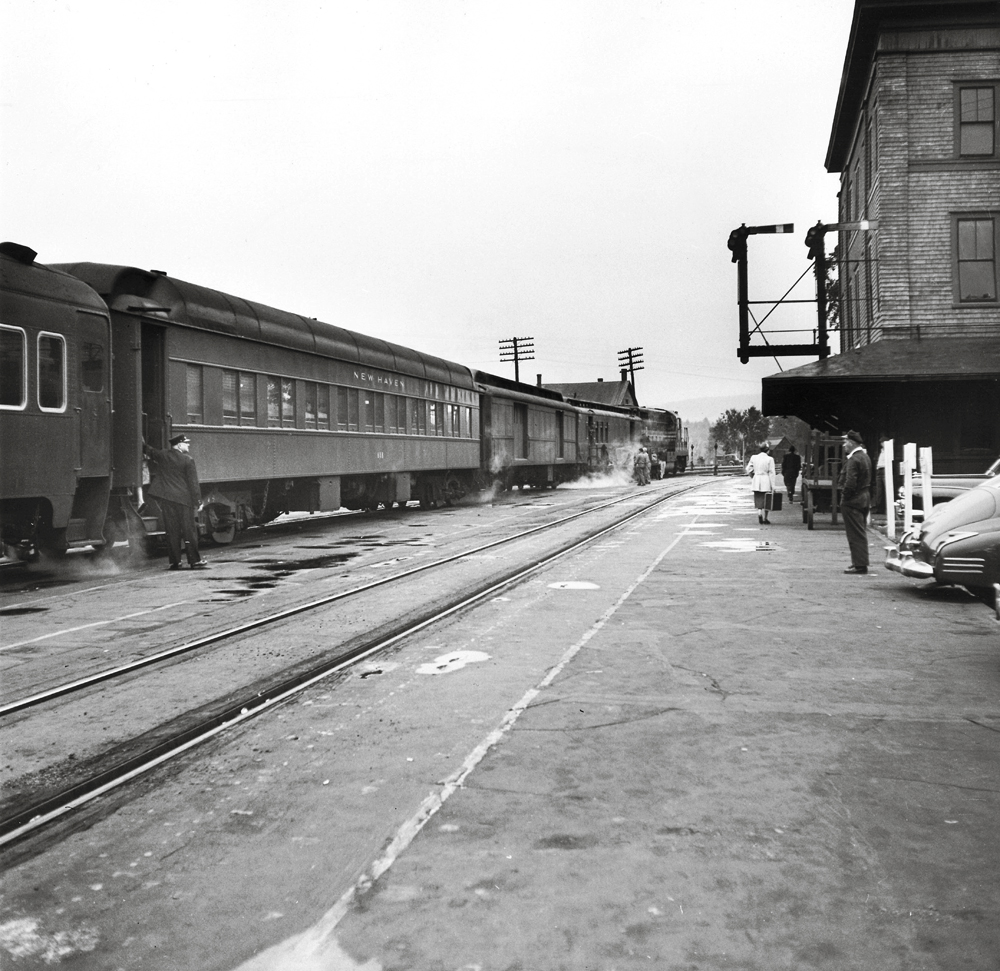 New England traveler
The Boston & Maine's White Mountain Express arrives at Woodsville, N.H., in September 1951. Note the New Haven car in the consist along with the double train-order signals mounted on the station.


St. Thomas smoke break
A silhouetted man smokes a pipe on the platform at St. Thomas, Ontario, while a Michigan Central train stops. A New York Central subsidiary, the MC operated its main line from Buffalo through southern Ontario to Detroit and Chicago, plus branches in Michigan.


Canada Customs
The Canadian flag flies over the customs house alongside the Canadian National station at Sarnia, Ont., where the Inter-City Limited has arrived from Chicago. Sarnia is the first station in Canada, where CN goes under the St. Clair River.


Excess baggage
Algoma Central crewmen and station staff load headend business at Hearst, Ont., where the railroad and Canadian National share a station. Canoes are regular baggage in this far north country.


Classic caboose
An eastbound Milwaukee Road freight at Grand Avenue Tower heads toward the railroad's maze of yard in Milwaukee's Menomonee River Valley. The route to the left serves the Milwaukee's classic downtown station (shown on facing page).

Air Line action
A Milwaukee Road freight behind one of the road's ubiquitous workhorse Mikados moves down the Air Line freight route through West Allis, Wis., in 1951. The line is now the Hank Aaron State Trail.


Fantastic fleet
Streamlined and conventional trains line up at the Milwaukee Road's downtown Milwaukee station. The grand brick structure was replaced in 1965 by a new concrete edifice to the south to accommodate freeway construction.