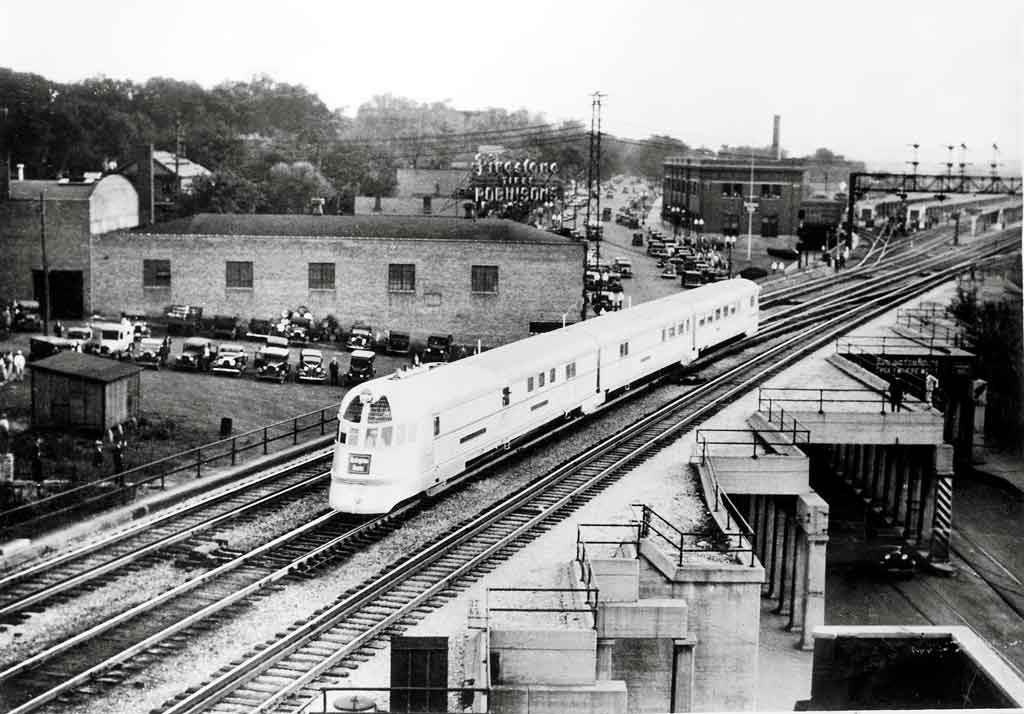 Burlington's Pioneer Zephyr
The first Zephyr train, later called Pioneer Zephyr, at Aurora, Ill., on nonstop Denver–Chicago run, May 26, 1934.
CB&Q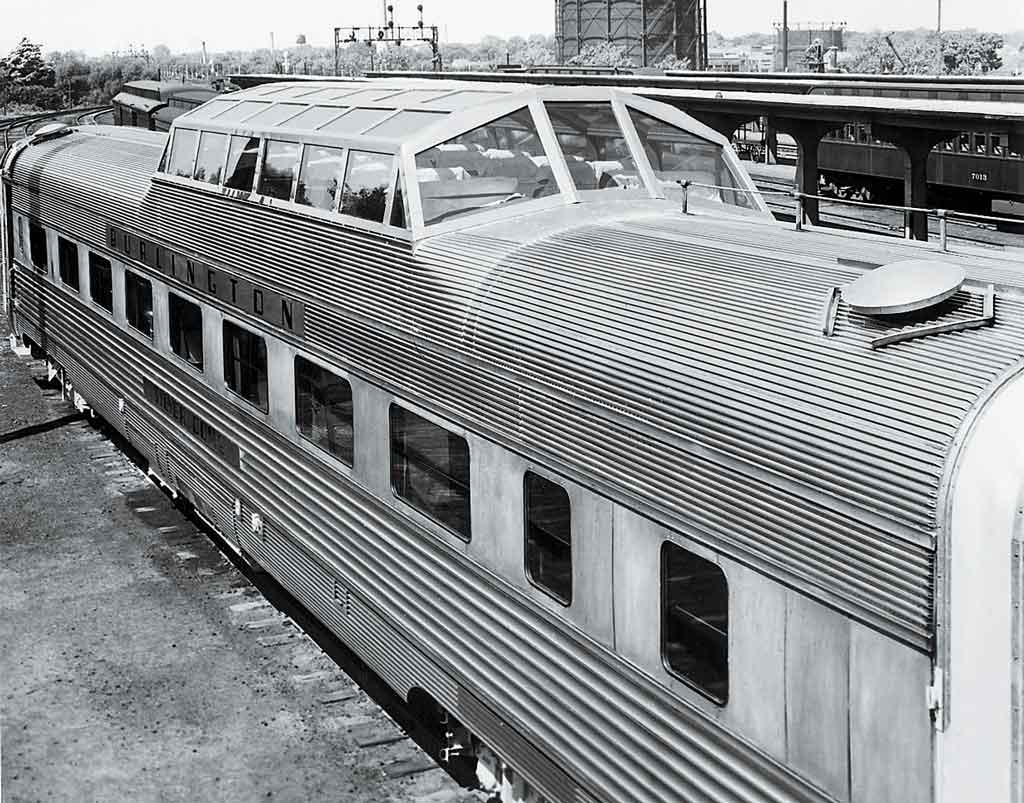 Burlington's Silver Dome
The first dome car, Silver Dome, rebuilt from a conventional coach at Burlington's Aurora shops in July 1945.
CB&Q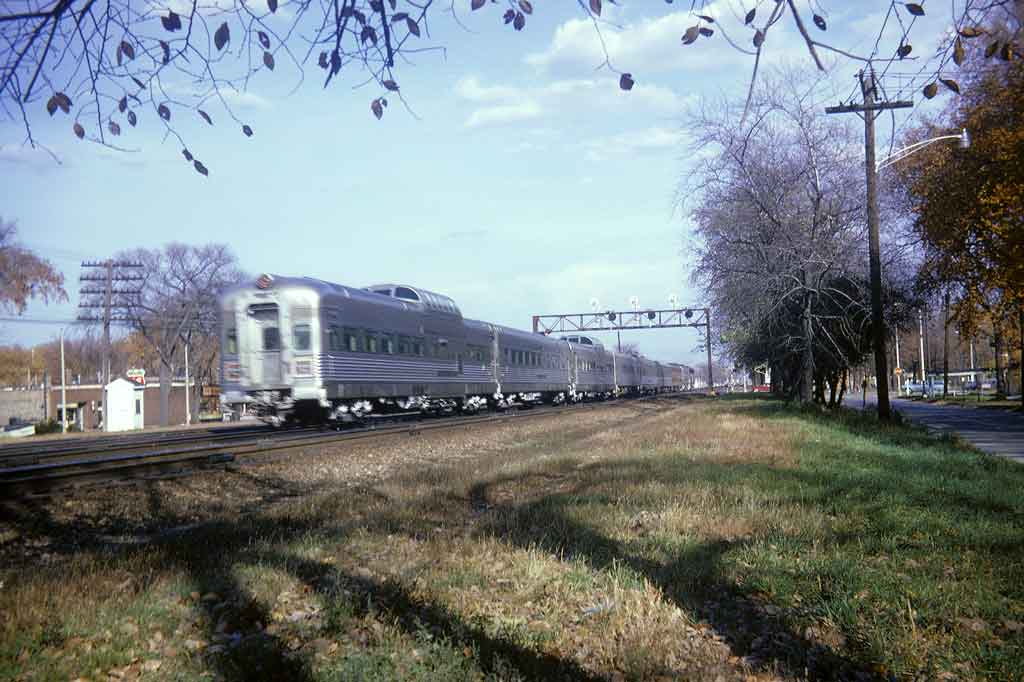 Burlington's Twin Zephyr
Minneapolis–Chicago Morning Twin Zephyr at Brookfield, Ill., May 1965.
Ed DeRouin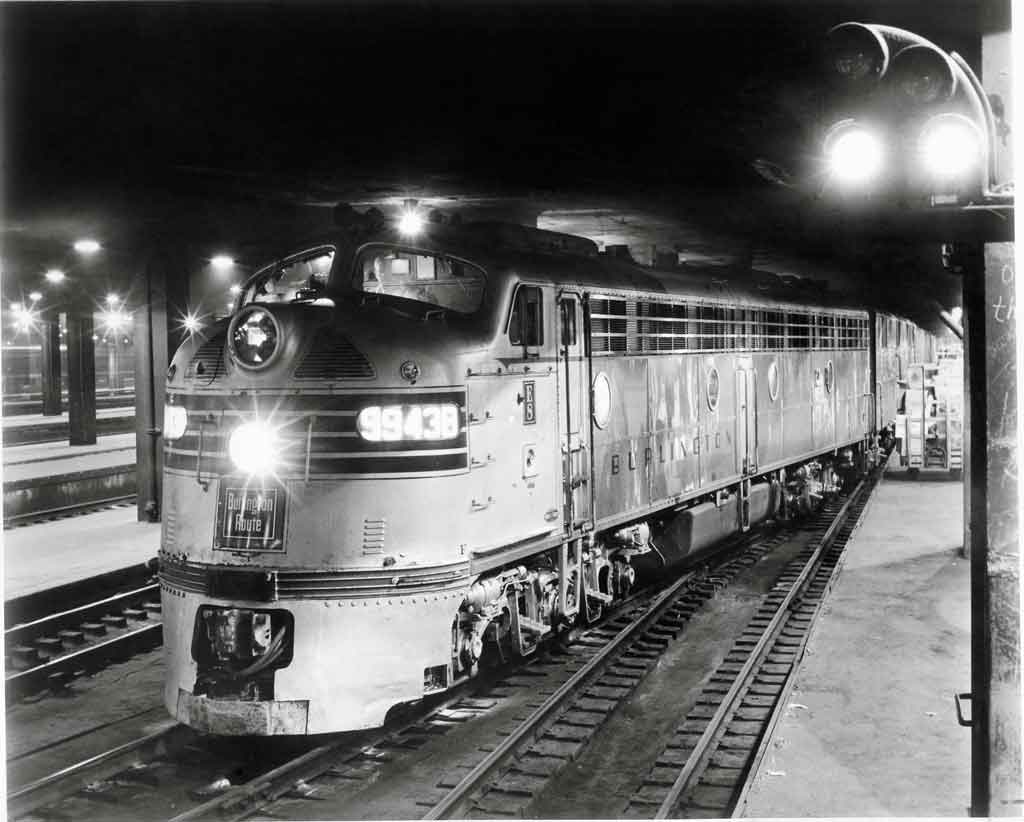 Burlington's Fast Mail
Chicago–Omaha Fast Mail ready to depart Chicago Union Station, 1959.
Wallace W. Abbey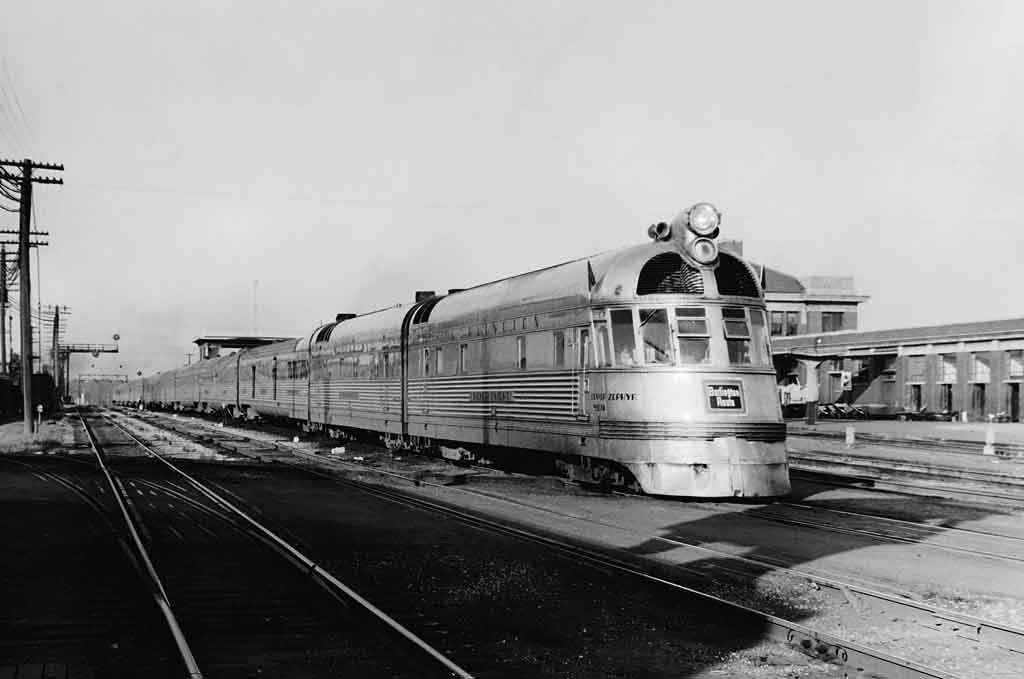 Burlington's Denver Zephyr
Denver–Chicago Denver Zephyr at Galesburg, Ill., mid-1940s.
Henry J. McCord


Burlington suburban trains – steam
Suburban trains powered by 4-6-0s in the yard at Downers Grove, Ill., circa 1920.
L. E. Griffith coll.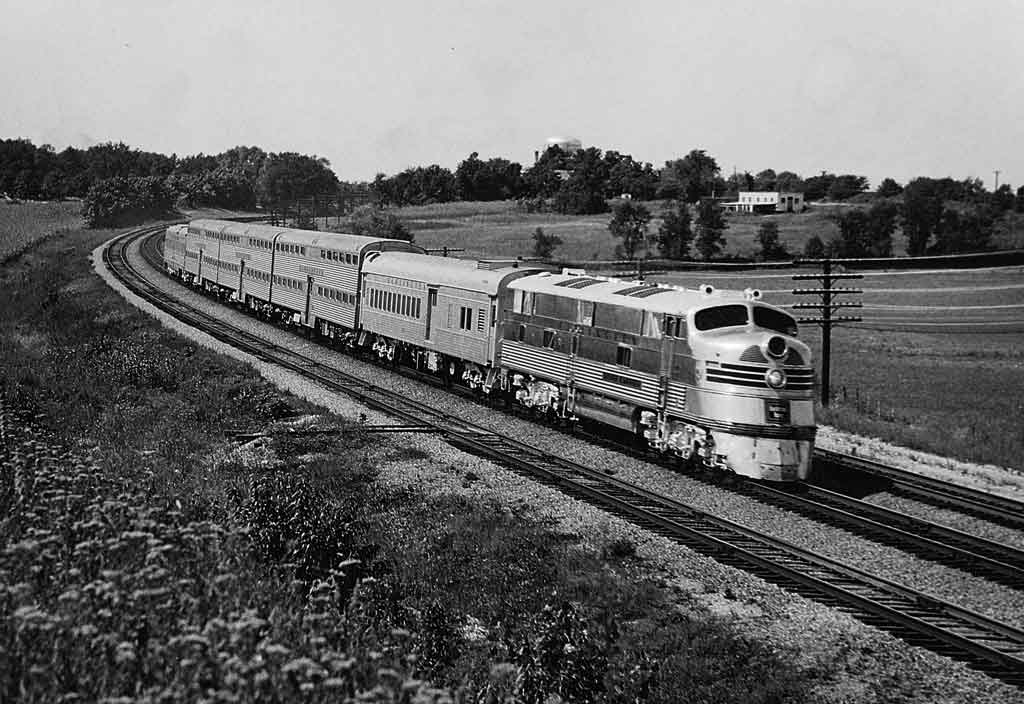 Burlington suburban train – diesel
E5 and new gallery cars on Aurora–Chicago suburban train east of Naperville, Ill., circa 1950.
Bob Borcherding


Burlington's Afternoon Twin Zephyr
Chicago–Minneapolis Afternoon Twin Zephyr north of Savanna, Ill., 1965.
Jim McClellan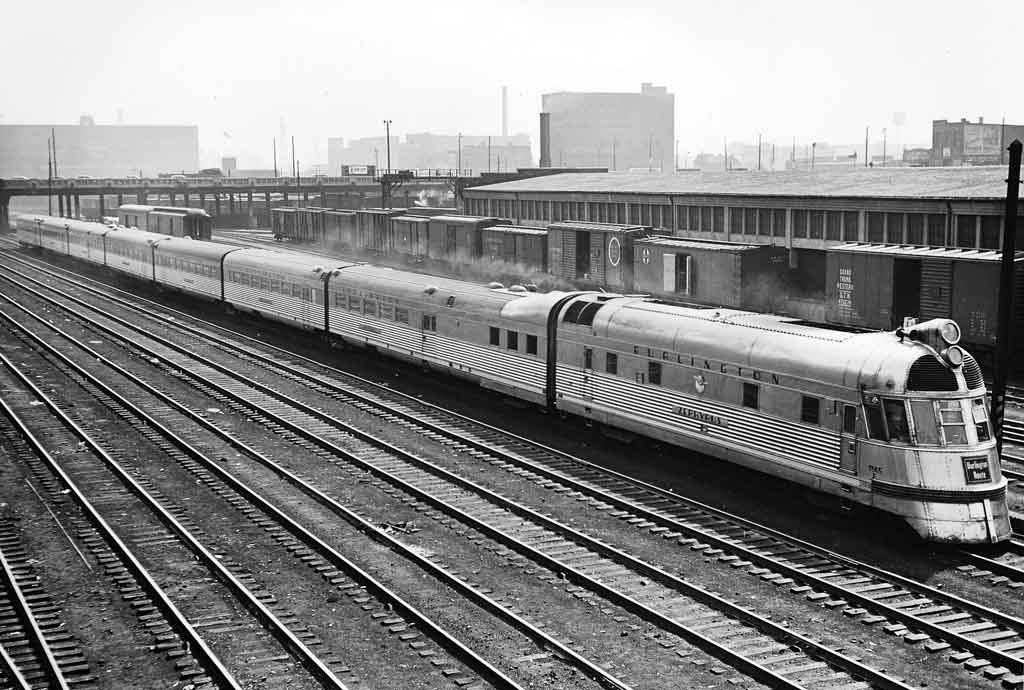 Burlington's Morning Twin Zephyr
Minneapolis–Chicago Morning Twin Zephyr approaching Chicago Union Station, 1943.
Classic Trains coll.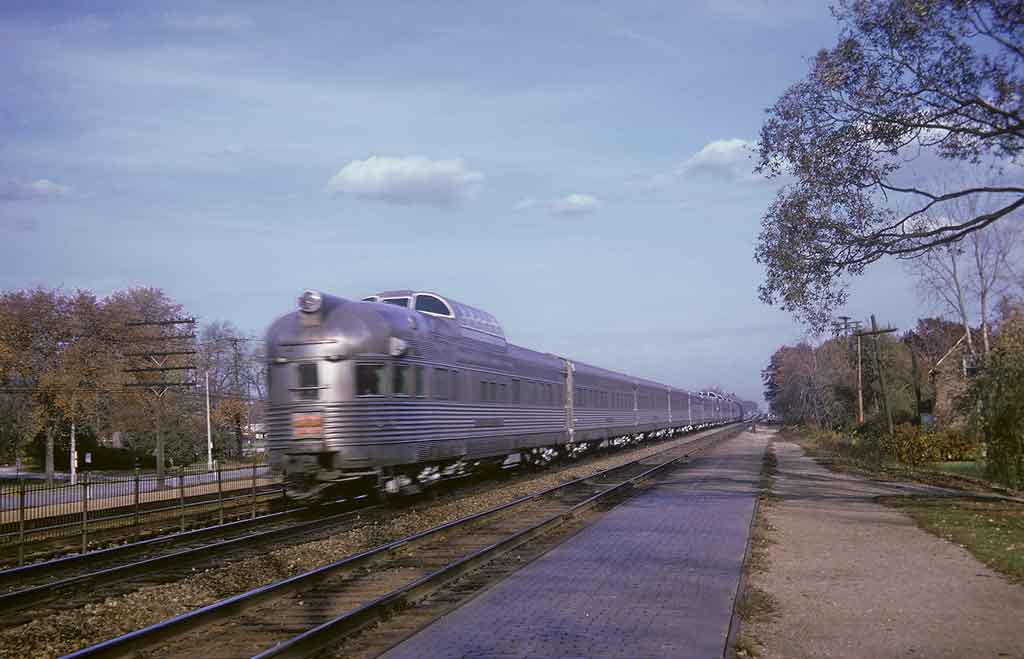 Burlington's California Zephyr
Oakland–Chicago California Zephyr at Brookfield, Ill., May 1965.
Ed DeRouin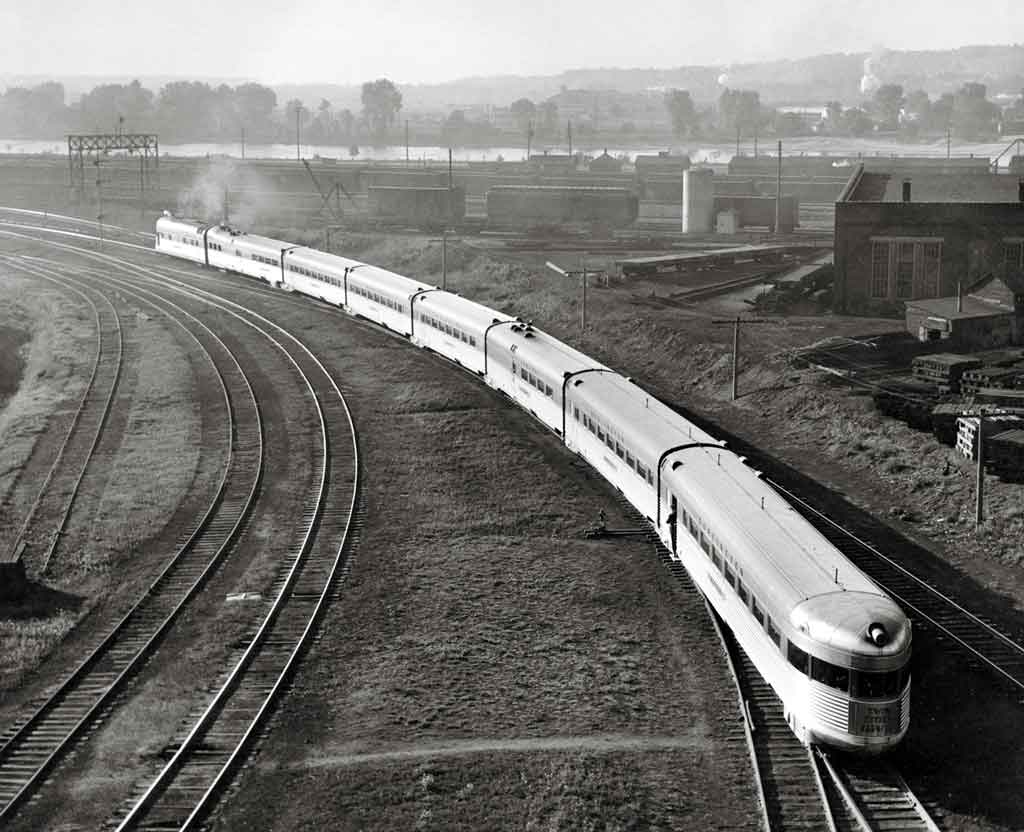 Burlington's Twin Zephyr
Minneapolis–Chicago Morning Twin Zephyr at St. Paul, 1940s.
H. W. Pontin


Burlington's Texas Zephyr
Denver–Dallas/Ft. Worth Texas Zephyr departing Denver, May 1947.
L. O. Merrill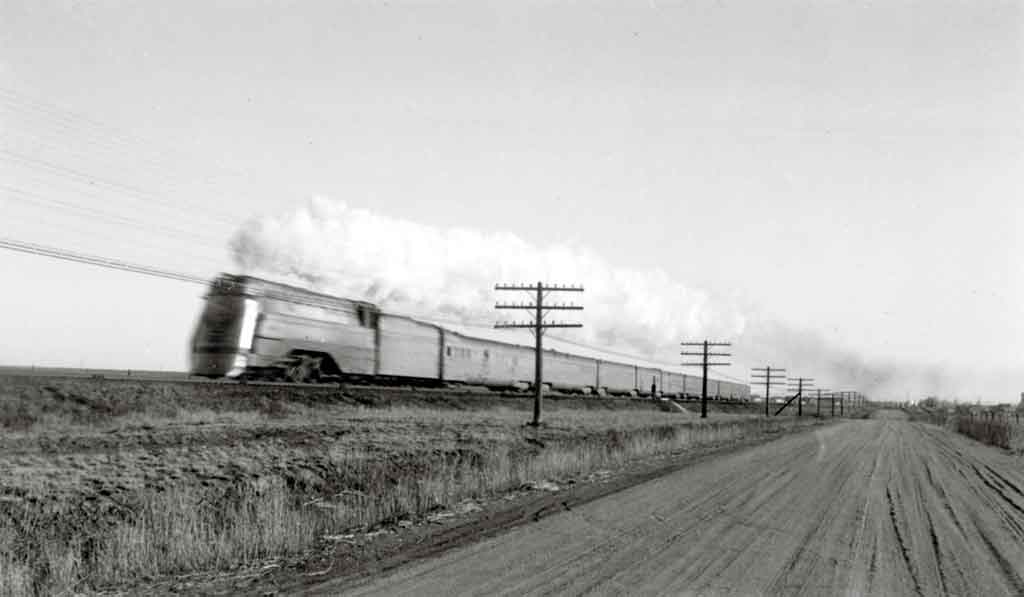 Burlington's Denver Zephyr
Chicago–Denver Denver Zephyr, with streamlined 4-6-4 4000 substituting for diesels, near Keenesburg, Colo., February 1938.
Joseph Schick


Burlington's Twin Zephyrs
Minneapolis–Chicago Twin Zephyr trains on pre-inaugural publicity run, side-by-side, from Aurora to Chicago, passing Downers Grove, Ill., April 14, 1935.
Willard V. Anderson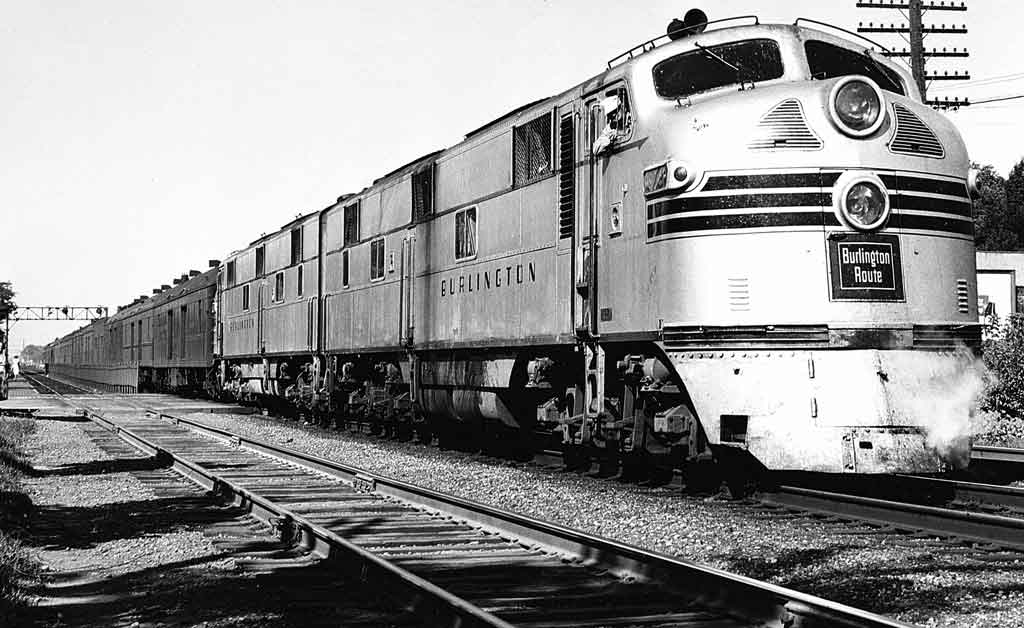 Burlington's American Royal
Kansas City–Chicago American Royal at La Grange, Ill., November 1945.
Robert Milner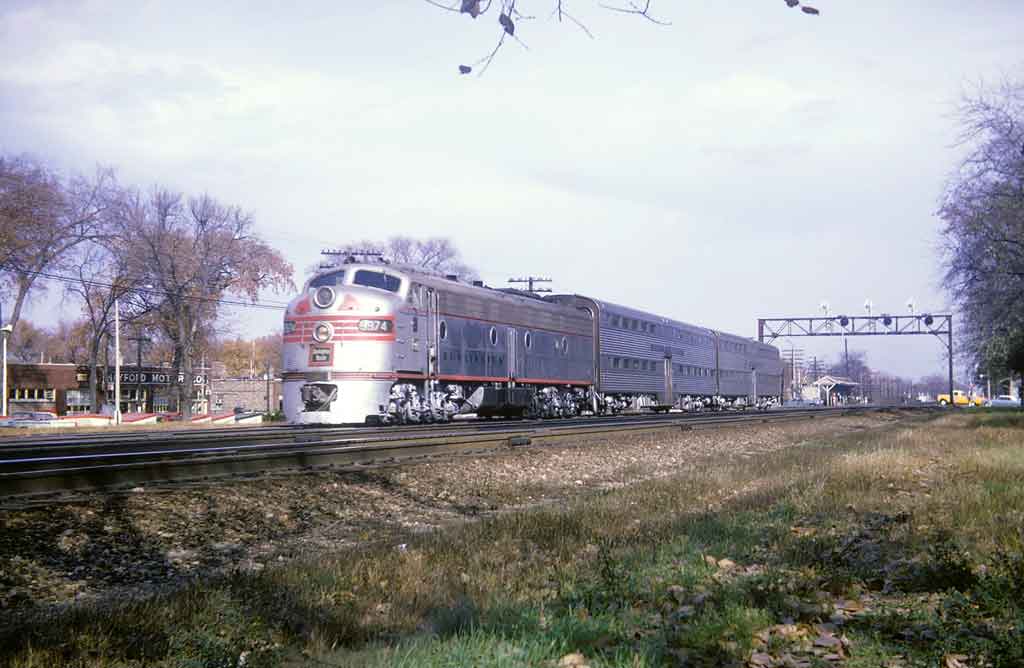 Burlington suburban train
E8 9974 with westbound train 209 at Brookfield, Ill., May 1965.
Ed DeRouin

Burlington's Twin Zephyr
Chicago–Minneapolis Morning Twin Zephyr at Savanna, Ill., June 1948.
Robert Milner


Burlington's Denver Zephyr
Baldwin switcher pulling consist of Denver Zephyr from Chicago Union Station to CB&Q coach yard, August 1964.
John Dziobko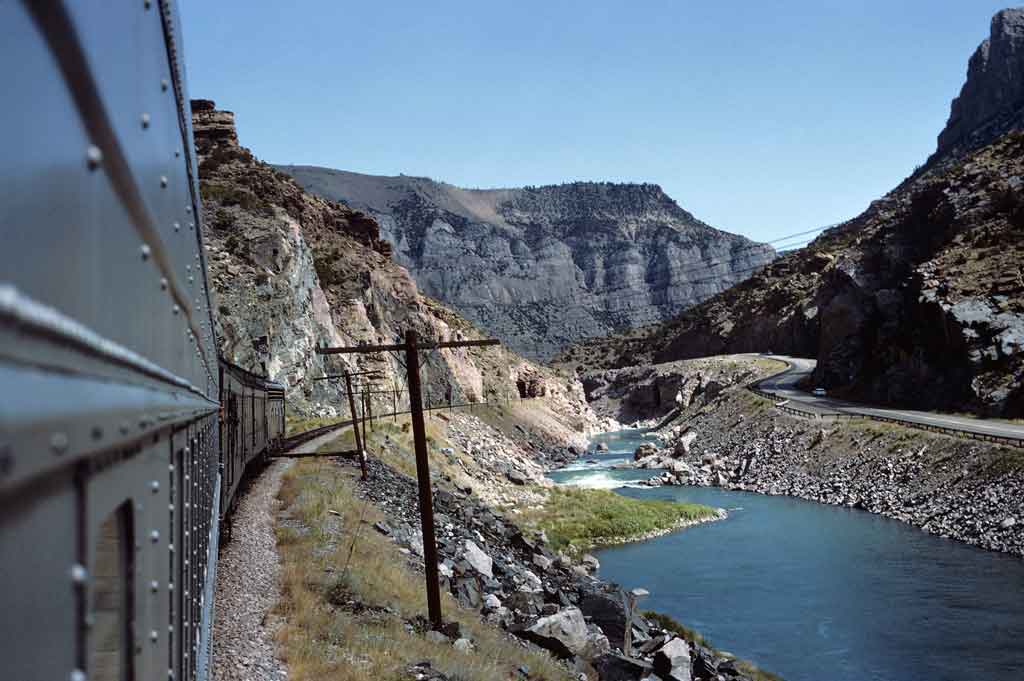 Colorado & Southern train 29
Denver–Billings, Mont., train 29 in Wind River Canyon south of Thermopolis, Wyo., mid-1960s.
Stan Rhine


Burlington's Pioneer Zephyr
Kansas City–Lincoln, Nebr., Pioneer Zephyr at St. Joseph, Mo., late 1930s.
CB&Q