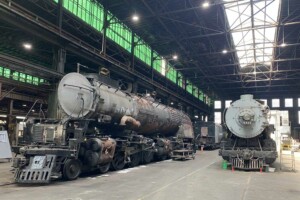 When we drove off Illinois Route 92 onto former Rock Island property recently at Silvis, I was singularly focused on seeing steam locomotives. Three of them, to be specific, including one very special engine, former Union Pacific 4-6-6-4 Challenger No. 3985.
The Challenger was among equipment that made headlines last year as Railroading Heritage of Midwest America (RRHMA) bought the 90-acre Silvis shop facility from National Railroad Equipment (NRE), then took ownership of much of UP's heritage fleet. On Nov. 22, a small crowd was on hand as the entire collection — two steam locomotives, one huge diesel, and several cars — eased into the giant old erecting hall. It was enough to cause Trains magazine to call it the No. 5 news story for 2022.
There's no doubt this was a blockbuster event. Backed by significant funding from its members, RRHMA not only bought a famous old shop, it set the ambitious goal of returning the 3985 to steam operation — it's been dormant since engine UP excursion service in 2010 — as well as its companion UP 2-10-2 No. 5511. Also on the repair schedule: Centennial DDA40X diesel No. 6936.
When I stopped by, the 3985's flues and superheater units were piled neatly on the shop floor in front of the engine's open smokebox door. As master mechanic Alex Beams showed me around, he explained how his crew was preparing the Challenger for the intense inspection that comes with FRA 1472 compliance. "These guys are serious," I thought: No. 3985 in steam seems not a matter of whether but when.
"This is really the first time since regular service that it's had a full teardown," Steve Sandberg, RRHMA president, explained later. "Obviously UP had done a considerable amount of work on the engine, but maybe not to the extent of the boiler survey we are. We're projecting a three-year range to get this done, although that target floats depending on what is happening."
The crew is addressing the 5511, as well. "We're basically working on both locomotives simultaneously, although not with the intent they operate at the exact same moment," Sandberg said. "The reality is, the 2-10-2 needs far less work. It's more likely we'll use it as a kind of tourist locomotive we'd run around the yard. Compared to the Challenger, it's a much simpler locomotive." The Silvis complex has more than 10 miles of track.
Also going on in the shop when I was there: refurbishing of two heavyweight business cars, ex-UP and Western Pacific Selma and ex-Southern Pacific Stanford. Obviously, Beams and his crew have their work cut out for them, including occasionally being called away to Minneapolis to tend to the organization's other prizes: former Milwaukee Road 4-8-4 No. 261, which appeared this past weekend at an event in St. Paul, and its maroon-and-orange Milwaukee Road trainset.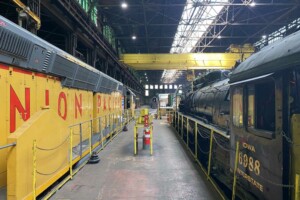 Wandering among the equipment under that vast roof at Silvis — including Iowa Interstate's Chinese-built QJ 2-10-2 No. 6988 — it occurred to me that I shouldn't focus all my attention on the rolling stock, for the miracle of Silvis has as much to do with the edifice as it does the engines. How many classic erecting halls are left in America? And how many shelter the overhaul of mainline steam locomotives?
As Beams put it, "You know a building is huge when it makes the Challenger look small."
Silvis already had plenty to brag about when its new owners came along. Every Class I railroad had big shops in the steam era, including the star-crossed Rock Island, but Silvis was special, home to the nation's largest fleet of 4-8-4s. That caught me by surprise when I looked it up, but it's true: the Rock's roster of 80 R-class Northerns topped all other U.S. railroads.
You might say the 4-8-4s Silvis maintained were existentially important to the Rock Island. The company was staggering through bankruptcy when it began receiving the first batch of Northerns from Alco in 1930, and concurrently had to make significant investments in physical plant — notably a bridge-strengthening program — to make fullest use of its big engines at a time it could ill afford it.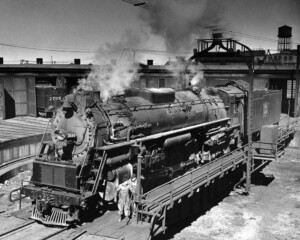 The expense was worth it. Steam historian Lloyd H. Stagner put it in perspective: "Without the service of the 5000s during the first three years of World War II, the Rock Island would not have had a successful operation." Even late in life — as the accompanying 1952 photo of No. 5114 on the Silvis turntable shows— the Rock's 4-8-4s were beautiful to behold.
The Silvis legend didn't end with steam, however. The shops made headlines again in the 1950s and early 1960s when the Rock, hurtling again toward final insolvency, proceeded with one of the most extensive and unusual diesel rebuild programs of all time. Its mix-and-match approach was notable for the number of aging Alcos re-equipped with EMD prime movers. At one point, Silvis shop forces were maintaining the products of eight different builders.
The work at Silvis led former Trains Editor J. David Ingles to label the Rock as "possessor of one of the most interesting fleets of diesels in the land. Re-powerings, secondhand purchases, unique models, 'firsts' and 'lasts' in the diesel world — all are part of the Rock's roster." And all had a deep connection to Silvis.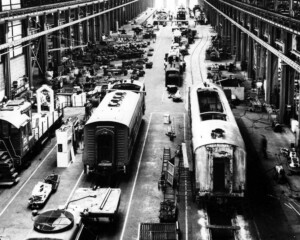 Silvis is not currently open to the public, so don't plan to drop in without official business. The new owners say the "no trespassing" signs mean what they say. However, Sandberg indicates the shop is looking for more workers, a mix of full- and part-time. "We're trying to hire more people, especially knowledgeable enthusiasts, who like working on steam engines and historic equipment." For more information, go to the Friends of the 261 website.
My visit to Silvis was brief, but I came away thinking we'll be seeing great things come out of that ancient brick fortress. Beams exudes nothing but quiet confidence, and as he escorted me back to the parking lot, I couldn't help but notice the handsome tattoo on his forearm: "Ain't no rest for the wicked." That's the spirit!