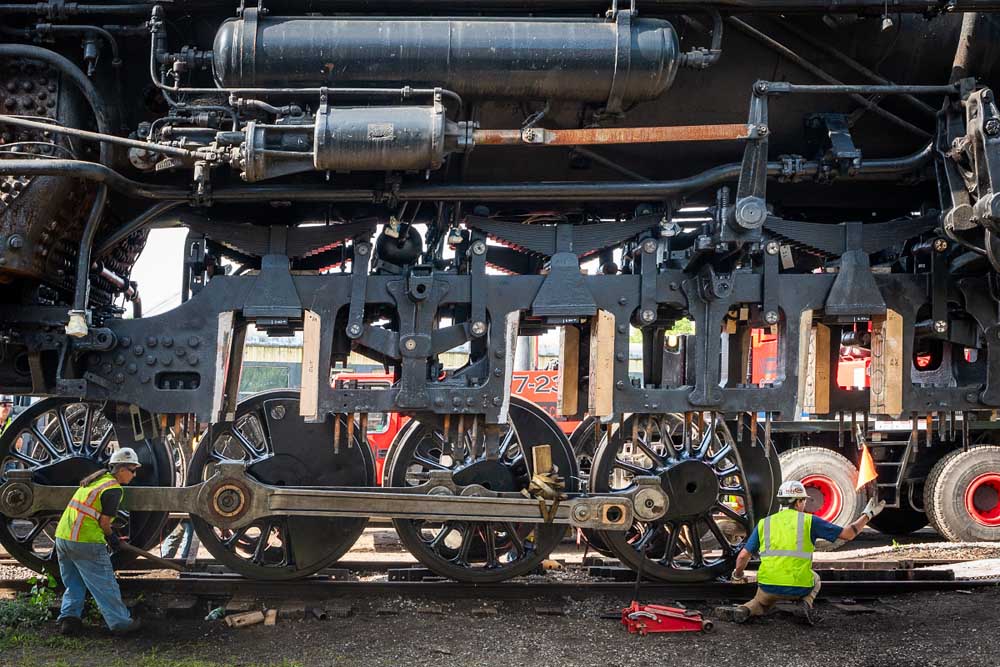 When I began writing this Mileposts blog seven years ago, I told myself to avoid saying much about my favorite steam locomotive, Pere Marquette 2-8-4 No. 1225, which I worked on in college at Michigan State. The 1225 led me to a career, and I wrote a book about it. But there are plenty of other big engines out there in steam, I reminded myself.
However, recent developments at the Steam Railroading Institute in Owosso, Mich., have me crowing. That's because back in August, after several months of hard work in shops hundreds of miles apart, the 1225's boiler was mated again with a fully rebuilt set of running gear. The carefully orchestrated lift took place next to the SRI shop.
Boilers get most of the attention on steam engines, but the restoration of this Berkshire's moving parts will be pivotal to sustaining its operations. Financed through a mix of federal grants, individual contributions, and money from the museum's own revenue, and working with the help of the intrepid engineering firm FMW Solutions, the project has the engine about as close as you can get to the condition it was in when Lima Locomotive Works delivered it to PM in Toledo in November 1941.
The Owosso crew is understandably elated. "This was a complete running-gear job," explains Dean Pyers, SRI executive director. "We did all the pins, all the bushings, the bearings were re-machined, or in some cases replaced. It was certainly time for this."
Perhaps most importantly, the locomotive's 69-inch driving wheels — each one stamped "August 1948" to indicate the last shopping at PM's Wyoming (Mich.) shops — ended up on the wheel lathe at the Tennessee Valley Railroad Museum in Chattanooga, regaining their proper flange depth and tire angle.
Watching this development from afar, I thought back to a weekend afternoon in the spring of 1971, my sophomore year, when a number of MSU Railroad Club members would have been working on the engine. Our visitors that day included a slender, flinty-eyed old timer who looked like a steam engineer right out of central casting. He was just that.
Sam Chidester had spent a career on the Pere Marquette, based at the railroad's operating headquarters in Grand Rapids, and was old enough to have run the 1200-class Berks. Even as long ago as 1970, there weren't a lot of these guys around; PM had dropped its fires in late 1951, so a generation had passed who remembered steam.
Like so many engineers, Sam displayed a keen intelligence and an amazing memory. Over the next few years, he would regale members of the 1225 team with all kinds of stories of mirth and mayhem on the railroad. The one thing that stuck with me from that first visit, though, was something rather mundane: the 1225, he said, was a "rough ride."
It's almost ridiculous to think about now — the pipe dream we called Project 1225 had almost no money and the 2-8-4 wouldn't run for another 15 years — but I remember being stung by those two words. "Rough ride?" Were we working on a lemon?
Of course not. A Lima 2-8-4's bones are too good to be a lemon. The 1225 finally made it into steam in 1986, and in the years since the engine and its SRI crew have racked up a number of impressive accomplishments: an appearance (with cousin NKP 765) at the 1991 NRHS convention in Huntington, W.Va.; serving as the visual and audio model for the steamer in the 2004 animated hit film "The Polar Express"; and hauling scores of excursions in Michigan, including the SRI's hugely successful "North Pole Express" trains every holiday season.
It turns out, though, that Sam Chidester had a point. For a few insights, I checked in with one of the 1225's recent engineers, Preston Claytor. A longtime railroad executive and consultant, Preston is also a member of the SRI board of directors and a steam hogger with a lot of miles under his belt, including at the throttle of Norfolk & Western 4-8-4 No. 611.
"I guess you could classify the 1225 as somewhat of a rough ride," Preston told me. "Of course, a lot of my experience came on the 611, which rode like a six-axle heavyweight Pullman. The 1225 did ride a little rougher than the 765. The last season that we ran 1225 it was really giving us an indication that it needed running gear work."
So now it's gotten it. With fresh wheels, a new firebox installed earlier, and a boiler certification good until 2028, the big Berk is poised to get back on the road soon and perform better than ever.
Meanwhile, a salute to all the people associated with this project, including the SRI mechanical staff led by Justin Hamilton, master mechanic-locomotives, and Aaron Farmer, master mechanic-rolling stock, along with the FMW team led by Shane Meador, Davidson Ward, and Wolf Fengler.
I only wish Sam Chidester, who died in 1983, could be around to get back on that right-hand seatbox and tell us what he thinks. Hey Sam! How's the ride?