Turnouts are generally reliable right out of the package. But sometimes problems arise that simple fixes can't solve. Here are 3 advanced tips to try.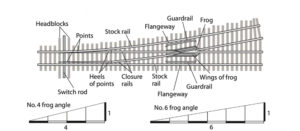 1. Fill flangeways In a perfect world, the wheel treads are wide enough, the gauge is  correct, and the flangeways are precise enough that a wheel never drops into the frog at turnouts. All you hear as rolling stock goes through the turnout is a slight click. More typically, the flangeways are wide enough that wheels may drop into the frog, depending on wheel gauge and tread width. Filling the flangeways can help. (And note that the prototype is taking this route for today's really long turnouts.) Just keep in mind that if you fill your flangeways, you need to be ruthless in enforcing a standard flange depth on your rolling stock.
2. Eliminate point flex. Make sure that the transition from switch point to wing rail is smooth. The switch points should fit tightly against the stock rails. If they don't, a little cautious filing may be in order. For best operation, make sure the switch points don't flex under the weight of a train. A fast-moving train can put quite a strain on the points, and a point that's not stable usually translates into a train on the ground.
3. Guardrails. Spend as much time as possible shimming and shaping the guardrails on turnouts as in adjusting the points. If you lay your track by hand, you can make sure the guardrail locations are consistent. You can glue styrene or brass strips in place if guardrails are too wide, or file them slightly if they're too narrow. In rare cases you'll need to remove the guardrails, smooth the tops of the ties, and spike or glue new guardrails in place. (Then again, it may be easier to just replace the turnout!)