Virginian & Ohio photo tribute. W. Allen McClelland, builder of the freelanced HO scale Virginian & Ohio, passed away on October 28, 2022. You can read his obituary here.
In this photo gallery, we'll take a look at images from both versions of the V&O. The photos are from Andy Sperandeo's article "Allen McClelland's trendsetting Virginian & Ohio" in the July 2008 issue and Tony Koester and W. Allen McClelland's story "One last visit to the Virginian & Ohio" from the January 2009 issue.
You can learn more about the V&O in Tony Koester's upcoming book Allen McClelland and His Virginian & Ohio from Kalmbach Media. The book is scheduled for release on January 31, 2023.
Thanks to Allen McClelland for all of his contributions to the hobby. We hope you enjoy this Virginian & Ohio photo tribute.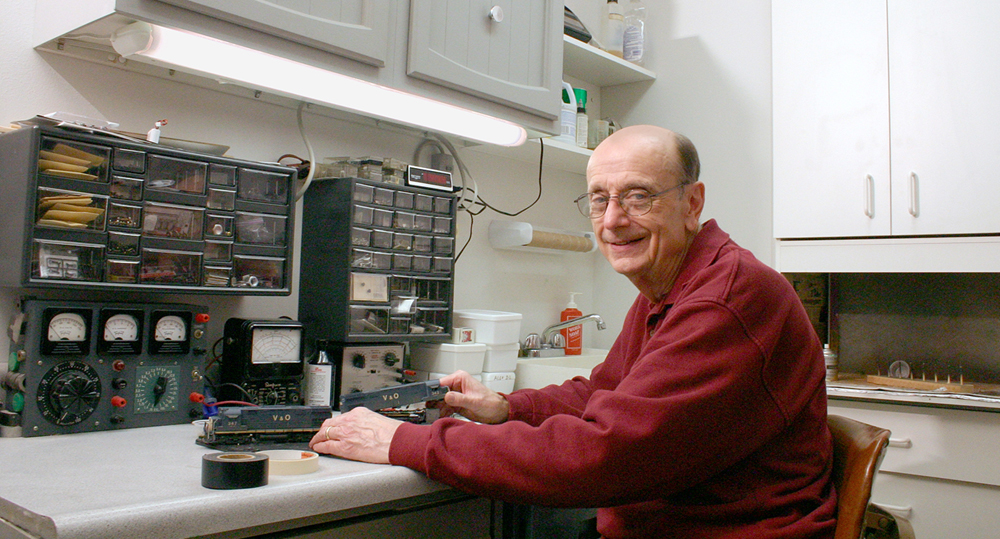 Allen McClelland's HO scale Virginian & Ohio was the subject of books, videos, and numerous magazine articles. Here he's shown at the workbench doing some maintenance on a couple of road units. Paul J. Dolkos photo


Allen McClelland's HO Virginian & Ohio was freelanced but prototypical. Here the line doubles back on itself to climb a mountain, much like the full-size Clinchfield RR, one of Allen's favorites. W. Allen McClelland photo


In its 1975 era, the V&O had already merged into the Appalachian Lines to compete with larger rail systems. Here at the remodeled Afton, Va., engine terminal, blue-and-white V&O units are joined by a red-and-yellow locomotive from one of the merger partners, Tony Koester's Allegheny Midland. W. Allen McClelland photo


Closely following prototype examples, the V&O of 1968 still ran a few passenger trains. However, like westbound No. 11 here accelerating through Blackstone, Va., they served a dwindling ridership, provided few amenities, and carried mostly "head-end" business, express and bulk mail. W. Allen McClelland photo


A Virginian & Ohio General Electric unit leads Electro-Motive diesels of the Allegheny Midland and V&O taking train No. 83 out of the Jimtown Yard. The V&O, AM, and Virginia Midland merged to form the Appalachian Lines. Paul J. Dolkos photo


Runnning ahead of an eastbound steam special, two Alco Century 424s on an eastbound freight meet an empty coal train near the summit at New Garver, W.Va. Paul J. Dolkos photo


The chief executives of the three railroads that form the Appalachian Lines rode an inspection train east over the Gauley Subdivision behind V&O 2-6-6-2 no. 2900. The special met hotshot 83 at the summit near New Garver. Coal magnate Otto Brauer recently restored the compound articulated. Paul J. Dolkos photo


The Lower Yew Turn stops to switch the Otto Brauer Coal Co.'s tipple on the Stone Creek Sub on its way back to South Marlinton. This line's sharp curves and light bridges can accommodate only smaller hoppers and four-axle power. Paul J. Dolkos photo