Union Pacific N Scale and HO Scale inspiration gallery
Union Pacific N Scale and HO Scale layouts offer model railroaders the option to create wide-open plains, vast rail yards, and craggy mountain canyons. Sometimes, these features appear on the same layouts.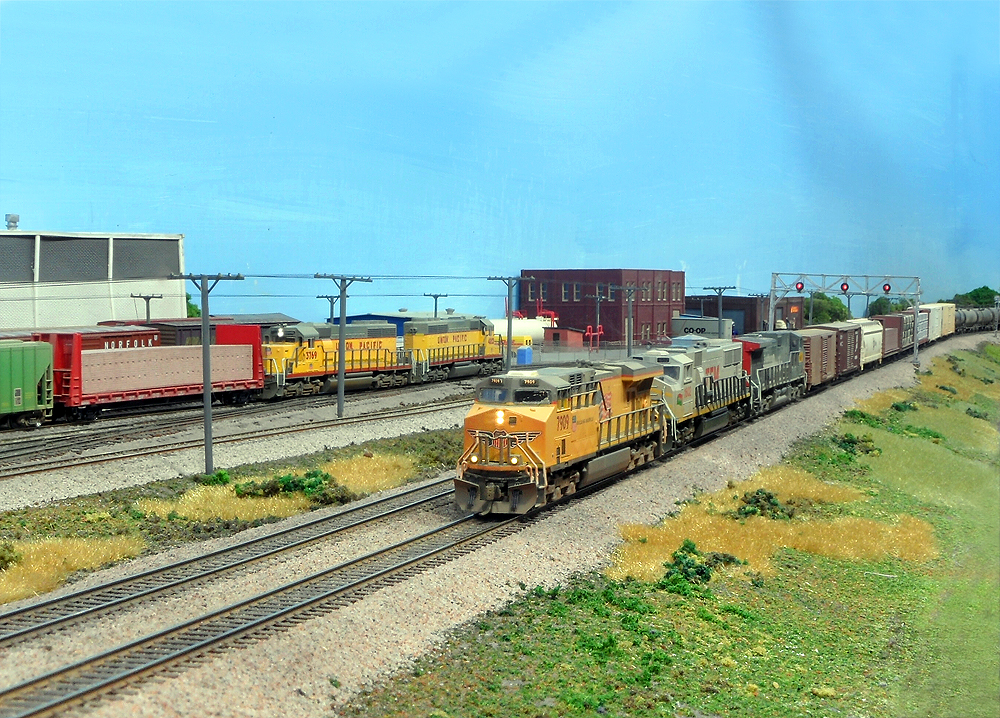 N Scale: A westbound manifest train rolls past the Clinton, Iowa, side of the main classification yard. The opposite end of the ladder tracks represent UP's Proviso Yard, located in the Chicago suburbs. Daryl Kruse photograph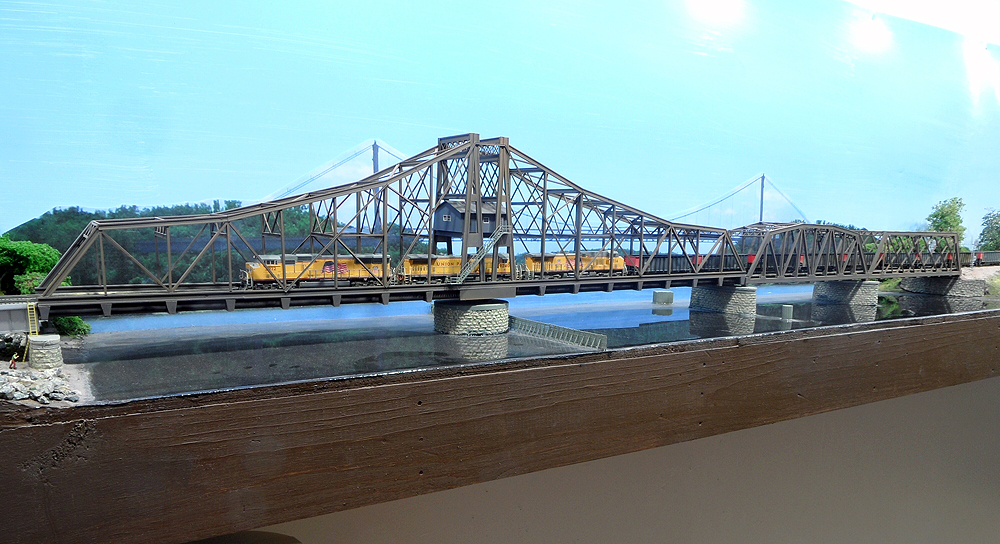 N Scale: The Mississippi River crossing between Clinton, Iowa, and Fulton, Ill., is a signature scene on the layout. Here, westbound coal train CABAT crosses the scratchbuilt bridge on its way toward Clinton. The photo backdrop shows the highway suspension bridge that also crosses the river at the prototype location. Daryl Kruse photograph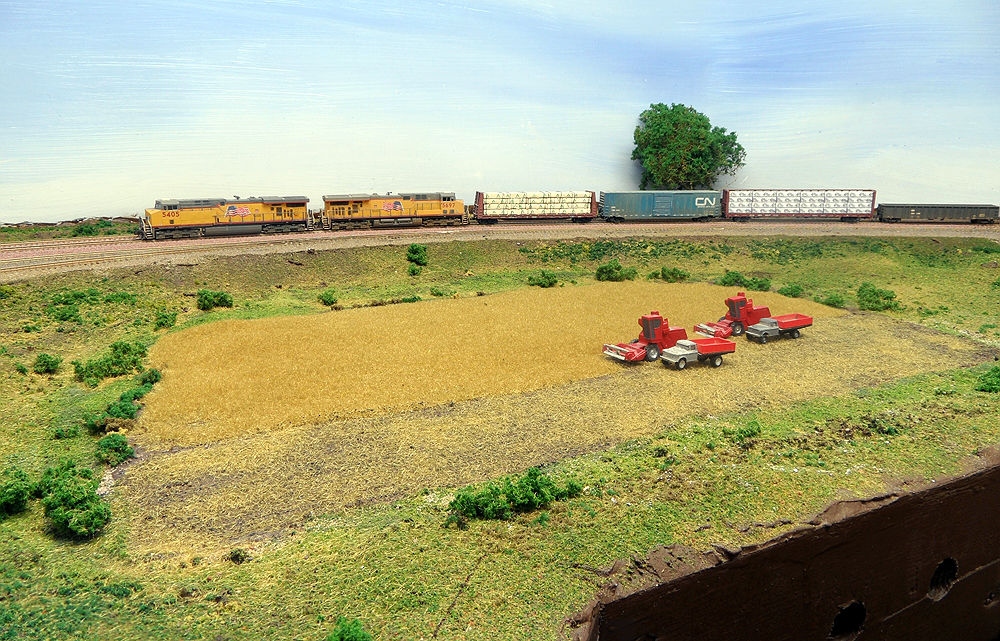 N Scale: Just outside of Rochelle, Ill., the winter wheat harvest is in full swing as a manifest freight heads west. A prairie landscape provides ample opportunity for modeling a surprising variety of scenery. Daryl Kruse photograph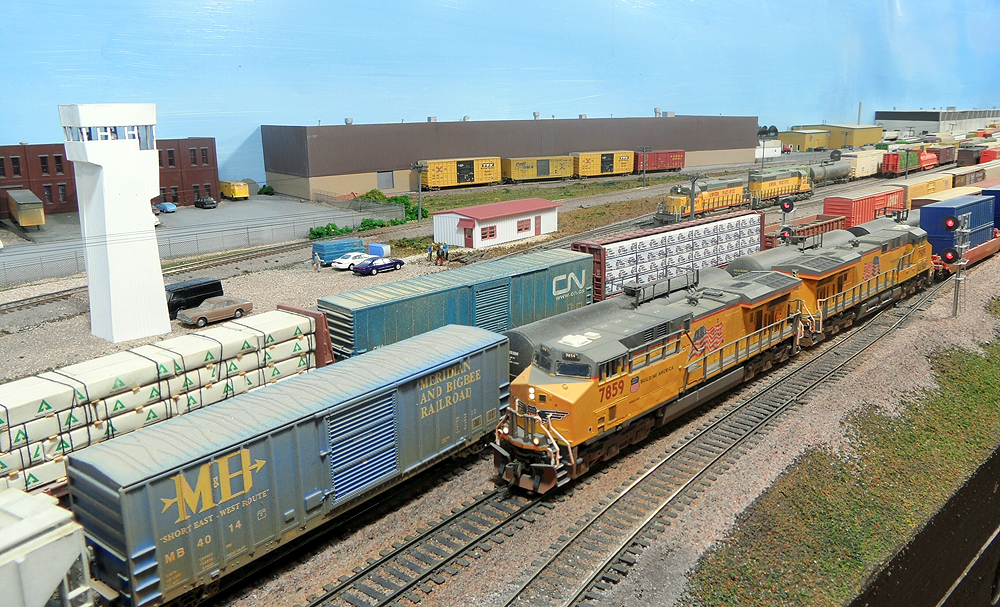 N Scale: The control tower at Proviso Yard is a familiar landmark to many railfans. Daryl was in the process of scratchbuilding the structure when he had to dismantle his layout. Daryl Kruse photograph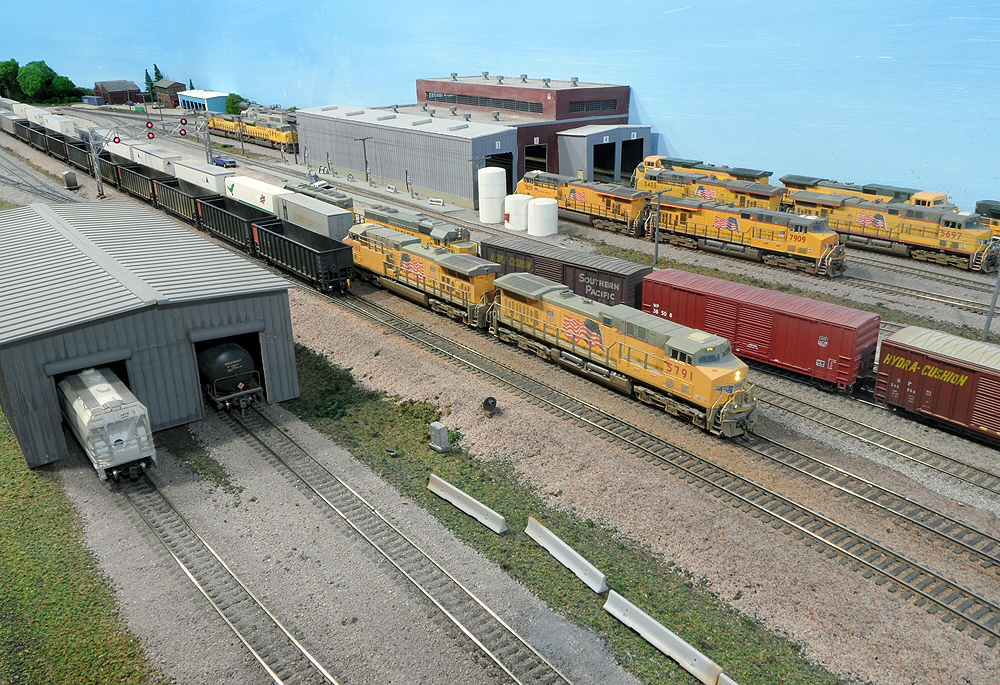 N Scale: Proviso Yard is a hub of activity, just like the prototype. The sprawling yard also features a busy locomotive servicing terminal (background) and car shops (foreground). Daryl Kruse photograph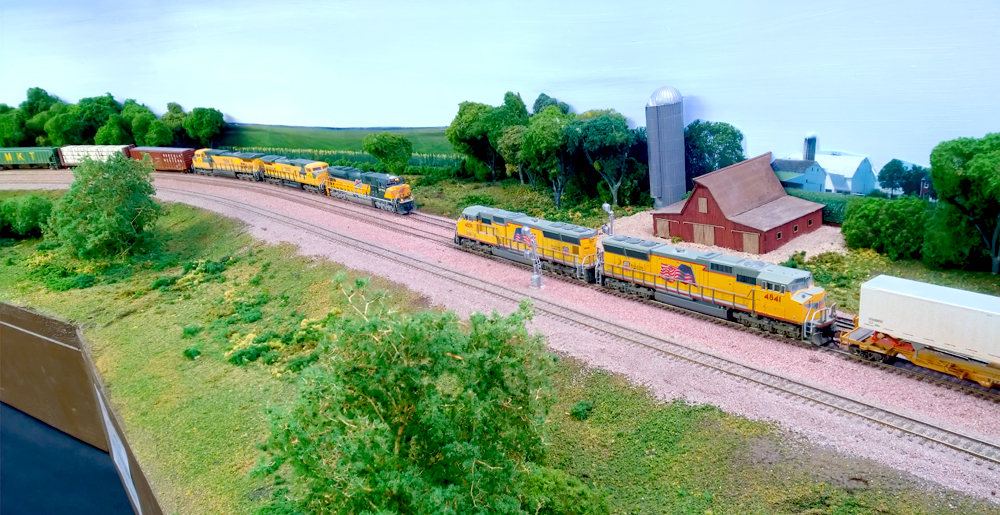 N Scale: A manifest freight meets an intermodal unit train on Daryl Kruse's N scale Geneva Sub. The 25 x 48-foot layout models the modern Union Pacific through Illinois and Iowa. Daryl Kruse photograph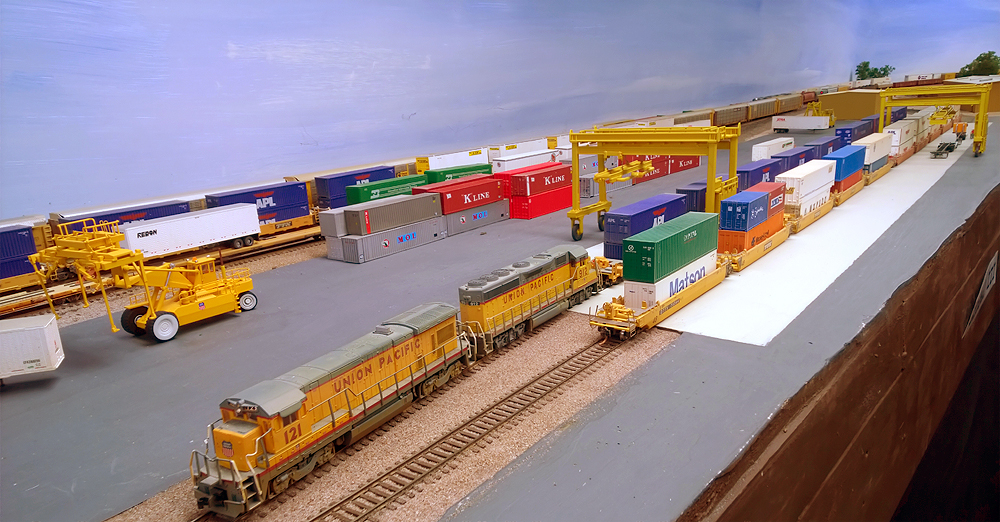 N Scale: A yard crew at Global III shuffles well cars under transfer cranes, while a Piggy-Packer gets ready to load a trailer onto a flatcar. Although compressed in size, the scene captures the ongoing activity of the sprawling intermodal yard. Daryl Kruse photograph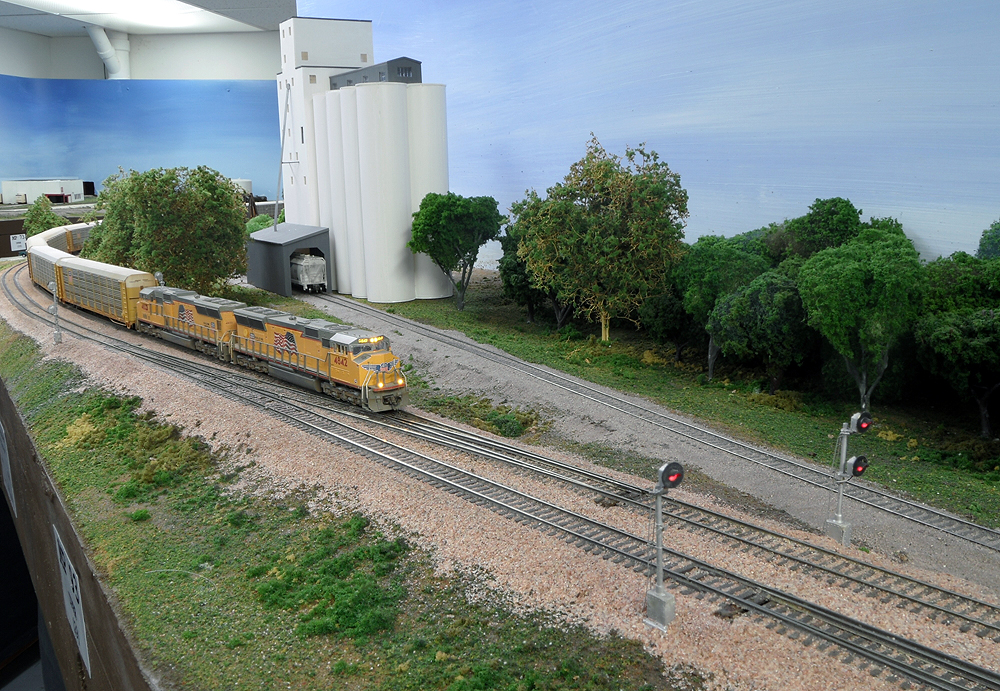 N Scale: Eastbound auto rack train ACOIPR rolls through Franklin Grove. Centralized Traffic Control and operating signals dictate train movements. Daryl Kruse photograph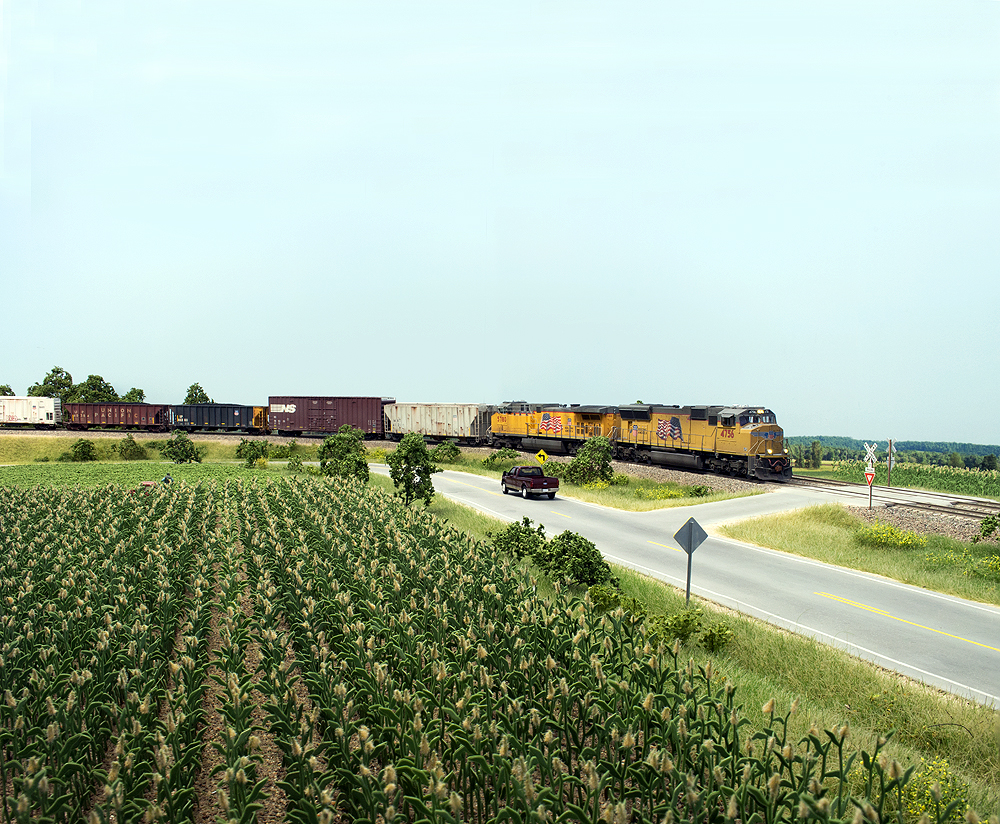 HO Scale: Nothing says "Midwest" like a Union Pacific freight rolling past a cornfield. Pelle Søeborg's new HO scale UP Daneburg Subdivision aims to capture the atmosphere of the Great Plains without modeling any specific prototype location. Pelle K. Søeborg photograph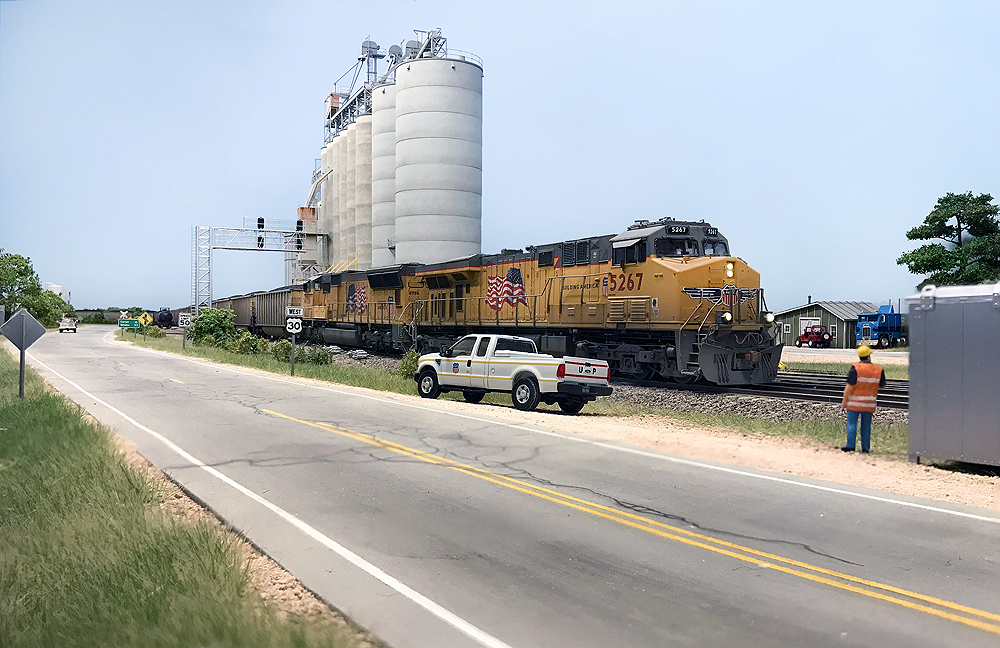 HO Scale: The grain elevator complex in Daneburg, inspired by a prototype in Lexington, Neb., is the largest industry on the layout. Though selectively compressed, it still looms realistically over the trains. Pelle K. Søeborg photograph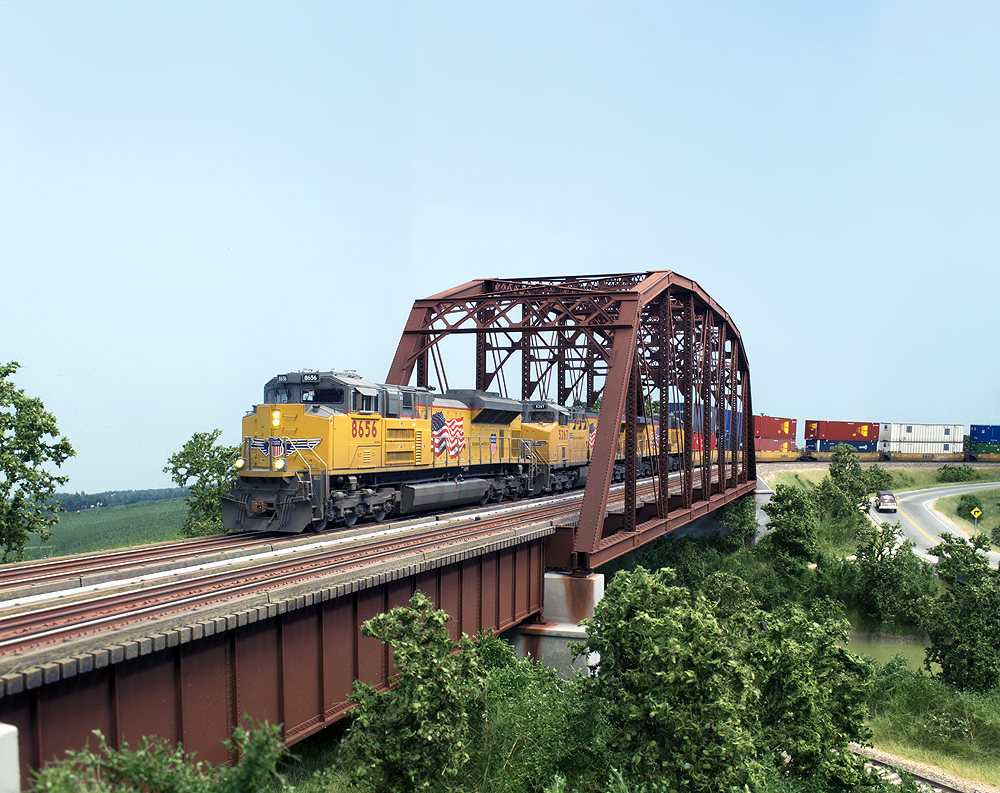 HO Scale: Since Pelle's previous layouts had no bridges, a double-track bridge was a priority for this one. He built the bridge from a Central Valley Model Works kit. Pelle K. Søeborg photograph

This photo gallery blends top images from Daryl Kruse's N Scale Geneva (Illinois) Subdivision layout and Pelle Søeborg's famed HO Scale layout set in the U.S. Midwest.
More information about these layouts and the techniques in building them can be found in the Model Railroader archives. Daryl Kruse's work is available in the September 2016 issue of Model Railroader. Pelle Søeborg's work is available in the May 2017 issue of Model Railroader.
Daryl Kruse's N Scale layout
Dismantling layouts is part of my hobby lately; I've taken down two in the last six years. In 2008 I dismantled my N scale Union Pacific Rochelle Subdivision, featured in the November 2008 Model Railroader.
That layout was replaced by the bigger and more prototypical N scale Union Pacific Geneva Subdivision, which was still under construction when I wrote about it for Model Railroad Planning 2013.
I kept working on the 25 x 48-foot model railroad, and more of the finished scenes are featured in this article. Due to a job move from Rochelle, Ill., to Marietta, Ga., the Geneva Sub was dismantled in July 2014 and is being resurrected at our new home.
From the beginning I planned the Geneva Subdivision layout with the idea that it would be eventually moved. In anticipation of this move, the entire layout was built in 8-foot sections with terminal strips for wiring between sections. With the layout being reassembled in Marietta, I can attest that this advanced planning paid off. — Daryl Kruse
Pelle Søeborg's HO Scale layout
We all have our preferences when it comes to model railroading. Some like operation most, some like collecting trains, and some specialize in modeling structures, locomotives, or cars. Others are experts in scenery, weathering, or electronics. And then there are the generalists who do a little of everything, which is the category I belong to.
Over the years, trains have almost become secondary to me. They are my excuse to create scenes in 1:87.1 scale that capture the essence of an area. My joy is in the construction, so I tend to lose interest in my layouts when they're finished. To me it's the journey, rather than the destination. Operation has never really appealed to me. I've participated in operating sessions and found it entertaining, but it has been on much larger layouts than I have room for.
My previous layout only lasted for 14 months after it was completed, and for the last six of those months, my mind was focused on developing ideas for the next layout. During the Christmas holidays in 2013, my desert-scenery layout was cut up in sections and moved to a friend's basement.
Standing in my completely empty train room, imagining all the things I could build there, must be close to what an artist feels looking at a white canvas. Everything is possible and nothing has gone wrong yet. Two and a half years later, a new layout fills the room – and as you read this, I'm probably planning my next model railroad project. — Pelle Søeborg