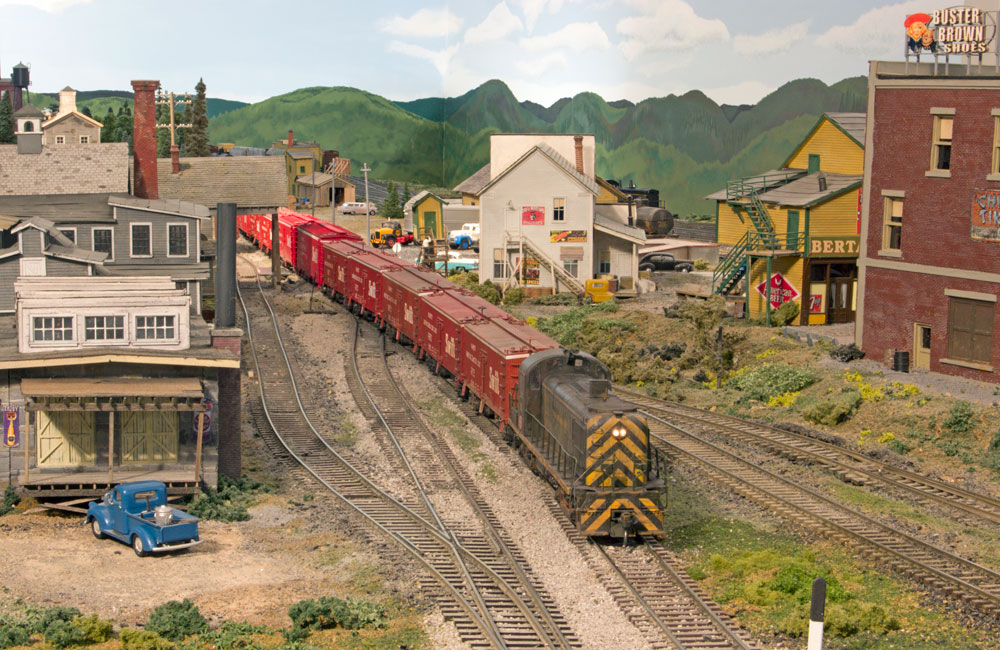 It's a sunny afternoon in 1957 as Spokane, Portland & Seattle no. 80, an Alco RS-3, pulls the day shift's string of loaded reefers from the Swift Meat Packing Plant in north Portland to the Hoyt Street Yard. Mat Thompson of Gainesville, Va., photographed the scene on his HO scale Oregon Coast layout. Mat painted the backdrops following instructions in the Kalmbach book Painting Backdrops for Your Model Railroad by Mike Danneman. The Alco is an Athearn model Mat equipped with a SoundTraxx Tsunami 2 DCC decoder.


The engineer has stepped down from the cab to inspect Bluefield & Allegheny Central Berkshire no. 777 as a double-headed southbound coal train rolls slowly past the Mount Frigid engine terminal. The action takes place on Nathaniel Emerson's HO scale B&AC layout. The locomotives are Bachmann Trains and Broadway Limited Imports models, and the coal tipple is from a Wm. K. Walthers kit. Nathaniel, from Atlanta, Ga., shot the photo.


Rio Grande Southern no. 40 drifts slowly downgrade toward San Rafael with a couple of stockcars in tow. Gary Downes of Huntington Beach, Calif., shot the photo on his Sn3 narrow gauge model railroad. Locomotive no. 40, a class C-19 2-8-0 Consolidation, is a brass P-B-L model.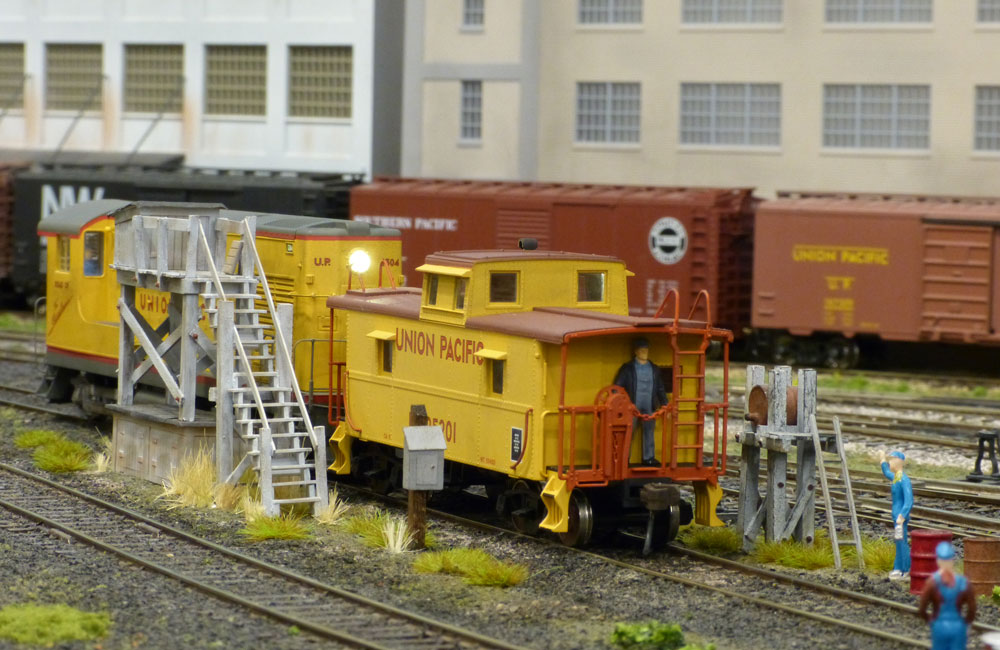 Union Pacific caboose 25201, having arrived this morning on a priority freight from Spokane, is shoved into the caboose servicing track at Waverly Yard, where it will be inspected and resupplied for its trip back to Spokane tomorrow. Rod Vance of Farmville, Va., staged and photographed the scene on his HO scale UP Willow Creek Subdivision layout. Rod scratchbuilt the caboose servicing facility from wood and styrene. The Fairbanks-Morse H10-44 diesel is a Walthers Proto 2000 model; the caboose is by Atlas.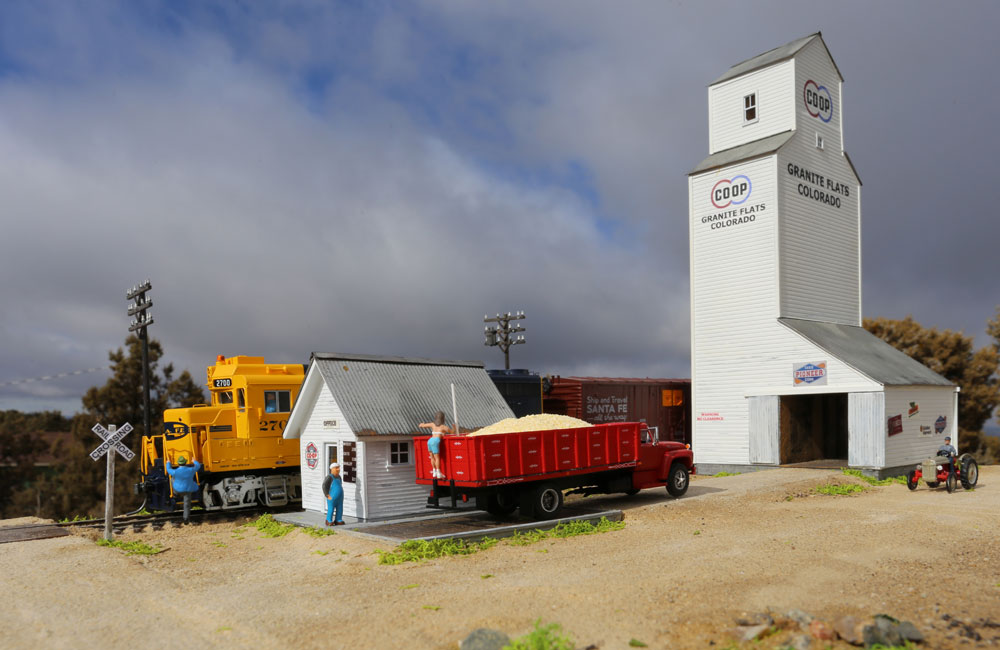 As the crew of the Atchison, Topeka & Santa Fe GP30 spots a boxcar at the grain elevator in Granite Falls, Colo., the summer help takes a moisture sample of the grain being delivered, since it rained last night. Richard Hostetler of Aztec, N.M., built the HO scale diorama and photographed it outdoors under natural light. He scratchbuilt the structures from Evergreen and Tichy Train Group styrene parts. The locomotive is a Walthers Proto 2000 model and the grain truck is from Athearn.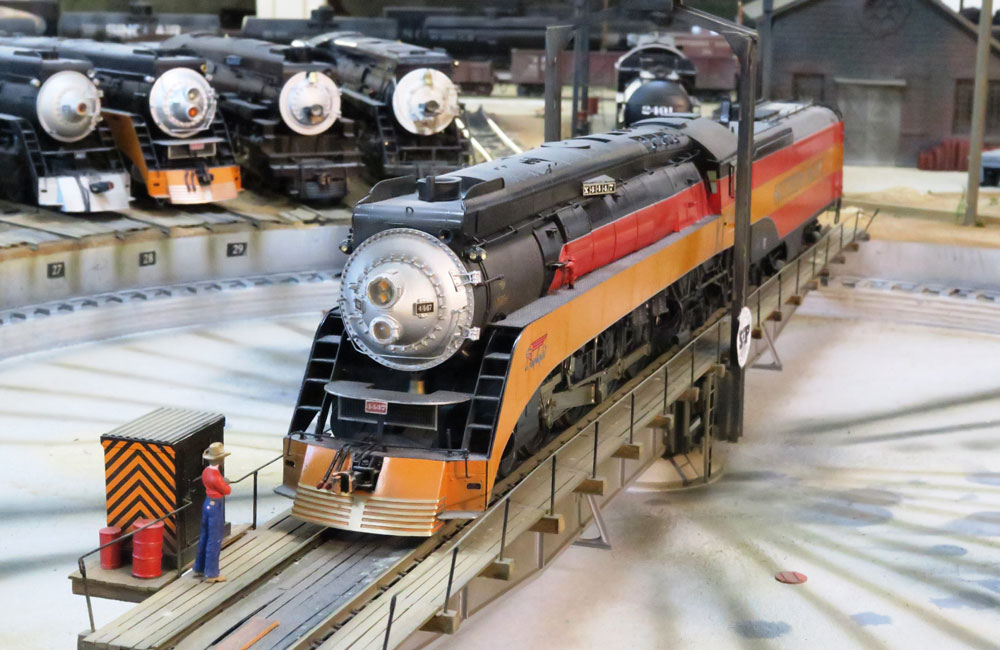 Southern Pacific class GS-4 4-8-4 no. 4447, wearing the SP's famous "Daylight" colors, is turned on the turntable at the Taylor, Calif., engine terminal in preparation for its next trip in a scene from the early 1950s. The scene is part of Juerg Luetscher's O scale "Orange Empire" model railroad. Juerg painted the locomotive, which is a brass model from Overland. Juerg, of Wallisellen, Switzerland, also shot the photo.

Send us your photos
Trackside Photos is a showcase for the work of Model Railroader readers. Send your photos (digital images 5 megapixels or larger) to: Model Railroader, Trackside Photos, P.O. Box 1612, Waukesha, WI 53187-1612; or upload them to fileupload.kalmbach.com/contribute. For our photo submission guidelines, contact senior associate editor Steven Otte at sotte@kalmbach.com.