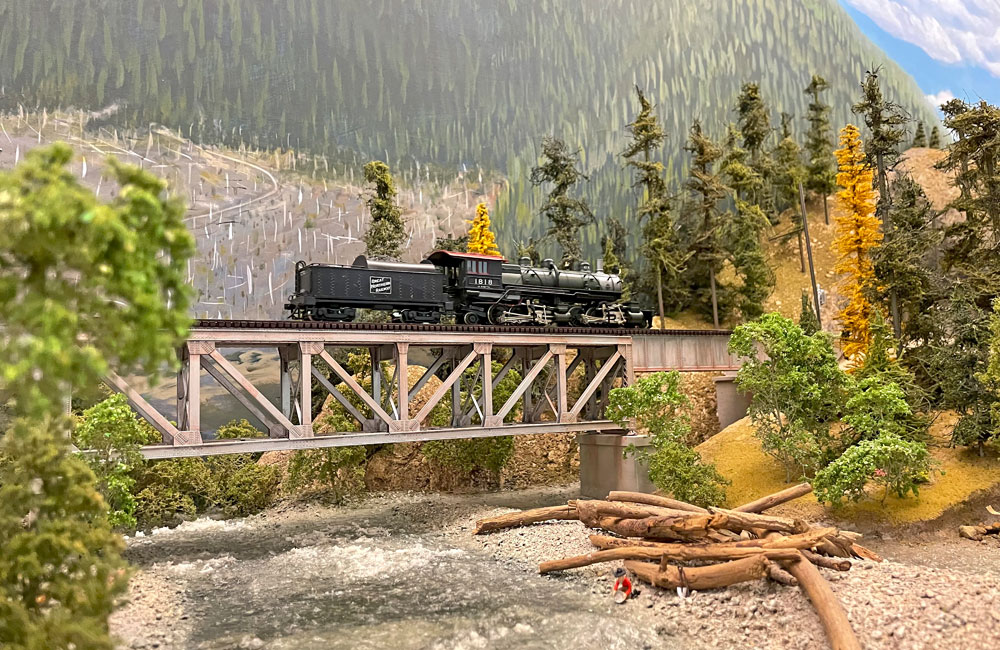 Great Northern class L2 2-6-6-2 no. 1818 drifts downhill after providing helper service over Stevens Pass for an eastbound freight. The mountainside has provided much timber for expansion in the Puget Sound area, a boon to the James Hill railroad. Bill Kajdzik of Kent, Wash., photographed the scene on Peter Murphy's HO scale Great Northern Cascade Division layout. The locomotive is a custom-painted brass model from United Models.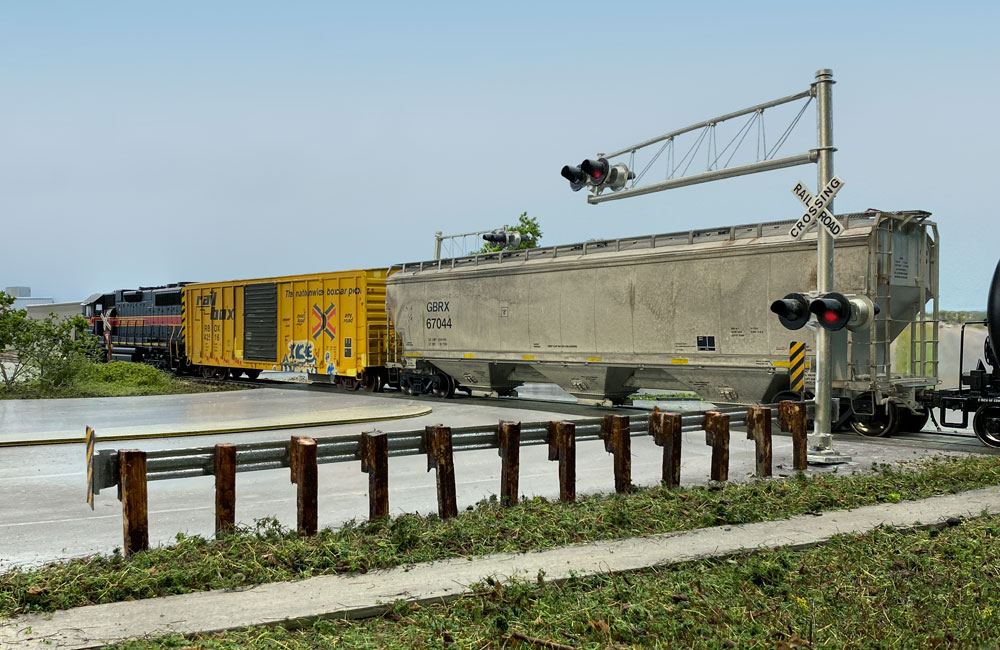 Iowa Interstate no. 708 leads Train ICSW-25 across U.S. Highway 6 in Iowa City. James McNab of Des Moines, Iowa, shot the action on The Hills Line, his HO scale version of the Iowa Interstate's Hills Industrial Spur. He used Helicon Focus software to increase the depth of field and Adobe Photoshop to replace the background and light the grade-crossing flashers. James documented his layout construction in the video series "The Hills Line with James McNab" for Trains.com.


The Rio Grande Zephyr crosses Faith Canyon Bridge in Colorado on its way to Caribou Pass. Tim Schreiner's HO scale D&RGW Faith Canyon Route was inspired by the prototype's Colorado routes in the mid- to late-20th century. Tim made the aspen trees from Scenic Express SuperTrees armatures and made the plaster rocks both from molds and by hand-carving. The locomotives are Athearn Genesis models and the bridge is made from Micro Engineering parts. Tim, from Roland, Okla., also took the photo.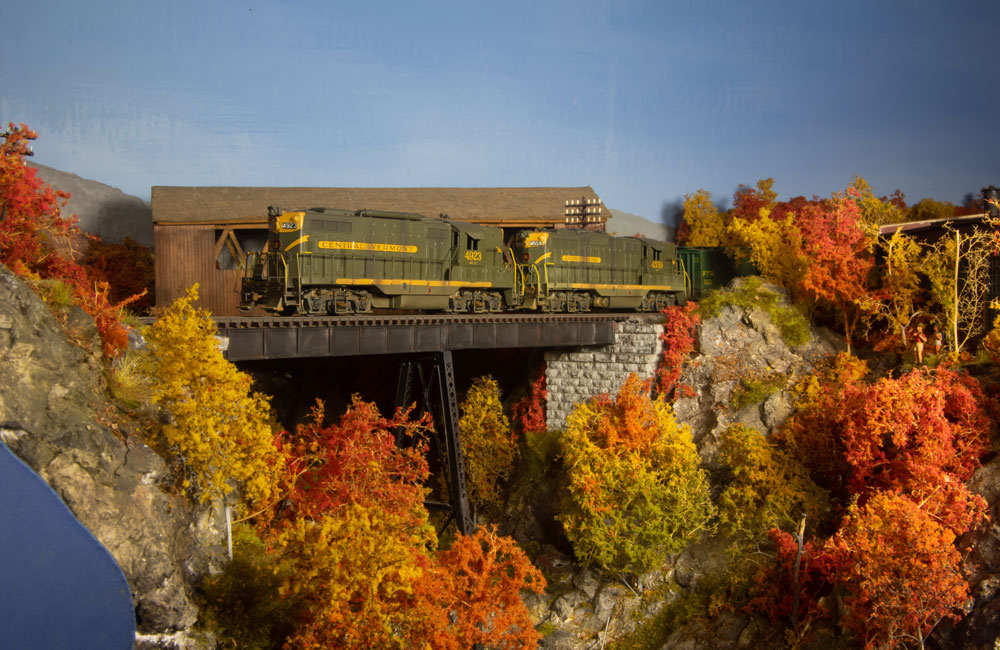 As the calendar extends into autumn, the brief moment of sunset's "sweet light" comes earlier each afternoon. Today, it happens to catch a pair of Central Vermont and Grand Trunk Geeps stepping out onto the trestle at Chatham Gorge. John Ciesla of Mineola, N.Y., didn't have to wait for perfect lighting conditions to shoot this photo on his HO scale Eastport Branch layout, which was featured in the November 2021 Model Railroader. The locomotives were undecorated Athearn "blue box" models John fine-tuned, painted, and weathered.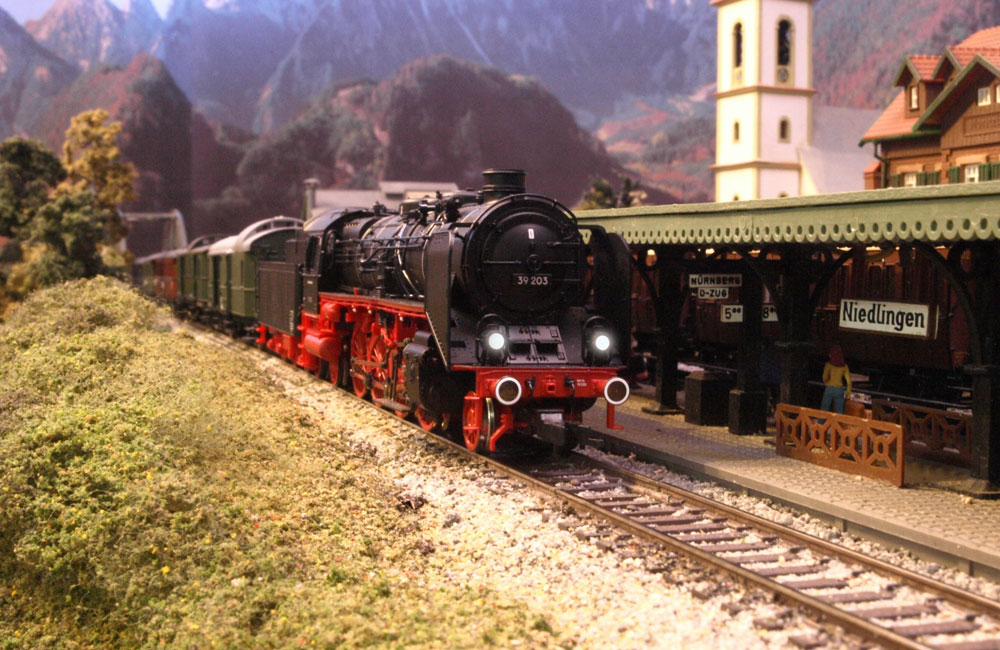 A Deutsche Bahn 2-8-2 pulls its express train up to the Niedlingen Station passenger platform on a perfect summer day in the foothills of southwestern Germany. The action takes place on Don Zastrow's freelanced European-themed HO scale layout. Mark Preussler of Sheboygan, Wis., detailed the Fleischmann model locomotive and shot the photo. Mark's brother Marvin built the structures shown.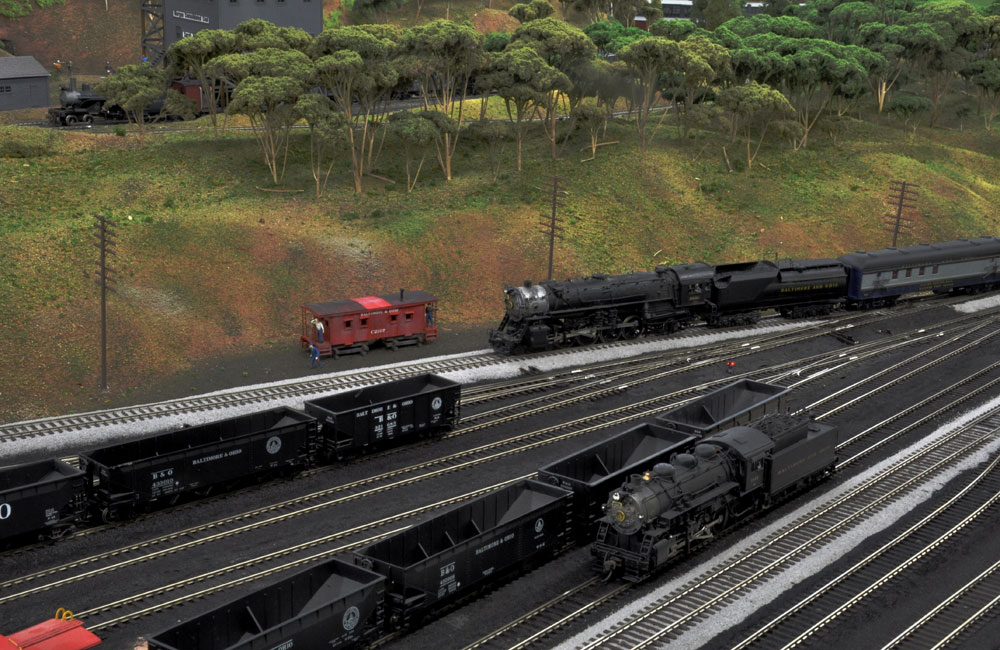 Baltimore & Ohio mail train No. 29 isn't a usual sight at Fairmont Yard, but a wreck last night caused this detour. Class T 4-8-2 no. 5501 is slowing to pick up orders at the yard office while L-2b no. 1682 makes up a mine run in the yard. Bruce Elliott of Green Bank, W.Va., photographed the scene on the Pocahontas County Society of Model Engineers' HO scale layout in Green Bank. The 4-8-2 locomotive was scratchbuilt by the late David Grover.

Send us your photos
Trackside Photos is a showcase for the work of Model Railroader readers. Send your photos (digital images 5 megapixels or larger) to: Model Railroader, Trackside Photos, P.O. Box 1612, Waukesha, WI 53187-1612; or upload them to http://fileupload.kalmbach.com/contribute. For our photo submission guidelines, contact senior associate editor Steven Otte at sotte@kalmbach.com.