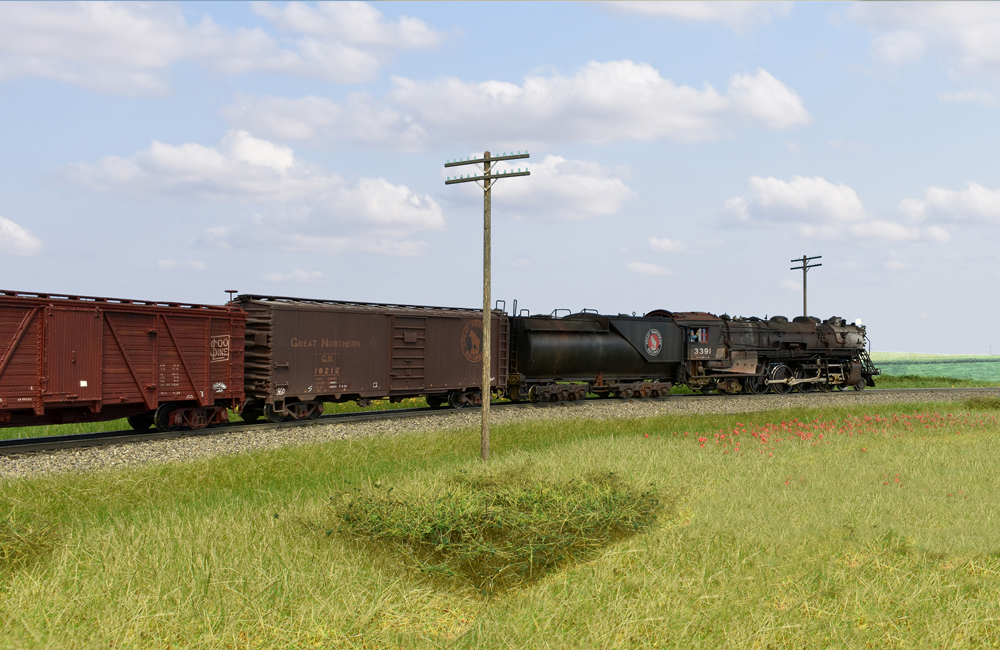 Great Northern train X3391 East, an extra hauling grain from North Dakota to Minneapolis in September 1956, has just left St. Cloud, Minn., and is 60 miles from its destination. Richard Remiarz of Vadnais Heights, Minn., photographed the scene on his HO scale GN Willmar Division layout. Locomotive 3391, a class O-8 Mikado, is by Sunset Models.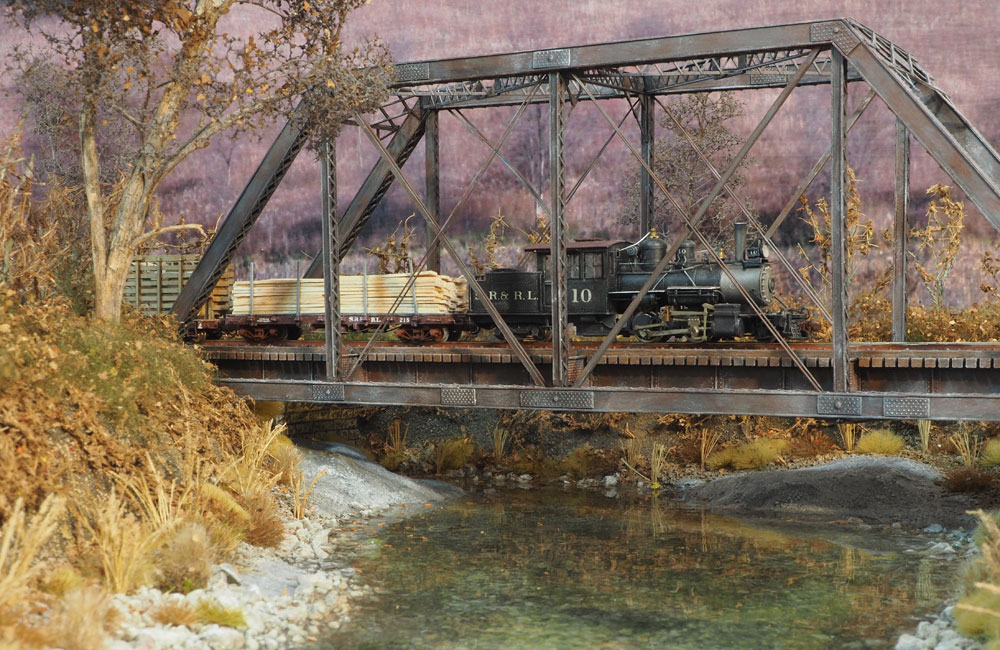 Sandy River & Rangeley Lakes Climax no. 10 leads a lumber extra over Salmon Hole Bridge on its way to Strong, Maine. Dan Welch of Georgetown, Texas, grew up in Rumford, Maine, and drew on his childhood memories to build his HOn30 SR&RL layout. The locomotive is a vintage brass model imported by Flying Zoo. The bridge is a modified Central Valley lace girder kit.


A CSX coal train led by General Electric AC6000 no. 634 heads west through Prince, W.Va., on a hot and humid summer day. The N scale T-Trak module was built and photographed by Craig Laing of Athens, Tenn. Craig scratchbuilt the Prince Bros. General Store to match the prototype, which is on the National Register of Historic Places. The locomotive is from Broadway Limited Imports.


The driver of the British Rys. 1400 class 0-4-2 tank engine probably wishes he were also relaxing with a pint outside the Red Lion Pub on this warm spring day in 1956. Tony Bruno of Kitty Hawk, N.C., built this 2 x 2-foot diorama to reproduce the scene in his favorite painting, "The Riverside Local" by the late Don Breckon. The OO gauge (1:76 proportion on HO scale track) locomotive and passenger cars are by Hornby. Tony scratchbuilt the pub from cardstock covered with patching plaster stucco.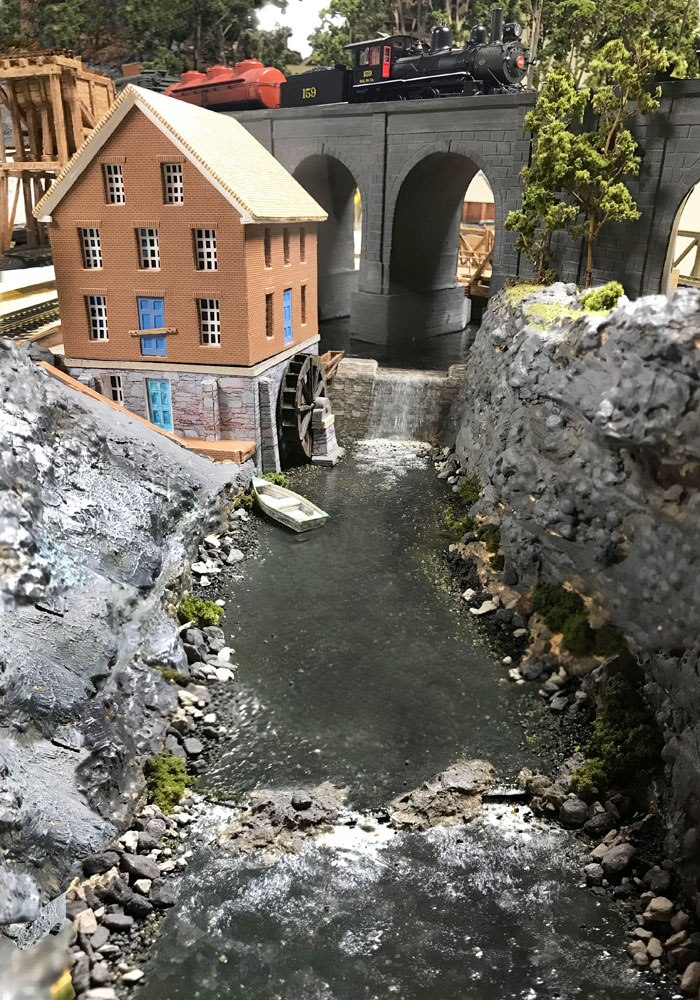 Seaboard Coast Line 4-4-0 steam engine no. 159 leads a local freight over a stone arch viaduct past Shawmer's Mill. The scene is part of Richard McClintock's freelanced HO scale layout. Richard scratchbuilt the mill, dam, viaduct, and background structures from matboard, cardstock, stripwood, and foamcore. The locomotive is a Bachmann Spectrum model. Richard, of Farmville, Va., also shot the photo.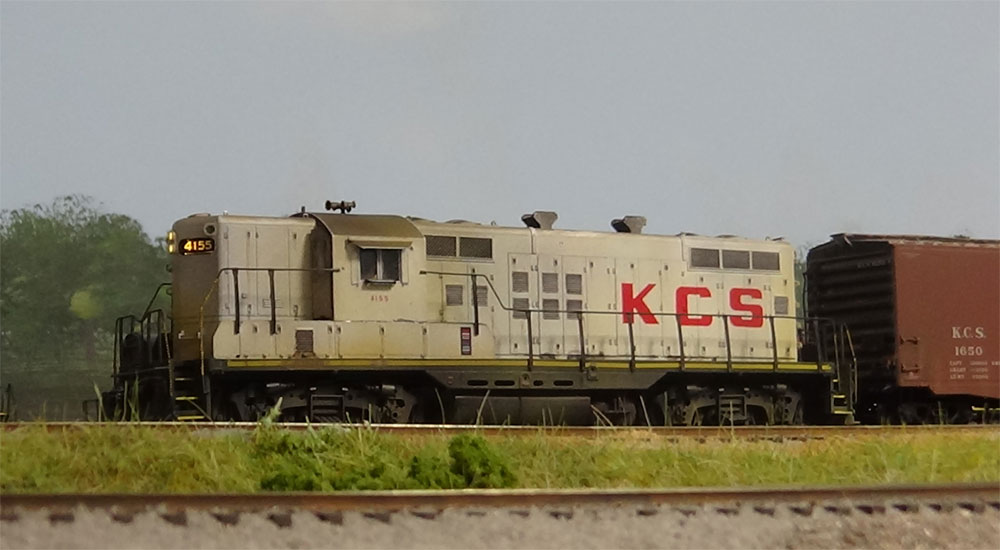 On a September afternoon in 1976, Kansas City Southern no. 4155, an Electro-Motive Division GP7 repaired with the body of a GP9, switches Ruston Foundry at Alexandria, La.

Send us your photos
Trackside Photos is a showcase for the work of Model Railroader readers. Send your photos (digital images 5 megapixels or larger) to: Model Railroader, Trackside Photos, P.O. Box 1612, Waukesha, WI 53187-1612; or upload them to http://fileupload.kalmbach.com/contribute. For our photo submission guidelines, contact associate editor Steven Otte at sotte@kalmbach.com.