Model Railroader HO scale diesel fleet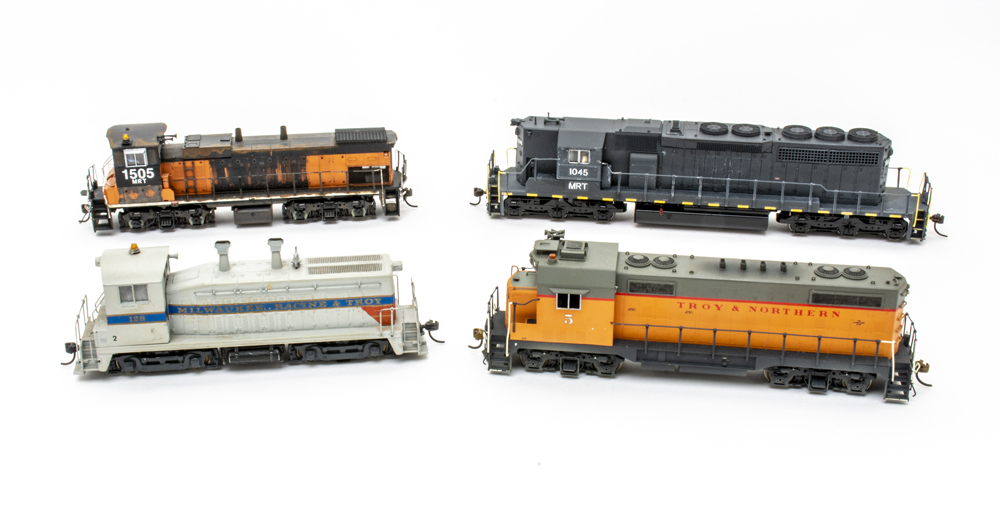 Meet the rest of the Model Railroader HO scale diesel fleet. The Milwaukee, Racine & Troy, Model Railroader's staff layout, has been around for more than 45 years. Like most full-size railroads, the freelanced MR&T has changed paint schemes over the years. We'll wrap up our review of the Myrt's diesel fleet with a look at units not painted blue.
Kalmbach's former librarian, the late George Drury, developed the gray, blue, and orange passenger scheme. He applied the scheme to five units, shown in the accompanying photo gallery.
Fast forward to the 2000s. We were in the process of updating our EMD SD40-2 fleet, putting decoders in the Jenks Blue units from Athearn and re-powering the blue-and-white units. Around that time, we received a Norfolk & Western high-hood SD40-2 from Broadway Limited Imports. The model reminded me of the EMD SD35s that were leased by the Soo Line and Wisconsin Central in the early 1990s. The full-size units were dubbed "bricks" by railfans. I reasoned the MR&T picked up the high-hood SD40-2 used, patched and renumbered it, and pressed it into service.
I continued the MR&T patchout kick with EMD MP15AC no. 1505. The inspiration for this model came from the Wisconsin & Southern, which acquired a half dozen ex-Milwaukee Road MP15ACs around the time the Athearn Genesis model was released. The prototype units operated in the "bandit" scheme for a while. Four were repainted, one received yellow primer, and one knocked around in ex-Milwaukee Road colors. The end-cab units were later shipped off to other Watco properties.
We would be remiss if we didn't include the Troy & Northern in our diesel fleet review. The fictional short line was the last section built on the original MR&T and the only part that was saved (it's now the Wisconsin & Southern section on the current Myrt). The T&N's lone locomotive was a brass CF7 painted in Milwaukee Road colors. Athearn released an injection-molded plastic version in 2009 to commemorate MR's 75th anniversary.
We hope you've enjoyed this look at the Milwaukee, Racine & Troy diesel fleet. To see the other paint schemes, click on the links below: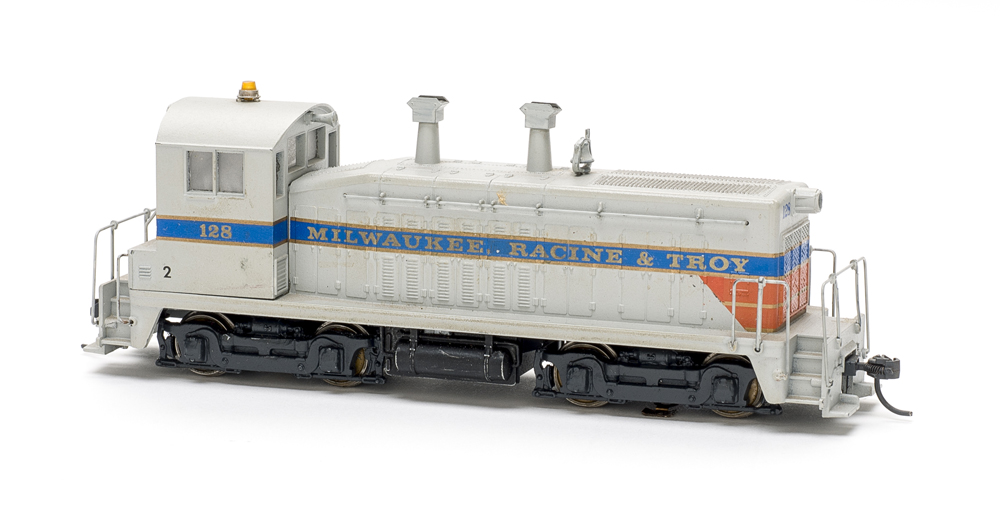 Kalmbach librarian George Drury developed the gray, blue, and orange passenger scheme. He painted and decaled Electro-Motive Division SW7 no. 128, an Athearn model, to serve as a terminal switcher. George added spark arrestors and a rooftop beacon to the model. Bill Zuback photo


Electro-Motive Division F7A no. 718 and F7B no. 764 are both Athearn models that George Drury painted and decaled. He added wire grab irons and diaphragms to both models. Bill Zuback photo



The only Fairbanks-Morse units rostered by the MR&T were CFA-16-4 no. 731 and CFB-16-4 no. 780. The models are both by Associated Hobby Manufacturers, better known as AHM. Bill Zuback photo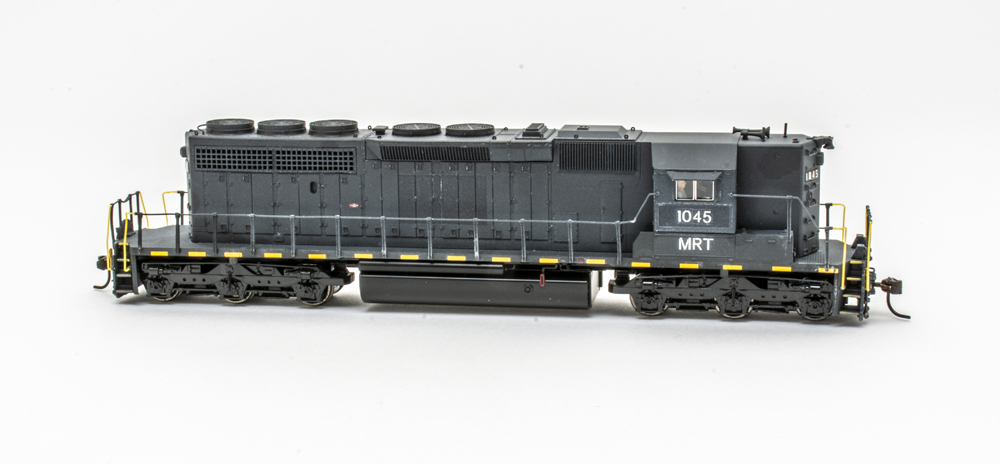 Milwaukee, Racine & Troy no. 1045 is a high-hood SD40-2. The Broadway Limited Imports model started life decorated for Norfolk & Western. Cody Grivno decaled and weathered the model. Cody Grivno photo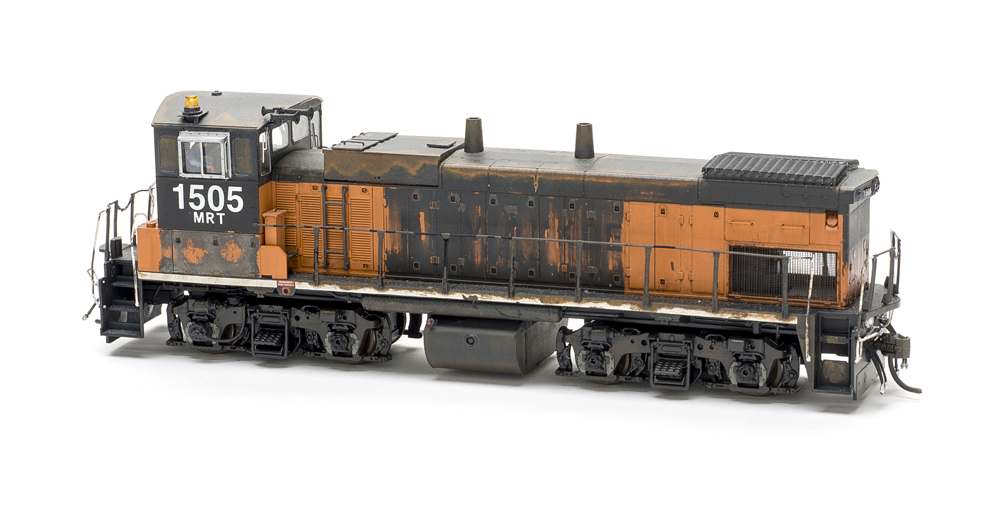 Cody Grivno weathered and decaled this Athearn Genesis model, drawing inspiration from full-size units on the nearby Wisconsin & Southern. He weathered the locomotive with a combination of acrylic and oil paints. Bill Zuback photo


The Troy & Northern was a fictional short line that connected to the Milwaukee, Racine & Troy. The railroad's only locomotive was Atchison, Topeka & Santa Fe Cleburne-rebuilt CF7 no. 5. The brass model was painted in Milwaukee Road colors. Bill Zuback photo

Troy & Northern CF7 no. 6 was part of a small group of models Athearn released in 2009 to commemorate Model Railroader's 75th anniversary. The model, part of the company's Ready-to-Roll line, was item no. 95923. Bill Zuback photo