September 2022 Trackside Photos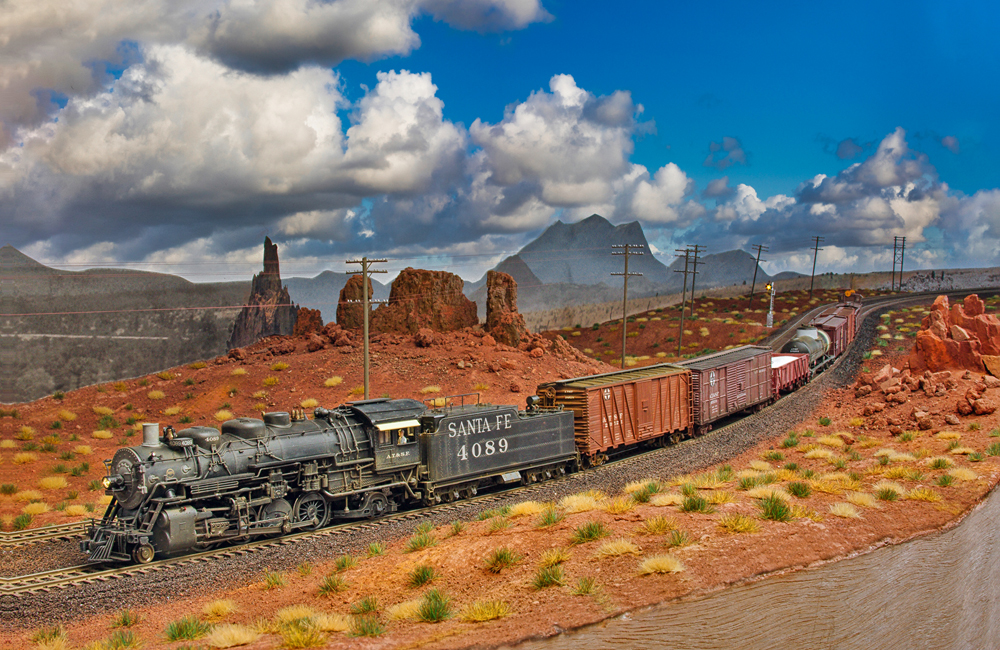 Atchison, Topeka & Santa Fe 2-8-2 Mikado no. 4089 leads Extra 4089 West through the Arizona desert on its way to Flagstaff, Ariz. The action takes place on Tom Thompson's HO scale Albuquerque Division Third District layout. Tom weathered the Broadway Limited Imports locomotive with Premier Prismacolor pencils and Pan Pastels. The rocks are made from Bragdon Enterprises and Cripplebush Valley products. Tom also took the photo.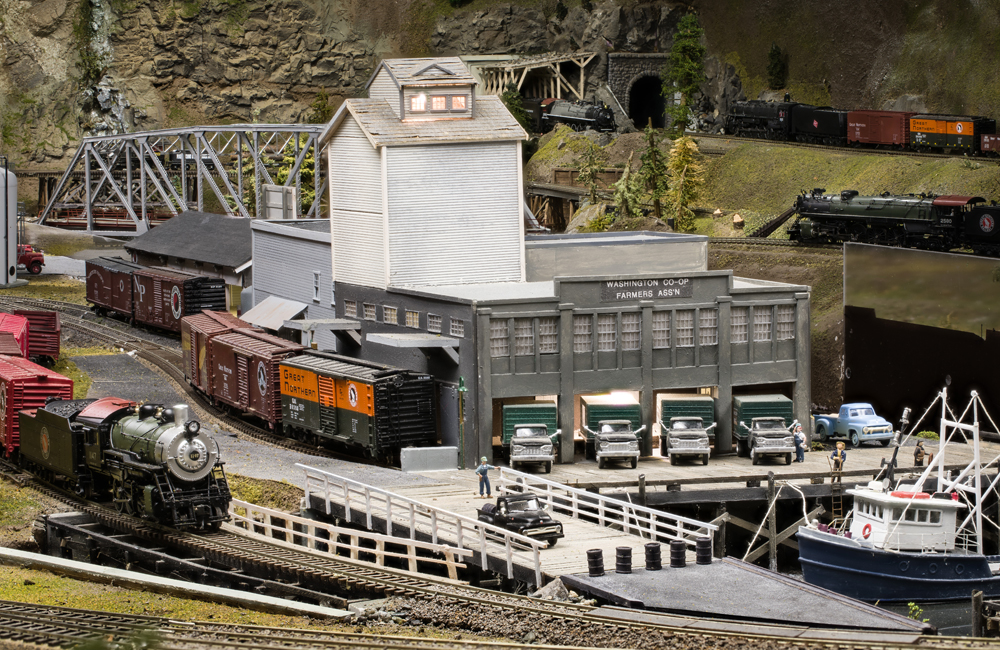 Great Northern 2-8-0 Consolidation no. 1147 departs after spotting boxcars at the Washington Farmers Co-Op Association Granary in Bellingham, Wash. The waterfront industry has been recently rebuilt into a multi-use facility, as evidenced by the fishing boat docked and ready to offload its catch of salmon. Herb Ershig of Bellingham scratchbuilt the HO scale structure based on measurements and photos from the Whatcom Museum archives. The locomotive is a Broadway Limited Imports model. Mark Turner shot the photo.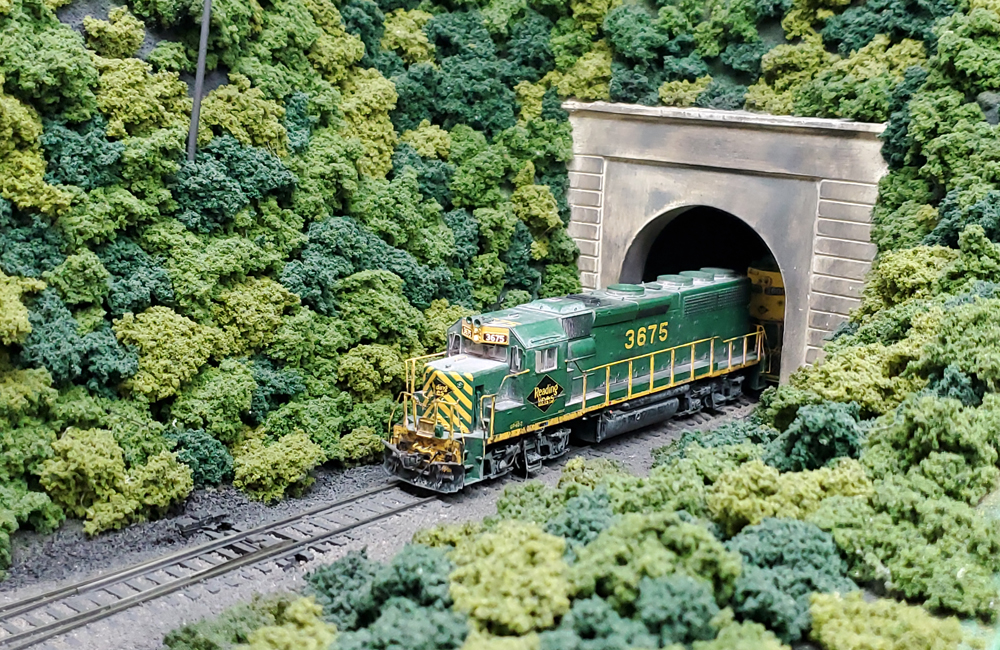 Reading Co. no. 3675, an Electro-Motive Division GP40-2, leads westbound train HN-23 out of Buck Mountain Tunnel. John Shucavage of Tamaqua, Pa., detailed and weathered the Atlas model and photographed it on Jim Hertzog's Shamokin Division layout. Jim's layout was last featured in Model Railroader in May 2022.


Two General Electric ES44AC diesel locomotives head up a Union Pacific manifest freight across the Wyoming prairies. Dave Easto photographed the scene on an N scale layout he built to test model photographic techniques. The locomotives are Kato models; the freight cars are from Atlas, with weathering with Humbrol paints and Mig powders. The scenery is static grass and Woodland Scenics ground foam.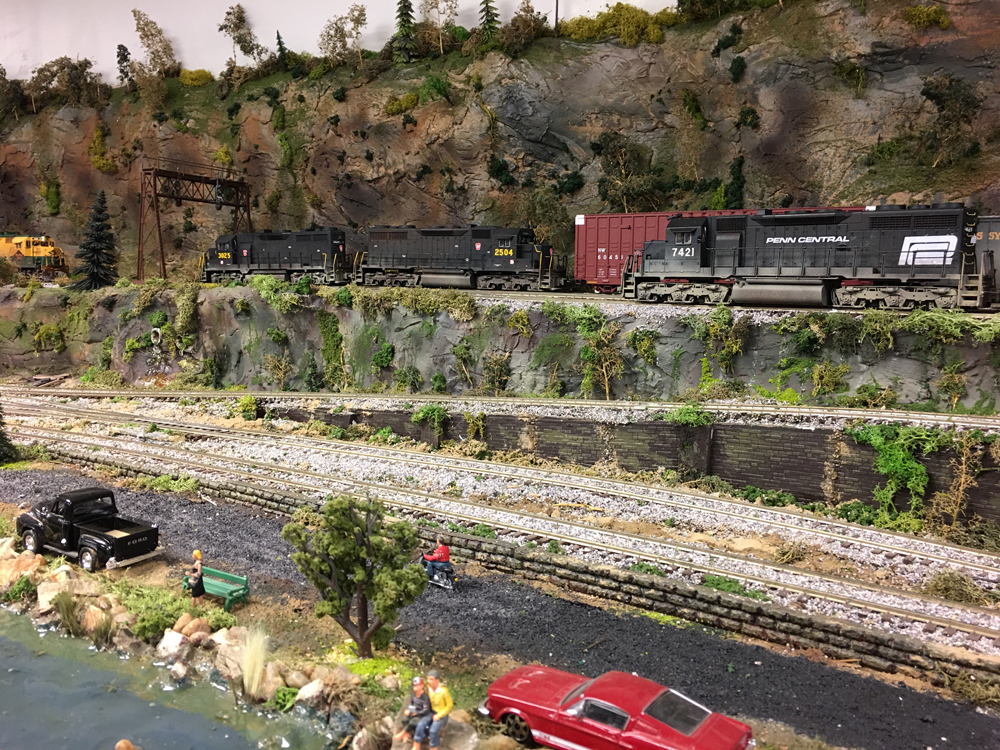 It's 1970 in the Allegheny Mountains of central Pennsylvania, and Penn Central is in its third year, but not all locomotives have yet been repainted from their pre-merger schemes. Here, a westbound manifest freight led by a pair of Electro-Motive Division diesels still in Pennsylvania RR livery moves past the former PRR signal tower while a newly painted Penn Central SD35 waits in the hole. Kevin Connell of Dahlonega, Ga., built and photographed the two-rail O scale scene.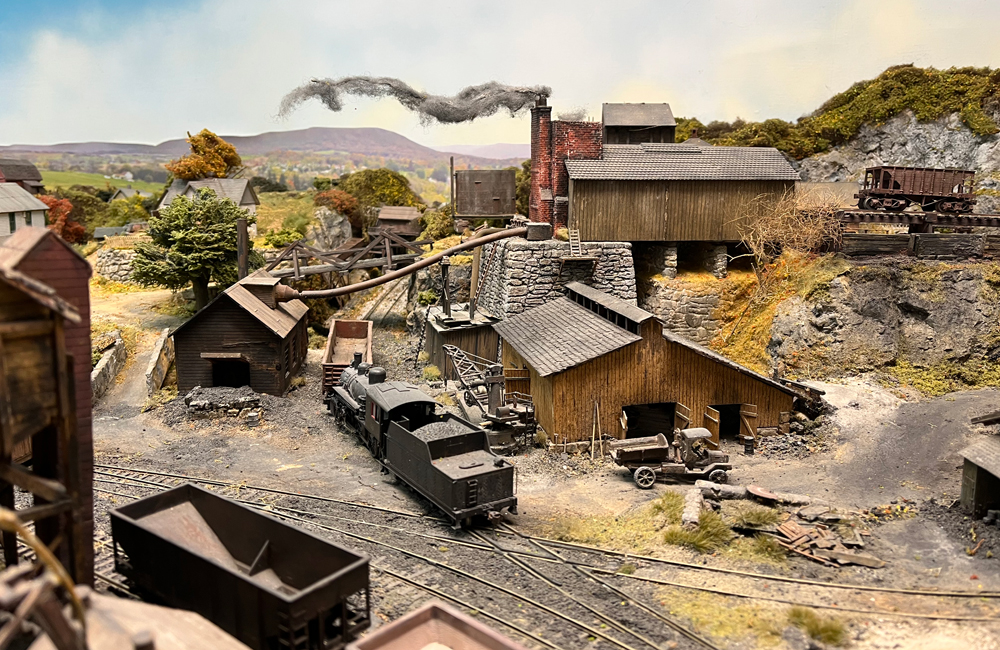 A Gausergrad Central RR 0-6-0 maneuvers a gondola into the charcoal-fired Centre Furnace to be loaded with pig iron for the foundry in Bellefonte. The scene is part of Dave Rockenbeck's HO scale Gausergrad Central, a freelanced railroad set in 1920 and based on the prototype Bellefonte Central RR. The iron furnace is scratchbuilt, based on a prototype in Curtain, Pa. The locomotive is a Bachmann model. Dave landscaped the layout with real dirt, gravel, slag, and charcoal collected from sites in Pennsylvania. Dave also shot the photo.

Send us your photos
Trackside Photos is a showcase for the work of Model Railroader readers. Send your photos (digital images 5 megapixels or larger) to: Model Railroader, Trackside Photos, P.O. Box 1612, Waukesha, WI 53187-1612; or upload them to fileupload.kalmbach.com/contribute. For our photo submission guidelines, contact senior associate editor Steven Otte at  sotte@kalmbach.com.