High-cube boxcars seemed to be everywhere in the 1970s, and thanks to Tangent Scale Models, highly detailed models of Greenville Steel Car Co. 86-foot high-cubes can roll on your HO layout, as well.
These monster cars were products of the 1960s, when bigger was better and efficiency was the watchword of corporate America. Earlier methods of moving car parts required specially equipped boxcars, which were really only appropriate for a single type of load. As automakers in the 1950s began making yearly changes to the styling of their cars, and in the late 1950s and early 1960s started expanding their lines into compact, mid-sized, and full-sized automobiles, boxcars that could carry only one type of part fell out of favor.
Designing loads to fit pallets and "baskets" that could be loaded by forklift into large boxcars let these larger varieties of parts be more safely and efficiently carried. The pallets and baskets came along about the time many boxcars were reaching the end of their useful lives, so it made sense to develop cars that could serve the auto industry better.
First on the scene were 60-foot auto parts cars, which were used for higher density parts such as engines, transmissions, and axle assemblies. But less dense items, such as body panels and interior parts, filled the 60-foot cars well before their load capacity was reached.
Ford worked with American Car & Foundry (ACF) to develop larger cars that could more closely match the weight and volume of the load. The result was a prototype 85-foot car with a volume of 10,000 cubic feet and a height of 17 feet (a high cube indeed!).
In addition to ACF, other makers of high-cube cars were Greenville Steel Car Co., Pullman-Standard, and Thrall. The production cars were 86 feet long and equipped with either four or eight doors (two pairs per side). Greenville built more than 4,400 of these cars between 1964 and 1978 for multiple railroads to run in pool service. Some of these cars are still in service.
Our samples from Tangent are decorated in Penn Central and Erie Lacka-wanna as-delivered paint schemes and represent some of the many variations Tangent has designed into its high-cube boxcars.
Our two cars each have different cushioning systems, center of car on the PC car and end of car on the EL car.
Our samples also show off the two truck types designed for these cars: 70-ton Barber S-2A or 100-ton "low profile" Barber S-2-C trucks. Cars are equipped with either 33″ or 36″ wheels, as appropriate. Grab irons, crossover platforms, brake equipment, and door hardware are among the plethora of separately applied parts on these models.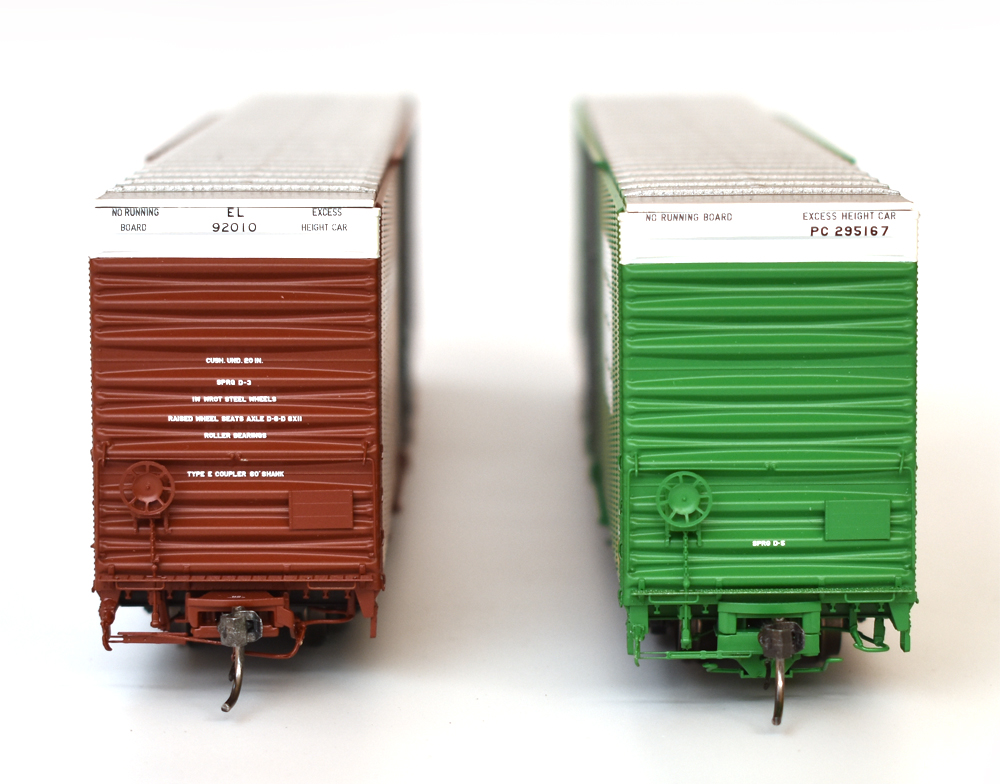 Our models featured opaque paint – Penn Central Deepwater Green or Boxcar Red for the EL car, both with metallic gray doors. All of the printing was sharp and legible under magnification. The Penn Central car represents a car delivered to the railroad in October 1968, originally painted in PC colors, rather than a repainted Pennsylvania or New York Central car.
The EL car is one of the first batch of 100 cars Greenville delivered to the Erie Lackawanna in 1965. Erie Lackawanna went back to Greenville in 1966 for another 143 cars, making it one of the larger rosters of Greenville high-cubes.
Both cars measured within inches of a drawing I found in the 1974 Car and Locomotive Cyclopedia Centennial Edition from Simmons-Boardman. The PC car's lettering placement matches a photo in the 1970 Car and Locomotive Cyclopedia. Lettering on the EL car matches photos in the EL Color Guide to Freight and Passenger Equipment by Larry DeYoung (Morning Sun Books, 1995).
I tested the cars on the Atlas no. 4 and no. 6 turnouts on my shelf layout and had no trouble pushing or pulling the cars through the crossovers and down into each of the yard and spur tracks. The models are designed to work on 24″ minimum radius curves, but they'll look better on much broader curves in the 40″ radius range.
The CNC-turned metal wheelsets with rotating bearing caps were all in gauge, and the Kadee scale-sized couplers were mounted at the correct height. The cars weigh 8.1 (EL) and 8.2 (PC) ounces, making them about 1 ounce heavier than the called for weight of 7 ounces in National Model Railroad Association Recommended Practice 20.1
As a fan of 1970s railroading, I was excited to see these cars. They're beautifully detailed and operate well, and I'm looking forward to seeing these eye-catching paint schemes on my future layout. Maybe there's a place for a few on your model railroad, as well.
Facts & features
Price: $54.95
Manufacturer
Tangent Scale Models
P.O. Box 6514
Asheville, NC 28816
tangentscalemodels.com
Era: 1964 to present, depending on paint scheme
Road names: Penn Central; Erie Lackawanna; Baltimore & Ohio; Chicago, Burlington & Quincy; Conrail; Detroit, Toledo & Ironton; Missouri Pacific; Southern Ry.; and Wabash
Features
• 33″ or 36″ CNC machined metal wheels as appropriate, in gauge
• Kadee scale couplers at correct height
• Multiple factory-applied prototypespecific details
• Two truck brake beam part options
• Weight: 8.2 ounces (1.2 ounces too heavy based on NMRA RP-20.1)