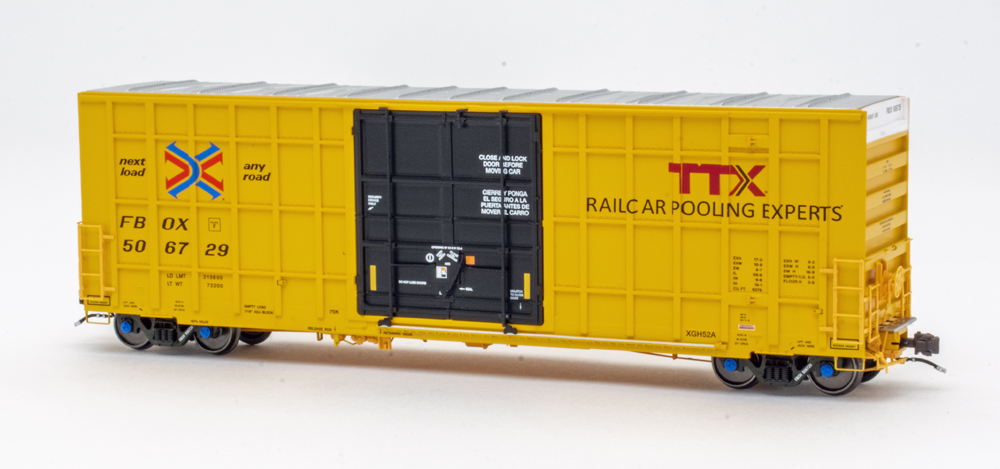 A newly tooled Gunderson 6,276-cubic-foot capacity 50-foot hi-cube boxcar is the latest release from Aurora Miniatures North America. The HO scale model, offered in six road names, features injection-molded plastic construction, prototype-specific trucks, and many freestanding details.
The prototype
The 6276 50-foot hi-cube boxcar has been a part of the Gunderson (Greenbrier) product lineup since 2004. The Plate F boxcar, fitted with a 12-foot plug door, has been produced at the car­builder's factories in the United States of America and Mexico.
Our sample is decorated as TTX Corp. 506729, part of the Chicago-based railcar pooling company's 506422 through 506921 series built by Greenbrier (Gunderson Concarril) under Lot R40975 between June 2016 and January 2017. Among the commodities handled in the 100-ton cars are aluminum billets, ingots, malt liquors, newsprint, printing paper, pulpboard, and wood pulp.
The boxcars are part of TTX's class XGH52A. To translate, X = boxcar, G = Gunderson/Greenbrier, H = hydraulic end-of-car cushioning, 52 = FBOX car with 61⁄2 x 9 K bearings and 12-foot single plug doors, and A = subclass.
The model

The Aurora Miniatures HO Gunderson hi-cube boxcar has a one-piece injection-molded plastic body with a separate roof. The roof accurately has diagonal panels in the middle and X panels on the end.
A combination of molded and separate, factory-applied parts are found on the sides and ends. The ladders, door rods, door levers, uncoupling levers, and brake wheel are plastic parts molded to match the body color. The stirrup steps are formed metal; the crossover platforms are see-through etched metal.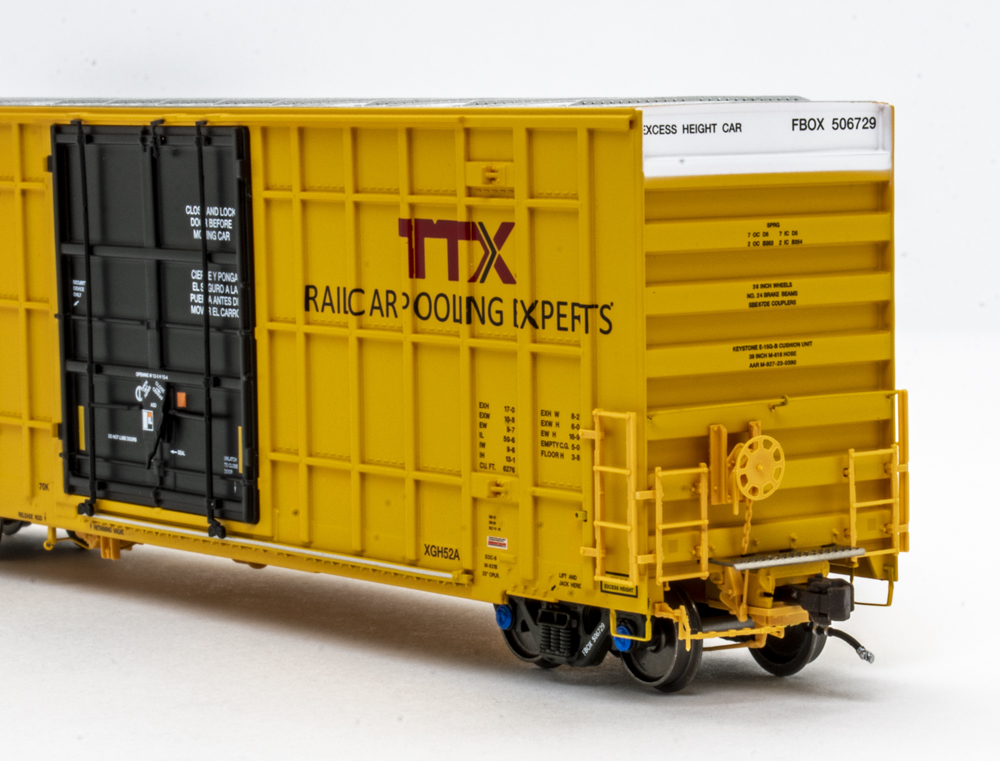 The Aurora cars are equipped with an Ellcon-National or New York Air Brake (NYAB)/Klasing vertical wheel handbrake with release lever, handbrake chain, and Association of American Railroads 66 bell crank, as appropriate.

Underneath, the boxcar has molded laterals and nailable steel floor detail. The draft-gear boxes, center sills, crossmembers, body bolsters, and bolster blocks are cast as a single unit.
Additional underbody details include a NYAB DB60 single-sided control valve, a two-sided release rod with mounts, an Ellcon-National type empty/load sensor, a diagonally mounted air reservoir, a brake cylinder, low-mounted brake rods, and piping detail connecting the various components.
Aurora offers the modern boxcar with prototype-specific 100-ton trucks, either American Steel Foundries (ASF) S-2-HD-9C or ASF Motion Control trucks. The trucks have bolster and center plate detail, side bearings, and brake beams. I used a flat-blade screwdriver to remove the plate covering the screw on each truck. The bearing caps, which rotate, are painted blue to replicate the Brenco Class K 61⁄2 x 9 model.
Measuring up
The model we received is decorated in the TTX Corp. yellow-and-black as-delivered scheme. The paint and lettering match prototype images of other cars from this series. Dimensions closely follow data on the carbuilder's website.
At 4.4 ounces, the car is 0.1 ounce too light per National Model Railroad Association Recommended Practice 20.1. The 36″ metal wheelsets are correctly gauged. The plastic AuroraJanney scale couplers are mounted at the correct height. The couplers do not have trip pins, so they will not work with magnetic uncouplers. The boxcar performed without incident when tested on our Milwaukee, Racine & Troy staff layout.
A modern-era staple

The Aurora Miniatures HO Gunderson hi-cube boxcar is a well-detailed and researched model. The full-size cars can be found on railroads throughout North America today. This is a must-have model if you model the contemporary railroad scene in 1:87.1. – Cody Grivno, senior editor
Facts & features
Price: $59.99
Manufacturer
Aurora Miniatures North America
Era: June 2016 to present (as decorated)
Road names: TTX Corp. (12 road numbers), Arkansas & Oklahoma RR, Crab Orchard & Egyptian, Illinois Central, Utah Central Ry., and Union Pacific (BKTY reporting marks). Six numbers per scheme unless noted.
Features
AuroraJanney scale couplers (without trip pins), at correct height
Machined metal 36″ wheelsets with .110″ tread and RP-25 contour, in gauge
Weight: 4.4 ounces (0.1 ounce too light per National Model Railroad Association Recommended Practice 20.1)