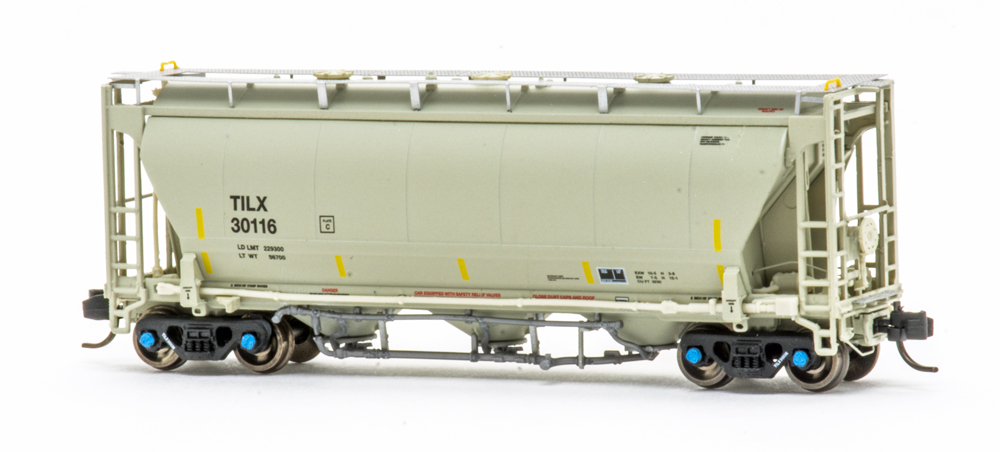 A Trinity 3,230-cubic-foot capacity Pressure Differential (PD) covered hopper has joined the Atlas N scale freight car fleet. The newly tooled Master Line model features a plastic body; etched-metal running boards; and many separate, factory-applied parts.
Prototype history
The 3230 PD covered hopper is based on a design developed by Thrall, which was acquired by Trinity in 2001. The full-size cars transport cement, fly ash, and other dry bulk ladings.
Our sample is decorated as Trinity Industries Leasing Co. 30116, part of the TILX 30116 through 30137 series built by TrinityRail under Job 3070 in August 2006. These cars are still in service today.
Model features

The Atlas Master Line model has a multi-piece injection-molded plastic body. Up on top, the covered hopper has a one-piece etched-metal running board with plastic corner grab irons, three hatch covers with molded cam lever detail, and two molded safety vents.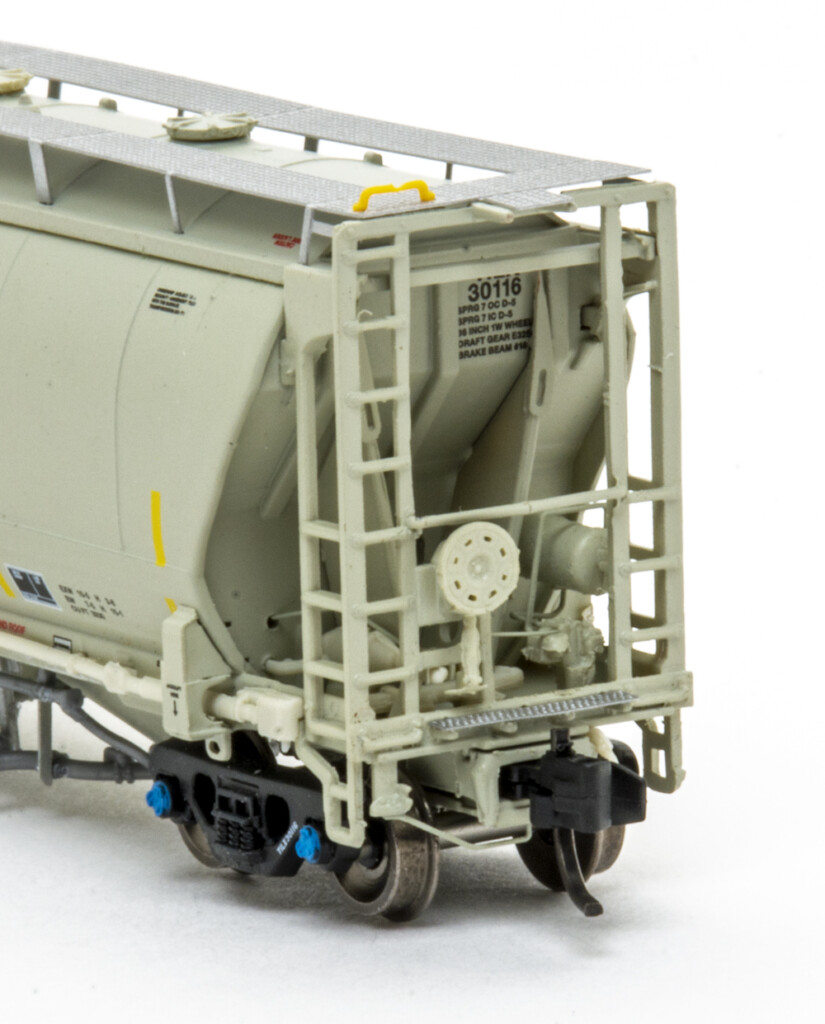 The freestanding end cages have molded ladder rungs and grab irons; the crossover platforms are factory-applied see-through parts. There was flash on a few of the ladder rungs. This could easily be removed with a hobby knife blade.
The brake system had some high and low points. The formed wire lines attached to the air reservoir and control valve matched prototype placement. However, the details on the plastic brake wheel lacked crisp definition.
An air line, molded in a gray similar to the body color, is attached to the bottom of the sill on the right side. A brake rod, which looks slightly oversized, runs the length of the sill on the left side.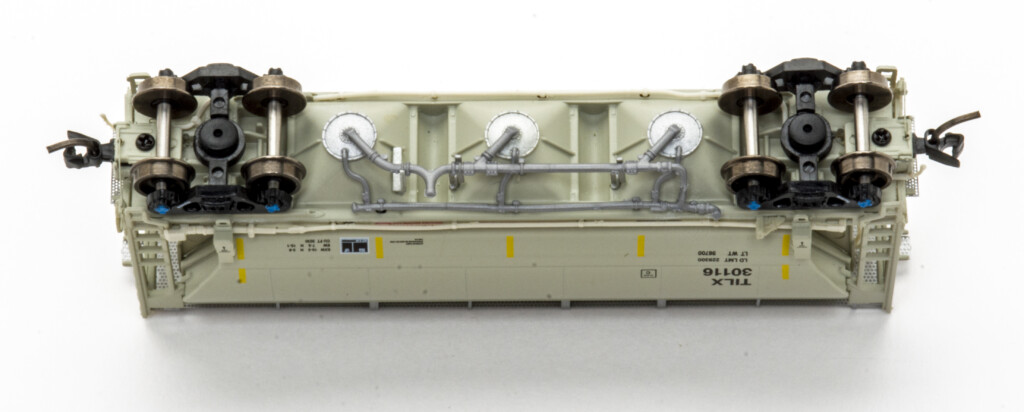 The bottom of each hopper bay is fitted with an aerator assembly that's painted aluminum. The various pipes, hoses, laterals, compression couplings, dust caps, and other details are plastic parts molded in aluminum. The 3″ pipe was a bit wavy on our sample.
Model vs. prototype
The light gray paint on the covered hopper is smooth and evenly applied. The placement of the lettering and yellow FRA-224 stripes matches prototype photos of other cars from this class. A few small warning labels were omitted. The model's dimensions match or are within scale inches of prototype drawings published in TrinityRail literature.
At 0.9 ounce, the car matches National Model Railroad Association Recommended Practice 20.1. The Master Line car is fitted with body-mounted couplers that are at the correct height.
The bearing caps on the 100-ton trucks are painted blue to represent Brenco Class K 6-1/2 x 9 bearings, commonly used on cars with a 286,000-pound Gross Rail Load. The reporting mark and road number on the sideframes is a nice touch.
I thought Atlas did a nice job on the Trinity 3230 PD covered hopper. If you model the modern era, you'll want to add a few of these cars to your freight car fleet.
Facts & features
Price: $47.95
Manufacturer
Atlas Model Railroad Co.
378 Florence Ave.
Hillside, NJ 07205
Era: August 2006 to present, as decorated
Road names: Trinity Industries Leasing, Chicago Freight Car, CIT Group, General American, Greenbrier Management Services, and Roanoke Cement. Four road numbers per paint scheme.
Features
36″ metal wheelsets, in gauge
Body-mounted couplers, at correct height
Weight: 0.9 ounce, correct per National Model Railroad Association Recommended Practice 20.1