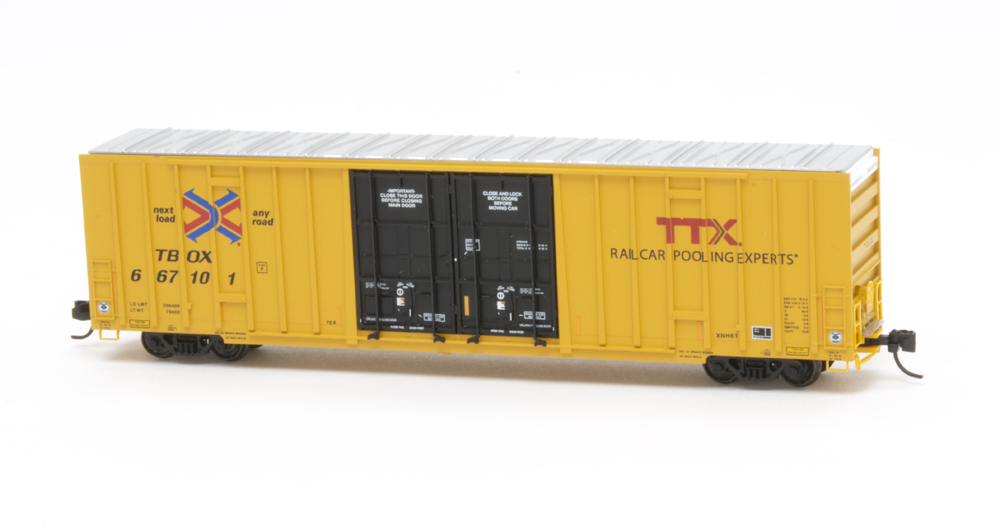 A contemporary 60-foot high-cube double-door boxcar with exterior posts is the latest N scale body style from Micro-Trains Line Co. The model, based on a National Steel Car (NSC) prototype, has body-mounted couplers, metal wheels, and a mix of molded and separate, factory-applied details.
Exterior
Our sample is decorated as TBOX no. 667101, part of railcar leasing company TTX's 667000 through 667724 series. The full-size cars were built by National Steel Car under Job P7065/13 between August and December 2013.
The 100-ton double-door car is used to transport a variety of commodities, including aluminum plate and billets, asphalt shingles, malt liquors, newsprint, plywood, oriented strand board, pulpboard, and tin, among other items. The car has nailable steel floors and wall and floor anchors.
The Micro-Trains boxcar has a one-piece injection-molded plastic body with separate, factory-applied doors. The double plug doors are cast as a single unit that press fit into an opening on the car side. The doors have freestanding door rods and numerous stencils, the latter legible under magnification.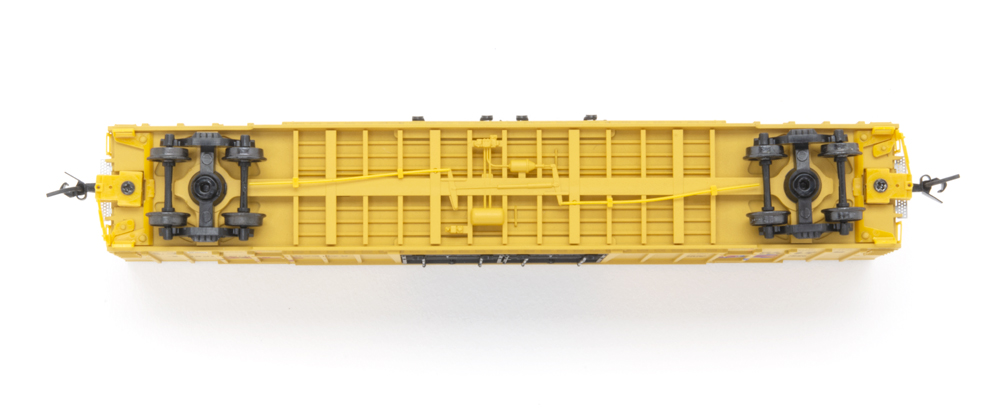 The ladders on the sides of the car are molded; those on the end are separate parts. Other factory-applied end details include etched-metal see-through crossover platforms, ladders, uncoupling levers, and a brake wheel.
On top, the boxcar has a friction-fit one-piece plastic roof that's painted flat aluminum. The roof accurately has three X panels on each end and seven diagonal intermediate panels. A metal weight is inside the car.
Plastic stirrup steps, molded in yellow, are separate castings attached to the car's underbody. The Magne-Matic couplers, which have blackened metal trip pins, are body-mounted with screws.
Measuring up
The boxcar's dimensions closely follow data published in the January 2016 Official Railway Equipment Register. The TTX boxcar is neatly painted yellow and black. The lettering placement matches prototype photos.
Though the boxcar will negotiate 11″ radius curves, the overhang isn't very prototypical. At 45⁄8″ long, the model will look better on broader curves.
Micro-Trains has always produced fine N scale models, but the company upped its game on the NSC 60-foot high-cube double-plug-door boxcar. The body-mounted couplers with blackend metal trip pins, metal wheels, and etched-metal crossover platforms are all welcome additions on this modern-era car.
The full-size cars transport a variety of commodities and can be found on railroads throughout North America. This is a must-have freight car for a contemporary N scale layout.
Facts & features
Price: three-pack, $119.95; single car, $59.95
Manufacturer
Micro-Trains Line Co.
351 Rogue River Pkwy.
Talent, OR 97540-1200
micro-trains.com
Road names: TTX (modern and black logos, pink "On Track for a Cure" scheme in one number), Canadian National, CSX, and Union Pacific. All schemes offered in a three-pack unless noted.
Era: 2013 to present
Features
• 36″ metal wheels on plastic axles, correctly gauged
• Body-mounted Magne-Matic couplers with blackened trip pins, .015″ too high on both ends
• Weight: 1.1 ounces (.1 ounce too light per National Model Railroad Association Recommended Practice 20.1)