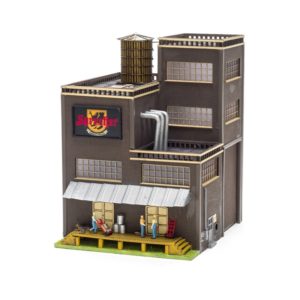 Sprecher Brewing Co., a Milwaukee fixture famous for craft beers and many flavors of fire-brewed sodas, is coming to HO and O scale model railroads nationwide thanks to another Wisconsin com- pany, Menards.
The model. Menards' structure is meant to resemble a generic brewery of the steam-to-diesel transition era. The era I listed in the info box for this structure is based on the years Sprecher has been in business; if you're not worried about the accuracy of the logo, the building would fit anywhere from the late steam era to today.
Like most of its structures, the brewery is made of medium-density fiberboard on a laser-cut plastic base. The walls are laser-etched in a brick texture. Wood-grained plastic trim covers the wall joints. There's a section of brick wall that, if removed, opens a tunnel through the back of the building big enough to run a train through.
Lights and details. The building has a lot of interesting details. The roof has air handling equipment, pipes, and a wooden water tank with a blinking red beacon on top. Lighting is always a prominent feature of Menards buildings, and the Sprecher brewery has plenty of it. Powering the lights requires a 4.5V direct-current adapter, old separately (part no. 2794061, $7.99).
Raise a glass. Menards continues to expand its line of structures, making it easy to quickly populate a layout with a broad range of industries and downtown buildings. Sprecher Brewery is an indus- try that would look appropriate in any city scene from the steam era to today.
Facts & features
Price: $69.99
Manufacturer
Menard Inc.
5101 Menard Dr.
Eau Claire, WI 54703
menards.com/trains
Era: 1985 to present
Features
•Animated lighted brewery sign
•Factory assembled
•Medium-density fiberboard construction
•Light-emitting-diode lighting
•Removable filler wall section