Kalmbach Media is making holiday shopping a little easier with a well-rounded gift guide for the model railroader or toy train lover in your life. Whether the person is a hard-to-shop for family member, a train-curious acquaintance, or someone in between, Kalmbach has you covered.
10 items top our list this year — each selected from the Kalmbach Hobby Store. Feel free to shop and share!
Model Railroader 2022 Calendar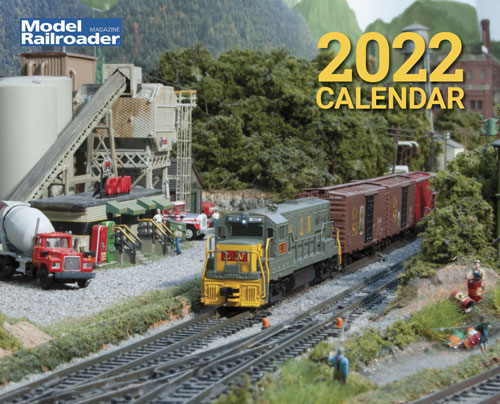 Model Railroader's 2022 calendar includes 12 spectacular layouts recently showcased in Model Railroader magazine or Great Model Railroads special issue. Included is a bonus spread featuring tips from Tony Koester's 2019 issue of Model Railroad Planning. You'll find seven more things not to do such as:
Making a hobby budget for time and money.
Failing to plan for operation.
Not preparing a workspace.
And more!
National holidays and occasions are highlighted, and there is ample room to add notes and appointment reminders. Size: 13 x 10.5
How to Design a Model Railroad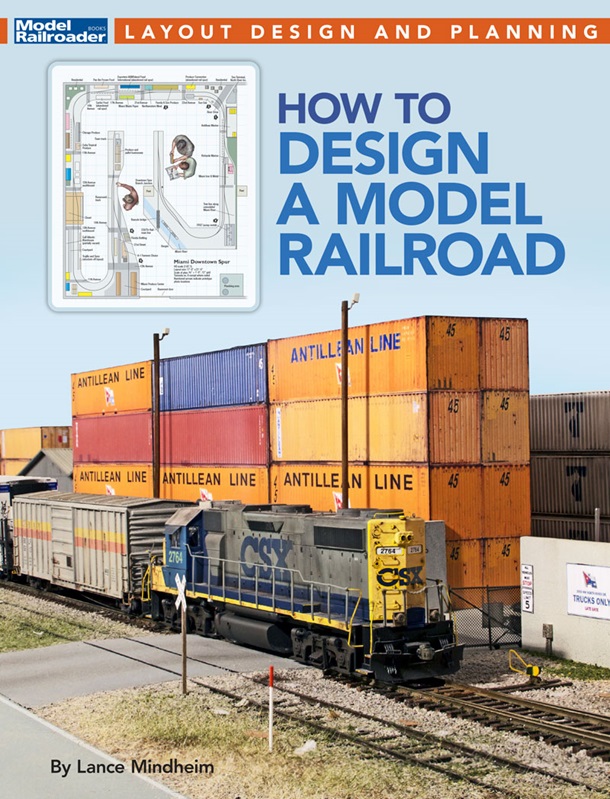 How much aisle space is needed? How deep can benchwork be? What's a good minimum radius for curves? How do I best use yards and staging tracks? How to Design a Model Railroad by Lance Mindheim will get you from the daydreaming stage to designing and building a model railroad.
How to Design a Model Railroad will help you transform your basic ideas of what you want in a model railroad into a workable, realistic track plan and overall layout design that you can then build. This is a hands-on guide to drawing and designing a model railroad that will fit the available space and result in a realistic layout.
Avoid common pitfalls and progress from the design to construction phase with confidence!
Author: Lance Mindheim
Size: 8.25-by-10.75-inches
Pages: 144
Great Model Railroads 30-Year Archive DVD-ROM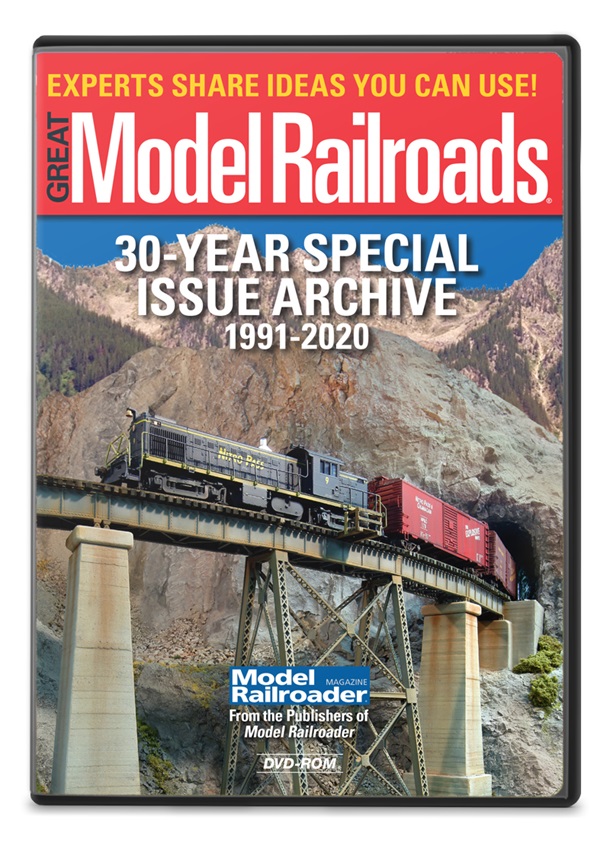 Complete your collection with the Great Model Railroads 30-Year Archive DVD-ROM!
Enjoy 283 full-length articles, each with large, detailed track plans, from the best builders in HO, N, and O scales. Don't miss out on 30 years of issues including:
All issues from the very first issue of Great Model Railroads in 1991 through 2020, including many no longer available in print!
Expert advice and how-to tips from well-known modelers including Paul Dolkos, Lou Sassi, Lance Mindheim, Mark Dance, Doug Tagsold, Gerry Leone, Clark Propst, and many more!
Modeling ideas and information you can use! Whether starting a new layout or adding to your existing layout, this DVD-ROM is full of ideas and information to use on your next project.
Easily search each issue, view, zoom in, and bookmark every informative article on your laptop or computer.
*The DVD-ROM discs will not play on stand-alone DVD players. For use in a computer DVD drive only.
Milwaukee Racine & Troy 40′ 3500-Series Boxcar Kit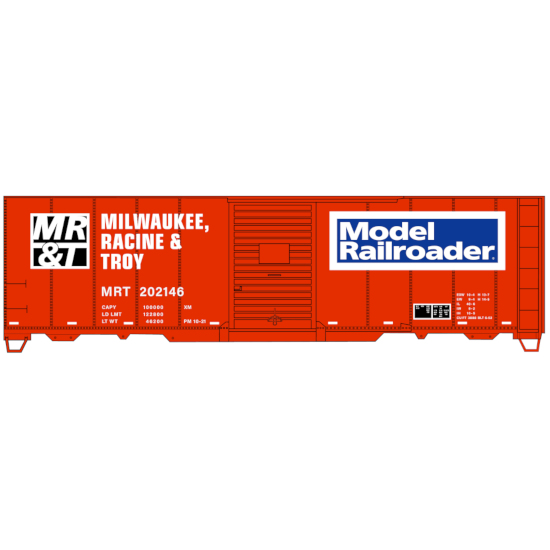 The paint scheme on this new HO boxcar kit was inspired by a custom-decorated Athearn HO scale kit released in 1974. The boxcar featured the Great Gulch, Yahoo Valley & Northern name and Gulch Route herald to the left of the door. This was the name of Model Railroader founder Al Kalmbach's O scale layout. He started building the model railroad in the winter of 1928-29. To the right of the door was Model Railroader's 40th anniversary logo.
For our 2021 annual car, we decided to have some fun. We kept the orange-and-black paint scheme, but replaced the Gulch Route herald and lettering with that of our HO scale Milwaukee, Racine & Troy staff layout. We put the updated MR logo to the right of the door.
Just like it was in 1974, the HO scale model will be offered as a kit, this time from Accurail. The boxcar will use the company's 3500-series Association of American Railroads 40-foot boxcar tooling. The kit features a one-piece injection-molded plastic body with a factory-installed brake wheel and running board casting. The doors, ladders, grab irons, and stirrup steps are molded.
The plastic underbody has molded center sills, draft-gear boxes, crossmembers, body bolsters, floor board detail, and kingpins. Two sprues contain the modeler-installed brake rod assembly, air reservoir, control valve, and draft-gear box covers. Solid-bearing trucks, Delrin engineering plastic wheelsets, Accumate couplers, trip pins, and screws are contained in a small plastic bag. An unpainted steel weight and a written and illustrated instruction sheet takes are also included.
The boxcar, made in the United States of America, is offered in one road number.
Quantities are limited, so order yours today!
BUY THE BOXCAR ONLINE!
+++++++
Model Railroader Apron
Full-length apron with Stain Release, Khaki with embroidered MRR logo-blue and white stitches same as cap, one size.
Lionel® Trains Pocket Price Guide 1901-2022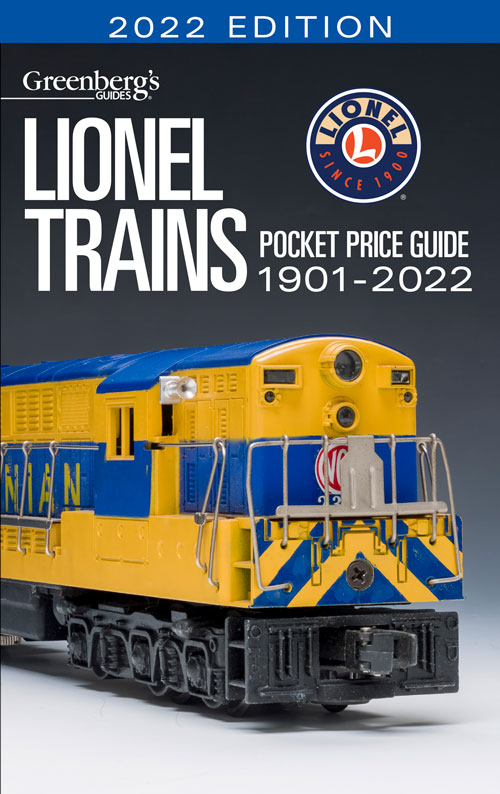 Lionel® Trains Pocket Price Guide 1901-2022 is the go-to reference guide for toy train collectors and operators for accurate pricing information on prewar, postwar, and modern Lionel® trains. This handy 400+ page guide features:
Current pricing information with input from experts in the field.
Identification and evaluation tips.
Listings for Lionel® Corporation Tinplate, Club Cars and Special Production, Boxes and Sets.
An easy-to-read format with space for notes.
And much more!
Size: 5 3/16-by-8 1/4-inches
Page count: 448
JT's Mega Steam Smoke Fluid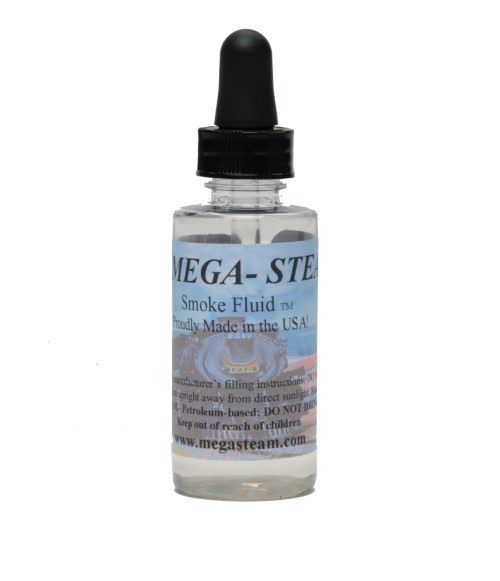 Available in a variety of scents, Mega-Steam is the perfect way to add an extra dimension to your layout.
Features:
Thick, dense smoke output
Dissipates quickly, leaving little or no "train room fog" in the air
"Pin-point" end glass droppers for accurate filling
Petroleum-based formula
Non-toxic
Bottle size: 2 oz.
Proudly made in the U.S.A.
Manufacturer: JT's Mega-Steam
Acrylic Inspection Car
This HO Scale clear acrylic inspection car will help you get insight into any issues you might be having with your model railroad track. When placed on your track, look down on the car and you will get visibility into where the issue is.
Includes a 2 axle truck on one end and a 3 axle truck on the other end.
Kadee couplers at the proper height.
Comes with a Bubble Level and 5x Magnifying Glass.
11" long clear acrylic inspection car in HO scale.
Brand: GoodDealsDCC
BUY THE INSPECTION CAR ONLINE!
Best of Scenery and Industries Bundle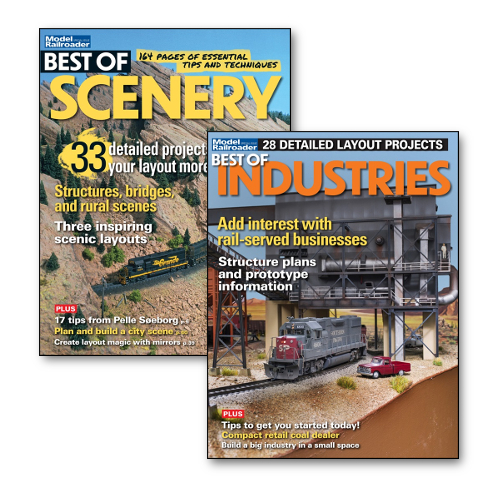 Get 328 pages of great information and how-to projects on scenery and industries for your layout!
This bundle includes:
Best of Scenery – Compiled is all the scenery techniques you've been asking for in one place! This comprehensive collection includes 33 detailed projects to make your layout more realistic, plus profiles of three exceptional layouts!
Best of Industries – 28 detailed projects feature a variety of industries, from large to small and modern to historic. You won't want to miss this collection from the best builders in the hobby on adding rail-served industry to your railroad, including steel mills, grain elevators, cement plants, and much more!
Save 20% when you buy this Model Railroader Special Issue Bundle!
*This bundle includes print only copies of these special issues.
Big Boy Chalk Writing Mug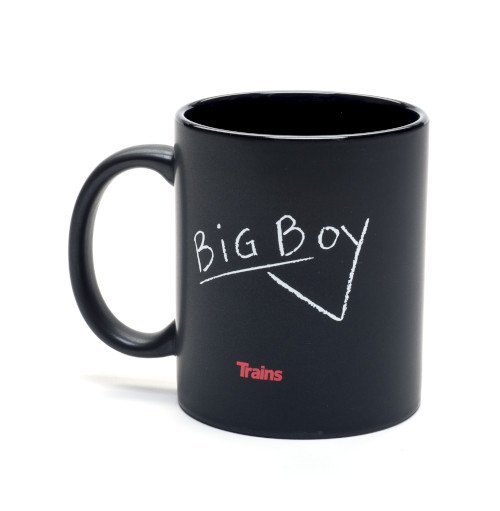 Big Boy No. 4014, one of America's biggest and most powerful steam locomotives, ran for the first time in 60 years in May 2019.
Celebrate this historic event with this exclusive Trains 11oz matte black mug featuring the "Big Boy" chalk writing from the front of this amazing locomotive.
Care instructions: Hand wash recommended. Microwave safe.