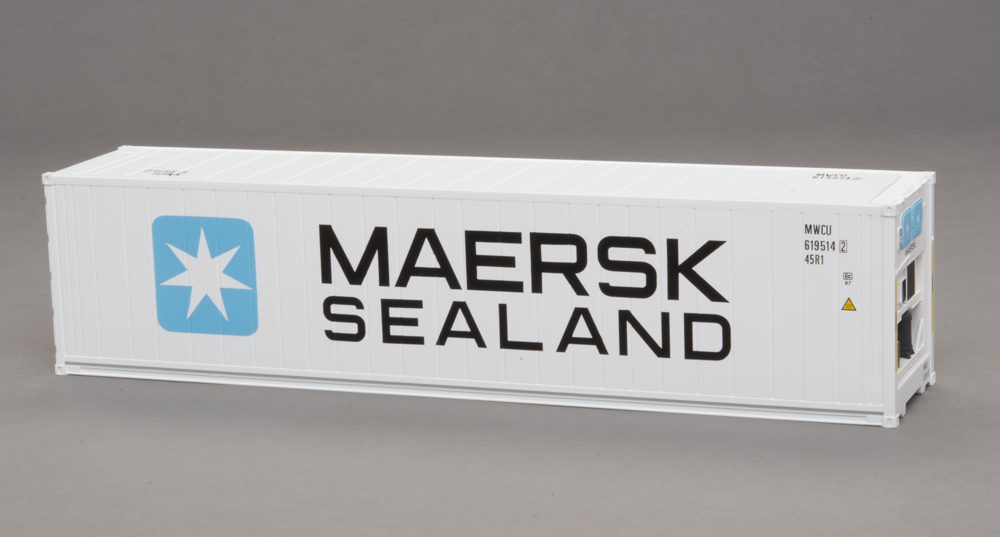 To borrow a phrase from Disney, "It's a small world after all." At least that's how it seems as manufacturers' abilities to ship just about anything around the world grow.
Many – and perhaps most – of the products we use every day have traveled to our doors at least partially in an intermodal container. Most of us are familiar with the ubiquitous steel dry goods boxes that haul everything from board games to autos stacked on ships or trains. But companies can also move perishable items like fruit, meat, and seafood in temperature-
controlled conditions.
Atlas O's 40-foot refrigerated container represents an ISO Type 45R1, a high-cube model with composite sides and Daikin refrigeration equipment. Other containers in this Atlas O run are equipped with Carrier cooling gear.
Much of the detail is on the ends of the container. On one end is the "picture frame" refrigeration unit detail; the other features the doors. The locking latch rods are individually applied and painted silver, along with the cast-in hinges.
All corners feature representations of stacking pin locks. They have holes top and bottom so the containers can be pinned and stacked either on the ground or in one of Atlas O's Gunderson Twin-Stack intermodal cars.
The painting is first rate. The Maersk Sealand emblem is bold and in the correct font. The lettering on small labels like the "Super Heavy" warning triangles and American Bureau of Shipping is legible. All the lettering is straight and well applied.
The gasket application around and between the doors looked so realistic I stuck my thumbnail in and tried to open them! Alas, it's just a great representation of the sealing material.
This is one of those items that's a must-have for the modern transportation scene. Atlas O offers four numbers per container and multi-packs, which is good because you'll probably want at least a few.
Facts & features
Price: Single container, $26.95 (undecorated, $24.95); eight-pack, $215.60
Manufacturer
Atlas O
378 Florence Ave.
Hillside, NJ 07205
shop.atlasrr.com
Era: present day
Road names: Maersk Sealand (white and blue), "K" Line (white and red), NYK Logistics & Megacarrier (white and blue), and Ocean Network Express (white and magenta). Four container numbers per scheme; also available in eight pack (two each of all four shipper names) and undecorated.
Features
Carrier or Daikin refrigeration equipment, depending on paint scheme
Separately applied door latches
Weight: 5.1 ounces