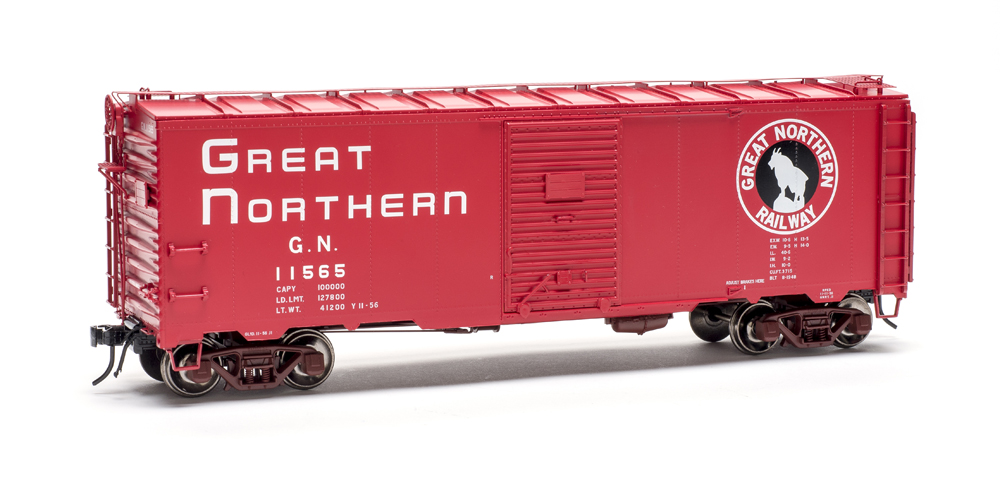 A boxcar built by the tens of thousands for dozens of North American railroads has been released in new paint schemes and road numbers by Atlas O. Part of Atlas' Steam Era Classics series, the Association of American Railroads (AAR) 1937 40-foot boxcar was first issued in 2004. The model features free-rolling trucks with blackened metal wheels, a sharp paint job, and a wealth of separately applied etched-metal, wire, and cast-metal details.
The AAR's 1937 40-foot boxcar design was the first example of near-­universal, voluntary adoption of a car by American railroads. Nearly 93,000 of the versatile cars were built for 64 North American railroads. However, the Great Northern was not one of those.
The railroad did have a car numbered 11565, and it was a 40-foot steel boxcar; it just wasn't an AAR model. The prototype was painted Vermillion Red with a 3-foot black-and-white herald on the left and slant serif "Great Northern" lettering on the right. Atlas's model bears a scheme GN used on other 40-foot boxcars. Though Atlas' car doesn't model an actual GN boxcar, as a model of an AAR 1937 40-foot boxcar, it's quite faithful.
I found AAR plans in Vol. 35 of the Railway Prototype Cyclopedia, and Atlas' model matched in its major dimensions, wheelbase, and placement of details like ladders, grab irons, and door hardware.
The see-through roof walk is a single etched-metal piece. The cast-metal ladders and handgrabs were well done. The brake gear matched prototype drawings. The blackened metal wheels were in gauge, and the metal knuckle couplers were mounted at the correct height. It tracked well through a curve of 24″ radius Pola sectional track, which is the recommended minimum radius.
The paint job on the car's injection-molded plastic body was smooth and even. The lettering was sharp, opaque, and legible at the smallest sizes.
During the late steam through early diesel eras, 40-foot AAR boxcars like Atlas' model were ubiquitous on the North American rail network. If you model that period, you should have several on your layout. Atlas' O scale version is a well detailed, good looking model.
Price: $84.95 (undecorated, $74.95)
Manufacturer
Atlas Model Railroad Co. Inc.
378 Florence Ave.
Hillside, NJ 07205
atlasrr.com
Era: Aug. 1948-March 1970 (Great Northern model, as decorated)