Trinity 6,351-cubic-foot capacity four-bay covered hopper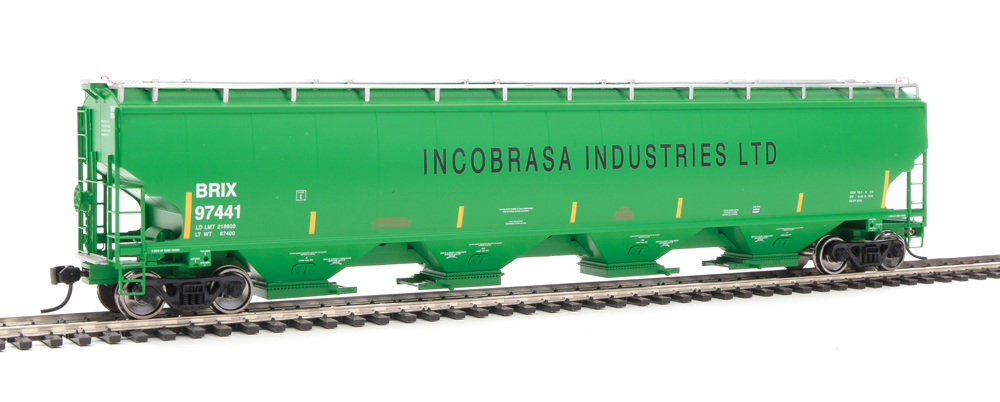 Scale: HO (1:87.1)
Price: $49.98
Era: early 2000s to present
Manufacturer: Wm. K. Walthers Inc., 5601 W. Florist Ave., Milwaukee, WI 53218, 414-527-0770, walthers.com
Trinity 6,351-cubic-foot capacity four-bay covered hopper features:
36" turned-metal wheels
Factory-installed grab irons
See-through etched-metal walkways and crossover platforms
Proto-Max metal couplers
One of two styles of trough hatches as appropriate
Separate, factory-applied vibrator brackets on discharge outlets
Expected delivery: July 2022
Road Names: Archer Daniels Midland (gray), Bunge North America Inc. (gray), Cenex Harvest States Cooperative (gray), CIT Group (gray), Incobrasa Industries Ltd. (green), Trinity Industries Leasing (black with 75th anniversary logo and gray), and VeraSun Energy (tan). Four road numbers per scheme.
News & Products is a regular feature of Trains.com for model railroad operators and builders to get the latest information about locomotives, freight cars, passenger cars, tools, track, and more. Model railroad product news may include HO, N, O, S, and Z scales. Product release dates and prices will vary according to each manufacturer.
If you are a manufacturer and have new product releases, please email Senior Editor Cody Grivno at cgrivno@kalmbach.com for more information. Click the following link to view more News & Products.