Santa Fe Electro-Motive Division repowered Alco PA/PBs from Rapido
Scale: HO (1:87.1)
Price: Direct-control model – 51L A-unit, $249.95; 51A and 51C A- and B-unit set, $459.90. With DCC and sound – 51L A-unit, $349.95; 51A and 51C A- and B-unit set, $669.90.
Manufacturer: Rapido Trains Inc., 500 Alden Road, Unit 21, Markham, Ontario L3R 5H5 Canada; 905-474-3314; rapidotrains.com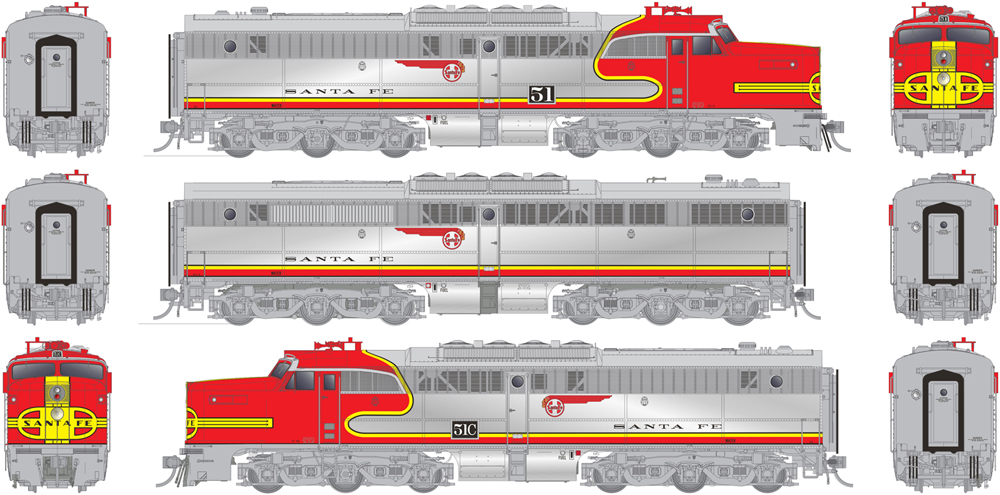 American Locomotive Company PA/PB features:
Correct nose and roof profiles, featuring unique roof blister and EMD style fans
Underbody piping and conduit
Separately-applied grab irons and handrails
Full cab interior
Operating Gyralite or red Mars light where appropriate
Release date: To be announced
Road names: Atchison, Topeka & Santa Fe 
News & Products is a regular feature of Trains.com for model railroad operators and builders to get the latest information about locomotives, freight cars, passenger cars, tools, track, and more. Model railroad product news may include HO, N, O, S, and Z scales. Product release dates and prices will vary according to each manufacturer.
If you are a manufacturer and have new product releases, please email Senior Editor Cody Grivno at cgrivno@kalmbach.com and Associate Editor Bryson Sleppy at bsleppy@kalmbach.com for more information.