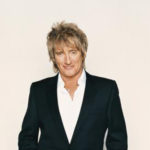 WAUKESHA, WI — Hall of fame rock-n-roller, Rod Stewart, unwinds after a concert by kitbashing and scratchbuilding. These terms may sound like code words that explain the mysterious antics of a world-famous celebrity, but instead they describe techniques for one of the world's most popular hobbies: model railroading.
The acclaimed songwriter of hits like "Forever Young" and "Maggie May" contacted Model Railroader magazine in the late 2000s to talk about his other achievement, "Grand Street & Three Rivers Railroad."
Stewart offered Model Railroader magazine exclusive access to his 1,500-square-foot model-train layout that takes up the third floor of his Beverly Hills home. The visit to his home and interview with Stewart resulted in a cover story — "Rod Stewart's Three Rivers City" — for the December 2007 issue of Model Railroader — the world's best-selling magazine dedicated to the hobby.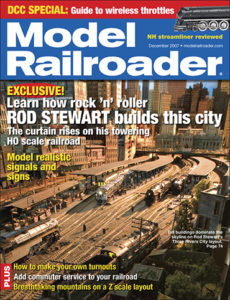 The issue is available in the Model Railroader archives, with a subscription.
"I'm proud to be a railway modeler," Stewart said. "It means more to me to be on the cover of Model Railroader than to be on the cover of a music magazine."
A modeler's notoriety isn't a consideration in selecting stories for Model Railroader, but the photos Stewart enclosed in a letter to the magazine's then publisher, Terry Thompson, revealed a superbly built model railroad featuring a Manhattan-like setting of model skyscrapers. Thompson contacted Stewart's United Kingdom-based secretary and expressed an interest in featuring the railroad in the magazine.
Stewart, "an avid reader of Model Railroader" for more than 20 years, enthusiastically agreed, and invited an editor and a photographer to visit his layout in Beverly Hills.
Stewart's layout features more than 100 structures, some more than five feet tall. Inspired by the 1940s New York Central and Pennsylvania Railroads, the layout is complete with skyscrapers, streets, cars, billboards, people, trees, and of course — trains.
Stewart tells Model Railroader that he built many of his meticulously detailed model skyscrapers in hotel rooms while touring. For example, during a 63-show North American tour in 2007, Stewart relocated his wife Penny Lancaster, the couple's toddler son Alistair, and seven massive traveling cases of model kits and tools to a suite of rooms in Chicago. From this central location, he flew to each night's show. After the performance, a limo would rush him back to the airport where his private jet would be waiting. After a quick flight back to Chicago and a few hours rest, Stewart would be up bright and early and busy at his model railroad workbench. Stewart said he could usually manage a few hours of steady model building each morning before setting aside his tools and spending the remainder of the day with his wife and son.
"I pity a man who doesn't have a hobby like this one — it's just the most supreme relaxation," Stewart said. " Every person should have one hobby that really captures his interest."
This is a modified version of a news release that appeared in 2007.