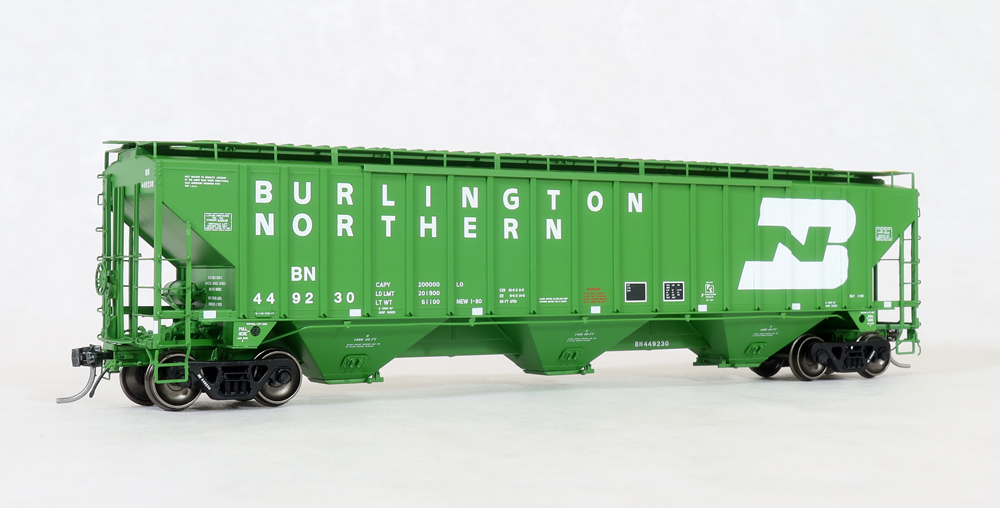 Scale: HO (1:87.1)
Price: $52.95
Era: 1979 to present (era varies depending on paint scheme)
Manufacturer: Tangent Scale Models, P.O. Box 6514, Asheville, NC 28816, 828-412-3886
Pullman-Standard 4,750-cubic-foot capacity three-bay covered hopper features:
Kadee scale couplers
See-through etched metal running boards and crossover platforms
100-ton Barber S-2 trucks with prototype-specific rotating bearing caps and separate brake beam part
Wire grab irons and uncoupling levers
CNC-machined 36" metal wheelsets
Separate air hoses
Road-specific details, including brake system, outlet gates, roof hatches, jacking pads, end ladders, brakewheel housing, and brake wheel
Road Names: Burlington Northern (January 1980 as-delivered Cascade Green scheme in new road numbers), Chicago & North Western (blue Rock Island patchouts in three versions, two numbers each), Illinois Central Gulf (1979 as-delivered simplified orange-and-black scheme in new numbers), Kansas City Southern (December 1979 as-delivered brown scheme), Klemme Coop, Klemme, Iowa (April 1979 pink scheme, six numbers), Missouri-Kansas-Texas (December 1979 green-and-yellow scheme in new numbers), Peavey (May 1980 as-delivered blue scheme in six numbers), Rock Island (June 1978 as-delivered blue scheme in new numbers), and Soo Line (2007+ Peavey patchout in one number). Each road name offered in 12 numbers unless noted.
Company Information: Tangent Scale Models, a manufacturer of HO and N scale model trains, is based in Asheville, N.C. The family-owned business made its debut at the 2007 National Train Show.
Reproduced from Tangent Scale Models' news release May 2022 
News & Products is a regular feature of Trains.com for model railroad operators and builders to get the latest information about locomotives, freight cars, passenger cars, tools, track, and more. Model railroad product news may include HO, N, O, and Z scales. Product release dates and prices will vary according to each manufacturer.
If you are a manufacturer and have new product releases, please email Group Technical Editor Cody Grivno at cgrivno@kalmbach.com for more information. Click the following link to view more News & Products.