Pacific Car & Foundry boxcar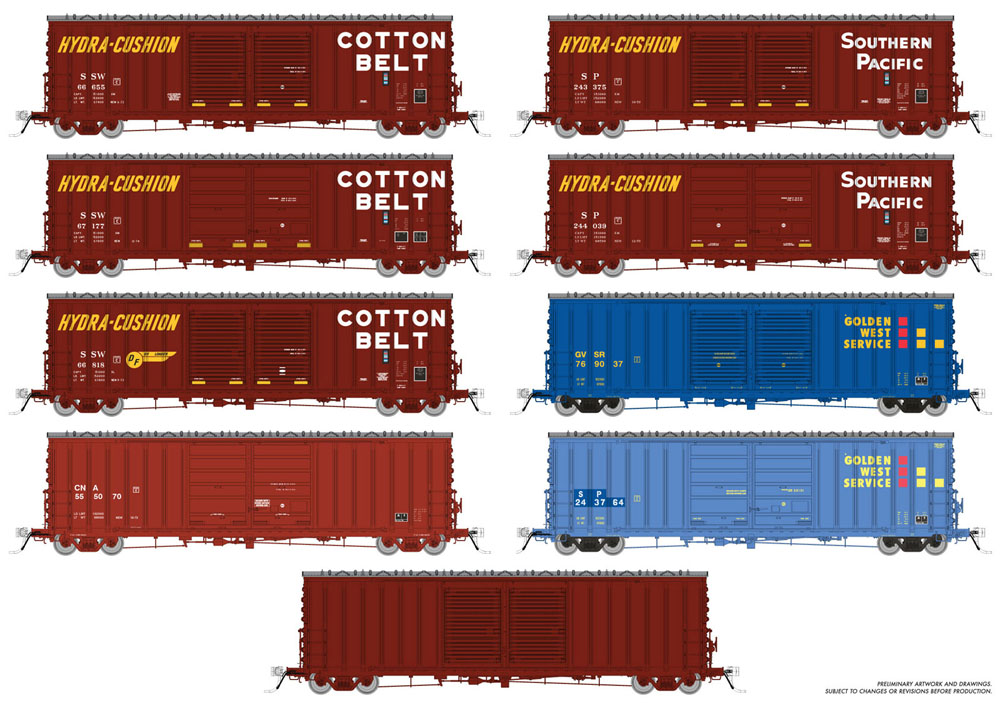 Scale: HO (1:87.1)
Price: single car, $54.95; six-pack, $329.70, six-pack
Era: 1972 to present (varies depending on paint scheme)
Manufacturer: Rapido Trains Inc., 500 Alden Road, Unit 21, Markham, Ontario L3R 5H5 Canada, 905-474-3314, rapidotrains.com
Pacific Car & Foundry boxcar features:
Separate, factory-applied metal grab irons, uncoupling levers, and door tracks
Scale sized draft gear with detailed Hydra-Cushion underframe
Full underbody brake rigging
Multiple door styles
Road-number-specific number patches
Factory-installed semi-scale knuckle couplers
Newly tooled 70-ton trucks with turned metal 33" wheels
Order deadline and release date to be announced
Road Names: Canadian National (CNA reporting marks with Superior doors), Golden West Service (GVSR reporting marks with Youngstown doors), St. Louis Southwestern (Cotton Belt, with DFL/Youngstown, Superior, and Youngstown doors), and Southern Pacific (brown with Superior and Youngtown doors and Golden West Service patchout with Superior doors). Also available painted brown but unlettered with Superior and Youngstown doors.
Company information: Rapido Trains Inc. manufactures locomotives, freight cars, passenger cars, and vehicles in N and HO scales. The company was founded by Jason Shron and Sidura Ludwig in 2003.
Reproduced from Rapido Trains Inc. news release May 2022 
News & Products is a regular feature of Trains.com for model railroad operators and builders to get the latest information about locomotives, freight cars, passenger cars, tools, track, and more. Model railroad product news may include HO, N, O, and Z scales. Product release dates and prices will vary according to each manufacturer.
If you are a manufacturer and have new product releases, please email Senior Editor Cody Grivno at cgrivno@kalmbach.com for more information. Click the following link to view more News & Products.