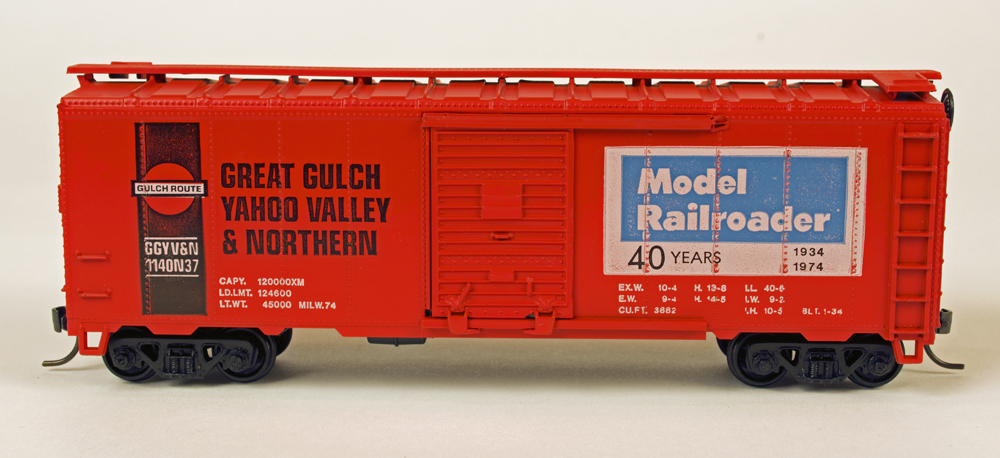 The Kalmbach Hobby Store is pleased to announce the upcoming release of new Milwaukee, Racine & Troy 40-foot boxcars in N and HO scales. The models, both due out in September, will be priced at $39.98 (N scale, item no. 84228) and $27.99 (HO scale, item no. 84231). The models, both produced in the U.S., will be offered in one road number.
That scheme looks familiar
No, you're not imaging things. The paint scheme on our new boxcars was inspired by a custom-decorated Athearn HO scale kit released in 1974. The boxcar featured the Great Gulch, Yahoo Valley & Northern name and Gulch Route herald to the left of the door. This was the name of Model Railroader founder Al Kalmbach's O scale layout. To the right of the door was Model Railroader's 40th anniversary logo.
N scale model
We partnered with Micro-Trains Line Co. to produce the N scale car. The ready-to-run model is based on the company's 20000-series 40-foot boxcar tooling. The injection-molded plastic body has positionable doors and a factory-installed brake wheel and running board casting. The ladders and grab irons are molded.
The die-cast metal underbody features body bolster and floor board detail, as well as mounting pads for body-mounted couplers. Plastic stirrup steps are clipped to the side corners. The center sills, crossmembers, brake appliances, and related rods and pipes are a separate plastic piece clipped to bottom of the metal casting. The boxcar is equipped with pin-mounted solid-bearing trucks, plastic wheelsets, and truck-mounted Magne-Matic couplers.

HO scale model
Just like it was in 1974, the HO scale model will be offered as a kit, this time from Accurail. The boxcar will use the company's 3500-series Association of American Railroads 40-foot boxcar tooling. The kit features a one-piece injection-molded plastic body with a factory-installed brake wheel and running board casting. The doors, ladders, grab irons, and stirrup steps are molded.
The plastic underbody has molded center sills, draft-gear boxes, crossmembers, body bolsters, floor board detail, and kingpins. Two sprues contain the modeler-installed brake rod assembly, air reservoir, control valve, and draft-gear box covers. Solid-bearing trucks, Delrin engineering plastic wheelsets, Accumate couplers, trip pins, and screws are contained in a small plastic bag. An unpainted steel weight and an illustrated instruction sheet are also included.

Don't be left out
You can order the Milwaukee, Racine & Troy boxcars online from the Kalmbach Hobby Store website. Pre-orders are open for the N scale ready-to-run car and HO scale kit. Quantities are limited. Place your orders early to avoid missing out on these one-time releases!