Book: Heisler Locomotives, Vol. 2: Geared Locomotives
Price: $35
Publisher: SilverLake Images LLC, available from Ron's Books, P.O. Box 714, Harrison, NY 10528; 914-967-7541; ronsbooks.com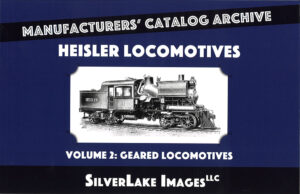 Heisler Locomotives Vol. 2 features:
118-page softcover reproduction of three Heisler publications
Catalog no. 108 features general arrangement and gearing design, main frame, braking system, boiler, cab, and specifications
Catalog no. 115 looks at trucks and gearing, sand boxes, bearings, main frame, brake system, boilers, and more
1908 repair list includes labeled drawings of locomotives and components indicating all of the different parts
Release date: Available now
News & Products is a regular feature of Trains.com for model railroad operators and builders to get the latest information about locomotives, freight cars, passenger cars, tools, track, and more. Model railroad product news may include HO, N, O, S, and Z scales. Product release dates and prices will vary according to each manufacturer.
If you are a manufacturer and have new product releases, please email Senior Editor Cody Grivno at cgrivno@kalmbach.com for more information.