Turbo Train 2.0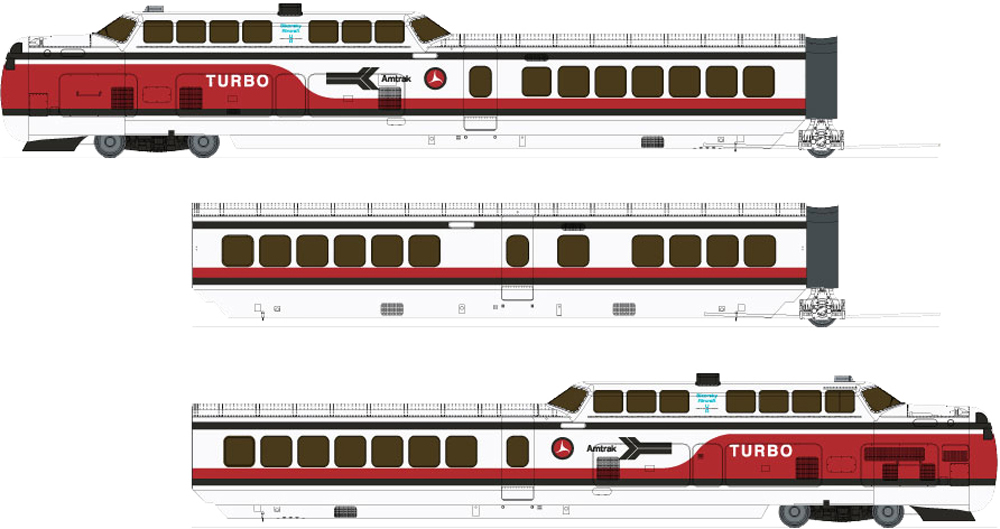 Scale: HO (1:87.1)
Price: $789.95
Era: 1971
Manufacturer: Produced by Rapido Trains Inc., available exclusively from Heartland Hobby Wholesale, 6929 Seward Ave., Lincoln, NE 68507, 800-713-8274, hhwonline.com
Heartland Hobby Wholesale Turbo Train 2.0 features:
1971 Amtrak national tour paint scheme
New drive system
Completely redesigned single-axle trucks with needlepoint axles
All-wheel electrical pickup
Golden-white light-emitting-diode headlights
Redesigned roof-mounted SMD interior lighting system
Dual-mode ESU LokSound V5 decoders and speakers in each Power Dome Car
Will negotiate curves down to 18" radius
Order deadline is June 15, 2022
Mid-2023 release
Road Names: Amtrak/U.S. Department of Transportation
Company information: Rapido Trains Inc. manufactures locomotives, freight cars, passenger cars, and vehicles in N and HO scales. The company was founded by Jason Shron and Sidura Ludwig in 2003.
Reproduced from Rapido Trains Inc. news release May 2022 
News & Products is a regular feature of Trains.com for model railroad operators and builders to get the latest information about locomotives, freight cars, passenger cars, tools, track, and more. Model railroad product news may include HO, N, O, and Z scales. Product release dates and prices will vary according to each manufacturer.
If you are a manufacturer and have new product releases, please email Senior Editor Cody Grivno at cgrivno@kalmbach.com for more information. Click the following link to view more News & Products.